Investment Thesis
Tupperware Brands (TUP) is a globally diversified household brand. Frequently shareholders are lulled into a false sense of security and ultimately overpay for famous companies. Accordingly, I reason that shareholders are overpaying for Tupperware's likely prospects - that shareholder will soon realize that Tupperware is not performing in line with its valuation. And that history is littered with brands that have fallen from glory, such as Blockbuster, Polaroid, Barnes & Noble (BKS) or even GE (GE). Shareholders still time to act.
Tupperware's Prospects
At its Q3 2017 results, Tupperware's management spent a lot of energy trying to explain that Tupperware's underperformance is short term, and its weighed down by currency effects that are largely outside of management's control.
Firstly, while that is partly true, it is still not enough. Investors paying approximately 18x to normalized 3-year free cash flow of $180 million are not likely to remain satisfied to pay this much for long, particularly for a company with stagnant-to-dwindling free cash flow generating capabilities. Investors are notoriously uninterested with managements' excuses for its underperforming businesses. So the fact is that at its mid-point range, Tupperware expects to finish FY 2017 with $170 million of free cash flow - flat when compared with FY 2016 - investors will soon start to question whether paying 18x free cash flow is truly a sensible bargain. Moreover, once Tupperware's dividend is accounted for ($140 million), at the top of the range, only $35 million is left over to service its large debt load.
Concerning Red Flag
Tupperware ended Q3 2017 with $680 million in net debt. Since it pays out $140 million in dividends, in the best case, it is left with $35 million with which to service its debt. Now, management has highlighted that it wishes to make some 'modest' repurchases in 2018. I do not know what modest repurchases means in numerical terms, but given that it only has $35 million left to repurchase shares with, this does not amount to a whole lot of repurchases. In the best case, if used in full (which is unlikely), this would only amount to a 1% return to shareholder - which, together with its dividend, would make the total shareholder return of 5.3%. This, again, is not supportive of its current valuation. Moreover, given the fact that management's equity compensation in total for 2016 was $20 million and likely to be near enough to the same for the full year 2017, I do not expect these repurchases to even meaningfully offset management's stock-compensation package.
Insider Ownership
Insiders have very little in the way of incentive to find themselves truly aligned with shareholders. Management own significantly less than 1% of the outstanding stock (~0.4%). Nevertheless, Mr. Goings, age 71, has been Tupperware's Chairman and CEO since 1997. Next, what is remarkable is that in spite of 3 years of no significant share price appreciation, Mr. Goings' cash salary has not been downwardly adjusted to reflect the stock's poor performance relative to most benchmarks (including the SPDR S&P 500 (NYSEARCA:SPY)).
Moreover, management's weighted average exercise price for their options are set at $58.90 (with CEO Goings receiving roughly 210K shares - which can be invested in three equal annual instalments beginning November 18, 2017 and equating to a minimum of $12 million). In light of this, there is little incentive for the executives to rock the bottom and take on any risks to ignite revenue growth. Thus, management continues to be more than adequately compensated for keeping the status quo.
Peer Group
For the past 8 years, Tupperware's free cash flow has been trending downwards, alluding to the fact that its operational troubles are not actually temporary in nature, but long term. Management goes to significant efforts to confuse investors and claims that it is not its fault - that Tupperware's chronic underperformance is a victim of weaker currencies. Stating in its proxy, that attempt to hedge for currency fluctuations would 'create an environment leading to risk-taking, not in the best interests of the Company'. Therefore, rather than rocking the boat, by taking risks and attempting to improve its overall expectation, management should just be rewarded for keeping the company going as is.
This leads me to boldly assert that at its current valuation, Tupperware's shares are significantly higher than they ought to be. That one might even reasonably argue that investors are being lulled into a false sense of security, with the illusion of safety by investing in a strong global brand.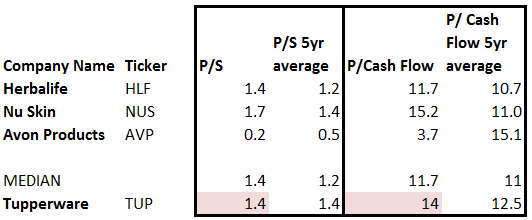 As can be seen in the above table, Tupperware's valuation is not pricing in the reality, which is that Tupperware has had 5-year negative CAGR of 3%. Furthermore, that in spite of management's attempts to cut cuts out of the business, and increase its gross margins from approximately 65% ten years ago, closer to 67.5% more recently, this is simply not doing enough to support the valuation.
Takeaway
I have tried to caution readers about Tupperware's stock being considerably overvalued relative to its financial and operational performance. Tupperware has red flags in its financials, which should raise concerns from investors, namely the fact that its stock's multiple is too high. It also warns that its free cash flow is not growing sufficiently to appease creditors when it comes to refinancing its $600 million of senior notes due in 2021.
*** Final note: The only favor I ask is that you click the "Follow" button so I can grow my Seeking Alpha friendships and our Deep Value network.
Disclaimer: Please do your own due diligence to reach your own conclusions.
Disclosure: I/we have no positions in any stocks mentioned, and no plans to initiate any positions within the next 72 hours. I wrote this article myself, and it expresses my own opinions. I am not receiving compensation for it (other than from Seeking Alpha). I have no business relationship with any company whose stock is mentioned in this article.