(Image: WesternGeco's Amazon-class seismic acquisition vessel the Amazon Warrior)
In a significant decision, Schlumberger (NYSE:SLB) announced last week that it is exiting the seismic acquisition business, shifting to what the company referred to as "asset-light model" for its WesternGeco division.
Schlumberger indicated that WesternGeco has already stopped participating in bidding on new contracts and its equipment would be called back after completing the company's ongoing contractual commitments.
The company stated that it is evaluating options for divesting the business but recognized that the divestiture process could take some time, given the depressed state of the seismic market.
WesternGeco has been one of the largest players in the marine seismic industry, and the company's exit from seismic acquisition is an event that will impact the competitive landscape. Given the very high quality of the assets designated for sale, potential acquirers are presented with a unique opportunity. However, given the overcapacity and weak financial state of WesternGeco's major competitors, Schlumberger recognizes that it may have difficulty finding a buyer and end up selling the business to a new market entrant.
Based on the $1.1 billion write-off being recognized, Schlumberger is not expecting to recover its investment in full.
A Tough Market
This is a second major restructuring at WesternGeco in three years. Those readers who follow the marine seismic industry closely are well aware that this segment has undergone a remarkable technological transformation but has also suffered from overcapacity and fierce competition, even before the downturn in oil started.
At the peak of the previous oil upcycle, which started in 2005 and lasted for almost a decade through mid-2014, the offshore exploration sector appeared to be in the best shape it had ever been. Oil prices had remained close to $100 per barrel for several years. The deepwater drilling fleet was fully utilized and rapidly growing. Newbuild drillships were coming out of shipyards one after another ready to expand offshore exploration frontiers. Following after their customers, marine seismic contractors geared up to compete for the share of the attractive opportunity they saw ahead.
In a major new round of capacity expansion in 2010s, many new seismic vessels were ordered. Ship designs were taken to new, breathtaking levels of technological sophistication (while construction costs established equally high new records).
Schlumberger actively participated in the generational equipment renewal. Most recently, WesternGeco's fleet was augmented with two state-of-the-art Amazon-class seismic acquisition ships, which are among the most advanced marine seismic vessels in the world and were commissioned in 2014 and 2015. The company's new-generation fleet additions included:
Amazon Conqueror (2015)
Amazon Warrior (2014)
WG Amundsen (2010)
WG Vespucci (2010)
WG Cook (2010)
WG Columbus (2009)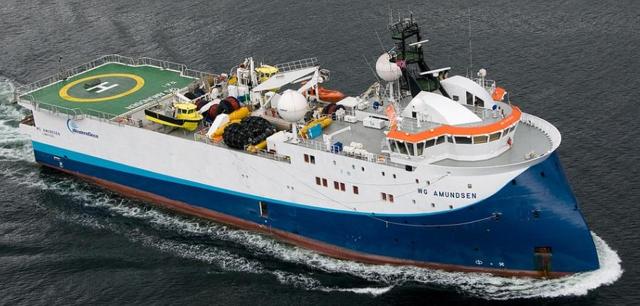 (Image: the WG Amundsen)
Schlumberger also perfected its technology platform in marine seismic. For example, IsoMetrix is a highly sophisticated marine acquisition system that Schlumberger characterized as one of "the biggest engineering achievements in the history of the company."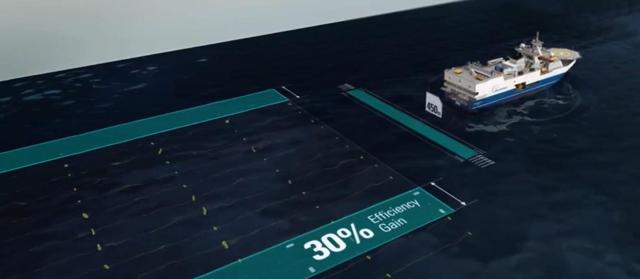 (Source: Schlumberger)
However, WesternGeco faced an even more aggressive build-out of capacity and technical capability from its competitors. To illustrate, Petroleum Geo-Services' (OTCPK:PGSVY) (PGS) active fleet, which is perhaps the youngest and the largest in the industry, now includes four newest ultra-high capacity Titan-class Ramform ships, an S-class Ramform, as well as two modern conventional-hulled ships on charter. Of the seven ships in PGS's active fleet, five were build after 2013, of which the latest two were delivered in 2016 and 2017. In addition, PGS owns a significant number of older Ramform-hulled vessels, which are cold-stacked.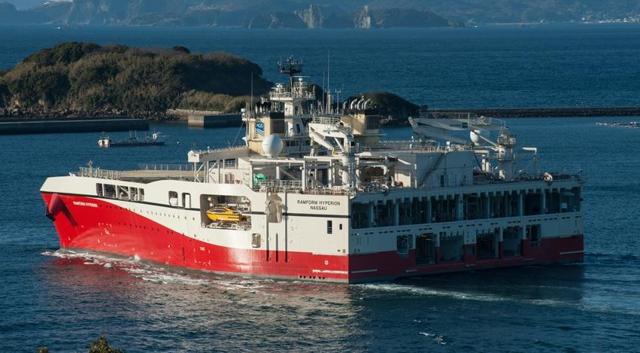 (Image: Petroleum Geo-Services' Ramform Hyperion was launched in 2017)
The fast, highly efficient new ships equipped with advanced technology packages arrived on the market in large numbers, which led to poor utilization for older-generation equipment. Massive overcapacity developed. Tenders for new seismic surveys were often plagued by bids at nearly irrational levels. The multi-client business also suffered from competitive pressures.
In the fourth quarter of 2014, when it became clear that the collapse in commodity prices would lead to lower exploration spending, Schlumberger took a major step to downsize WesternGeco's marine seismic fleet to lower its operating costs. The restructuring reduced the fleet size to 9 survey ships and 6 source boats, from a total of 15 survey and 8 source vessels a year earlier. As a result, Schlumberger took impairment and lease termination charges of approximately $800 million.
No Light At The End Of The Tunnel
The overcapacity in the marine seismic acquisition segment coincided with the near-collapse in deepwater exploration activity after 2014. Deepwater exploration still remains one of the hardest hit areas within the global oil industry. The slide below from a recent presentation by PGS illustrates that contract activity in the marine seismic market remains deeply depressed as compared to the recent peak in 2012-2014.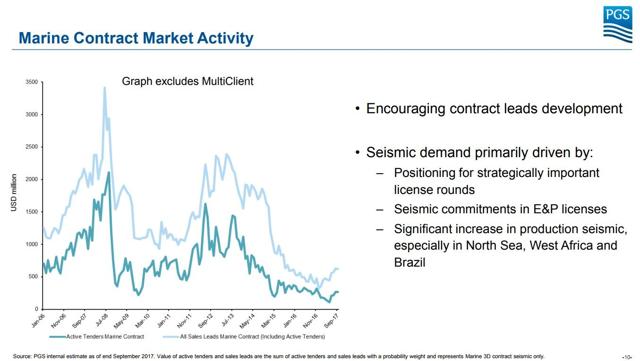 (Source: Petroleum Geo-Services, Dec. 2017)
Contractor backlogs have been increasing recently but remain far below the peak levels seen several years ago.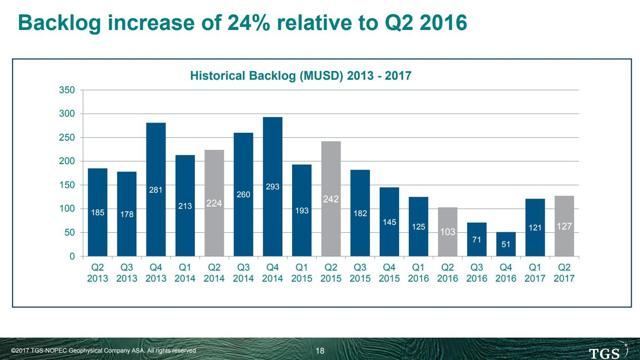 (Source: TGS Nopec, October 2017)
A significant capacity attrition in the marine seismic industry has already occurred. However, the reduction has been insufficient to counter-balance the decrease in demand and increase in vessel efficiency.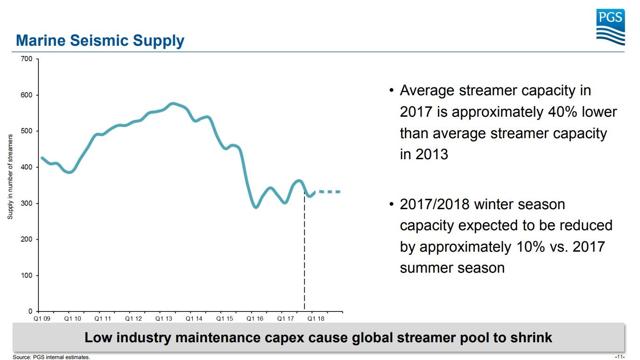 (Source: Petroleum Geo-Services, Dec. 2017)
On the conference call with investors last week, Schlumberger commented with regard to its decision to exit the business:
...The downturn in the seismic data acquisition business now enters its sixth year. The present outlook provides no line of sight to a market recovery. It has also become clear to us that our customers are unwilling to pay a premium for our differentiated seismic measurement and surveys, and they clearly believe that generic technology and performance is sufficient. In general, this approach commoditizes the seismic data acquisition business and creates a very low technical barrier to entry for smaller players, who steadily add vessels and keep the market in a chronic state of overcapacity.
Asset-Light Model For WesternGeco
WesternGeco will remain an important division and technology platform for Schlumberger. However, the business model will change quite radically.
Going forward, WesternGeco… adopts an asset-light model built on our strong multi-client, data processing and interpretation businesses, and further supported by our close partnerships with a leading company in cloud and high-performance computing. As a result, our reconstituted seismic business will going forward require half the capital investments and yield twice the free cash flow conversion and making it accretive to the cash returns of the company.

...Rapid advances and high-performance computing data analytics and machine learning have enhanced the value of seismic, imaging and visualization, enabling us to extract significantly higher value from our previous acquired data.
Let's make no mistake, Schlumberger is divesting a business that the company has for a long time considered a core component of its portfolio. It is also a business where Schlumberger has made massive investments and committed significant institutional resources.
The $1.1 billion write-off that Schlumberger is taking in connection with the WesternGeco restructuring is obviously material, even though the impact on the company's free cash flow is likely to be positive, at least in the near term.
Is The Decision Signaling Schlumberger's Caution With Regard To The Recovery In Deepwater?
It is quite notable that Schlumberger elected to exit the marine seismic acquisition business at the time when the global oil cycle appears to be finally entering the recovery phase. Oil prices are higher, and there are early indications that offshore drilling activity may pick up in the next few years. License round activity is again on the rise. In addition to the already identified offshore exploration frontiers around the world, new opportunities are likely to open in the U.S. - including attractive blocks in the Eastern Gulf of Mexico - as a result of the recently announced policy initiative.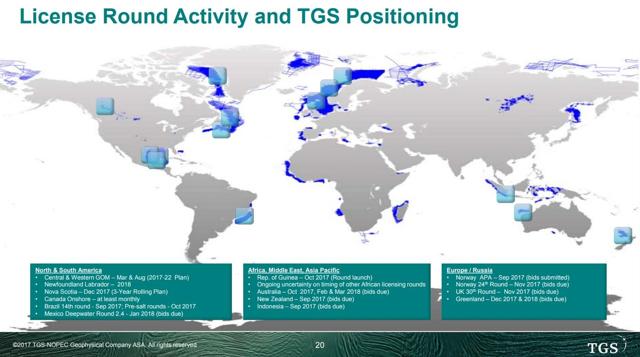 Still, Schlumberger is seeing "no line of sight to a market recovery" in seismic acquisition.
There is no debate marine seismic acquisition is a segment characterized by its specific competitive landscape and idiosyncratic challenges. Schlumberger's decision to exit is effectively a recognition that the service major does not have a sustainable competitive edge in this business.
However, the business has massive leverage to deepwater exploration activity. Schlumberger's decision to exit now may also reflect a lack of confidence that the recovery in deepwater exploration will be sufficiently powerful or quick to turn the tide in marine seismic fundamentals. In fact, Schlumberger appears to be increasing its bets on lower-cost sources of global oil supply, including U.S. shales, the Middle East and Russia - the ones that have pushed deepwater exploration to what may prove to be a chronically marginal position in the global crude supply hierarchy.