Summary
This is a follow-up to my first "Top 10 Nordic Companies Worth About?" article.
In this article I'll show you another 10 nordic high quality companies where some are global leaders in their field.
It might be time to look abroad for better investment ideas.
A small note about the future outlook.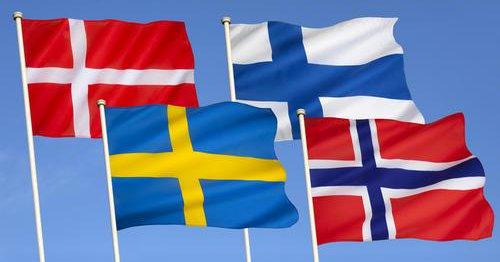 In my previous article " 10 Nordic Companies Worth Knowing About" I showed you my perception of 10 companies which I find to be of high quality and worth mentioning for international investors. Naturally, some potential candidates had to be neglected in order to write the first article, so this post will try to make up for that. I'm happy to say that I've been able to find another 10 companies were each company either have had or still has a strong position in the Nordic markets.
Since we are talking about international companies, some of you might have some issues finding the stocks on NYSE, IRA and ROTH. In some instances, you can buy the stock as an ADR, but I recommend asking your broker for further specification. It's also worth mentioning that Denmark withholds 27% dividend source tax even though the treaty rate is only 15% for most cases. This is also something you should ask your broker about before buying any stock.
I've done some changes this time by including payout ratio, solvency and neglecting ROIC. However, generally speaking, the dividend payment culture is different in Europe than in America. Dividend is paid based on last years earnings instead of committing yourself to any particular payout. Consequently, with a long-term perspective, it's normal for a company to cut the dividend a few times along the way. It therefore makes little sence to talk about dividend growth rate or CAGR.
Now that you know all this, let's get started with the list:
1. ATEA ASA ( ATAZF)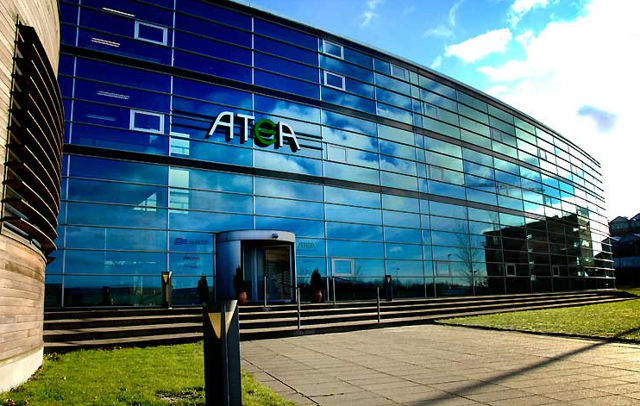 Atea is the market leader in IT infrastructure for businesses and public-sector organizations in Europe's Nordic and Baltic regions. Atea's history dates all the way back to 1968 under the name Merkantildata, and was already then a pioneer within the emerging market for IT in Norway. After several mergers and acquisitions with leading IT companies in both Denmark, Sweden and the Baltic region, Atea was born.
The company's t op 10 strategic partners are Authorized System Integrator, Cisco (NASDAQ:CSCO), HP (NYSE:HPQ), IBM (NYSE:IBM), Lenovo (OTCPK:LNVGY), Citrix (NASDAQ:CTXS), Dell, Hewlett Packard Enterprise (NYSE:HPE), VMware (NYSE:VMW) and Microsoft (NASDAQ:MSFT). They also work with companies such as NVidia (NASDAQ:NVDA), Adobe (NASDAQ:ADBE), Asus, Canon (NYSE:CAJ), Oracle (NYSE:ORCL), Philips (OTCPK:PHPPY), Sony (NYSE:SNE) and Samsung (OTC:SSNLF). You get the picture, Atea isn't a company you should ignore.
But what do they do?
Atea has four main segments: Data centers, Clients, Communication and Collaboration. Atea provides a broad range of hardware and software for each of the segments, and even provide cloud services run by Atea or third party providers.
Fundamentals:
The following fundamentals applies for Atea. Yield: 5.6%, P/E: 21.8, ROE: 19.4%, Equity ratio: 25.8%, Payout Ratio: 121 % and OM: 2.4%
About the figure: Remember that from 1998 until 2006 we are talking about a different company that today's Atea. I therefore recommend only judging Atea from 2006.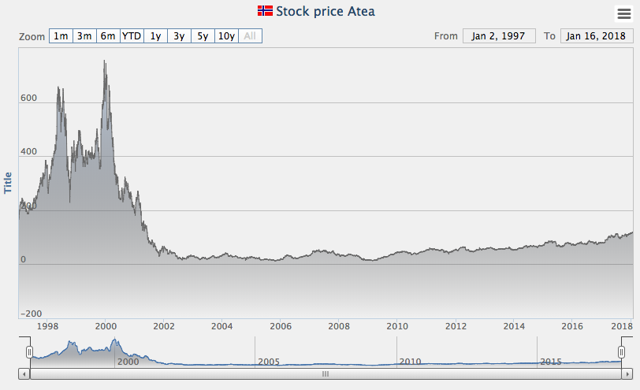 Source: borsdata.se
Looking Forward
It shouldn't surprice you that I think the future looks bright for Atea. Moore's law states that the number of transistor in a circuit doubles every second year. Even more, according the article from 2016, "10 Key Marketing Trends", 90% of the data in the world today has been created in the last two years alone. This fact is still true. What this means is that the amount of data is growing and our ability to store data is also improving.
Norway, which is where Atea's HQ is, also one of the most prominent countries in respect of data centers. The American company Kolos is now planning to build the largest data center in the world in northern Norway. Why? Because of the amazing combination of cheap renewable energy (waterfalls) and a cool temperature which prevents overheating. As a dominant player in the Nordic IT market, Atea should benefit from the endless possibilities ahead.
2. Huhtamaki ( HOYFF)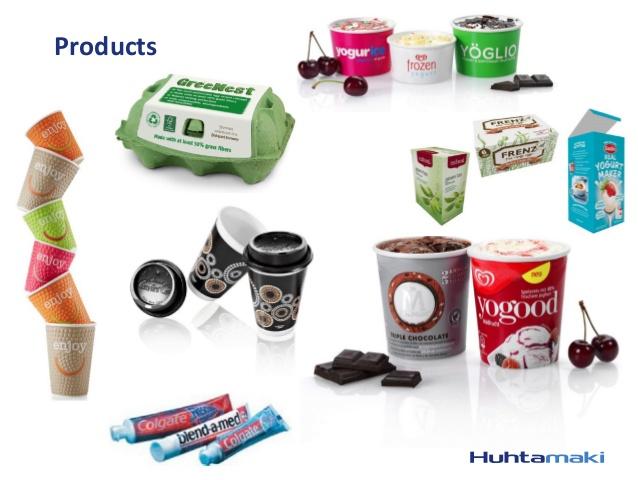 Huhtamaki was founded in 1920 and is truly a wonderful company. Huhtamaki are global specialists in packaging for food and drink, dedicated to making every consumer experience enjoyable, consistent, and safe. The core believe is that packaging is much more than just what goes round a product. It's about building brands, protecting reputation, and opening up new opportunities in new markets.
Huhtamaki consists of four business - segments: The food foodservice, which operates across Europe, Asia and Oceania. Here, Huhtamaki helps quick service restaurants create great dining experiences with paper and plastic cups, plates and bowls, cutlery, and takeout packaging. The company is also a pioneer in bio-plastic, which can't be neglected. In a world where plastic is a huge problem, it's crucial that global business takes responsibility, just like Huhtamaki does.
Other segments include: North America, where they have America's No. 1 premium disposable tableware brand. Flexible packaging business which allows the world's biggest brands of food and drink to reach consumers everyone one the globe. At last, fiber packaging business where they manufacture egg cartons and trays, fruit trays and cup carriers all over the world.
Fundamentals
The following fundamentals applies for Huhtamaki. Yield: 2.2%, P/E: 18.2, ROE: 16.5%, Equity ratio: 39.8%, Payout Ratio: 39.6% and OM: 9.0%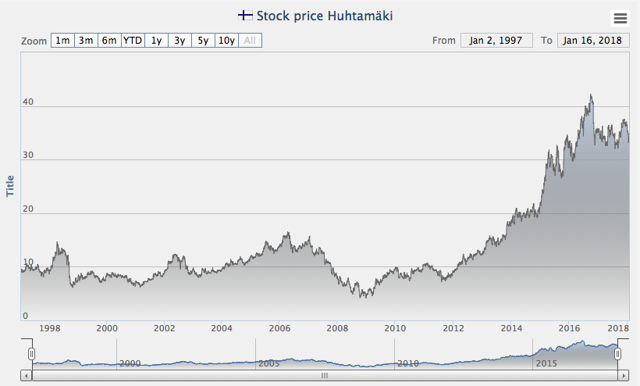 Source: borsdata.se
Looking Forward
Plastic is a huge problem and it makes me happy to know that global companies such as Huhtamaki can see the value of protecting the environment by innovating new and safe products. I think bioware will get much more focus in the future, when politicians have to take a stand in this global problem. Huhtamaki will probably be set as an example for how companies should act. Also, they innovate with products such as the Monaco cup, which is a cup with a unique QR code. The idea is to connect brands with consumers. Genius.
3. Kinnevik B ( KNVKF)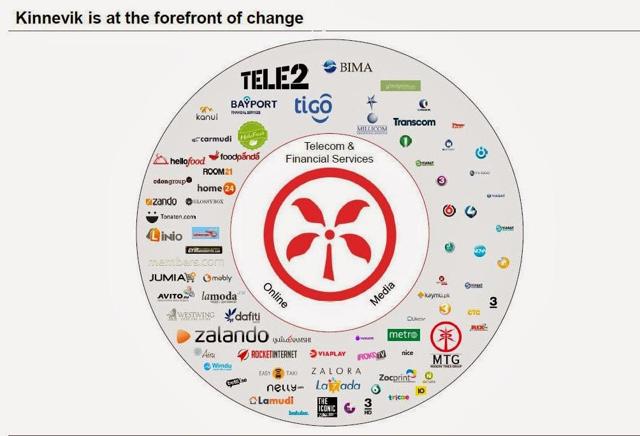 Kinnevik is an entrepreneurial investment company with a focus on building digital consumer businesses. Kinnevik is an active and long-term owner operating on six continents in over 80 countries. Kinnevik's holdings are divided into five sectors: Ecommerce & Marketplaces, Communication, Entertainment, Financial Services and health care.
Fundamentals
The following fundamentals applies for Kinnevik B. Yield: 2.8%, P/E: 6.0, ROE: 15.5%, Equity ratio: 95.8% and Payout ratio: 16.5%.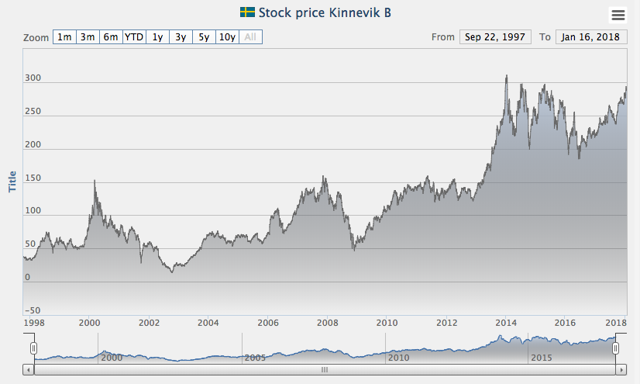 Source: borsdata.se
Looking Forward
One of Kinnevik's core holdings is Zalando, a European e-commerce based in Berlin. As a millennial, I can tell you that 9/10 of my friends shop at Zalando. It's easier to buy clothes online and especially when you can return the clothes for free. It is my belief that Kinnevik is holding some very prominent and disruptive names in their portfolio, and I think we shall see that classic retailers such as H&M (HM-B.ST) will need to acknowledge the threat from companies such as Zalando.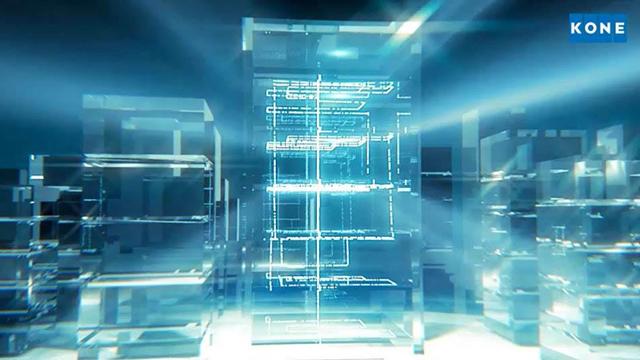 (Source: kone.no)
Kone is one of the leading companies worldwide in the area of elevators and escalators. Kone's objective and vision to offer the people flow experience by developing and delivering solutions that enable people to move smoothly, safely, comfortably and without waiting in buildings in an increasingly urbanizing environment. Kone provides its customers with industry-leading elevators, escalators and innovative solutions for modernization and maintenance.
Fundamentals
The following fundamentals applies for Kone. Yield: 3.5%, P/E: 23.9, ROE: 19.4%, Equity ratio: 37.6%, Payout Ratio: 82.9 % and OM: 14.0%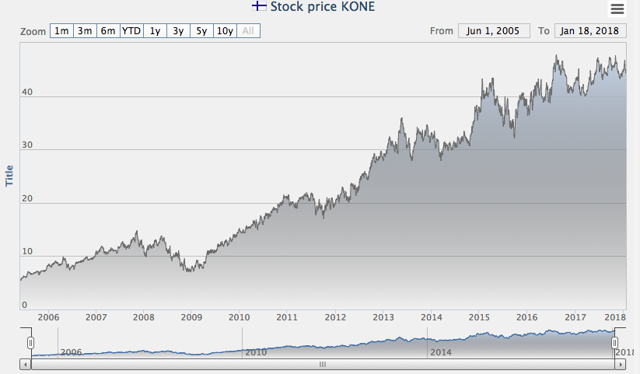 Looking Forward
The major trend in the world is that people move from smaller cities to bigger cities (urbanization). However, the problem is that we don't have enough space so that each family or person can have his own house and garden. We need to taller buildings, which again means that the demand for escalators will most likely still be around for decades.
Kone's competition is quite hard, where Otis, a subsidiary of the United Technologies Corporation (NYSE:UTX), is topping the list of elevator & escalator companies worldwide in 2016, based on revenue (in billion U.S. dollars). I don't have the numbers for 2017, but I can't really see how any other company should penetrate this industry. Therefore, I think Kone will still be a profitable company for many decades.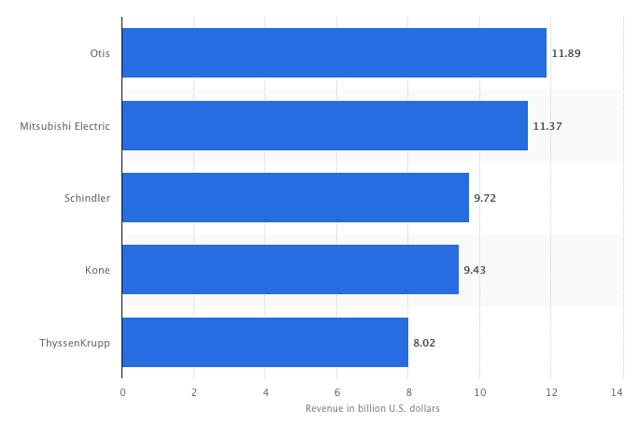 Source: statista.com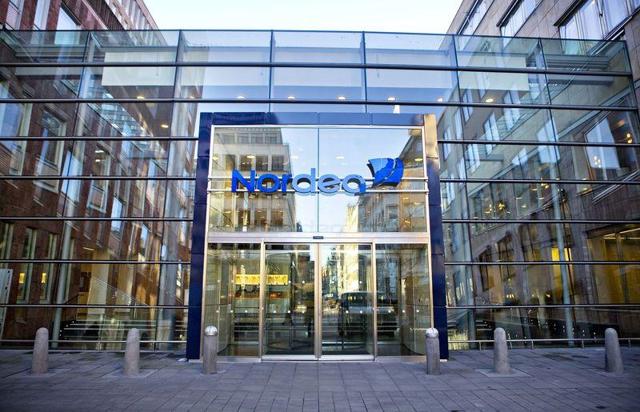 Nordea is a corporate group within financial service in the Nordic region, the Baltic states, Poland and Russia. The customer basis consists of circa 10 million customers, out of whom 500,000 are business customers. The Swedish and Danish market is Nordea's biggest markets, and covers about a quarter of the revenues. Nordea's business segments are:
Retail Banking: Bank services in the Nordic region, Baltic Countries and Poland. The share of the group income is 55%. Wholesale Banking: Services to large corporate clients and institutions, the area includes services to the shipping and offshore sector, investment banking and Nordea Bank Russia. Wealth Management: Savings products and advice. Areas included are Management, Life & Pensions and International Private Banking & Funds.
Nordea was earlier called Nordea Baltic Holding (0012)
(Source: Nordnet/Shareville - SIX Telekurs)
Fundamentals
The following fundamentals applies for Nordea. Yield: 6.3%, P/E: 11.9, P/B: 1.3, ROE: 10.9%, Equity ratio: 5.2%, Payout Ratio: 74.7 % and OM: 45.2%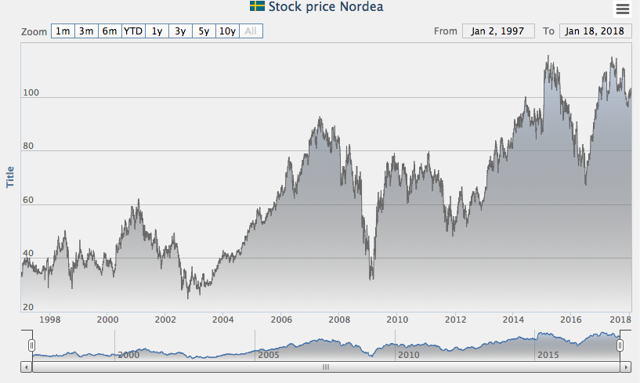 Source: borsdata.se
Looking Forward
Nordic banks are great banks. This is just not my humble opinion, but it's a fact. The result from the EU-wide stress test in 2016 shows that "RZB, Bol, POP, UCI, Barclays, CBK and sogn had the lowest adverse scenario FL 2018 CET 1 ratios, while Nordic banks had the highest". In normal words, they are rock solid.
Right now, Nordea are investing heavily and using Robotic Process Automatization (RPA) in many departments, which should lead to fewer workers and lower costs (I think). RPA is a simple and "stupid" robot which operates like yes/no, 1/0, and can be used to check if things are correct or not. This is important, because you would not believe how much time people spend on checking if A shows what A should show. A big waste of time!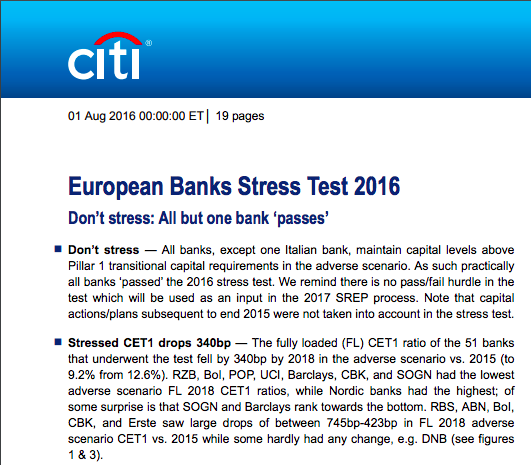 Source: Citigroup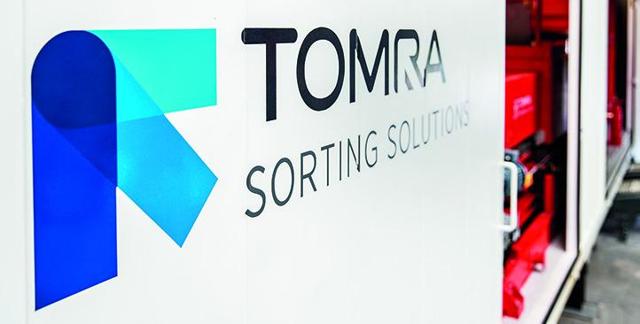 TOMRA system is world leading in sorting solutions. TOMRA's operations are organized into four business segments: Collection Technology, Materials Handling, Collection Technology Non-Deposit Solutions, and Industrial Processing Technology. The first two segments include TOMRA's activities in markets with deposit on beverage containers, while the latter two focus on the collection and processing of non-deposit materials. TOMRA's principal product groups include reverse vending systems, automated material collection centers, material transport and processing, waste recognition and sorting systems for recycling, and material compaction and baling equipment
(Source: Nordnet/Shareville - SIX Telekurs)
Fundamentals
The following fundamentals applies for Tomra Systems. Yield: 1.6%, P/E: 30.3, ROE: 19.4%, Equity ratio: 14.2%, Payout Ratio: 48.6 % and OM: 13.2%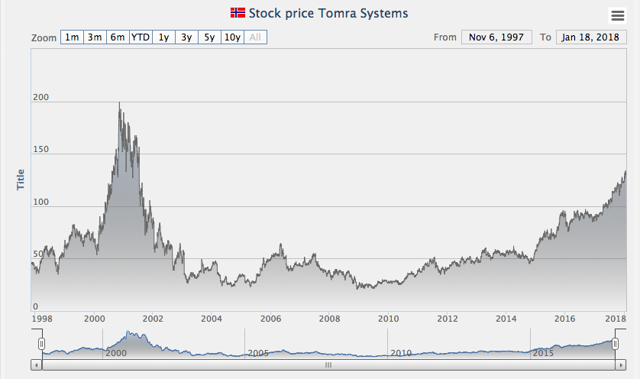 Source: borsdata.se
Looking Forward
According to the article "A million bottles a minute: world's plastic binge 'as dangerous as climate change", as many as a million plastic bottles are bought around the world every minute and the number will jump another 20% by 2021. Plastic is a threat to the marine life, our ecosystem and the world as we know it. Currently, I don' think we acknowledged this problem enough, but I'm sure that Tomra will play a vital part in fixing this problem. We simply must become better at sorting our waste and garbage.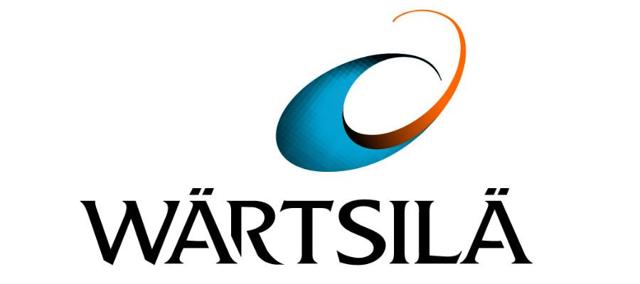 Wärtsilä is a global leader in advanced technologies and complete lifecycle solutions for the marine and energy markets. Based in Finland, Wärtsilä is both a Ship Power Supplier for all types of marine and offshore applications and a provider of power plants in the decentralized energy market. As of 2017, Wärtsilä has 65 GW of installed power plant capacity in 177 countries around the world. The company's service network of approximately 11,000 professionals in 160 global locations is unmatched in the industry, delivering services to more than 12,000 customers every year. Main export areas are Europe, Asia and the America
Source: wartsila.com
Fundamentals
The following fundamentals applies for Wärtsilä. Yield: 2.4%, P/E: 28.1, ROE: 17.3%, Equity ratio: 41.3%, Payout Ratio: 66.3 % and OM: 11.0%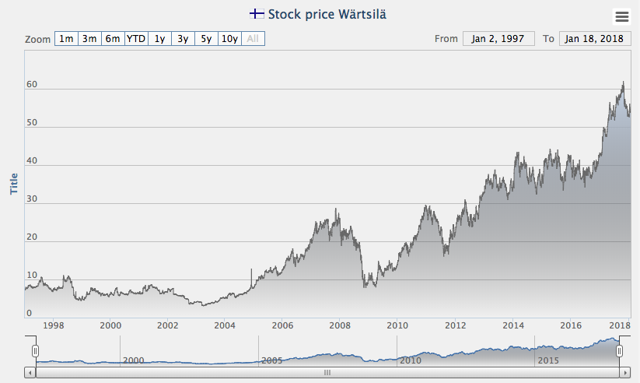 Source: borsdata.se Looking Foward
Wärtsilä states that the strengths of their power plants are their flexible design, high efficiency and low emission levels. In all main segments Wärtsilä holds a strong position. The world is changing rapidly in every way, but our demand for energy will prevail. As a company, Wärtsilä values its shareholders by striving by committing to carrying out its business in a sustainable way. In order to promote the long-term interests of Wärtsilä and its stakeholders, the company strives to maintain the highest legal and ethical standards in all its business practices. In total, Wärtsilä is a strong company because of its scale, market position, advanced technology and its focus on creating long-term value for both shareholders and the world.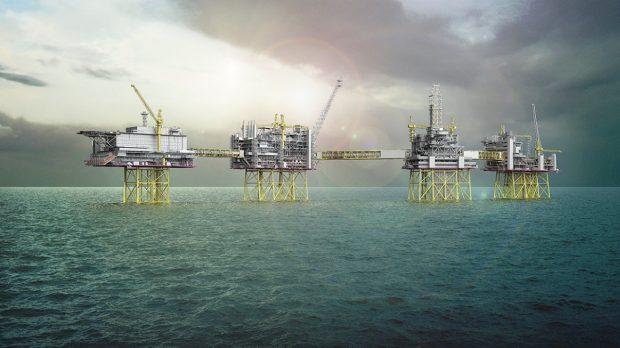 Statoil is the leading producer on the NSC and the world's largest operators for offshore oil and gas activities. It's a fully integrated petroleum company with operations in thirty-six countries. By revenue, Statoil is ranked by Forbes Magazine (2013) as the world's eleventh largest oil and gas company and the twenty-sixth largest company, regardless of industry, by profit in the world. The company has about 20,500 employees. Statoil (STO) was formed by the 2007 merger of Statoil with the oil and gas division of Norsk Hydro (OTCQX:NHYDY).
As of 2018, the Government of Norway is the largest shareholder in Statoil with 67% of the shares, while the rest is public stock. The ownership interest is managed by the Norwegian Ministry of Petroleum and Energy.
Fundamentals
The following fundamentals applies for Statoil. Yield: 3.9%, P/E: -83.8, ROE: -2.4%, Equity ratio: 34.4%, Payout Ratio: -331 % and OM: 11.5%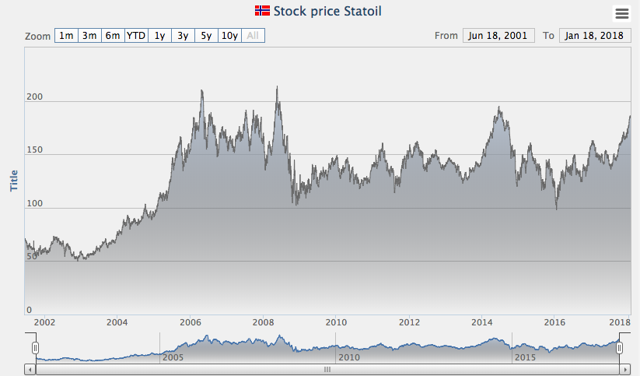 Looking Forward
Statoil is a company that makes be proud to be Norwegian. Recently, they started a project called Statoil 2030, where they quite accurately explain what they want to do each year from 2018 until 2030. The project includes focus on wind power, solar power, oilfield which is 100% provided with electricity from land causing extremely low CO 2 emissions. Maybe even the coolest goal: in 2030, Statoil's ocean and wind technology should heavily contribute to New York's goal about reaching 50% renewable energy before 2030. The future certainly looks exciting and challenging for Statoil.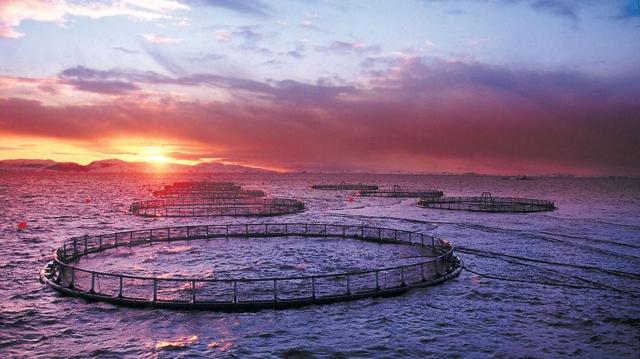 Marine Harvest ASA is one of the largest seafood companies in the world, and the world's largest producer of Atlantic salmon. The company employs 12 717 people, and is represented in 24 countries. In 2016 the company had a turnover of EUR 3.6 billion. Marine Harvest is listed on the Oslo Stock Exchange (OSE) and its share also trade on the US OTC market.
Marine Harvest supplies healthy, delicious and sustainably farmed salmon and processed seafood to more than 70 markets worldwide. The company is present and trusted in all major salmon farming regions in the world. In 2016 harvest volumes of salmon was 381 000 tonnes (GWE).
Source: Marineharvest.com
Fundamentals
The following fundamentals applies for Marine Harvest. Yield: 9.5%, P/E: 10.5, ROE: 25.2%, Equity ratio: 56.2%, Payout Ratio: 103 % and OM: 22.6%
Looking Forward
Both 2016 and 2017 turned out to be great years for companies operating in the seafood sector. According to the Fish pool index, the average 12 months' price was 42,09 NOK in 2015, 63,13 in 2016 and 60,88 NOK in 2017. However, during the summer months, prices peaked and was for a short period above 70 NOK. As a consequence of very high prices, due to high demand and short supply, seafood companies made lots of money.
But, analytics who follow the business claims that few companies were able to also manage the costs while the prices increased. Shall we see the same pattern as we did with oil companies? High prices for a while, then dropping dead, causing great pain for the companies? I don't know, but short-term, they might get some problems. In the long-term perspective, it's my personal opinion that consumers will eat more fish and less meat. I suppose we just have to wait and see.
10. Pandora (PANDY)

PANDORA designs, manufactures and markets hand-finished and contemporary jewellery made from high-quality materials at affordable prices. PANDORA jewellery is sold in more than 100 countries on six continents through approximately 7,900 points of sale, including more than 2,100 concept stores.
Founded in 1982 and headquartered in Copenhagen, Denmark, PANDORA employs more than 21,200 people worldwide of whom approximately 12,500 are located in Gemopolis, Thailand, where the company manufactures its jewellery. PANDORA is publicly listed on the NASDAQ Copenhagen stock exchange in Denmark. In 2016, PANDORA's total revenue was DKK 20.3 billion (approximately EUR 2.7 billion)
Source: Pandora.com
Fundamentals
The following fundamentals applies for Pandora. Yield: 5.8%, P/E: 11.8, ROE:100%, Equity ratio: 33.6%, Payout Ratio: 68 % and OM: 34.5%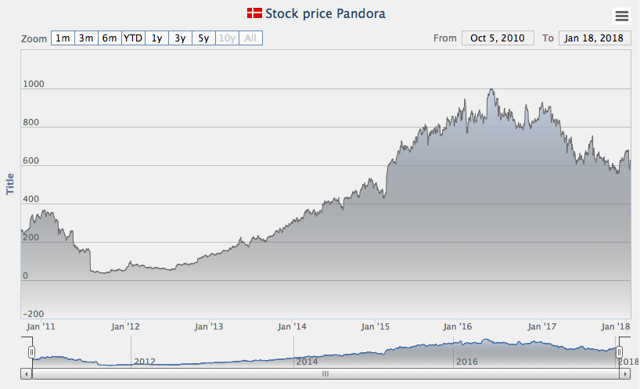 Looking Forward
The Armageddon of retail was one of those phrases that got stuck in my head last year. Many retailers face big challenges, and some with good reason. However, it is my belief that it's practically impossible to buy jewelries and diamonds electronically, because costumers will still want to physically test the product before buying it. Therefore, I don't think the armageddon of retail is the main threat for Pandora. More prominent issues includes "growth pain" and being able to grow earnings per share while paying a high dividend.
As with most of companies i've talked about, we just have to wait and see if they can grow and become more profitable in the future. I hope that you have enjoyed this article, and that you might have gotten to know some companies which you didn't know before. If you did, my goal behind this article is accomplished.
What do you make out of all this?
If you like this content and want to read more about this, please hit the "follow" button on top of the screen and you will be notified for new releases. Some of you were eager to know which companies I hold and you can find my portfolio here along with my dividend income here.
Disclosure: I am/we are long PANDY, NRBAY. I wrote this article myself, and it expresses my own opinions. I am not receiving compensation for it (other than from Seeking Alpha). I have no business relationship with any company whose stock is mentioned in this article.
Editor's Note: This article discusses one or more securities that do not trade on a major U.S. exchange. Please be aware of the risks associated with these stocks.