Netflix (NFLX) delivered monster 4Q17 results Monday evening. EPS of $0.41 that was in line with consensus and revenues of $3.29 billion that beat by a small $10 million margin were barely the highlights of the quarter. The good news came in the form of much higher new subscription numbers than the Street and management itself had been anticipating.
Credit: Digital Trends
How come everyone was so wrong?
Net additions in the U.S. streaming business came in at an astonishing 1.98 million users, significantly better than management's 1.25 million guidance and the highest of the past five quarters at least. On the international side, the out-performance was even more pronounced: 6.36 million new members vs. 5.05 million expected. With the revenue pipeline growing at a dizzying pace, it is no wonder to me that, given the growth bias of NFLX investors, the stock would be up around 9% in after-hours trading.
In the press release, the company attributed the robust membership numbers to its "original content slate and the ongoing global adoption of internet entertainment." While the narrative makes high-level sense to me, I wonder if the management team has been underestimating the scale of the transition from traditional to streaming platforms when setting its expectations. Better grasping the key drivers is crucial in determining whether the trend is sustainable or the result of a welcome, one-off fluke - guidance for 1Q18 once again seems a bit de-risked, in my opinion.
See a few key metric trends below.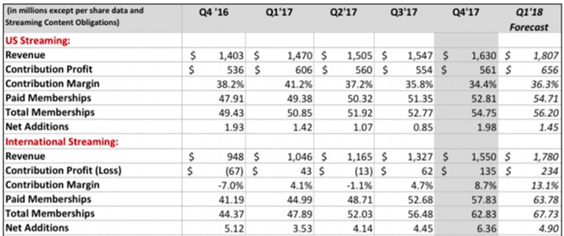 Source: company's report
Further down the P&L, profitability did not impress, but also was far from disappointing. Operating margins landed at 7.5%, within striking distance of the guided 7.3%. International is gaining more ground on that front, with contribution margin having come in about 130 bps ahead of the company's expectations.
Costs and cash flow are unlikely to scale back as Netflix uses growth momentum to allocate more resources to content creation. In fact, content spend estimates for 2018 have been revised up to $7.75 billion at the mid-point of the guidance range, while cash use on a FCF basis could double YOY. However, I believe none of the above will matter to Netflix investors who are likely to rally around the stock for as long as membership and top-line growth continues to be healthy.
Delivering what Netflix investors want
Love it or hate it, Netflix continues to deliver what investors were probably looking for when they bought shares in the first place: Growth and scale. For that reason, I find it very likely that NFLX will enjoy short-term momentum at least.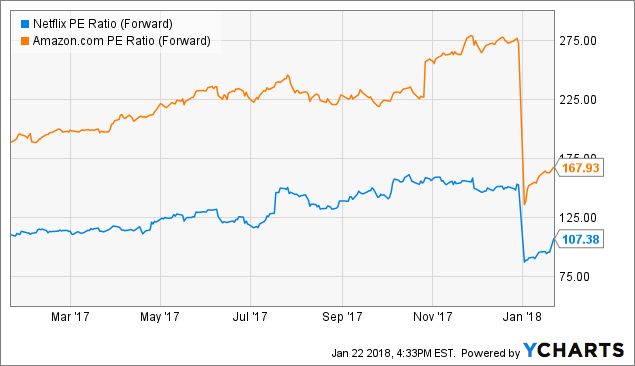 | | | | |
| --- | --- | --- | --- |
| Company/Ticker | Forward PE | Forward PEG | TTM FCF Yield |
| Netflix - NFLX | 107.4x | 2.0x | -1.9% |
| Amazon (AMZN) | 167.9x | 4.3x | +1.1% |
In the long run, forces outside share price momentum will likely be most determinant to the success of the company and the stock. I see risks associated with (1) increased competition for streaming entertainment coming from all sides, from Amazon to Disney (DIS) to Apple (AAPL), (2) bloated cost structure to maintain the quality and quantity of Netflix's original content, (3) sensitivity to an eventual macroeconomic downturn, considering the discretionary nature of the business, and (4) a richly priced stock (see chart and graph above).
But for now, it is hard to make a convincing bear case on the stock as the company continues to fire on all cylinders. Investors, once again and for the time being, have been proved right.
Note from the author: If you have enjoyed this article and would like to receive real-time alerts on future ones, please follow D.M. Martins Research. To do so, scroll up to the top of this screen and click on the orange "Follow" button next to the header, making sure that the "Get email alerts" box remains checked. Thanks for reading.
Disclosure: I am/we are long AAPL. I wrote this article myself, and it expresses my own opinions. I am not receiving compensation for it (other than from Seeking Alpha). I have no business relationship with any company whose stock is mentioned in this article.