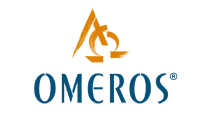 You only have to do very few things right in your life so long as you don't do too many things wrong. The Oracle of Omaha (Warren Buffett)
In the past 52-weeks, the shares of Omeros Corporation (NASDAQ:OMER) - a bioscience firm focusing on the innovation and commercialization of small-molecule and protein therapeutics to service the large as well as rare disease markets - traded $8.08 higher at $17.18 (for +88% profits). However, the stock gave up some steam as it moved lower by 15% in the previous month. Be that as it may, the highly promising grower still banked +9% profits for partners of Integrated BioSci Investing. And, the temporary "haircut" was most likely due to the usual share price fluctuation in the market (as traders and investors take profits from the robust gains). Interestingly, the company announced on Jan. 22, 2017, that the European Medicine Agency ("EMA") issued positive opinions re the orphan status for the lead developing molecule (OMS-721), as the potential treatment for the rare kidney condition (IgA nephropathy). Accordingly, we'll walk readers through recent development for OMS-721 and to reaffirm the investing thesis of this potential "multi-bagger" - a baseball term used to describe a stock that increased multiple folds.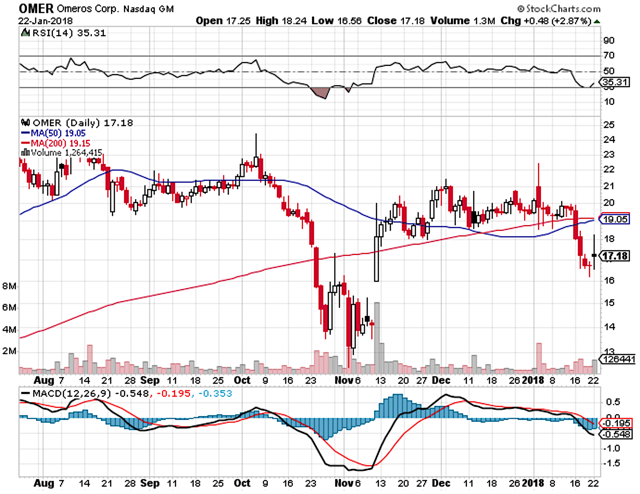 Figure 1: Omeros stock chart. (Source: StockCharts).
Fundamentals Analysis
Based in Seattle, WA, Omeros Corporation is developing and launching therapeutics that to service inflammation, complement-mediated diseases, and central nervous system disorders. We mentioned in the prior research that multiple catalysts are powering this firm. Notably, the approved product, Omidria - (phenylephrine and ketorolac 1%/0.3% combo injection) are used for maintaining the pupil size during eyes surgery and for reducing postoperative pain. The said medicine is posting increasing sales that, in and of itself, is used to power the highly enriched pipeline (as shown in figure 2). And, we anticipated that Omidria's revenues to ramp up sharply going forward: this is mainly due to the FDA's recent approval of its Supplemental New Drug Application ("sNDA") to be used in kids up to 17 years old. It is likely that Omidria's year-end revenues will be 50% higher than that for fiscal 2017.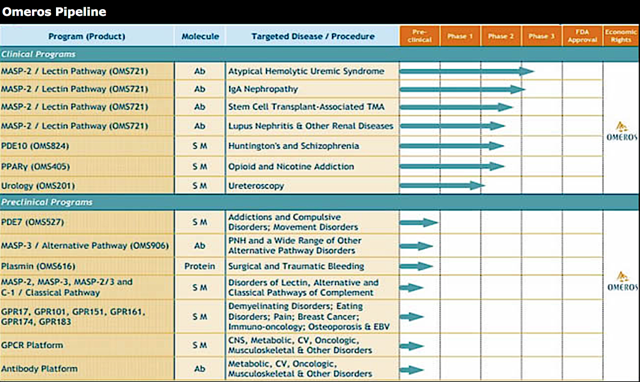 Figure 2: Therapeutic pipeline. (Source: Dr. Tran BioSci, adapted from Omeros).
As alluded, the announcement of the EMA's positive opinion for the most promising molecule in the developing pipeline (OMS-721) is a stellar development for both shareholders (and patients alike). Of note, the orphan drug designation in Europe is available to firms innovating molecules to treat a life-threatening or chronically debilitating condition (affecting fewer than 5 in 10,000 people living in the European Union). Gaining such a status enabled OMS-721 to enjoy the 10-year marketing exclusivity in the aforesaid territory post-approval. Moreover, the EMA also offer the firm additional assistance as well as reduced administrative fees during the developmental process (and access to the centralized marketing authorization). With the positive opinions from the EMA, it is most likely that the said agency will approve OMS-721's orphan designation (the final decision to be made shortly in Feb. this year). Enthused by the recent development, Dr. Gregory Demopulos (CEO and Chairman) remarked,
We are pleased with EMA's positive opinion and look forward to receiving confirmation next month of orphan drug designation in the EU for OMS-721 in IgA nephropathy. Already having received orphan and breakthrough drug designations in the US, we are now awaiting EMA's decisions on (priority medicine) PRIME status for OMS-721 in IgA as well as in stem cell transplant-associated TMA, and we will be submitting our breakthrough drug application to FDA for OMS-721 in stem cell-TMA within the next few weeks. Enrollment in our Phase 3 trial in IgA nephropathy is expected to open in Feb. and we also are on track to initiate our Phase 3 trial in stem cell-TMA in H1 this year after discussion with regulatory authorities.
Europe asides, Omeros successful secured the US FDA's various designations for OMS-721 as alluded. Both the orphan and breakthrough marks were granted to the said molecule for IgA nephropathy back in 2017. Furthermore, the agency fast-tracked it as the potential treatment for a kidney condition coined, atypical hemolytic uremic syndrome ("aHUS"). Of note, we are most interested in the orphan designation for the named therapeutic, as our research showed that investing in the rare disease market tends to pay off big. Notably, we elucidated in another research,
Investing in orphan diseases is seemingly the new trend for biopharmaceuticals. A firm can charge a premium price for its developing drug that treats rare diseases. And not only that this is viewed favorably by the regulatory authority, the approach also ensures profitability for the company as well as the availability of lifesaving drugs for patients.
Final Remarks
In all, there are multiple pending catalysts powering the firm. As follows, Omidria's upcoming sales report is an event that can move the stock significantly further North. As mentioned, the various regulatory designations can also influence the share price; however, those catalysts won't deliver as much impact as the phase 2 and 3 trial outcomes studying OMS-721 in various indications (as depicted in figure 2 above). Given company is investigating OMS-721 in many diseases, there are more "shots on goal" of witnessing positive data outcomes for a condition that will deliver blockbuster sales.
Author's Notes: We're honored that you took the time out of your busy day to read our market intelligence. Founded by Dr. Hung Tran, MD, MS, CNPR, (in collaborations with Dr. Tran BioSci analyst, Ngoc Vu, and other PhDs), Integrated BioSci Investing ("IBI") marketplace research is delivering stellar returns since inceptions. To name a few, Nektar Therapeutics procured more than 280% profits; Spectrum Pharmaceuticals delivered over 150% gains; Atara Biotherapeutics earned greater than 110% in capital appreciation; Kite Pharma netted 82%. Our secret sauce is extreme due diligence coupled with expert data analysis. The service features a once-weekly exclusive in-depth Integrated BioSci Alpha-Intelligence article (in the form of research, reports, or interviews), daily individual stocks consulting, and model portfolios.
Notably, we'll increase our price soon. Subscribe to our marketplace research now to lock in the legacy price and save money in the future. To receive real-time alerts on our articles as well as blogs, be sure to check out our profile page and Click the orange follow button. Asides the exclusivities, this article is the truncated version of the research we published in advance to IBI subscribers.
Disclosure: I/we have no positions in any stocks mentioned, and no plans to initiate any positions within the next 72 hours. I wrote this article myself, and it expresses my own opinions. I am not receiving compensation for it (other than from Seeking Alpha). I have no business relationship with any company whose stock is mentioned in this article.