Over the past twelve months, shares of Dentsply Sirona (NASDAQ:XRAY) have climbed about 11%. In my view, investors should count themselves lucky and get out before the shares drop in price. I'll go through my reasoning below by focusing in on the financial history here, and by conducting a review of the relative value of this stock. In my view, the all stock purchase of Sirona Dental was troublesome, and things seem to have gotten worse from there. Again, if you own these shares, my advice is to get out. If you were considering purchasing, don't.
Financial Snapshot
A quick look at the financial history of Dentsply Sirona indicates that this is a relatively volatile business with some stagnant elements. Except for the impact of the disastrous goodwill write down in 2017 (more on that below), profit margin has been sitting at around 11% for years. Revenue is up at a CAGR of about 6.2%, while net income is up 6.4%, and free cash flow has grown at a less than stellar CAGR of about 3.2%.
Revenue growth seems to be intact, as the company posted decent sales growth in the first nine months of 2017 relative to the same period a year ago. In spite of the fact that revenue grew, net income was down dramatically as a result of the large goodwill writedown. Some have argued that this is a meaningless issue, as it's a non-cash charge. I'd suggest two arguments in reply. First, this writedown proves that the company overpaid for the Sirona deal, which was corrosive to shareholder value. Second, if you're not enamored of GAAP earnings, consider the fact that in spite of a $154 million increase in sales, free cash flow was only up $6.6 million. It would seem that rising sales don't necessarily translate into rising profits or free cash flow.
Turning briefly to the capital structure, after making some decent efforts to pay down debt, the company has grown long term debt by about 39% over the past two years, to just over $1.6 billion. This is troublesome, obviously, but debt is not the biggest problem on the balance sheet. After all, fully 63.5% of it is due after 2021, and, at an interest rate of 2.4%, debt is not overly expensive in my view.
The biggest problem is not with the ballooning debt here. The biggest problem on the balance sheet comes from the level of goodwill present. Even with the relatively large (and predictable) goodwill write down recently, goodwill still represents fully 45% of the capital structure. This is obviously the result of the all stock transaction acquisition of Sirona. This transaction bothers me for two reasons. First, all stock transactions are notoriously detrimental to the shareholders of the acquiring firm, and also, this much goodwill is a sword of Damocles hanging over the heads of shareholders. They'll never know when the next writedown will happen. At least the bloated debt level is somewhat predictable. The negative impacts of this much goodwill isn't.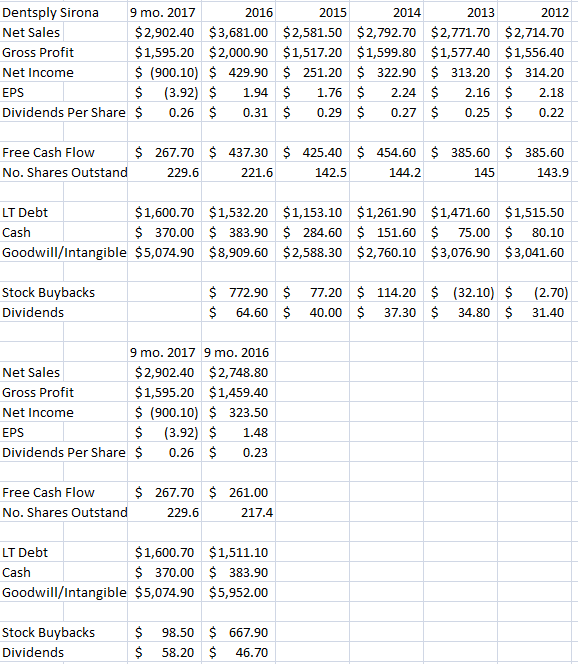 Source: Company Filings, 10-K, 10-Q. Note: sales figures are net of precious metals. Free cash flow figures from Gurufocus.
The Stock
In addition to the troubled financial history here, the stock is overvalued. Whenever I try to determine whether a stock is overpriced or not, I first try to unbundle what the market assumes about long term growth. In order to do this, I employ the methodology laid out by Professor Stephen Penman in "Accounting for Value." Basically, Penman uses some high school algebra on a standard finance model to isolate the "g" variable to work out what the market assumes is the long term growth. At the moment, the level of optimism embedded in the share price is quite high, with the market assuming a perpetual growth rate for Dentsply of 10.7%. This is a ludicrously optimistic assumption in my view, given the history here, and given the fact that the world simply doesn't need dental equipment at this rate.
For those interested in a more traditional measure of valuation, don't worry. It's overvalued in that regard to. Specifically, the price to free cash flow per share measure is quite stretched relative to the recent past.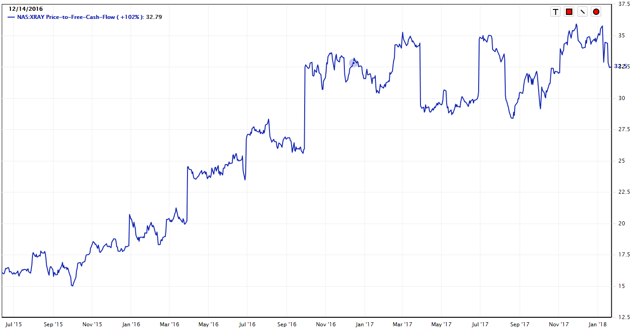 Source: Gurufocus
Risks to My Thesis
The one fly in the ointment of my thesis might be the dividend here. Although the share count has ballooned massively as a consequence of the acquisition, dividends per share have grown at a nice consistent rate since 2012. A possible risk here might be the fact that yield starved investors will bid up the share price in an effort to earn an income on their capital. Although the yield is low at the moment, so is the payout ratio, and a reasonable argument could be made for a higher dividend here. In response I'd suggest that for a cash starved investor, a stock yielding less than the T-Bill is hardly a sanctuary.
Conclusion
In my view, investing is about finding that wonderful combination of inexpensive stock and decent business. If you buy when the stock is undervalued, time is obviously your friend, as you can wait for price to drift higher to match value. At the moment, Dentsply is an exemplar of the worst possible investment in my estimation. It is a stock that is trading at a rich valuation in spite of the fact that there is slow growth and risks embedded in further goodwill writedowns. Time is not on the side of the longs here, as I think price will inevitably descend to value.
Disclosure: I/we have no positions in any stocks mentioned, but may initiate a short position in XRAY over the next 72 hours. I wrote this article myself, and it expresses my own opinions. I am not receiving compensation for it (other than from Seeking Alpha). I have no business relationship with any company whose stock is mentioned in this article.