We have received a tremendous response and following from my occasional articles on Seeking Alpha over the years, though we have kept the majority of trading ideas to my in-house paid customers. Ever since we accurately forecasted both Hurricane Harvey and Irma and predicted a cold U.S. winter, we have had numerous requests for some sort of paid subscription service. Please take the time to fill out this survey.
Natural Gas prices making new highs on another Polar Vortex in February
While winter has not been entirely warm, especially the first three weeks of December, resulting in natural gas (UGAZ) prices falling briefly to $2.60, the overall theme continues to be a cold one into the second half of the winter, even though temps this week will be well into the 40's and 50's over a good portion of the nation. So why the spiral up to new high prices? First of all, stocks of natural gas are finally coming down and this week's EIA should show another big draw of supply, in part due to shut-ins, in the Gulf last week, as temps fell into the lower 20's. On top of that, we continue to feel that a Polar Vortex will sink south into the heart of the U.S as we head deeper into February. Certainly a break from the cold first, for much of the nation, but back into the freeze-box again before Mid -February.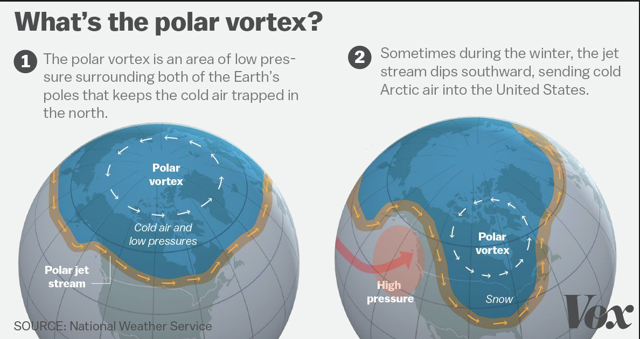 Drought developing in Argentina
More than 60% of the region above is suffering from a developing drought. For more information about Argentina weather and also natural gas (UNG), click here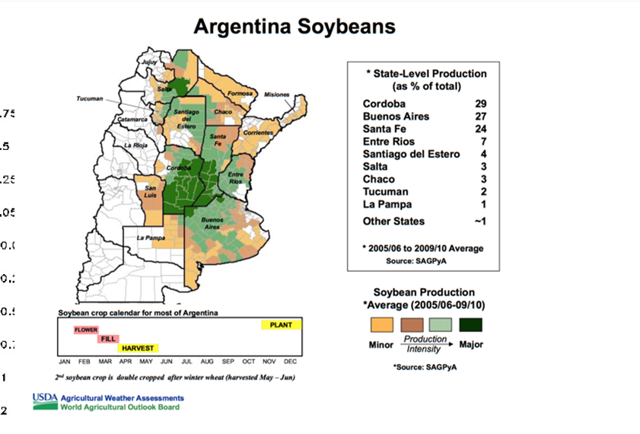 Manufacturing is the largest single sector in Argentina's economy (15% of GDP), and is well-integrated into Argentine agriculture, with half the nation's industrial exports being agricultural in nature.
Metal ore exports have soared from $200 million in 1996 to well over $3 billion today. Other leading sectors of their economy are: food processing and beverages, motor vehicles, refinery products,
Biodiesel, chemicals, farm machinery and electronics and home appliances.
Argentina is one of the world's major agricultural producers, ranking among the top producers in most of the following, exporters of beef citrus, fruit , maize, honey, and soybeans. They rank #1 in the world of the export of soy byproducts (mainly for animal feed) and it is no wonder that the weather in Argentina this time of the year, is a key factor in the movement of soybean prices.
The recent rally in soybean prices (SOYB) is due to a slightly friendly USDA report two weeks ago, but a growing drought that has been inspired not only by a weak La Nina but other oceanic features. We began changing our overall bearish sentiment in this market last week, as it appeared dryness would begin to worsen. After two Argentina growing seasons featuring heavy rains and in some cases flooding, history and cycles would prove the opposite could happen well into February. Take this scenario and the fact cotton prices have soared, leaving the door open for more farmers to plant cotton than soybeans next spring, and it is possible that soybeans prices could rally smartly in the weeks ahead.
The chart below shows how La Nina events can sometimes have at least a partial effect in lowering Argentina's GDP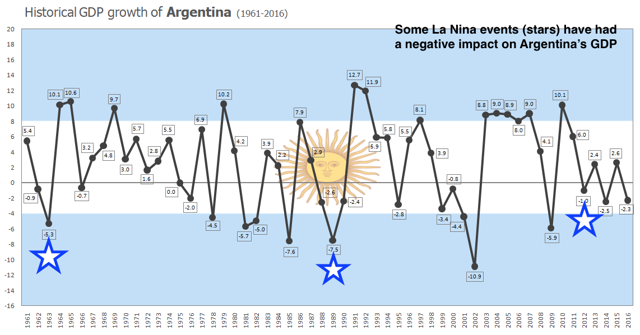 In summary, I continue to like many of the natural gas stocks we recommended more than a month ago in an old Seeking Alpha post and I see little downside in natural gas prices in the weeks ahead, as winter will end up turning colder again. With droughts developing in the U.S. Plains wheat belt (WEAT) and dryness in Argentina , grain prices are bottoming and are contributing to the CRB index breaking out of its long term downtrend.
Disclosure: I/we have no positions in any stocks mentioned, and no plans to initiate any positions within the next 72 hours. I wrote this article myself, and it expresses my own opinions. I am not receiving compensation for it (other than from Seeking Alpha). I have no business relationship with any company whose stock is mentioned in this article.