The Sell Thesis
CorEnergy Infrastructure Trust (CORR) is a company I have liked for a long time, and I have been writing bullish articles since 2012 with the 3 most recent linked here, here, and here. However, I no longer believe it is opportunistic to own. Favorable market pricing has made it fully valued, and certain fundamental headwinds seem to be getting overlooked. The 3 headwinds I wish to address are:
Upcoming rolldown in rent from the MoGas pipeline
Diminished acquisition opportunity
Asset depletion
The appearance of value
CORR's total return has beaten the REIT market despite a rough ride during the oil and gas recession.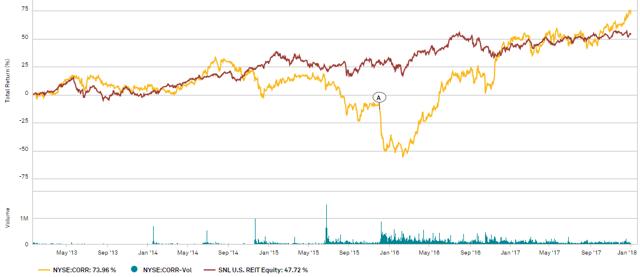 While CORR's market price has performed well in recent years, it still screens quite well with a 7.7% dividend yield that is fully covered by consensus FFO and a seemingly cheap ~11X trading multiple.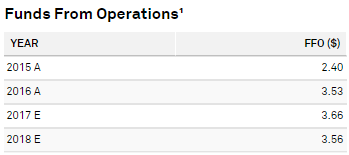 Source: SNL Financial
These are precisely the parameters that I normally look for in a value REIT.
Unfortunately, the current FFO might be the highest it is going to get in the near to medium term due to the aforementioned headwinds which we will dive into now.
MoGas rolldown
Per the language in the 10-K pasted below, MoGas rent is going to be cut from $12.385/dekatherm/month to $6.386/dekatherm/month starting in October of 2018.

CORR was very transparent about this rolldown and even had a conference call discussing the details. The market reacted initially to the bad news but it seems the market's memory is short and the upcoming drop was soon forgotten with CORR presently trading near its highs since becoming a REIT.
Essentially what happened is that competing pipelines are making the MoGas pipeline less competitive. A newly finished pipeline is now supplying less expensive Appalachian Basin gas to part of the area supplied by MoGas.
In exchange for the nearly 50% rate cut, CORR was granted the ability to lease remaining capacity of its pipeline to other tenants. Unfortunately, this open leasing season has not resulted in any material bids so it looks as though the full rent reduction will hit the bottom line starting in November.
To get a sense for the magnitude of this rent reduction, recall that the MoGas asset was acquired for about $125mm which is quite sizable relative to CORR's market cap of $460mm.
Diminished acquisition opportunity
I must admit that I like CORR's strategy. They provide financing through sale leasebacks to energy companies in exchange for high quality assets. So far, CORR's underwriting has been reasonably strong with the asset quality in the Pinedale liquids gathering facility pulling CORR through the bankruptcy of Ultra Petroleum with no rent interruption. The GIGS proved equally well conceived with full rent through Energy XXI's bankruptcy.
As a REIT, CORR does not need to be as concerned with the quality of the tenant if the asset is essential enough as to force whatever entity wants to use it to pay full rent. Banks do not have this same luxury as they are not natural owners of energy infrastructure assets and typically do not want to own through foreclosure. Therefore, CORR is uniquely positioned to effectively lend (sale leaseback) capital to troubled energy entities at very high cap rates that are usually double digit.
At the time CORR became a REIT such transactions were broadly available. There was a plentitude of over-levered and ambitious energy operators looking to grow their businesses, who were willing to pay through the teeth to do so. However, the recent oil and gas recession knocked out many of such companies. Some got bought up by well-capitalized peers while others were turned over to lenders who are themselves well capitalized. Overall, energy operators have much healthier balance sheets than before the oil crisis.
With stronger balance sheets, many of the operators have access to cheap capital and therefore are unlikely to seek out expensive capital from CORR. Unfortunately, this diminishes CORR's opportunity to accretively grow. This happens to many REITs, but CORR raised capital in the form of a preferred with, I assume, the intent to put the money to work in a new asset. With no new acquisitions in over a year, I believe CORR is struggling to find accretive growth.
Dave Schulte (CORR's CEO) promised shareholders that he would only grow if it was accretive to FFO/share and would facilitate dividend growth. He has stayed true to this promise and I respect that he is not growing the company for the sake of growth. Unfortunately, there seems to be no accretive growth available which means the dividend is likely to be rather stagnant and could potentially face pressure in the long run if true FFO declines.
The decline in FFO/share from the MoGas rolldown will be fairly substantial. I do not think it will take dividend coverage below 100%, but it may take true FFO coverage below 100%. The difference between FFO and true FFO is the subject of the next section.
Asset depletion
For most REITs, there is a tradeoff between capex and asset appreciation. Over a 20 year period, well-maintained properties will generally go up in value. Thus, they can be valued as somewhat perpetual assets in the sense that NOI net of capex can be considered true profits.
CORR's assets are a bit different in that they do not have perpetual lives. Once the oil and gas fields serviced by CORR's property run out of their natural resource, or at least run out of what is financially viable to access, the value of CORR's property starts to approach $0 (perhaps a bit more if salvage of materials is possible). Thus, a portion of the cash flow from the properties needs to be allocated to depletion such that CORR can buy a similar property when the current one finishes its useful life.
The fields underlying CORR's properties have lives of roughly 15-30 years so in ballpark numbers, about 4% of the cash flow each year should be allocated to depletion. Standard REIT FFO accounting does not include expenses of this type as it does not differentiate from depletion and depreciation which gets added back into the FFO figure.
Therefore, I would suggest true FFO is about 4% lower than reported FFO. CorEnergy has made every attempt to educate the market on the difference between true FFO and reported FFO and it has intentionally kept the FFO payout ratio reasonably low so as to account for the difference. In other words, the dividend level was set so as to retain a sufficient amount of cash flow to pay for asset replacement due to depletion.
Between the depletion expense and the revenue cut from MoGas in November, I fear CORR's true dividend coverage will get quite thin in the absence of being able to find an accretive acquisition.
Putting it all together
CorEnergy remains a good company but the environment has gotten tougher and we are forecasting a period of stagnation with the added negative of the MoGas rolldown partially hitting the numbers in 4Q18 and fully hitting the numbers in 1Q19 and beyond.
I think the market is falsely equating the strength of energy companies with the strength of CORR which may be why it has traded up lately. At current pricing, I see little upside remaining so I am now on the sidelines.
While I have sold out of my position, I do not think a short is viable here. The dividend is still quite large, making it expensive to carry and there is no major harm coming. Stagnation is bad for both longs and shorts.
Buy signals
There are certain events that would warrant a second look at a long position. If CORR can source an accretive deal in the $100mm range, that would be a very good signal. Alternatively, news of leasing up the additional MoGas capacity would make the dividend quite safe.
We like CORR, but it just does not seem like the right time to own it.
Disclosure: This article is provided for informational purposes only. It is not a recommendation to buy or sell any security and is strictly the opinion of the writer. Information contained in this article is impersonal and not tailored to the investment needs of any particular person. It does not constitute a recommendation that any particular security or strategy is suitable for a specific person. Investing in publicly held securities is speculative and involves risk, including the possible loss of principal. The reader must determine whether any investment is suitable and accepts responsibility for their investment decisions. Dane Bowler is an investment advisor representative of 2MCAC, a Wisconsin registered investment advisor. Commentary may contain forward looking statements which are by definition uncertain. Actual results may differ materially from our forecasts or estimations, and 2MCAC and its affiliates cannot be held liable for the use of and reliance upon the opinions, estimates, forecasts and findings in this article. Positive comments made by others should not be construed as an endorsement of the writer's abilities as an investment advisor representative.
Thank you for reading this Seeking Alpha PRO article. PRO members received early access to this article and get exclusive access to Seeking Alpha's best ideas. Sign up or learn more about PRO here.
Disclosure: I/we have no positions in any stocks mentioned, and no plans to initiate any positions within the next 72 hours. I wrote this article myself, and it expresses my own opinions. I am not receiving compensation for it (other than from Seeking Alpha). I have no business relationship with any company whose stock is mentioned in this article.