The CRB index has been the place to be. It has delivered a 35% return off the 2016 lows and is gradually getting more recognition in mainstream news.
Bond boss Jeffrey Gundlach had this to say about commodities last week.
My first idea is tied to commodities. Broadly, commodities are very, very cheap. Commodities have long cycles, as well. A fascinating chart has been circulating in the investment industry. It compares the total return of the Standard & Poor's 500 index to the total return of the Goldman Sachs Commodity Index, and it goes in tremendous cycles. In the 1970s, commodities started to outperform. They outperformed the S&P by 800%, and then gave it all back. Then there was another wave up, and commodities outperformed again by 800%—actually, 900%—and that continued into 2008.
The banks are joining in on this bullish outlook.
Analysts at Goldman Sachs, for instance, are overly bullish commodities, recommending an overweight position for the next 12 months. Bank of America Merrill Lynch is calling for a $7,700-a-tonne copper price target by mid-2018, up from $7,140 today.
The fact is that commodities have become cheap relative to stocks and bulls have had a painful few years of towel-throwing exercises. Gundlach further hit home with the idea that this commodity bull market would be accompanied by a US dollar bear market.
We take the 50,000-foot view. One of our higher-conviction ideas is that the dollar will have another big move down. We talked about the potential for rhetoric to turn more hawkish in the euro zone. Also, trends in the dollar have a high degree of cyclicality. They tend to last about eight years. We've had about an eight-year rally in the dollar that ended, and we had a down year of significance last year. Usually, these things come in groups. When you have a down year that breaks the dollar trend, very often it is followed by the same type of weakness in the future.
This concept is also getting established with Seeking Alpha's HFIR publishing an excellent piece on the Commodity Bull-US Dollar Bear.

Why we think differently
We are programmed to recognize patterns. The last commodity bull market was accompanied by a weak US dollar.
This was seen in spite of US raising interest rates significantly during this time frame. Additionally, with most commodities getting their primary pricing in US dollars, a higher price for commodities seems an inevitable feature of a US dollar bear market. This of course makes people believe we are at the same inflection point. We think people are missing one big factor. This.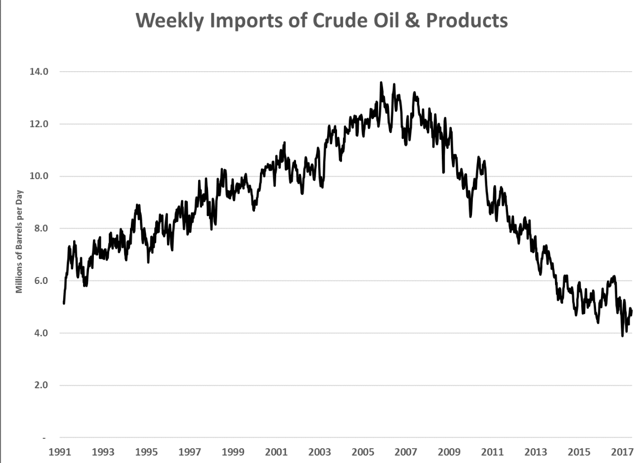 Source: EIA
In the time frame in question, US was importing increasing amounts of oil. That led to an explosion in US trade deficit, which was compounded by increasing oil prices.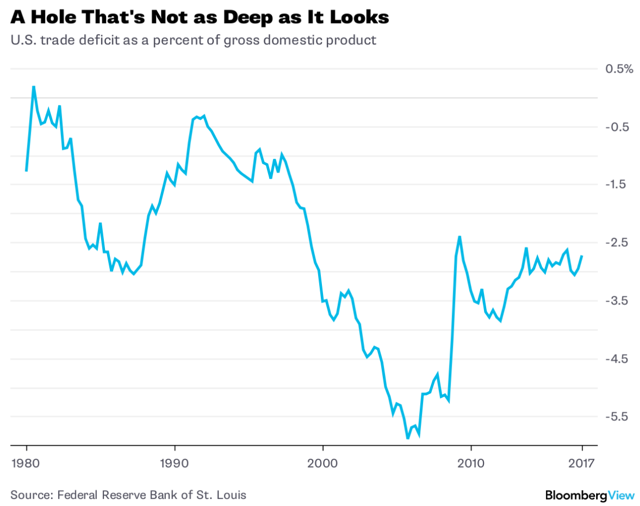 You can see the peak in the trade deficit in 2008 as oil prices touched $140 coupled with the US importing 12 million barrels of oil and oil products. That was also the same point where the US dollar bottomed.
However, this time around, increasing oil prices will be accompanied by increasing US oil production. Shale oil economics can be debated but there is a question as to whether the industry can profitably extract increasing amounts of oil at prices over $80. As prices move higher, they will have an opposite effect on the US trade deficit as increasing quantities of oil are produced domestically. We would not be surprised if the US became an exporter in 5-6 years if prices persist averaging over $80/barrel. This is a big material change from the last commodity bull market.
On the other hand, the eurozone has seen its oil production peak and gradually decline over the last decade.
As mentioned on Eurostat, the EU is quite dependent on foreign oil.
The European Union relied on net imports (imports minus exports) for 89 % of the oil products consumed in 2015. The dependency on foreign petroleum is currently at its peak in the 26 year history covered by Eurostat's data series.
Hence we see the fundamentals are lining up very differently for this commodity bull run than they did last time around.
How to play it
We think the best way is to play the commodity bull and not try and make a US dollar correlation, which would likely create unnecessary faulty signals. We are also relatively agnostic over US dollar movements versus most of the major currencies. However, there is one way to actually play the US dollar bull-commodity bull together. By shorting the CurrencyShares Japanese Yen ETF (FXY) i.e. going Long USD-JPY currency pair.
The way we see it, this has the setup of a perfect trade. We see interest rate differentials increasing between US and Japan as inflation takes off. The Federal reserve has been hiking and has signaled additional hikes in 2018. We expect longer-term interest rates to rise as well.
Additionally, Japan imports 4 million of oil and its trade deficit should increase with increasing oil prices.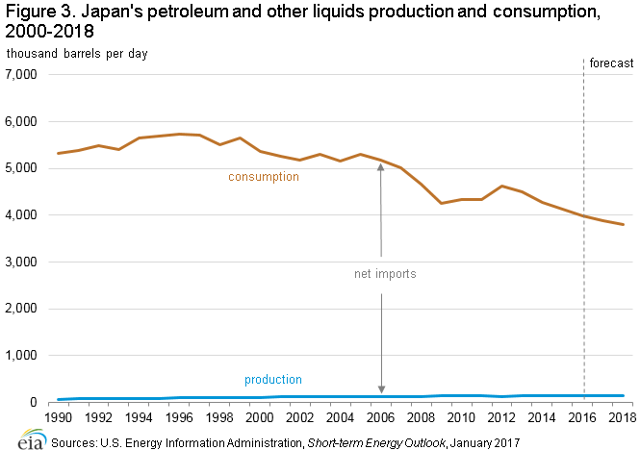 On the other hand, the US will have reducing oil imports over the next few years. We see this combination as extremely bullish for USD-JPY and hence bearish for FXY.
The currency has gone essentially sideways over the last year but now with bearish sentiment towards the US dollar at an extreme, it might be ready to resume its downward trajectory.
Conclusion
While we are bullish on commodities, we think the crowd is jumping the gun in expecting a big bear market. We actually see the chance of a US dollar bull market alongside a commodity bull market. The US has already become a natural gas exporter in the last few years and higher oil prices will remove another deficit source over the next 5.
Interest rate differentials and trade deficits are the strongest fundamental forces for currency rates. We see both moving in favor of a stronger USD-JPY. We think a yen short through FXY hence makes plenty of sense. In the past, AUD-JPY or CAD-JPY have been used as the commodity trades. This time is different.
Disclaimer: Please note that this is not financial advice. It may seem like, sound like it, but it is not. Investors are expected to do their own due diligence and consult with a professional who knows their objectives and constraints.
Seeking Alpha has changed its policies. Previously "following" someone required a ritualistic commitment and an offering of not less than 4 oxen or 3 breeding horses. Now, all it takes is one click! If you enjoyed this article, please scroll up and click on the "Follow" button next to my name to not miss my future articles. If you did not like this article, please read it again, change your mind and then click on the "Follow" button next to my name to not miss my future articles.
Disclosure: I/we have no positions in any stocks mentioned, and no plans to initiate any positions within the next 72 hours. I wrote this article myself, and it expresses my own opinions. I am not receiving compensation for it (other than from Seeking Alpha). I have no business relationship with any company whose stock is mentioned in this article.
Additional disclosure: We are Long USD-JPY Forex.