"As we learned after President Herbert Hoover signed the Smoot-Hawley tariff at the outset of the Great Depression, vibrant international trade is a key component to economic recovery; hindering trade is a recipe for disaster" - Asa Hutchinson
Back in the 1930s, the Smoot/Hawley Tariff Act was supposed to "Make America Work Again" after the stock market crash of 1929 but, instead, it destroyed trade so effectively that, by 1932, American exports to Europe were 1/3 of what they had been in 1929 and World Trade collapsed - leading to job losses in every country, a 10-year Depression, the rise of Fascism and, of course, WWII.
On his way to Davos, Trump declared tariffs on imports of Chinese solar panels and South Korean washing machines. Measures his administration said were needed to protect U.S. manufacturers from a flood of cheap imports. South Korea's Trade Ministry called the tariffs unfair and argued they violated World Trade Organization requirements, while China's commerce ministry called the action an "abuse of trade remedies." The U.S. action will also mean higher prices for American consumers and, already, companies like Kimberly-Clark (KMB) are cutting 5,000 jobs, citing sluggish sales.
Solar-industry leaders said tariffs will slow growth in solar-panel installations and the jobs they create, which are more plentiful than in solar-cell manufacturing, a relatively small industry in the U.S.
The most immediate impact of Trump opening the door to tariffs may be spurring retaliation by trade partners, as well as inviting more U.S. companies to seek help, said Chad P. Bown, of the Peterson Institute. That, in turn, could trigger additional trade skirmishes and fallout for U.S. workers and consumers, saying: "This is now really starting to escalate. The concern is that now we're at a tipping point."
Of course, driving the cost of solar panels up 30% is good for the coal industry, as it makes cheap, clean, renewable energy more expensive. However, there are 10x more jobs in renewables than there are in coal so this whole thing is idiotic AND very unnecessary, as the main purpose of tariffs is to create jobs and we're already at record-low unemployment, so all this will do is drive up labor costs and spur inflation.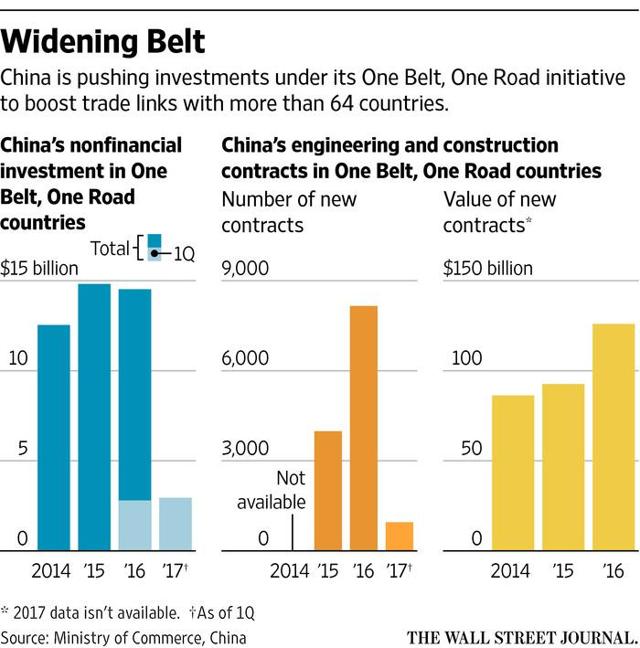 Meanwhile, while our President is starting a trade war, China's President is taking on the mantle as the champion of free trade and is fully engaged in the Trans Pacific Trade Partnership (with every country but US) and, with Europe, is constructing the new Silk Road with the slogan "One Belt, One Road," which envisions constructing networks of ports, railways, pipelines and industrial parks between China and Europe. China is investing $50Bn in this project and more of that money will now go towards ties with Russian companies as Trump takes the US out of the partnership picture.
"We should foster a new type of international relations featuring win-win cooperation, we should forge partnerships of dialogue with no confrontation and of friendship rather than alliance," said Mr. Xi in a nationally televised speech. He called for each country to respect each other's sovereignty, "social systems and each other's core interests."
In his speech, Mr. Xi said China would set up 50 joint science and technology laboratories and offer 5,000 foreign scientists, engineers and managers research trips and training. "Even if you don't agree with China's vision, at least they have one," said Sudheendra Kulkarni, chairman of the Observer Research Foundation. Now that the U.S. is absorbed with domestic politics, he said, China is "the world's only remaining thought leader."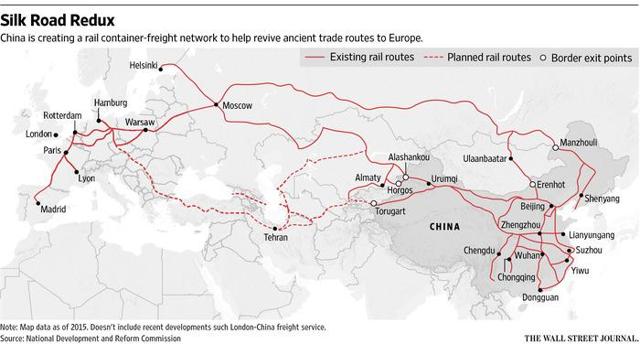 America has never faced off in a trade skirmish with an opponent like China in terms of economic size, industrial capabilities and global ambitions. If it escalated far enough, a trade war could take down the entire global trading architecture. That may, indeed, be Trump's goal. His longstanding view is that one of the biggest mistakes the U.S. ever made was to usher China into the World Trade Organization in 2001, enabling a competitor. Aides say he regularly threatens to pull out of the rules-setting body.
Tariffs and trade wars have never worked and Trump vastly underestimates the Global Economic power China now commands. This can all turn very ugly, very fast and - if we weren't hitting the top of the market before - I'd say we're forcing one now though these are slow-moving effects and it may take about 6 months to be able to look back at this moment and say "Yep, that's where things really went to Hell."
Meanwhile, be careful out there!