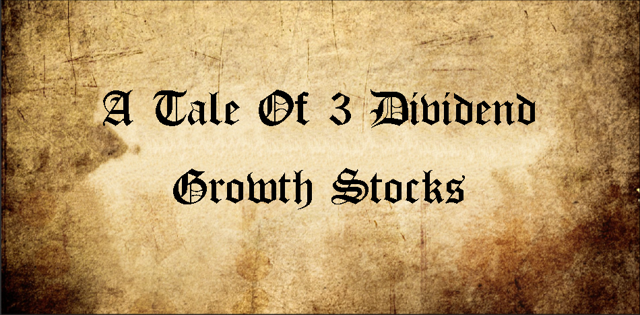 Last week, I introduced two new model dividend growth portfolios: The Next Generation and the 1% Dividend Growth Portfolio.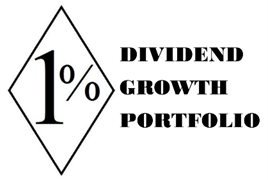 These portfolios have been well received and there is a great comment section filled with great questions and sound dividend investment wisdom. I invite all readers to come and participate.
In both of the articles, I presented how a low yield but high growth dividend stock can surpass the dividend income generated by your typical yield and typical growth as well as high yield and low growth dividend stocks. Readers chimed in and asked about the impact that dividend reinvestment would have on the outcome. In addition, some were skeptical because I was projecting an outcome that was unlikely due to varying dividend policies over time, business growth or disruption, etc. In essence, projecting out into the future using a constant and likely unrealistic growth rate is not reliable. Good points and I agree. But my question was how can we overcome that. While I was thinking about it, I thought, well if we can't reliably predict the future, how about the reliably use the past? In this article, I am going to retell the tale of 3 dividend growth stocks to answer the questions about the impact of dividend reinvestment and dividend growth.
Methodology
I am going to explain what I did so that the analysis that follows can be better understood and if there are errors, then I readers can point them out and I can make adjustments.
Our story is no fairy tale but we are going back in time to 1994. Our three main characters in the story are Ross Stores (ROST), AT&T (T) and Coca-Cola (KO). ROST is considered the low yield high growth stock. T is considered the high yield low growth stock and KO is the typical yield and growth stock. It is in this year that ROST initiated its dividend. This will provide us with 23 years of dividend growth data to use for this model.
I used Yahoo! Finance to obtain both the historical prices and the historical dividends, all of which were split adjusted. I could not find the dividend payment date for each stock going back to 1994 so the date listed in Yahoo! Finance is the best I can offer and appears to be about in general one month behind the payment dates that I could find. I do not think this will have a huge impact on the results but for transparency purposes, I thought I should mention it. I then calculated the amount in dividends a shareholder would have received based on the date the dividend was paid out and the price per share on that date. Here is where things get tricky because I see two potential scenarios how the dividends are used. Some investors have classic DRIPs where they get fractional shares. Some investors have brokerage companies that only pay out full shares and any left cash remaining is deposited into their accounts. A third scenario would have been to use that remaining cash and reinvest in the same stock each quarter when a dividend was paid however I noticed that the results were very similar to the fractional share scenario, therefore I will not include it in this analysis. I am sorry to say that I am not going to delve into the world of reinvesting dividends into other fairly valued stocks as that will become too complicated and the decision making has to be based on individual investors themselves. So, I will explore these two scenarios.
Anyone curious about what my EXCEL spreadsheet looked like can see it below.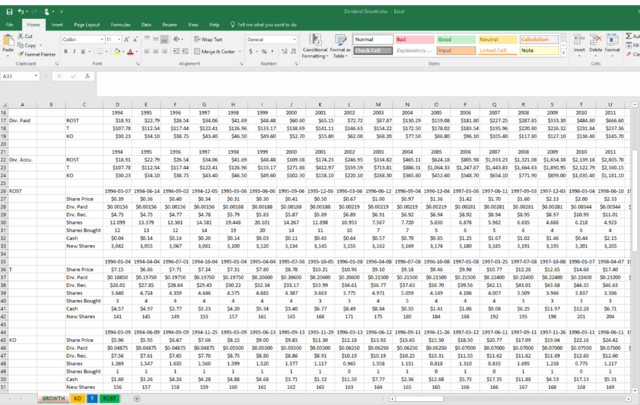 The EXCEL used formulas to calculate the value of dividends received based on the number of shares during each quarter, the number of new shares those dividends would have purchased based on the closing stock price that day and the remaining cash if full shares could not be purchased.
I will pretend that $10K was invested into each stock as of the first trading day of 1994 which happened to be January 3. At that time (remember that prices were split adjusted), ROST was trading at $0.41, T at $20.75 and KO at $11.13. An investment of $10K into each stock would have purchased 24,390 shares of ROST, 480 shares of T and 890 shares of KO.
For further background, the following charts show the dividends paid out in dollars and the dividend increases in percentages by each company since 1994 to 2017.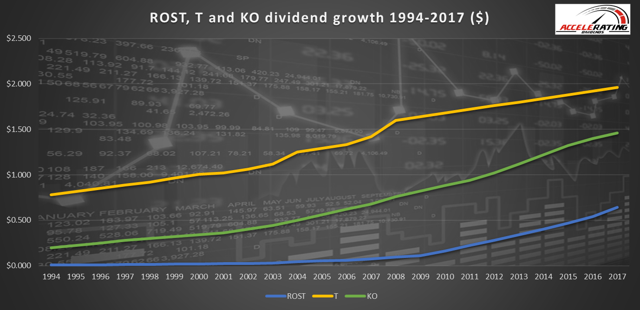 Source: Yahoo! Finance, chart and calculations completed by the author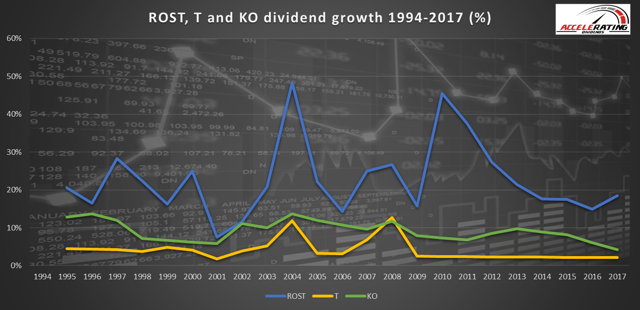 Source: Yahoo! Finance, chart and calculations completed by the author
It is very interesting to note that aside from one instance between KO and T in 2008, the percentage that the dividend was increased never crossed over.
Analysis
Now that the characters have been introduced, the scenario laid out, let's start running from numbers and develop this story further.
Each of the examples below will have three charts. The first is the graph showing the amount in dividends paid while the second shows the amount in dividends accumulated. The third shows the number of new shares obtained each year.
Example 1
The first example is full shares purchased and remaining cash returned to investors but not redeployed into the same stock.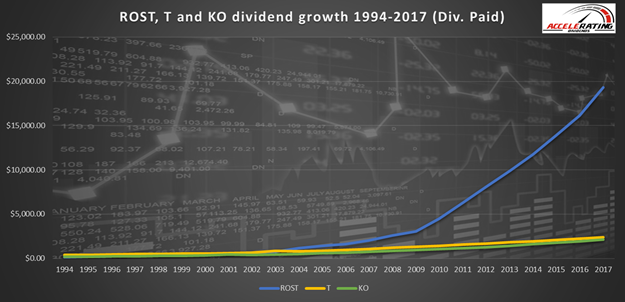 Source: Yahoo! Finance, charts and calculations completed by the author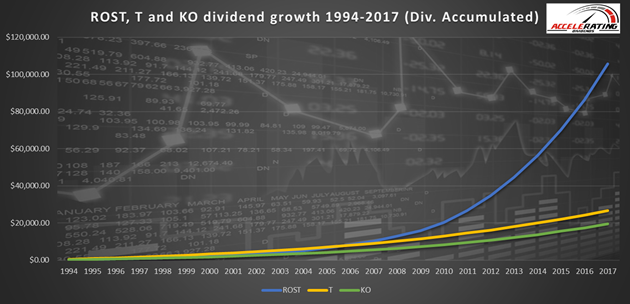 Source: Yahoo! Finance, charts and calculations completed by the author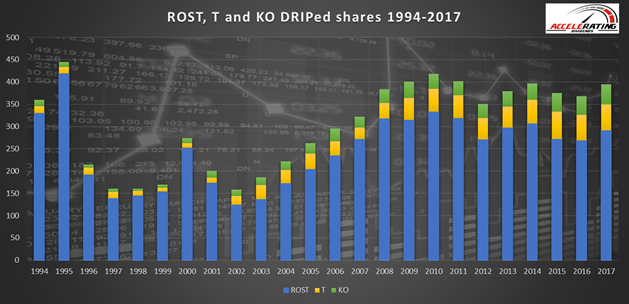 Source: Yahoo! Finance, charts and calculations completed by the author
In summary, it took ROST five years to surpass KO and 12 years to surpass T in terms of dividends accumulated.
Example 2
The second example is fractional share purchases with no cash outstanding.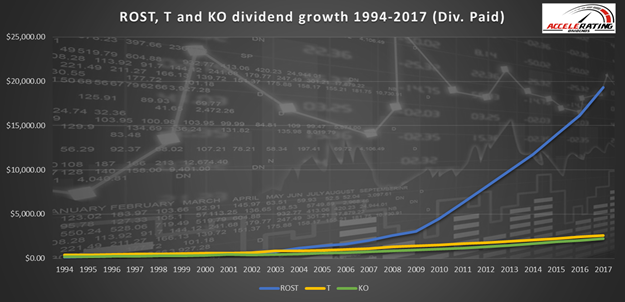 Source: Yahoo! Finance, charts and calculations completed by the author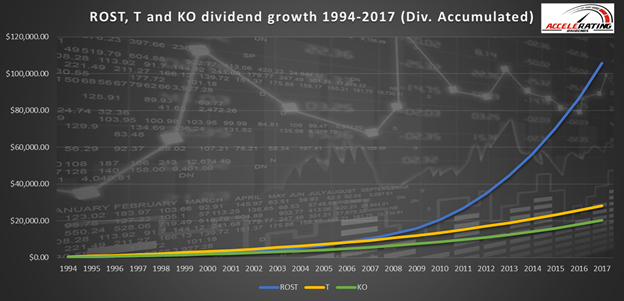 Source: Yahoo! Finance, charts and calculations completed by the author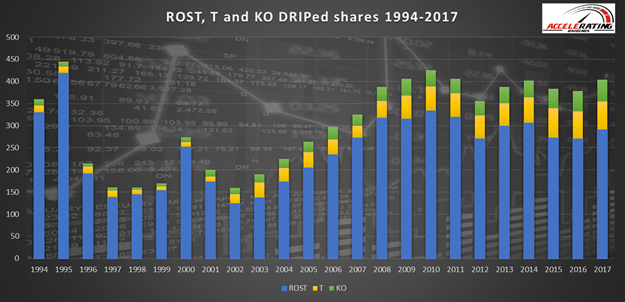 Source: Yahoo! Finance, charts and calculations completed by the author
In summary, this time it took ROST five years to surpass KO (just like in the previous example) but it only took 10 years this time to surpass T in the amount of dividends accumulated.
Discussion
In case anyone was wondering, the bump that you see in the amount in dividends paid by T in 2003 is no error because the company paid three special dividends that year.
Based on the two scenarios and some of my observations from these charts, I am submitting the following discussion points:
Low yield high growth stocks can generate a considerable amount of income given enough time
Valuation and what happened to KO and T?
The importance of sustained growth
Point 1
Low yield does not appear to be a serious handicap over the long term so long as dividend growth is robust. In this case, T has an average dividend growth rate of 4.1% over 23 years, KO has an average of 8.8% but ROST has an average of 22.9%. Obviously, if ROST's high growth was less, then it would have taken longer for it to surpass both T and KO. For investors, this suggests that low yield high growth stocks can be an excellent source of passive income come retirement. For those approaching retirement, serious analysis of the growth rate needs to be done in order for these stocks to contribute meaningfully at retirement. However, investors with windows of 25-30 years can definitely profit by such stocks so long as the growth remains robust. If such a company's dividend growth is in decline then the results are definitely going to differ considerably. Anyone with immediate income needs should obvious avoid low yielders but at the same time, if retirees can plan enough ahead, it appears that low yielders can provide an equivalent amount in dividends as a typical dividend growth stock like KO although I say that loosely because I really cannot generalize based on one stock!
Point 2
What happened to KO and T? I was surprised by these results and I can assure you that I more than triple checked the formulas and all the data to ensure that it was accurate and functioning correctly. As I looked at the data, KO and T did not have the power of compounding working for it very well. This was at a time when KO was raising its dividend by double digits and T's dividend was growing twice as fast as it is today!
This lead me to look up the following price chart on FAST Graphs.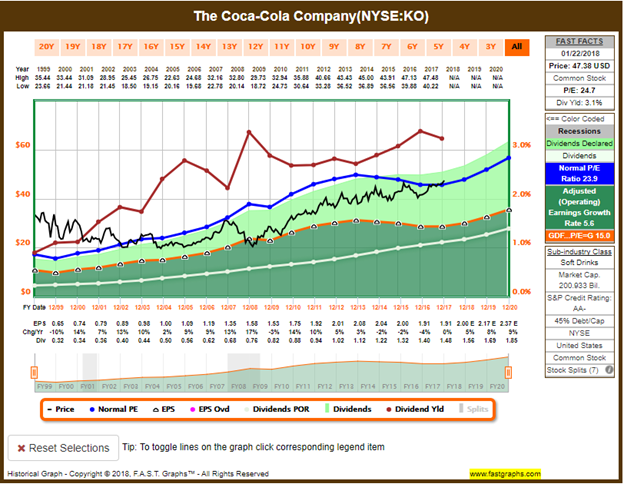 Source: F.A.S.T. Graphs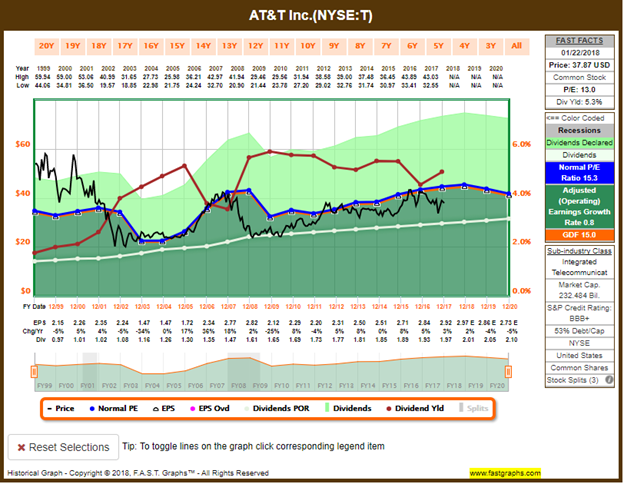 Source: F.A.S.T. Graphs
Although the graphs start in 1999, I think we can assume that in the years prior to 1999, both stocks were likely overvalued as they were in 1999, 2000, and 2001. A greater number of shares were being obtained starting in 2002. This suggests to me that overvaluation stunts dividend reinvestment growth and compounding. It further suggests that a sounder strategy would be to take dividends in cash and redeploy to stocks that are fairly valued in order to maximize ones' passive income long term. I am definitely open to more suggestions and theories in this matter.
For comparison, ROST was trading in and around its normal PE for most of the scenario (see the FAST Graphs below), which permitted a greater number of shares to be bought.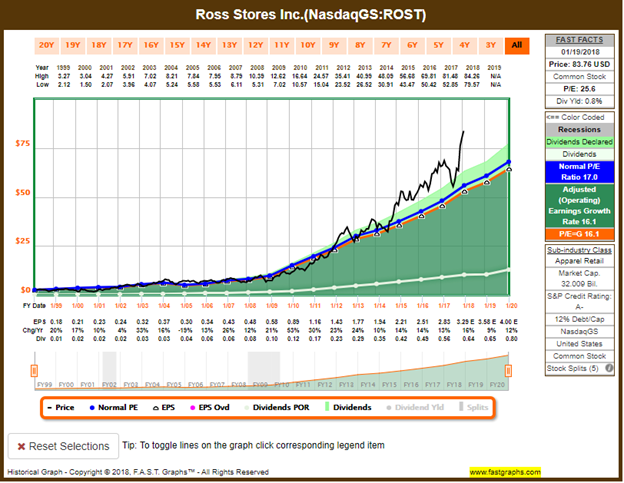 Source: F.A.S.T. Graphs
In addition, the dividend yields of both stocks were not as high back in 1994 as we have seen them of late. That no doubt also impacted the amount in dividends received and limited growth as well.
Point 3
I raise this point as an observation with hopes that readers will discuss it at length in the comments section. I am throwing it out there that dividend growth may be the most important factor to consider when choosing dividend growth stocks. The reason I am throwing that out there is because ROST's fairly consistent dividend growth powered its accumulated dividend income past T and KO. How much longer can the company sustain it is anyone's guess. At the same time DRIPing slows down as the dividend growth slows as well since fewer dividends can be purchased because the purchasing power is declining. Obviously with robust growth, there is an opportunity to obtain more shares (so long as the company is not overvalued). There are obviously a few problems with considering growth to be the most important factor. First is that no one can predict a company's future dividend policy. Second is that few dividend growth companies can sustain high growth rates over decades. Perhaps this is the advantage of low yielding companies since they have more flexibility than companies like T and KO to sustain such growth. Based on the results of these scenarios, valuation and growth appear to be key factors to ROST's results.
Conclusion
I hope that this has answered the questions in the comments section regarding the impact that DRIPing has on stocks. Clearly it does have an impact and that impact is different depending on the dividend yield and dividend growth of the stock. Although KO appeared to be a poor investment choice in terms of dividends for this scenario when compared to T and ROST, not all stocks with average yields and growth are likely to perform the same way.
Just in case someone comes out and says, well surely another average yield and growth stock would have performed better. I was curious as well so I ran the same test with Johnson & Johnson (JNJ). Here are the results.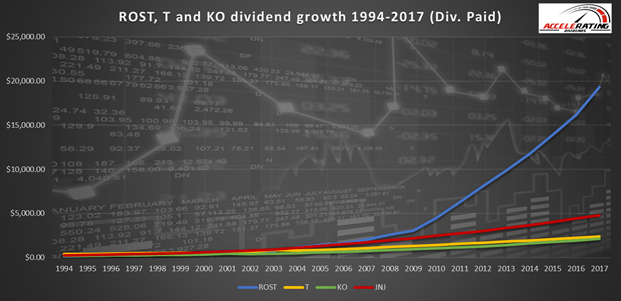 Source: Yahoo! Finance, charts and calculations completed by the author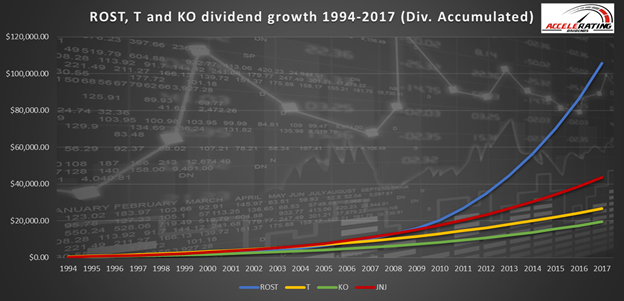 Source: Yahoo! Finance, charts and calculations completed by the author
Although it took a little longer for ROST to surpass JNJ, the end result was the same. After 16 years, ROST surpasses JNJ in accumulated dividends.
As this story comes to an end, I welcome the thoughts and comments of readers everywhere below. What DRIPing strategy do you employ and what have been your observations? Is any one surprised by the results? Do you think that average yielding and growing dividend stocks deserve a second thought? Is dividend growth possibly the most important factor to consider? Let me know what you think!
I hope you enjoyed this article. If you want to be notified when my future articles are published, please consider following me as a Seeking Alpha author by clicking the "Follow" button at the top of the article beside my name Accelerating Dividends. Thanks for reading.
You can also follow me on FACEBOOK and TWITTER!
Disclosure: I am/we are long T.
I wrote this article myself, and it expresses my own opinions. I am not receiving compensation for it (other than from Seeking Alpha). I have no business relationship with any company whose stock is mentioned in this article.