"Megatrend." The buzzword of buzzwords in investing. No one wants to miss out on a megatrend, yet they seem sometimes elusive to navigate. One truth to keep things in perspective is that things are seldom as good (or as bad) as the market noise would have you believe. For example, plenty of folks were predicting in 2016 that the solar industry and related stocks were in for a rough ride in 2017-2018, and all this in spite of the renewable energy "megatrend." Turns out, solar went on a run shortly after those predictions on the back of better-than-expected results from leading companies. Solar is up 46% (TTM) as measured by the Guggenheim Solar ETF (TAN). Things weren't nearly as bad as feared.
On the other end of the sentiment spectrum, there is near-constant noise about the aging of America and the seemingly irresistible opportunity that will create for healthcare-related stocks. Megatrend. But will it really be as good as everyone is saying it will be? I have grown more moderate in my opinion, but the recent mispricings over interest rate concerns have created a big contrarian buy opportunity and I want to add to my holdings. Since I am overweight healthcare (which I don't think is necessarily a bad thing, as I will explain at the end of this article), I need to re-examine my portfolio to ensure that I am exposed to only the best companies, and that there is balance in the types of care provided among those companies I hold. Here I share my opinions, while also enlisting your help. Please comment below with your opinions.
Welltower (HCN)
Welltower is the first REIT I ever bought. It has been transforming itself over the past few years, reducing exposure to certain areas of care while increasing its private pay exposure: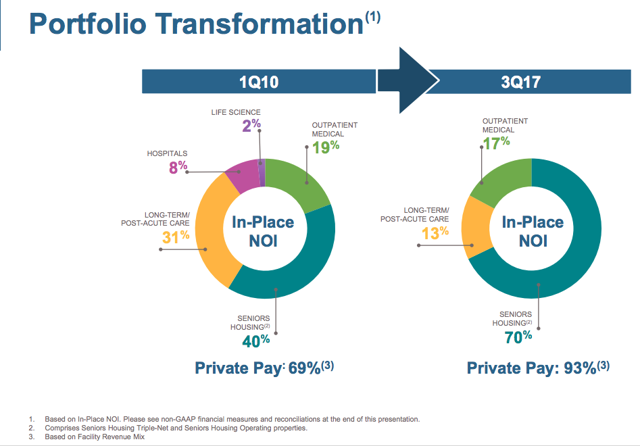 Corporate Presentation November 2017
While getting rid of hospitals and life science facilities is a mixed bag of pros and cons, the move towards private pay, where the company doesn't have to rely on the government for payment, is generally seen as a positive. This is because with private pay, the company has more control over what it charges (and therefore what it makes). With government pay sources, the government has a say in the matter and some in the government are targeting what they see as exorbitant costs in healthcare. In short, companies may not be able to make as much money from the government as they do from people who are paying their own way. Medicare and Medicaid are welfare programs, so costs are negotiated lower. But someone has to bear the brunt of those reductions, i.e. the operators. National Health Investors (NHI), who I will cover later, has a portion in its 10K that sums it up best: non-private pay ''revenues are subject annually to statutory and regulatory changes and in recent years have been reduced due to federal and state budgetary pressures.'' Any reduction in government pay exposure creates greater predictability for revenue, and HCN is almost completely private pay.
For HCN, my investment thesis is pretty rudimentary but durable. First, I was pleased with its Funds from Operations (FFO) growth over the past 7 years (from its 10Ks):
| | | | | | | | |
| --- | --- | --- | --- | --- | --- | --- | --- |
| in thousands | 2011 | 2012 | 2013 | 2014 | 2015 | 2016 | 2017 TTM |
| FFO | 524902 | 697557 | 924884 | 1174081 | 1409640 | 1593143 | 1359172 |
| FFO/share | 3.02 | 3.09 | 3.31 | 3.81 | 4.04 | 4.43 | 3.70 |
(The sharp dropoff in FFO last year is a result of HCN divesting billions of dollars worth of property that it had in an unprofitable operator, Genesis Healthcare. The proceeds from those sales are NOT included in FFO but naturally affect revenues received and FFO.)
This represents a FFO/share compounded annual growth of about 3%. (Up until last year's divestitures and the ensuing FFO dropoff, it was 6.59%. I expect it to normalize around there in the not-too-distant future as the proceeds from the divestiture are invested elsewhere.) Now, I believe that Newton's first law of motion applies as much to businesses as it does to objects. If an object in motion will remain in motion, then a business that has a well-established track record of growth will continue to grow (given nothing crazy happens with management or macro factors). The company boasts a 15.6% annualized return since inception more than 40 years ago, and its dividend has never been cut. HCN has moved in a great direction the past few years, and given the demographics mentioned above, I don't think any outside force will upend the company.
Furthermore, the dividend situation of HCN is respectable. The following table shows dividend payments and FFO payout ratios for the past seven years:
| | | | | | | | |
| --- | --- | --- | --- | --- | --- | --- | --- |
| | 2011 | 2012 | 2013 | 2014 | 2015 | 2016 | 2017 |
| DIV USD | 2.83 | 2.96 | 3.06 | 3.18 | 3.30 | 3.44 | 3.47 |
| DIV/FFO | 93.7% | 95.8% | 92.4% | 83.5% | 81.7% | 77.7% | 93% (TTM) |
Its distributions have grown about 10 cents every year on average, or ~3% compounded. The payout ratio is abnormally high for the TTM due to the shrinkage in FFO borne of billions dollars worth of divestitures mentioned above. It should come back down in the not too distant future as HCN reinvests the proceeds from those sales into other properties and begins collecting rent. To summarize, I like Welltower because it is showing slow but steady growth, has a great history of success, is positioning itself for the future tailwinded by demographics, and will have room to continue rewarding shareholders with dividends. Like I said, this investment thesis is basic but durable.
Ventas
I first scooped up Ventas (VTR) as a result of reading Brad Thomas' "DAVOS" articles, which you can find here. I try not to buy simply because someone else said so, their reputation notwithstanding. So I crafted my own investment thesis. Again, because I am no REIT expert this thesis is basic, but I am comfortable with it.
First, according to a company presentation given in November of last year, VTR has achieved annual FFO/SH growth of 8% since 2001, has grown its dividend by 8% annually in the same time frame, and boasts a compound annual growth rate of 25% for total shareholder returns since the year 2000. As I mentioned earlier, a business that has been growing successfully for a long time period is likely to keep being successful, and Ventas sure fits that description. Like HCN, its portfolio consists mostly of senior housing, but has more diversified property holdings: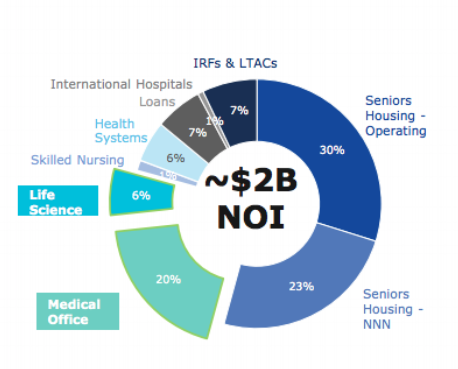 VTR Investor Presentation 2017
Also like HCN, Ventas has shifted to a mostly private pay revenue streams at 94%.
Now we can look at dividends and FFO payout ratios:
| | | | | | | | |
| --- | --- | --- | --- | --- | --- | --- | --- |
| | 2011 | 2012 | 2013 | 2014 | 2015 | 2016 | 2017 TTM |
| USD | 2.30 | 2.48 | 2.73 | 2.96 | 3.04 | 2.96 | 3.11 |
| payout ratio | 68.5% | 65.1% | 65.9% | 66.1% | 67.9% | 71.6% | 74.8% |
Ventas' dividend has grown at a compounded rate of 4.4%, and has much more room than HCN to grow the dividend. I like Ventas for all the same reasons I like Welltower, with the added diversification, better dividend growth, and lower payout ratio as positive differentiators.
But what if you only wanted to pick one? After all, both companies come with A LOT of senior housing. Without doing an exhaustive side-by-side, here are some things I notice:
1) HCN's portfolio consists of more NNN leases, wherein the tenant, not the owner, is responsible for paying all operating costs (taxes, insurance, and area maintenance). Under this kind of lease agreement, HCN simply collects a check without having to operate the property. An informative article here about NNN leases refers to these agreements as 'hassle-free investments.' HCN gets 43.2% of its Net Operating Income (NOI) from NNN lease agreements, while VTR gets 38%.
2) In the senior housing portfolios of each company, HCN wins out in several metrics that have a lot to do with rent rates and rent rate increases. In short, HCN's senior housing operations are in areas where the old people have more money, and HCN can therefore charge higher rent and increase rents over time. The most important metric to notice is REVPOR, or revenue per occupied room:
| | | |
| --- | --- | --- |
| (values current as of 9/17): in USD | HCN | VTR |
| Median Household Income | 93,078 | 81,343 |
| Median Housing Value | 539,695 | 441,484 |
| REVPOR (monthly) | 6,950 | 5,756 |
*Both companies used different analytics companies to arrive at their values, making the comparison imperfect.
**Information obtained from company filings and corporate presentations on the companies websites.
HCN is dealing with a richer population. The areas are more affluent, and therefore the REVPOR is considerably higher which is a BIG positive. This point can't be overstated: REITs can grow their revenue through three primary means: 1) acquire more properties, 2) increase occupancy, and 3) increase rent. HCN seems to be in a better position than VTR to charge higher rent and increase rent.
3) Ventas has slight exposure problems to a single operator. VTR has 19% exposure to Atria (NYSE:MO) in terms of NOI. HCN's largest NOI exposure is to Sunrise Senior Living at 14%.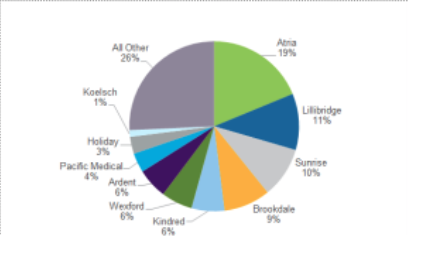 4) As mentioned previously, VTR wins out in terms of dividend coverage. This is perhaps one of the larger points, since people invest in REITs for the dividend and VTR will be able to grow their dividend faster if all else remains equal. HCN yields 5.87% right now with payout ratio of 93%, and VTR yields 5.72% and the payout ratio is 75%.
Ultimately, I don't think you can go wrong picking either of these. I am partial to HCN, but hold both.
LTC
I am not wild about LTC Properties (LTC). I should never have bought it in the first place. I never really did any due diligence, I just jumped on the "undeniable demographics" bandwagon and wanted a bunch of healthcare stocks. But after some due diligence, I am pretty sure I am going to dump LTC. First, its portfolio is not very well-diversified, with about 50% tied up in skilled nursing facilities that have been distressed lately due to low occupancy: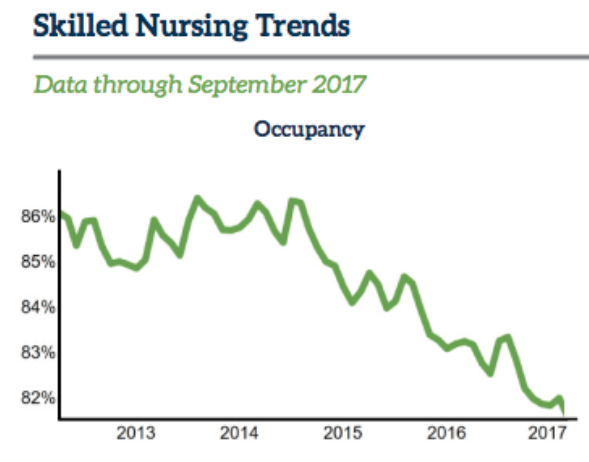 The above graph is from the Skilled Nursing Date Report, a quarterly report that shows occupancy and revenue trends in the industry. For LTC specifically, occupancy in its SNFs is at about 80% (assisted living centers occupancy is at ~86%), which is not good. This occupancy issue is exacerbated by the fact that most of the revenue from its SNF is from government pay: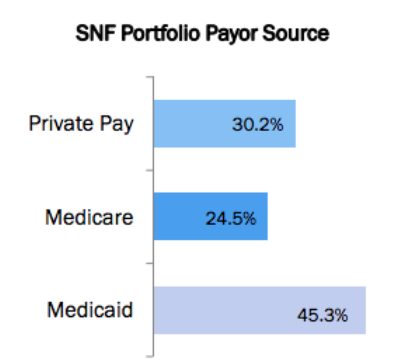 Supplemental Operating and Financial Data September 2017
In fact, only 54.9% of the total payor source for LTC's portfolio is private pay. Consider this from NHI's 10K: ''According to industry studies, state Medicaid funding is not expected to keep pace with inflation. Federal legislative policies have been adopted and continue to be proposed that would reduce Medicare and/or Medicaid payments to skilled nursing facilities.'' It's trouble any way you shake it.
The next thing to note is that LTC has considerable exposure to distressed operators. Genesis Healthcare (GEN) and Brookdale (BKD) are both currently unprofitable; they are losing money, and LTC is having troubles with Anthem (NYSE:ANTM) as it recently issued it a default notice. Those three companies represent almost 21% of annual income: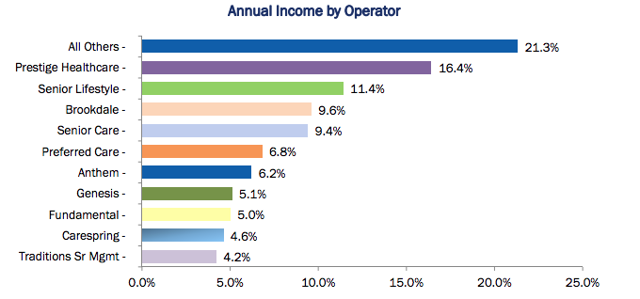 Supplemental Operating and Financial Data September 2017
Now, in terms of FFO and dividends, things actually look pretty good:
| | | | | | | | |
| --- | --- | --- | --- | --- | --- | --- | --- |
| | 2011 | 2012 | 2013 | 2014 | 2015 | 2016 | 2017 TTM |
| FFO/share | 2.01 | 2.26 | 2.29 | 2.55 | 2.77 | 3.06 | 3.11 |
| div | 1.68 | 1.79 | 1.91 | 2.04 | 2.07 | 2.19 | 2.28 |
| payout ratio | 83.5% | 79.2% | 83.4% | 80% | 74.7% | 71.6% | 73.3% |
At a current yield of 5.56, if dividends are your biggest focus and you think the issues with government pay and skilled nursing aren't going to wreck things going forward, then LTC could be the investment for you. The payout ratio is even more comfortable than VTR. For me, while I don't think it is a bad investment necessarily, I do think my money could be better spent elsewhere. The combination of above factors simply gives me the jitters. Thusly, I may hold on to what I have given the dividend growth opportunity, but don't plan on adding more to my position. However, a big bright spot for the company is that most of its leases ''provide for a fixed minimum base rent, annual rent increases, and many also include renewal options," with a ''weighted average (non-cancellable) remaining lease term'' of 9.2 years. Those things are great but only if their operators don't come under financial distress, which may happen with occupancy issues and government pay.
National Health Investors
I really like NHI. I might like it the most out of the group I have covered thus far. Here is a snapshot of its assets: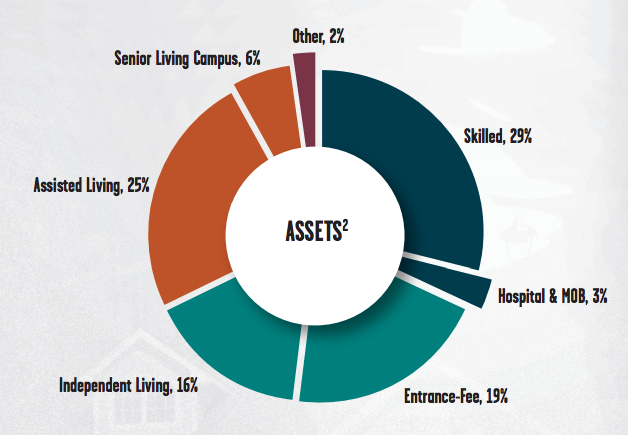 You will notice the 'entrance-fee' category, something I hadn't heard of until I dug into NHI. Also known as a continuing care retirement community (CCRC), these facilities ''include a combination of detached cottages, an independent living facility, an assisted living facility and a skilled nursing facility on one campus. These communities appeal to residents because there is no need to relocate when health and medical needs change.'' The owner stands to benefit as well, since they can retain residents as fewer will move away because their health needs changed. It's one-stop shopping, a package deal, making transitions into older age much more convenient as more care is needed. I imagine this is a big positive. Nobody likes to have to move, but especially not seniors.
Here are its 7-year metrics:
| | | | | | | | |
| --- | --- | --- | --- | --- | --- | --- | --- |
| | 2011 | 2012 | 2013 | 2014 | 2015 | 2016 | 2017 TTM |
| FFO/Share | 2.88 | 3.18 | 3.55 | 4.20 | 4.67 | 4.87 | 5.21 |
| DIV | 2.50 | 2.64 | 2.90 | 3.08 | 3.40 | 3.60 | 3.75 |
| Payout | 86.8% | 83% | 81.7% | 73.3% | 72.8% | 74% | 72% |
FFO/Share has grown at a CAGR of 8.84%, the dividend has grown at a CAGR of 6%, and the payout ratio has steadily marched lower and is the lowest of the companies covered thus far. But what really sets NHI apart is the work it has done to lower SG&A costs: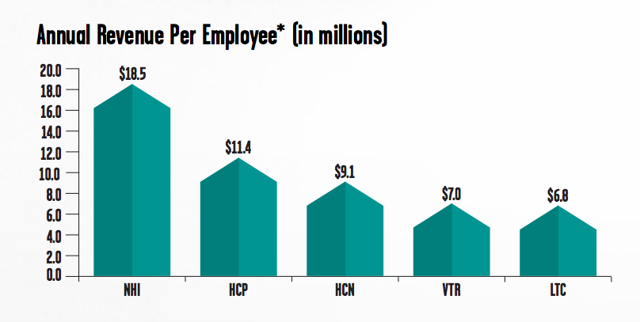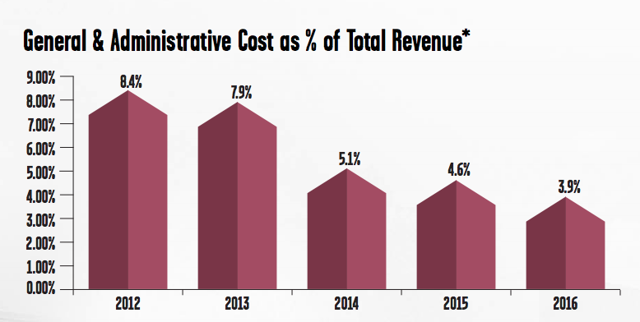 NHI is doing less with more and the power of that extends well into the future.
Another thing that sets NHI apart is its ability to grow without having to explode its shares outstanding every year and dilute existing shareholder value. Here is a table that shows the 10-year CAGR of shares outstanding among all the companies covered in this article:
| | | | | | | |
| --- | --- | --- | --- | --- | --- | --- |
| | HCN | VTR | LTC | NHI | MPW | DOC |
| Shares outstanding CAGR (%) | 14.59 | 9.84 | 5.69 | 3.89 | 18.52 | 64.59 |
*DOC only has 5 years worth of data available
To achieve the kind of growth that NHI has without going crazy selling new shares speaks to the ability of management to acquire properties at great prices that have a high return on investment. Sometimes when evaluating REITs it's easy to disregard new share offerings as par for the course since REITs have to pay out 90% of their taxable income as distributions to shareholders and therefore cannot retain profits to make property acquisitions. Offering shares to raise capital is necessary. But if you can find a REIT that doesn't do that excessively and is still growing well, that's a gem. NHI also maintains a low debt profile. It is highly selective and smart in its investments. I really like NHI. I am doubling down on my concentration in it. One thing to be wary of is that its private pay mix is only at 65%. But reading its annual reports, it speaks to this point repeatedly (as has been quoted) and is proactively working to get private pay as a much bigger component of revenue: "Over the past five years, we have selectively diversified our portfolio by directing a significant portion of our investments into properties which do not rely primarily on Medicare and Medicaid reimbursement, but rather on private pay sources."
NHI yields 5.44%. With its awesome growth in FFO and dividends, the lowest payout ratio, the truly diversified asset base, low SG&A expenses, low share dilution and low debt, NHI is in my opinion at the head of the pack.
Medical Properties Trust
If you are looking for exposure to hospitals, which only comprises a pretty small portion of the portfolios of the companies we have looked at thus far, Medical Properties Trust (MPW) is your horse and buggy:

*From Q3 2017 supplemental information
Hospital care represents the most expensive level of healthcare, both for patients paying for the care and the operators of the facilities to run the place.
7-year metrics:
| | | | | | | | |
| --- | --- | --- | --- | --- | --- | --- | --- |
| | 2011 | 2012 | 2013 | 2014 | 2015 | 2016 | 2017 TTM |
| FFO/Share | .71 | .90 | .96 | 1.06 | 1.26 | 1.28 | 1.29 |
| Div | .80 | .80 | .81 | .84 | .88 | .91 | .95 |
| Payout ratio | 112.68% | 88.89% | 84.38% | 79.25% | 69.84% | 71.09% | 73.64% |
The FFO/Share CAGR is 8.9%, but there has been a very real slow-down the last few years. 3-year CAGR is .79%. The dividend has grown at a compound annual rate of only 2.49%. The payout ratio is low, which is good, and hopefully means that the company can accelerate the growth rate of the dividend. The yield is sitting very high right now at 7.44%. The only draws to MPW are that the yield is high and it can offer some hospital exposure if you think that is a good thing.
The problem with hospitals is that revenue only happens if people get hurt or get really sick or are having a baby. All those factors are not entirely predictable or reliable. Also, inpatient admittance is on the decline, as I will talk more about later. Furthermore, people often don't shop around for hospitals. You go the hospital that is close to you and can give you the care that you need (accepts your insurance). It isn't like a senior living community that can work to attract tenants. From what I mentioned earlier, REITs increase revenue mainly via 1) increasing occupancy 2) charging higher rent 3) acquire more properties. For MPW, its only reliable revenue driver is property acquisition since it has less control over occupancy and rent isn't a thing at hospitals. This is also the reason MPW has to raise funds via share offerings more so than the other companies in this article, as shown in the table from earlier. The only way it grows is by acquiring properties, and the capital it needs to do that comes from share sales. That also explains why in spite of remarkable growth in funds from operations, FFO/share growth has been just okay in comparison: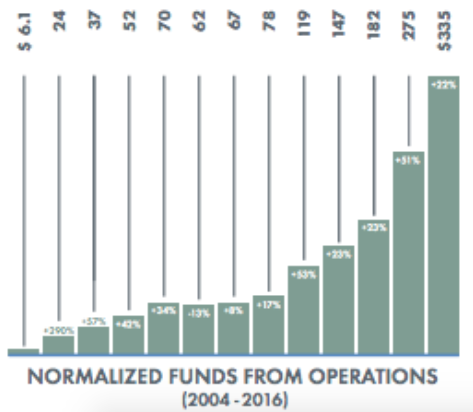 This graph represents a FFO 13-year CAGR of 36.09% since 2004! The previous 6-year FFO CAGR was a still awesome 27.49%. Yet, as was shown above, the FFO/share growth was way less amazing. Shares outstanding are growing much faster than FFO.
While there will always be sick people and people needing hospital care, it's not really a growth area that will benefit as much from demographic tailwinds. I have a small portion invested in MPW and might hang on to it for now for the yield, but would have no problem selling it to take advantage of something more attractive.
Physicians Realty Trust
Finally, we get to Physicians Realty Trust (DOC). Here is where you can increase your exposure to medical office buildings (MOBs) which all have to do with outpatient care (not having to be admitted and stay overnight at a hospital). According to its Q3 2017 supplemental information presentation, DOC "is a self-managed healthcare real estate company organized in 2013 to acquire, selectively develop, own, and manage healthcare properties that are leased to physicians, hospitals and healthcare delivery systems. Our properties typically are on a campus with a hospital or other healthcare facilities or strategically located and affiliated with a hospital or other healthcare facilities." A whopping 96.6% of DOCs properties are leased out. This is due to the aforementioned affiliation with premium hospitals.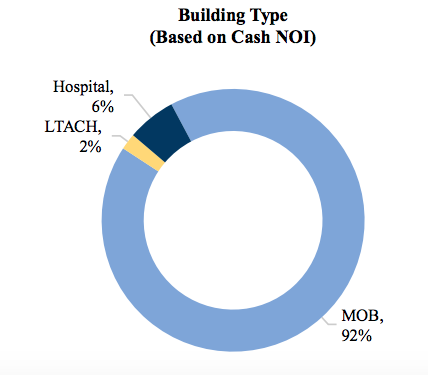 The lease situation is also remarkable: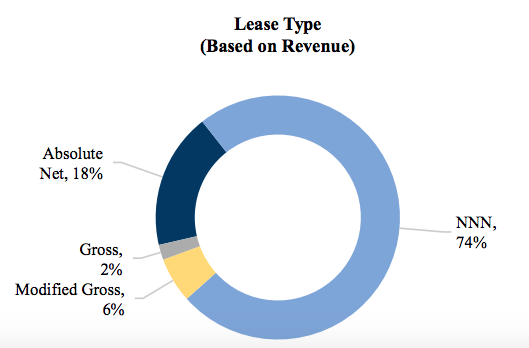 If you thought NNN leases were good, wait until you hear about absolute net leases. For triple net, the tenant is responsible for all operating expenses with the exception of 'roof and structure' issues. That still sits with the landlord. But with absolute leases, roof and structure is the responsibility of the tenant too. It is truly absolute. So between NNN and absolute, DOC has 94% of its portfolio leased out on a no-hassle basis. It just collects a check.
Here is metric table with available information (the company went public in summer 2013):
| | | | | | |
| --- | --- | --- | --- | --- | --- |
| | 2013 | 2014 | 2015 | 2016 | 2017 TTM |
| FFO/Share | NA | .72 | .92 | .98 | 1.04 |
| Div | .40 | .90 | .90 | .90 | .91 |
| Payout | NA | 125% | 97.8% | 91.84% | 87.5% |
The CAGR for FFO/Share is 9.63% which is great. The dividend has barely moved, but I am just fine with that as the payout ratio is coming down. DOC hasn't been around for very long, and I am typically pretty reticent to invest in companies that don't have a considerable track record from which to judge the future. But things look pretty bright. I love the lease situation and occupancy rates. MOBs are in high demand too as outpatient care is growing at 2-3% per year and inpatient care is shrinking (trouble for MPW?). It is less expensive to go to an outpatient facility and the types of care you can receive at outpatient clinics matches what you can get in the hospital (with the exception of surgery and the like). It is simply more convenient. Outpatient care is where the future is. I will keep what I have invested in DOC and will add if I keep getting the chance to lower my average cost.
In Summation
I have learned through this experience to not jump on any bandwagons. Just because people keep throwing around the word megatrend doesn't mean you give up on your own due diligence. While I think the demographics are there and that there is great opportunity in healthcare, there are plenty of reasons to be metered and measured in establishing positions (for a couple great, balanced reads on this whole situation that offers some contrarian views about the aging population, check out these articles here and here). For me, I can't resist the valuations that these REITs have come down to due to interest rate concerns and the cost of borrowing moving forward. I also think these companies (with the exception of LTC) will be very recession-resistant. Many of these companies weathered the storm quite well in 2008-2009 for obvious reasons: People won't stop getting healthcare. After I buy and balance this week I am going to be super overweight healthcare REITs, but I am okay with that for the time being. After I have (hopefully) collected a decent profit from both capital appreciation and dividends I will probably sell a bit to free up cash for other opportunities. Please comment and help me out with any insights you have from your own due diligence. Have a great day!
Disclosure: I am/we are long VTR, HCN, MPW, NHI, DOC.
I wrote this article myself, and it expresses my own opinions. I am not receiving compensation for it (other than from Seeking Alpha). I have no business relationship with any company whose stock is mentioned in this article.