Colgate-Palmolive (CL) is a stock that I've found to be very unattractive for the past couple of years. Until very recently it just sort of bounced around without actually going anywhere. And with a subpar yield, I didn't really see much reason to own it when there are better choices out there. Heading into the Q4 report due out in a couple of days, the stock has broken out to new highs as investor optimism abounds. Analysts (here and here) are busy upping price targets and touting growth they think is coming. But the stock is already so expensive after the breakout that I'm not sure what CL could tell us that would produce meaningful upside from here. Thus, going into the report, I think there's more downside risk than upside opportunity.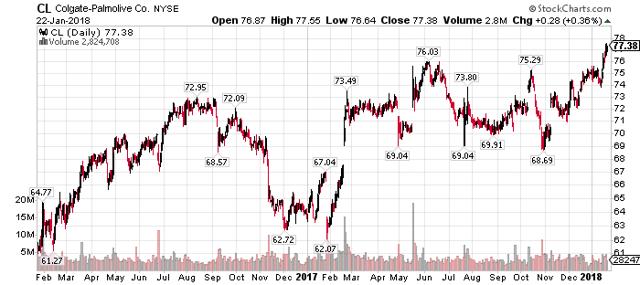 Investors seem to be a little too excited
Saying that a stock that has just broken out to new highs is a sell going into an earnings report is a tough thing to do as the market is voting with its feet in a big way. Investors have decided CL is worthy of a higher multiple, but is it? I think the evidence would suggest perhaps it isn't.
The first three quarters of this year have been marked by things such as flat revenue growth, flat gross margins and higher SG&A spending. This is a tough combination because it means earnings have to be lower and indeed they are, although the bulk of the SG&A spending increase has been due to charges for its efficiency program. Those are temporary charges. And on an adjusted basis, CL's earnings per share are up slightly so far this year. The point stands, however, that on an operating basis, CL's revenue and margin growth remain issues given that it has been a long time since it was able to overcome its volume problems. CL touts its toothpaste market leadership in every single earnings report - and that is fine, but that's one category. CL continues to have volume issues and there is absolutely no evidence that is abating in any way.
Growth targets are robust
That poses a problem for Q4, which is expected to see something like 5.5% revenue growth. For next year, it's slated to have 4% sales growth. Those aren't huge numbers by any means. But they are massive in CL's case when you consider it has struggled to stay above flat in recent years. Macquarie reckons the US and Europe will drive 4% organic sales growth next year while Morgan Stanley says it is emerging markets that will drive growth. The emerging markets story I can sort of get on board, with but North America has been and remains weak from a growth perspective. Results so far have shown that North America continues to struggle with volume while the emerging markets and Europe have growth more in the mid-single-digit range. Latin America is the largest single segment CL has, but it is only 25% of sales. If it is to lead the way to organic growth to 4% next year, it will need a lot of help.
The point is that when a company goes to report Q4, it is generally judged more by the guidance it provides for the coming year rather than the quarter that has just taken place. CL's guidance for this year is going to be very interesting because expectations are already so high. Analysts and indeed investors are already assuming a much stronger year than what occurred in 2017. And while that may very well happen, I haven't yet seen any hard evidence of any sort of recovery in sales. Operating margins are also already in the mid-20s - how high can investors possibly expect them to go? EPS growth is already slated to double the rate of revenue growth to 8% next year which again represents an enormous increase over 2017. I just don't see where all of this growth is coming from.
The stock is already overpriced
Let's say that I'm wrong and CL hits 8% or 10% EPS growth next year. I don't think that has any chance of happening, but I've certainly been wrong before. The stock is already going for 25 times 2018 earnings, putting its PEG somewhere in the neighborhood of 3 even if it hits 8% EPS growth. My cutoff for growth stocks is 2, and for stocks that barely budge from a growth perspective like CL, it is much lower than that. You don't have to follow my thresholds for valuation. But the point is that there is already an enormous amount of growth priced into this stock going into the earnings report that I have no idea what management could possibly say to keep this rally rolling.
Could I be wrong about CL's 2018 growth? Sure, I freely admit that. But in this case, I'm not actually sure it makes a difference whether I'm wrong or not. This stock is so expensive that it has little to no upside potential even if it hits its lofty goals set for 2018. And with the yield only coming in at 2%, it isn't like the dividend is a major draw either. So as it turns out, CL is right back in the spot of having pretty much nothing that is attractive about it. Going into the report, I'd be very cautious simply because the way the stock is priced. There are many ways for management to disappoint investors, but very few for it to fuel the next leg of the rally.
Disclosure: I/we have no positions in any stocks mentioned, and no plans to initiate any positions within the next 72 hours. I wrote this article myself, and it expresses my own opinions. I am not receiving compensation for it (other than from Seeking Alpha). I have no business relationship with any company whose stock is mentioned in this article.