MetLife (MET) rarely gets mentioned when investors talk about insurance companies that may be worth investment dollars, and rightfully so, as MET shares have significantly underperformed the broader market over the last year.
The underperformance is a tough pill to swallow, especially when you consider the fact that this company has underperformed the market over the last 3- and 5-year time periods, but I believe that MetLife is finally well-positioned for the future. And, in my opinion, the recent ruling about the systemically important financial institution, or SIFI, de-designation is an extremely bullish development for this company and its shareholders.
The Overhang That Was
MetLife has been fighting the SIFI designation for years now, so the fact that the government's court appeal was recently dropped should be welcome news for shareholders. The company's management team has been very vocal about its displeasure with the government labeling MetLife as a SIFI, so I would expect it to discuss [in great detail] at some point in the near future just how impactful the ruling will be for MetLife.
It is hard to quantify the true impact of not being designated as a SIFI, but the news is without a doubt a positive development for MetLife. Another important factor to consider is that management will now no longer have to spend a significant amount of its time and effort trying to comply with the burdensome rules and regulations that came along with the designation. And, more importantly, the court ruling frees up much-needed capital that management will now be able to use as it sees fit. As described here, MetLife without a SIFI designation is worth a lot more to shareholders than a company that previously had to deal with such a significant overhang.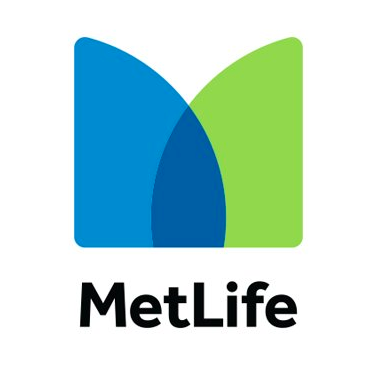 The Latest
On November 1, 2017, MetLife reported Q3 2017 results that beat the top- and bottom-line estimates. The company reported adjusted EPS of $1.09 on revenues of $16.10B, which was a top- and bottom-line beat by $350M and $0.19, respectively. For comparison purposes, the company reported adjusted EPS of $1.22 on revenues of $15.83B in the same period of the prior year.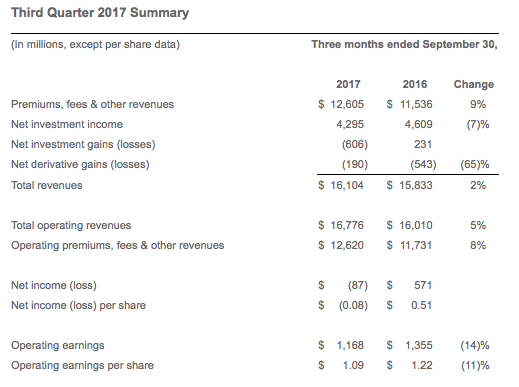 Source: Q3 2017 Earnings Presentation
There were several positive takeaways from MetLife's Q3 2017 results, with the most notable example being the 23% YoY growth in operating earnings for the Latin American segment; but the market struggled to look past the noise in the company's numbers. For example, the Brighthouse (BHF) separation resulted in MetLife taking a $1.1B one-time charge during the quarter. The separation costs were telegraphed by management but the news was not well-received by the market when the company reported results. The negative impact to MetLife's book value from the BHF separation (BV dropped from $69.35 at Q3 2016 to $51.83 at Q3 2017, or 25%) and the uncertainty related to Brighthouse's future business prospects are two talking points that have been discussed in great detail over the last few months. I am taking a wait-and-see approach with my small Brighthouse position, but it is important to note that MetLife already announced plans to divest its remaining BHF position in 2018.
The company's Q3 2017 results were nothing to write home about; but, in my opinion, there is a lot to like about MetLife if you are willing to look out a year or two.
A Well-Positioned Insurer
I already touched on the fact that MetLife will no longer have to deal with the SIFI rules and regulations, but I believe that the company has more going for it than just benefiting from its recent legal victory. For example, it is widely expected interest rates will rise over the next 12-18 months, so the company is operating in what I would call an improving operating environment.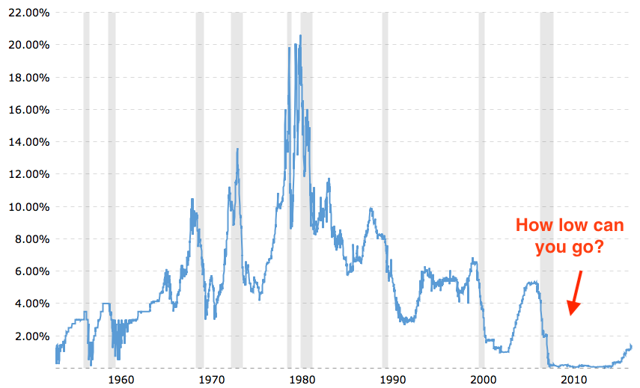 Source: Macrotrends
The Federal Reserve already hiked rates in December 2017, and current projections are calling for three additional increases in 2018. Rising rates will not immediately impact MetLife's bottom line in a material way, but the improving environment will definitely be a long-term tailwind for this insurance company. To this point, MetLife expects rising rates to have a positive impact on operating earnings through 2020.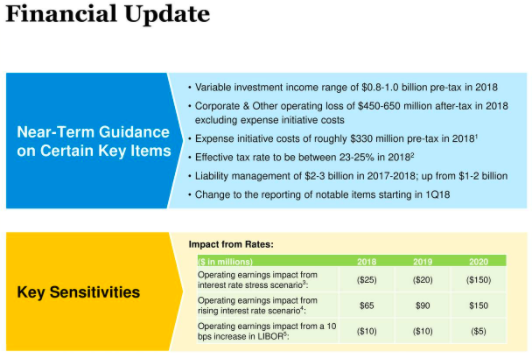 Source: MetLife's Outlook Call
Getting back to the Brighthouse separation, management again highlighted the fact that the "new" MetLife will have less volatility in its earnings and will be better positioned to grow its business. Moreover, as described during the Q3 2017 conference call, management anticipates MetLife to now have a lower cost of capital and a "better business mix" without Brighthouse being in the fold.
I agree with management that MetLife is better off without Brighthouse and, in my opinion, the company will likely focus on expense management in 2018. I do, however, fully expect the company's impressive capital return story to continue over the next few years. MetLife repurchased over $2.3B worth of its shares during the first nine months of 2017 and the company currently pays an above-average dividend with the necessary wiggle room to increase its payout over at least the next 2-3 years.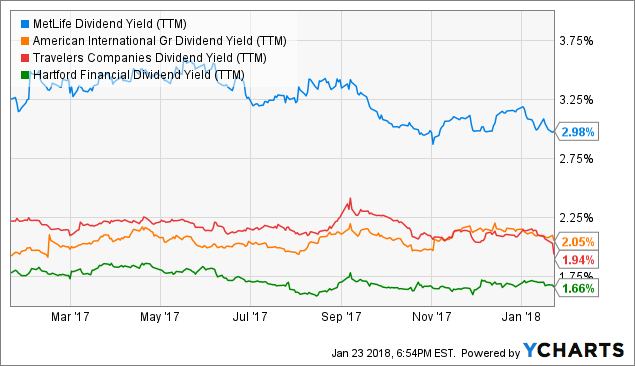 | | | | |
| --- | --- | --- | --- |
| | Dividend | 2017E Earnings | 2018E Earnings |
| AIG | $1.28 | $5.27 | $5.38 |
| Projected Payout | | 24% | 24% |
| | | | |
| MET | $1.60 | $4.78 | $4.77 |
| Projected Payout | | 33% | 34% |
| | | | |
| PRU | $3.00 | $10.13 | $11.18 |
| Projected Payout | | 30% | 27% |
| | | | |
| TRV | $2.88 | $7.64 | $9.65 |
| Projected Payout | | 38% | 30% |
| | | | |
| Avg. Projected Payout | | 31% | 29% |
Source: Data per Yahoo! Finance and table created by W.G. Investment Research
When it comes to returning capital to shareholders in 2018, investors should expect more of the same from MetLife over the next four quarters.
Valuation
When compared to the company's peer group, MET shares are attractively valued based on two important metrics.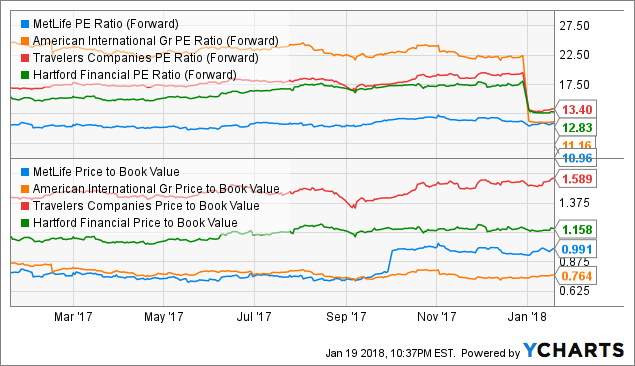 Risks
The biggest risk for any insurer, including MetLife, is the sufficiency of the company's reserves. The company will likely have immaterial one-off reserve charges on a somewhat consistent basis but any material adjustment could negatively impact MetLife's stock price.
In December 2017, MetLife announced that it failed to pay pension benefits to around 600,000 retirees and that the company would have to build its reserves to account for this "error." Some analysts are predicting that MetLife will record a $200-$400M charge in Q4 2017 related to this issue, which is not a material number, but this error could have a significant impact on the upcoming earnings if the charge turns out to be above this range. This finding is not a long-term material risk but it is something that investors should monitor throughout 2018.
Bottom Line
I do not expect MetLife's stock to outperform the market in the short term, but I believe that MET shares will be a market-beater over the next 3-5 years. Selling its remaining Brighthouse position in 2018 has the potential to be a significant catalyst for MetLife's stock, but more importantly, the company is also well-positioned to benefit from an improving operating environment. In addition, a SIFI-less MetLife is worth a lot more than a company that previously had to comply with the burdensome rules and regulations that came along with the SIFI designation. So, investors with a time horizon longer than a year should treat any significant pullbacks as buying opportunities.
Author's Note: I have a sizable MetLife position in my R.I.P. portfolio.
Disclaimer: This article is not a recommendation to buy or sell any stock mentioned. These are only my personal opinions. Every investor must do his/her own due diligence before making any investment decision.
If you found this article to be informative and would like to hear more about this company, or any other company that I analyze, please consider hitting the "Follow" button above.
Disclosure: I am/we are long MET, BHF, AIG. I wrote this article myself, and it expresses my own opinions. I am not receiving compensation for it (other than from Seeking Alpha). I have no business relationship with any company whose stock is mentioned in this article.