As I wait for my fight back to Texas, I am outlining my thoughts from the just concluded Vancouver Resource Investment Conference, and deciding what articles I will write about it, while the Scorpions Wind of Change song came up on YouTube rotation. You know for a tech guy, I can be decidedly old school when it comes to both music and choice of listening platform. But hey, at least I booked Airbnb (AIRB) for my stay.
Sometimes, I just like what works and come back to it. That is one of the main reasons I am in Vancouver and attending the conference as I believe there is a comeback brewing in some of the largely unloved resource markets, and I want to be in the market in the earlier stages of what could be a marvelous bull run. Many of us resource guys think that winds of change are starting to blow for resource investors, which is a welcome thought for all who have been patiently waiting our turn. Especially those of us who stubbornly still believe in the precious metals markets in the age of crypto currencies and whatever Tesla (TSLA) ends up becoming (a finally profitable EV/solar/green tech company?).
What first strikes me my first time in Vancouver is the dialectic between a rainy city with fewer hours of sunlight than I am used to in Texas, against a developing landscape of high rise buildings signalling robust business opportunities. There are surely green shoots growing all over Vancouver by the looks of the place, and maybe the resource market is among those green shoots. What I do know is there is money in this place and the city is booming.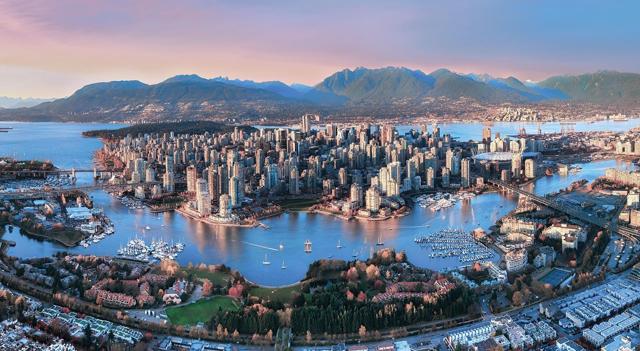 Source: Tourism Vancouver
My overall thoughts as one of the 8,000 attendees of this conference is that resource markets are starting to get more love. Money is coming back to miners, drillers, and development companies. There was a palpable buzz about the conference that I hadn't seen since attending the San Francisco Hard Assets conference back in 2011. And there were some very interesting debates, which I will get into in a moment.
What You Can Expect From Me
I set up private meetings with executives from six companies, including the CEOs of four of those companies. You can expect to see individual articles from me on those companies in the coming weeks, including insights I got from their management such as a drilling company that will be bringing on 50 new rigs in February of this year due to expanding demand. Few are paying attention to this area of the resource space, but drilling companies represent a nice way to profit from miner business expansion. Growing resource companies need drilling to find resources and bring those resource production facilities online and producing for their investors.
I will also discuss some exploration companies that are drawing interest from popular newsletter writers and have been well vetted by industry leaders. I have already booked an excursion into Sonora state of Mexico to tour the deposit of an interesting silver exploration company run by proven management and will be sharing my thoughts on that when I return to the States.
Further, I will discuss some near production companies that are sitting in the sweet spot for resource investors where money has left during the long exploration and development phases bringing the stock price down, but will come pouring back into these companies the day they announce their first mining recoveries and rewarding investors for their patience. These near production stage companies represent outstanding opportunities for investors wanting to profit from the space at a level above what senior producers can provide.
Lastly, I will discuss some of the royalty streaming companies in precious metals that are so critical to the exploration and mining companies to fund their projects and, as a consequence, get access to those mineral resources at pennies on the dollar. Streaming companies are like the bankers of the resource mining space where lots of intellectual capital sits. I will show you why giants like Goldman Sachs (NYSE:GS) cannot compare, on a valuation to employee basis, with these streaming and royalty companies in the precious metals resource sector.
Big Picture Observations
Now, on to what I can provide you in this article, which is why you are reading this. You want information on the big ideas from the conference, and here are a few.
The most spirited and lively debate, by far, was the 'Cryptocurrency vs. Gold' debate to close the conference on Monday. The panelists were Jim Rickards, portfolio manager, lawyer, and economist; Peter Schiff, CEO of Euro Pacific Capital and author here at Seeking Alpha; and Teeka Tiwari, editor The Palm Beach Resource Group who is famous as one of the most prolific analysts in cryptocurrencies and a former hedge fund manager.
Jim Rickards started the debate calling Bitcoin a ponzi scheme and bubble and iterated during the discussion that Bitcoin had no intrinsic value. His point was that distributed ledge technology is 'here to stay' which he stated multiple times, but that Bitcoin as a currency did not have utility, in his eyes, and there are better alternatives in the space for investors that actually provide value.
Jim said the same argument can be said for Ripple, Ethereum, and Monero which operate the same blockchain model as Bitcoin, but that other technologies, including IBM (NYSE:IBM) Hyperledger, looked promising. Further, Jim is planning to announce a new cryptocurrency newsletter for those of his followers who might be interested in his research, which includes involvement with IBM and Linux Foundation and their efforts in the distributed ledger space. Finally, Jim noted that open source cryptocurrencies are preferred to closed source ones for their transparency.
Jim was the moderate commenter in the debate, but the back and forth between Teeka and Peter was phenomenal. Teeka's gains in the crypto space are averaging 3,000%, and his trades are transparent to his followers, while Peter commented that Bitcoin in particular was in a bubble and would crash, albeit he was not calling the top. Teeka believes that the horse is out of the corral in the crypto space and that governments cannot stop them, while both Jim and Peter believe they can be outlawed if they resemble money and threaten the US Fed, for example.
In particular, Jim feels as though Bitcoin will either crash if found to be a ponzi scheme as he believes, or in the case that Bitcoin resembles a true alternative currency, will come under the crosshairs of the US government and the Federal Reserve because it threatens the stability of the US dollar.
Doug Casey sat right behind me during the debate, and when asked by Marin Katusa as moderator his thoughts on which would outperform this year versus gold and cryptocurrencies, Doug's opinion was gold. But he does not appear to be negative overall on the crypto space and has said he owns some crypto as an investment.
There were points made on all sides, and the debate had a significant effect on my thoughts. In my recent article comparing Hashgraph and Bitcoin, I made the case that blockchain technologies are in their infancy and should be thought of as speculative investments that need work. I am sticking by that opinion. However, I would like to add that digital payment systems will be adopted both informally by the public and by institutions as a way to trade value in this digitized economy.
I think this is inevitable. You can make large sums of money here, but your investment should be with purely discretionary dollars until the privacy, security, scale and adoption issues are sorted out. I get the feeling there will be many overall legitimate options for years to come as well as some outright scams that people will have to choose from. But I think the ultimate contribution to society will be as a safe ledger and measure of account more than as an investment class which will continue to be more speculative in nature.
What about Uranium?
Long suffering uranium investors have been waiting for the prices to rebound. Here is a chart of Uranium since recent highs.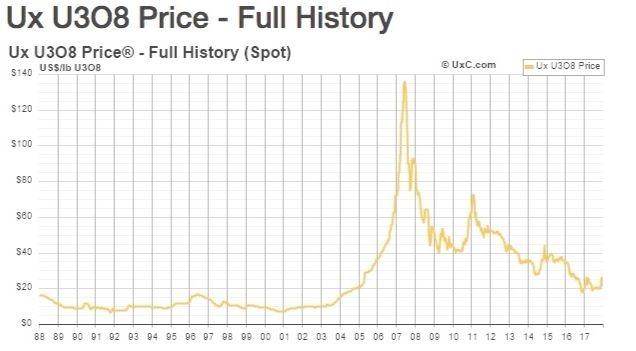 Source: UxC.com
While Uranium appears to have fallen to its historical price, what the chart does not show are that costs of production are significantly higher now, and while the current price is testing historical lows, producers cannot survive at this level.
In a panel entitled "Uranium: A New Bull Market", leaders from companies such as Fission Uranium Corp. (OTCQX:FCUUF), Uranium Energy Corp. (NYSEMKT:UEC), GoviEx Uranium Inc. (OTCQB:GVXXF), and Skyharbour Resources Ltd. (OTCQB:SYHBF) discussed market conditions.
Both Cameco and KazAtomProm have made substantial production cuts to supply due to the negative economics. According to the panel, supply destruction is one of the final steps before a new bull market begins. China's demand for clean power is leading to many new reactor starts, and eventually, all of the stored uranium will be gone, which will boost demand for new mining and exploration. Turnaround in the Uranium market may still be a year to 18 months away, but the Uranium companies think it is coming sooner rather than later. When the price does rise, uranium company investors should see healthy profits.
Silver Outlook
Perhaps the resource that I am most interested in is silver. The ratio of gold to silver prices is at all-time highs (79-1 at time of writing), while overall silver production is only 10x that of gold in the last year. Given that silver has strong industrial uses in solar, computing, medicine, and many other areas, market followers expect the price to rise substantially in the future more in line with either historical gold to silver ration (15 to 1) or with current production (10 to 1).
While silver has its industrial uses, David Morgan believes that silver largest role is as money and discussed the early trading days of silver as money long before silver came to prominence as an industrial metal during the information age. What may surprise investors is that David argues silver is NOT in deficit in above ground supplies as many believe, but just that a lot of it is sitting in warehouses as a hedge against existing positions in the market or similar to gold as a store of value in investors portfolio. However, he believes the current price of silver is not sustainable and should change to reflect its demand as both money and industrial metal. This is what I believe, and silver will be one of the key investment areas I write about in 2018.
Cobalt and Lithium More Speculative
Both Cobalt and Lithium were discussed in several sessions during the conference. Many see bull markets in both, but there is dissension on their long-term potential. Several commenters, including Rick Rule, thought that Cobalt was likely the 'flavor of the month' and not a long-term play. Also, other commenters noted that Lithium is very abundant, and the economics of it are not that of a rare metal, but one what will be available when needed despite the increasing demand for the battery markets.
Copper
Almost everyone that I heard comment on copper were bullish due to the demand in EVs and other industrial uses. China, of course, will continue to demand large amounts of copper as it industrializes further and worldwide copper demand is expected to increase. Several companies at the conference have large copper deposits and may be bullish bets for investors in that space.
There is more to discuss from the conference, but I wanted to bring you some highlights. I will incorporate more insights from industry leaders as I write company profiles and visit sites during the year.
For now, as a resource investor, you can feel good overall about the space that has been overshadowed by just about everything else in recent years, including crypto.
Disclosure: I/we have no positions in any stocks mentioned, and no plans to initiate any positions within the next 72 hours. I wrote this article myself, and it expresses my own opinions. I am not receiving compensation for it (other than from Seeking Alpha). I have no business relationship with any company whose stock is mentioned in this article.
Editor's Note: This article covers one or more microcap stocks. Please be aware of the risks associated with these stocks.