Until now, most of you got to know me for following banks trading way below tangible book value. Banks are my circle-of-competence and my investments in Eurobank (OTCPK:EGFEF) and Bank of Cyprus (OTCPK:BKCYF) are typical value plays. But that's not the only way you reap good returns from a bank while maintaining a margin of safety. Another effective way is to find banks with the capability to compound over time: the growth play. In this article, I will give you 3 reasons why Colombian banks fit the growth play.
Despite the fact Colombia has made some impressive progress in the last decade, the country is still struggling with its reputation of the past. In 1990, Colombia had a GDP per capita of $1,500 and today that's above $14,000. Poverty levels in the same period came down from a stunning 65% to under 24% today. There is more to Colombia than meets the eye, also for investors.
The country has 7 banks that make up the majority of the banking system. By total assets, the largest 5 banks are Bancolombia (NYSE:CIB) (22.8% of the total), Banco de Bogotá (14.2%), Davivienda (13.5%), BBVA Colombia (10.2%) and Banco de Occidente (7%). From these 7 banks, 4 are owned by the same holding company: Grupo Aval (NYSE:AVAL). Meaning that in practice, there are only 4 significant banking groups. So why do Colombian banks fit the growth play?
Reason 1: High Return on Equity
In the period 2010-2016, the major Colombian banks had an average ROE of 16.1%. Banco de Bogota had the highest return on capital (17.6%), while Banco de Occidente reported the least (14.2%). Nevertheless, all the Colombian banks have shown great ROE figures with very little variance amongst them: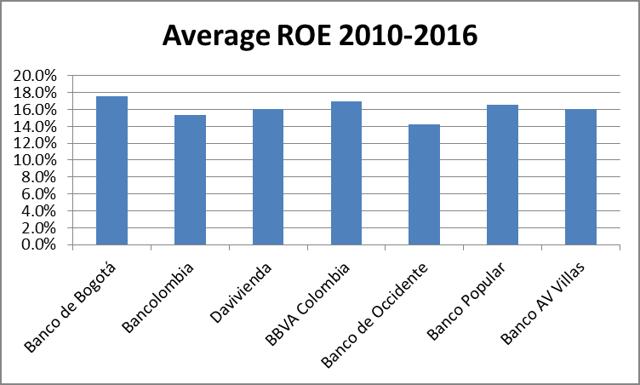 Source: Annual reports & author
So even without future growth, all major Colombian banks already provide a high initial yield on capital deployed. That's not a bad start, especially if you could get in at valuations around tangible book value.
Reason 2: Long runway for growth
The whole Colombian financial sector has a long runway for growth ahead. First of all, the credit penetration in Colombia (Credit as % of GDP) is very low in comparison with the rest of Latin America and the USA: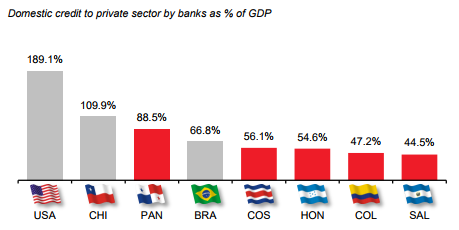 Source: Davivienda corporate presentation
Secondly, a big part of the Colombian population is not participating in the financial sector yet. According to the World Bank, only 39% of the population (age 15+) has a bank account. This is a very low number, especially if you compare that with the USA (94% of age 15+ population):

Source: World Bank financial inclusion data 2014
Finally, I think it is very reasonable to believe that the Colombian GDP will grow over time. This is important, because bank credit normally grows in line with GDP over the long run. The only thing is that a big part of the Colombian economy is commodity-driven, which makes the economy vulnerable to swinging commodity prices. But for the long-term investor, that should not be a problem: the road could just be a bit bumpier.
Most people forget that Colombia has very favorable demographics to support future GDP growth. India always gets praised for its young population with the argument that GDP almost certainly has to grow because all these young people will enter the labor market in the coming decade (while the 'western' countries are aging). Well, Colombian demographics are not far off: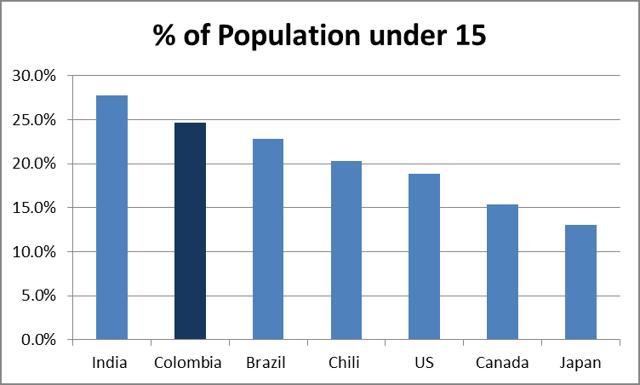 Source: World.bymap & author
Combining the long-term economic outlook, the low credit penetration and the fact that only 39% of the population has a bank account, I conclude that Colombian banks have an impressive runway for growth for many years ahead.
Operators have skin in the game
The biggest risk for investing in a bank is assessing the credit quality. That is, how do you know the bank gave loans to creditworthy counterparties? The answer is: banks are black boxes, so you can never know for sure. But you can find some useful cues to increase the probabilities of being right.
One of these cues is to check whether management and owners have skin in the game. If their personal fortunes are tied to the success of the bank, it is less likely the bank will compromise on credit quality. What I like about the Colombian banks is that there are some serious owners involved.
Grupo Aval is a holding company owned by Luis Carlos Sarmiento Angulo. He is wealthiest man in Colombia and owns 96.9% of the common shares and 43.3% of the preferred shares. Grupo Aval controls 4 major banks in the country: Banco de Bogotá S.A. (ownership: 68.7%), Banco de Occidente S.A. (72.3%), Banco Popular S.A. (93.7%) and Banco AV Villas S.A. (79.9%).
Grupo Sura is a financial and industrial holding company. It is the controlling owner (46.4%) of Bancolombia. On top of that, it has a keiretsu relationship with Grupo Nutresa (OTCPK:GCHOY) and Grupo Argos. This means they have interlocking business relationships by owning majority stakes in each other's stock.
Davivienda is also owned by a group. Grupo Bolivar has a controlling interest of 55.1% in the 3rd largest Colombian bank. In turn, the Bolivar group is majority owned by the Cortés family and a private university in Bogota (Universidad Externado de Colombia).
The fourth bank, BBVA Colombia, is a daughter of the well-known Spanish banking conglomerate BBVA (NYSE:BBVA) which owns 76.2% of the outstanding shares.
In sum, for Grupo Aval and Davivienda, I could directly derive personal and family interests. For Bancolombia and BBVA Colombia it is less clear, yet they have some strong institutional arrangements (a keiretsu and a daughter bank).
Putting it all together
An effective way of investing in banks is to find banks that are able to compound over time. In order to make compounding work, you ideally want to find a bank that (1) has a high return on capital to start with, (2) has enough room to grow for many years to come, and (3) has an operator with skin in the game.
I believe Colombia in general fits this description, because (1) the average ROE is 16.1%, (2) the credit penetration is low as only 39% of the population has a bank account, and (3) some operators have their personal fortunes tied up with the banks.
In my next article, I will compare the 4 banks based on some important operational metrics. Stay tuned!
Disclosure: I/we have no positions in any stocks mentioned, and no plans to initiate any positions within the next 72 hours.
I wrote this article myself, and it expresses my own opinions. I am not receiving compensation for it (other than from Seeking Alpha). I have no business relationship with any company whose stock is mentioned in this article.
Editor's Note: This article discusses one or more securities that do not trade on a major U.S. exchange. Please be aware of the risks associated with these stocks.