In early January each year, I try to attend the Vancouver Resource Investment Conference ("VRIC") which is a gathering of mostly mining companies, venture capitalists, and newsletters. I don't write often on companies in the mining sector on Seeking Alpha, but I have a good sized portion of my investable capital tied up in numerous companies throughout the industry. This conference gives me a good chance to catch up with the latest presentations from my holdings as well as to meet with the companies directly at their booths. The conference will also have keynote presentation, either on specific topics or trends; 2018's was no different.
Attending conferences can also give you a good sense of the overall mood in the industry. Precious metal prices have been in a recent rally, along with certain base metal prices as well, notably zinc. The share prices for many firms have not traced it, but with improving fundamentals on their key revenue generators, it wasn't a surprise to me to see how busy the conference was. The lineup below contrasts to last year when I was able to walk in without waiting at registration; some of this may be that last year I went on the Monday rather than the opening Sunday, but it was very busy. Most of the presentations I attended were standing room only, with some of the major presentation having attendance spill out into the conference walkways.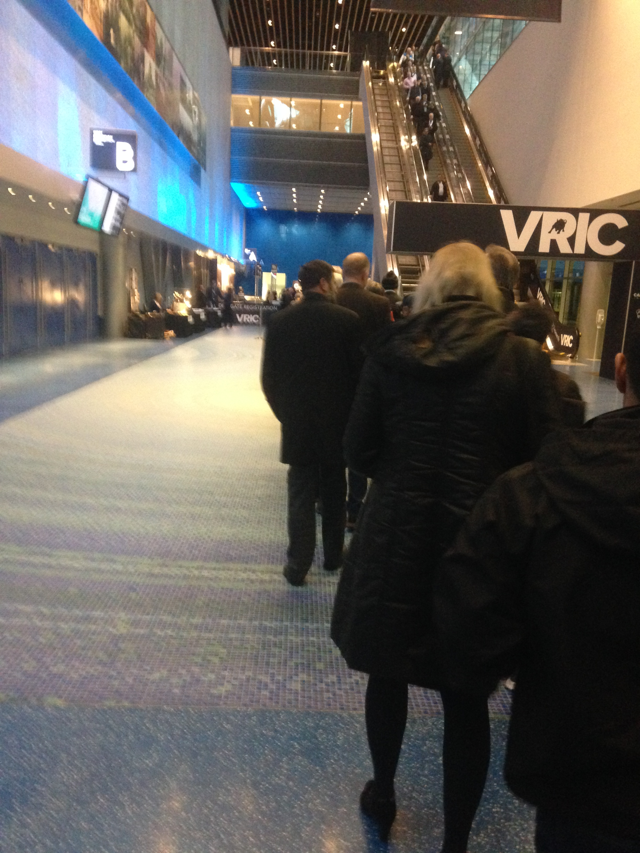 Source: Author Photo at VRIC, January 2018
The first impression I had was a general overhang of the conference with the current cryptocurrency boom. Frank Holmes of U.S. Global Investors (GROW) and HIVE Blockchain (OTCPK:HVBTF) led off my visit with a presentation on his journey through the blockchain and cryptocurrency world. Mr. Holmes has been a long-time investor in the resource industry and recently launched a junior gold ETF as a competitor to GDXJ. He made his case that this is truly the beginning of a new world. I did struggle to see why this would have a place at a resource conference, but admittedly HIVE's place at the conference was as a provision of mining services rather than investments in ICOs. Mr. Holmes was very bullish on the industry as a whole and rightly focused on the fact that the real market for ICOs will be as an alternative to a very bloated IPO regulatory environment in the US for companies to raise funds. ICOs could prove an alternative here, though it is currently a bit of a Wild West environment with no real regulation in place, leaving investors more at risk to potential frauds.
Later that morning, Frank Curzio of Curzio Research held a workshop entitled "Why You Will Lose a Fortune Trading Cryptocurrencies in 2018". Though provocatively titled, Mr. Curzio's workshop also focused again on the infrastructure side of the cryptocurrency boom. Mr. Holmes spoke to the HIVE's mining services, Fortune Blockchain spoke to the focus on the provision of electricity, and Hilltop CyberSecurity spoke about the risks that blockchain and cryptography can help mitigate. Mr. Curzio's clear focus was on the companies providing the "picks and shovels" to the cryptocurrency boom, rather than trying to weed out the ICOs. The panelists brought up the Blockchain Infrastructure ETF (BLOK) and Overstock.com (OTSK) as potential ways to invest in this trend.
I also attended a workshop hosted by Michael Alkin, a noted short seller. He has serious concerns about both the US car industry as well as the consumer staples industry. His main point on the auto industry is how high the demand is currently and how difficult it will be to improve off that. This has been fueled by low interest rates allowing high leverage as well as high residual values creating low lease payments. When these residual values are required to be taken back by companies, there will be a lot of risk on the auto companies as there will be a glut of used cars that will hurt future demand.
The consumer staples industry has had next to no growth but has been able to drive earnings almost solely through cost cuts. This can only go so far and combined with some unfavorable demographics (millennials not buying brands and Boomers spending less in general), the flock of "dividend tourists" who have piled into these stocks may be in trouble. I personally agree with both these ideas, as I am short Tesla (TSLA) via Puts and have been short Kellogg (K) via Puts for most of the last year.
On top of these workshops, the majority of the conference was devoted to the mining industry, which was my main focus. This year I wanted to find out more about two key areas: prospect generation and uranium.
Brent Cook of Exploration Insights hosted a panel of three prospect generators: Bravada Gold (OTCQB:BGAVF), Riverside Resources (OTCQB:RVSDF), and Strategic Metals Ltd. (OTCPK:SMDZF). Prospect generators generally have the initial view of staking and trying to find a claim or property that has a potential to turn into something more with more detailed exploration. These three companies focus on Nevada, Mexico, and the Yukon respectively. The managements largely agreed that companies need to be nimble in order to adjust to changing market dynamics and deal dynamics which will change as the underlying metals market changes. Accessibility is also key as any property needs to be potentially mineable. Properties also need to have "blue sky" for an explorer to develop if they are to acquire it from a prospect generator. Doug Eaton, Strategic's CEO, made a key point that in order to succeed they also need to know when to cut bait rather than to continue throwing money after bad i.e. don't fall in love with a property. This is a good lesson for investors as well, which is why have long been impressed with Strategic's approach to management. Mr. Eaton confirmed this as he focused on the fact he was trying to build a company and monetize the massive database of information he and Strategic have acquired over the years. All three companies indicated how important it is to work with local communities, including those indigenous to the areas.
I also sat in on a panel of uranium companies, ranging from early-stage prospect generators to past producers. This included Skyharbour Resources (OTCQB:SYHBF), Fission Uranium (OTCQX:FCUUF), Uranium Energy Corporation (UEC), and Goviex Uranium (OTCQB:GVXXF). The uranium industry has been in very rough shape, with prices falling down to $23/lb, well below previously viewed break-even points. All of the CEOs felt that the recent macro events in the industry, from Cameco's (NYSE:CCJ) shutting of McArthur to Kazakhprom's production cuts to Abe's re-election in Japan, will eventually become bullish for the industry. Part of the industry's problem has been that so much of production has been tied up in long-term contracts that there is no demand for spot uranium. As these long-term contracts come off (estimated 70% of them in the next 2-3 years), new arrangements will be required which should bring some appreciation to the spot price. The underlying increase in electricity usage will also be a big driver for uranium, including - wait for it - cryptocurrency mining. I feel that uranium is a great contrarian play as it has truly been left behind, with each of these company's giving a different way to play it - Skyharbour is early stage, Fission has a massive project in Saskatchewan, Canada, Goviex is based in Africa while UEC is based in the US.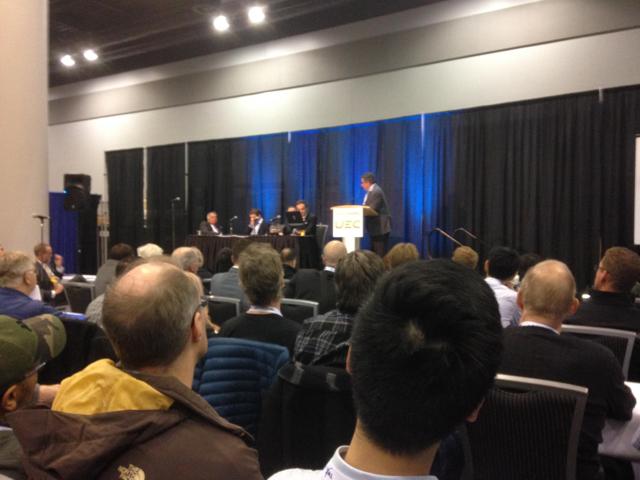 Source: Author image at VRIC 2018, January 2018
The final presentation I sat in was on Atlantic Gold (OTCPK:SPVEF), a new gold producer with properties in Nova Scotia, Canada. I have had a stake in the company for some time but it had been given little respect despite the recent bump in the gold price. Atlantic Gold has 35% insider ownership and has four main potential areas to expand its resource, which is very low cost due to the resource being so near the surface. Atlantic Gold took this opportunity to also announce that it was likely going to be able to announce a doubling of production in line with Phase 2 of its development plan. The stock has reacted strongly to this in the last two days: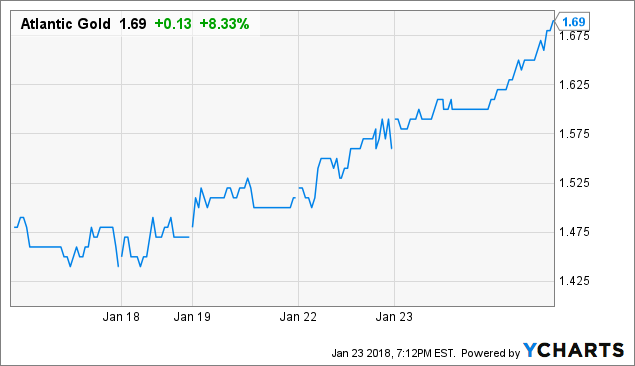 During the day I took a look at a few booths and had a good discussion with Metanor Resources' (OTCPK:MEAOF) Claude Gobeil, Exploration Manager, on its recent drill results which bode as very promising for its Bachelor property as it believes to have found an adjacent sheer zone to its current pit mine that could lead to an intersection with the current trend it is mining. These intersections can prove to be very valuable and are open to depth from its current pit. I have written about Metanor previously and continue to like the company as it has a very robust financial profile.
The Takeaway
I found this conference, as in previous years, to be very informative with a good panel of guests and attendees. Hearing directly from the companies on their projects helps me to understand what to look for, but to also be aware of some of the pitfalls. At this conference, it was interesting to hear that too often mining investors are "slave to the grade" without considering the infrastructure or other potential detriments enough. The views of the prospector generators were particularly interesting for me, as it helped me better understand both the mining company food chain as well as what makes that business model work.
I did also come to grips with the crypto presence at the conference as well as it could become a source for fundraising in the near future. It could also end up being a spectacular fad, but I came away not being able to write it off completely. Hopefully, this will give you some ideas to look into going forward or to attend a similar type conference near you.
If you see something in this article that you agree with, or even better disagree with, please take the time to comment below. This makes all of us better investors. I predominantly focus my investing in the small- and micro-cap company space but reserve the right to deviate from time to time. If you like what I'm doing, you can follow me by hitting the "Follow" button at the top of this article. Plus, you can follow me in real time by selecting that option.
Disclosure: I am/we are long MEAOF, SPVEF, FCUUF.
I wrote this article myself, and it expresses my own opinions. I am not receiving compensation for it (other than from Seeking Alpha). I have no business relationship with any company whose stock is mentioned in this article.
Additional disclosure: I am short TSLA through Put Options.
Editor's Note: This article covers one or more stocks trading at less than $1 per share and/or with less than a $100 million market cap. Please be aware of the risks associated with these stocks.