Background
The original A-Team was launched at the end of Q1/2016, with ten names making its lineup:
The original A-Team had two very simple goals:
Short-term (12 months): 10% total return target. This goal had been met quite easily as the first anniversary results prove.
Long-term (60 months) 50% total return target. This goal has been met during April 2017, through May 2017 and June 2017.
It's important to note that we made quite substantial changes in 2017, and over the past 5-6 months we were left with only three names out of the A-Team: NRZ, GAIN and NEWT.
Not a bad decision when you look at the performance of these three stocks over the past few months as well as since March 31st 2016: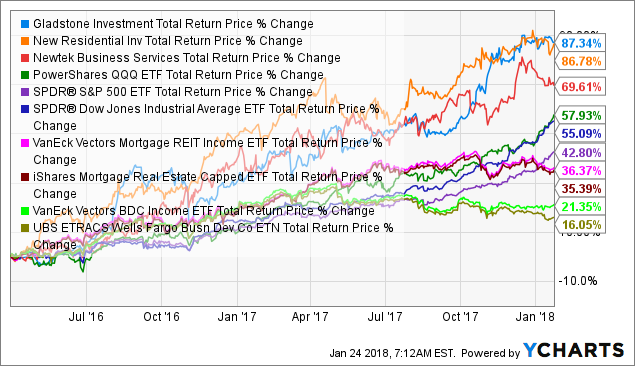 GAIN Total Return Price data by YCharts
This trio has easily outperformed anything that you may wish to compare it to:
Nonetheless, since the targets of the original A-Team have been met and since we only hold three names (out of the original ten) we've decided that it would be better to put the original A-Team to rest.
This (original A-Team) king is dead.
Meet the New Team/s
For 2018 (and possibly beyond) we've decided to come up with four new teams. These teams reflect our current holdings and/or convictions but they serve different themes, time horizon and goals. As such, they are also offering different levels of risk and total return targets.
Just like the original A-Team, each of the new teams has ten constituents.
The I(ncome)-Team ("I-Team")
Parameters/conditions:
Minimum 5% coupon/yield
No more than one security per issuer; i.e., ten different tickers/issuers.
Duration (for the entire team) < 5 years
Types of securities that are allowed into this team:
Publicly-trading corporate bonds, both investment grade ("IG", AGG, LQD) and/or High-Yield ("HY",HYG, JNK), usually issued by large-cap companies, where par = 100
Baby bonds, usually issued by smaller companies, where par = 25
Preferred shares. In 99% of cases, par = 25
Close-Ended Funds ("CEFs")
Goal/s:
Total return of 5% per annum, for the team (as a whole; equal weightings), over both short (12 months) and long(er) term.
Draw-down of no more than 5% at any point in time.
The R(IC)-Team ("R-Team")
Parameters/conditions:
Minimum 7% coupon/yield
No more than 3 constituents belonging to the same type of RIC (see below)
Types of securities that are allowed into this team:
Goal/s:
Total return of 7% per annum for the team (as a whole; equal weightings), over both short (12 months) and long(er) term.
Draw-down of no more than 7% at any point in time.
The G(rowth)-Team ("G-Team")
Parameters/conditions:
Minimum 10% growth in both top line, i.e. sales/revenues, and bottom line, i.e. EPS.
Types of securities that are allowed into this team:
Goal/s:
Total return of 10% on average, per annum, for the team (as a whole; equal weightings), over the next 3 years.
The S(peculative)-Team ("S-Team")
Parameters/conditions:
Market-cap smaller than $1B
Multi-bagger potential
Types of securities that are allowed into this team:
Goal/s:
Total return of at least 40% over the next 2 years.
Long live the (new teams) king!
The I(ncome)-Team
There are 10 constituents in the I-Team: 3 corporate bonds, 3 preferred shares (out of which: two fixed-to-floating and one fixed-rate), 3 baby bonds (out of which: two were issued by mREITs and one by a BDC) and 1 closed-end fund.
Remember: Due to its solid nature, common stocks are not allowed into the I-Team.
Here are the ten constituents of the I-Team:
Corporate Bonds:
Andeavor Logistics LP (ANDX) 6.875% fixed-to-floating perpetual bond (CUSIP: 03350FAA4)
Current price: $103 (or 6.3% YTC)
A recently issued (December 1st 2017) debt issued by ANDX of $600M 6.875% Series A Fixed-to-Floating ("FTf") Rate Cumulative Redeemable Perpetual Preferred Units.
Callable on February 15, 2023, (till then the 6.875% coupon is fixed) and from that date, units will pay three-month LIBOR plus a spread of 4.652%.
Due to its (perpetual) nature, this bond isn't rated (as of yet) but ANDX Senior Unsecured debt with fixed maturity is rated Ba1 by Moody's. Still HY but only one-notch below IG rating.
The FTF mechanism and the five year (only) till call date makes this perpetual a good combination to benefit from both decent yield and an upside potential should short-term rates continue their run-up.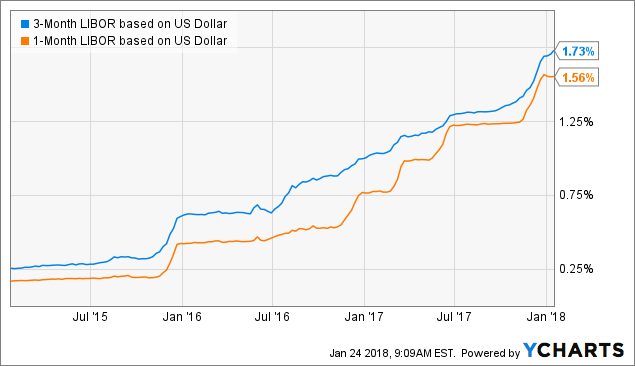 3-Month LIBOR based on US Dollar data by YCharts
If a reset would have taken place today, when the three-month LIBOR is at 1.7452%, the coupon would have been set at only ~6.39%. That's because the original-initial coupon (6.875%) was set based on the 5-year benchmark rate while the floating mechanism (starting 2/15/2023) will be based on much shorter, three-month, intervals.
ANDX is one of our top-5 midstream MLPs for 2018.
The duration here is short, only about 4.5 years (to call date). Then after this debt is becoming a very short-duration instrument due to the coupon reset that will take place every three months.
Teva Pharmaceutical Industries (TEVA) 2.8% July 21st 2023 bond (CUSIP: 88167AAD3)
Current price: $87-88 (or 5.35-5.5% YTM)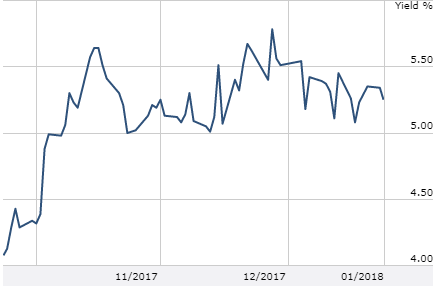 Source: Morningstar
What do we like here?
Deep discount to par (100). Any recovery in TEVA's operations (regardless of stock price fluctuations) - and we expect such a recovery - would take the price higher. Putting it differently, you may get here more than 5.35% per annum during the first half of the 5.5 years that are left till final maturity.
Moody's and Fitch already put the rating of TEVA at Ba2 and BB, respectively, and S&P (still maintaining a BBB rating) may follow through soon. Nonetheless, we believe that this is the bottom (of the credit rating) and it's likely that the next move (even if only in 2019 or 2020) would be an upgrade.
If and when TEVA issues new debt it's likely to be with longer duration than these debts. Although new debts may be issued as secured bonds (though not likely), versus the unsecured nature of the above-mentioned bonds, we don't expect TEVA to be anywhere near bankruptcy, i.e. we are less concerned about the priority (of securities) in case of liquidation. What we find attractive is that more debts mean more cash and if the maturities of the new debt indeed fall further down the road than 10/2026 - the existing bonds, in some ways, will have better coverage (from a pure liquidity and timing stance).
Seagate (STX) 4.75% January 1st 2025 bond (CUSIP: 81180WAL5)
Current price: $99 (or 5% YTM)
Following two HY bonds, let's also pick one that is still an IG rated. True, the rating here is only Baa3 (by Moody's) - the lowest level of the IG spectrum - but still an IG... out of a S&P 500 component, with a market cap of circa $16B, that just burst into a new 52-week high.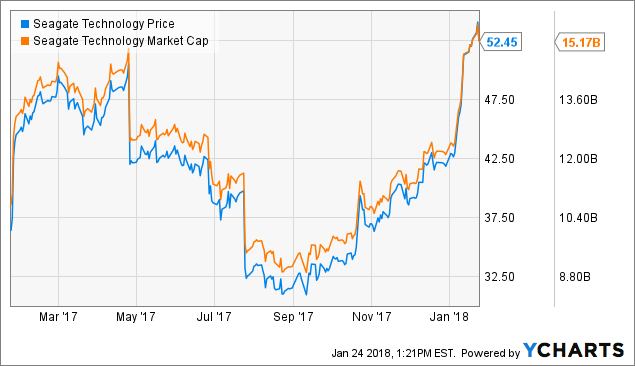 We include this bond here because of two reasons:
1. It meets our minimum 5% yield requirement.
2. This team has enough HY-ers, from both rating and yield perspectives, so we wish to strengthen the safer/solid side of the team.
Preferred Shares:
Teekay LNG Partners L.P. (TGP), 8.50% Ser B Fixed/Float Cumul Red Perp Preferred Units
Current price: $24.46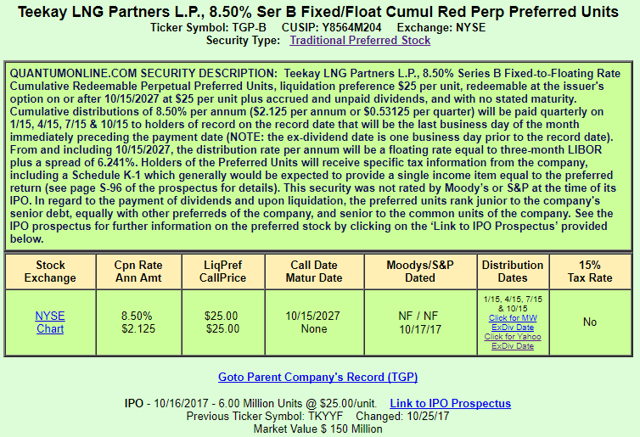 Source: quantumonline
Here's what we wrote to The Wheel of FORTUNE's subscribers when we bought this preferred share at $24.50:
Sometimes a dividend cut (on the common) is having the opposite effect. TGP cut 80% at the end of 2015 just to see the stock doubling over the next 13-14 months. A turnaround story and if anything, the dividend on the common is expected to increase from here
This purchase was also mentioned in our "tip of the day" series - number 13.
NuStar Energy L.P. (NS), 7.625% Series B Fixed/Float Cumul Red Perp Preferred Units
Current price: $23.80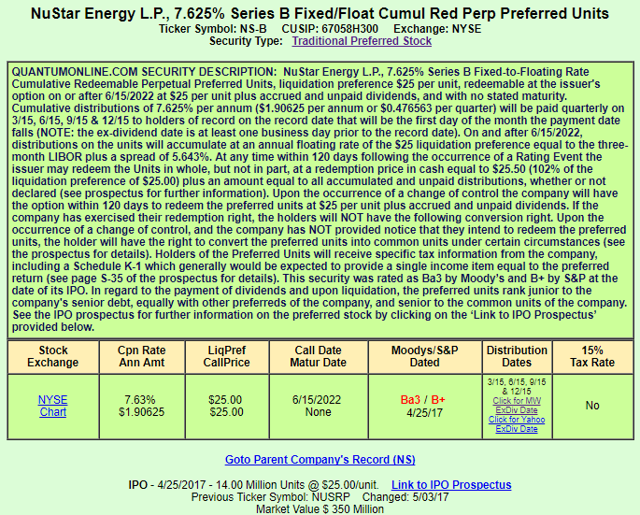 Source: quantumonline
Here's what we wrote to The Wheel of FORTUNE's subscribers when we bought this preferred share at $22:
Although the company has a very good track record of dividends on the common we think that there might be a cut. Quite a chunk of debt here and an oil terminal in the Caribbean (island of St. Eustatius) that was shut for one month following Hurricane Irma. Size of debt is a concern.
Pay attention to the large discount this series offers = much higher discount that the other two preferred shares of NS. On the other hand, the spread over the 3M Libor, is much smaller here
This purchase was also mentioned in our "tip of the day" series - number 17.
CBL & Associates Properties (CBL), 7.375% Dep Shares Cumul Redeem Preferred Stock D
Current price: $20.50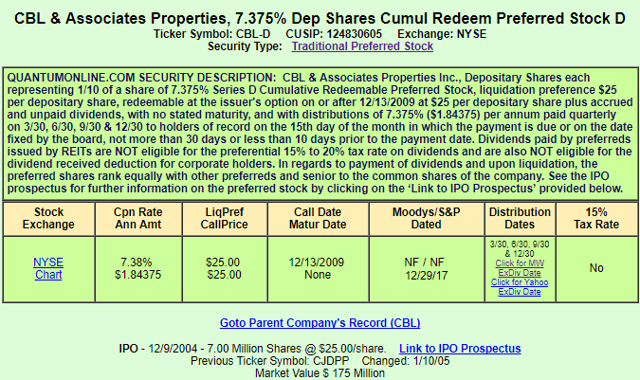 We don't like the retail sector (XRT) and we don't like retail-related eREITs. Nonetheless, when an investment-grade rated debt is paying 9% - it's hard to resist it, even when the rate is fixed as is the case here.
We dipped our toes recently at $20 and we intend to buy more if the price goes down further (As we expect). Eventually we see this as a 10% yield; that implies a price of $18.4375 = 7.375%*$25/10%
A move from $20 to $18.4375 equals a 7.8125% decline of the price. With the coupon of 7.375%, this means that even such a decline would keep this preferred share close to a break-even, on a total return basis, after one year. We can live with that.
Pay attention that the call date here is already long due. Nonetheless, with the current state of CBL we don't expect this series to get called (almost zero chance) simply because CBL can't refinance at lower rates these dates. We don't expect this to change in the foreseeable future.
If, for whatever reason, CBL decides to call this series - we would be thrilled as the discount to par ($25) is huge (20%), so we would welcome such an outcome. Don't count on this though...
Baby Bonds:
SLDA 7% 8/15/23 (Ticker: SLDA)
Current price: $25.70
The more solid version of Sutherland Asset Management Corporation (SLD), an mREIT whose common we like too. This baby bond "only" pays 7% but that is a nice return for a ~5.5-year debt with only ~4.5-year duration.
AJXA 7.25% 4/30/24 (Ticker: AJXA)
Current price: $25.25
A similar story to SLDA but this time it's the baby bond of Great Ajax Corp. (AJX), another mREIT that we like. We expect this issue to trade in a stable-calm manner. There's nothing fancy here but a nice 7-7.25% yield to maturity.
Versus the 7% coupon of SLDA you get here an extra 0.25%, mostly reflecting the extra 6/8 months of the duration/maturity, respectively.
SAB 6.75% 12/30/2023 (Ticker: SAB)
Current price: $25.85
After touching upon two baby bonds of mREITs, let's pick one baby bond that was issued by a BDC. Saratoga Investment Corp. (SAR) is a BDC that we like though, admittedly, never owned.
The current price implies a YTM of 6.53%, slightly below that of SLDA but for the sake of diversification we are happy to get a bit less (yield) for very similar duration.
Closed-End Fund:
Ares Dynamic Credit Allocation (ARDC)
This CEF is focusing on one of the best areas to be invested in right now, when short-term interest rates rise: Senior-Secured Loans ("SSL").

Source: CEF Connect
Here's what we wrote to The Wheel of FORTUNE's subscribers when we bought this CEF at $16:
Senior secured loans ("SSL") is a much smaller market than the bond market, but it's big enough and attractive enough for CEFs to dive into it.

In-spite of their low ratings (usually anywhere between CCC to BB), SSL are considered low(er)-risk and (therefore) generally low-yielding debts that companies take out at a floating rate. Unlike bonds that have a fixed rate, the interest payments on these loans usually change, which means these payouts will go up if interest rates go up, too. That also means these loans will increase in value (if and) when the Fed hikes rates.
ARES, the fund's manager, is a leader in the corporate-lending world and for many of you is a familiar name that manages few BDCs: ARCC, OTC:ACSF and ACRE
The effective duration of the fund, per the fund's fact card as of 12/31/2017, is 1.37 years.
The fund just increased its monthly distribution (for Q1/2018) by 2.4% to $0.1075/share monthly dividend (from prior dividend of $0.1050/month).
Bottom Line
The I-Team is the first team out of the four new teams that we introduced on the free section for 2018.
We aim at touching upon the teams on a monthly basis but not necessarily on a end-of-month basis.
We believe that the I-Team can produce the necessary minimum required yield of 5% per annum without suffering 5% draw-down along the way (on a total return basis). The former is easy; the latter not so much.
We hope that you will follow this team - as well as the other teams - as they structure, progress and evolve.
The full details and the exact trades will be published first to to The Wheel of FORTUNE's subscribers, but we will do our best to keep all readers in the loop no later than one month since any action is taken.
In order to make the most out of following us, please make sure that you're not only following us but also doing so at real time:


The Wheel of FORTUNE will celebrate its first anniversary on 3/22/2018.
We are likely to increase the fees on both monthly (by 10%) and yearly (by 5%) subscriptions as we head into the second year. Furthermore, we may open the free trial on a permanent basis (TBD). If so, based on SA policy, the money back guarantee ("MBG") becomes automatically invalid.
You can still join now as an annual subscriber - before these changes take place - and ensure that you are benefiting from both the MBG as well as from grandfathering the current-lower fee for life.
Disclosure: I am/we are long THE I-TEAM. I wrote this article myself, and it expresses my own opinions. I am not receiving compensation for it (other than from Seeking Alpha). I have no business relationship with any company whose stock is mentioned in this article.