By James Dearborn, Head of Municipal Bond Investments and Senior Portfolio Manager
Even at lower tax rates, we believe municipal bonds will continue to play a valuable role in a diversified portfolio.
Most investors know that they'll be affected by tax reform. And recently, I've been getting some form of the same question: What does tax reform mean for municipal bonds?
We know that investors rely on municipal bonds for tax-exempt income and low volatility. And we expect municipal bonds to continue to deliver on both fronts, even considering policy changes. Even at lower tax rates, municipal yields are still compelling, and other aspects of tax reform could favorably affect supply and demand for municipal bonds. Because of this, we think municipal bonds will still play an important role in a diversified portfolio.
Invest in munis for higher taxable-equivalent yields.
Lower tax rates for millions of high-income earners would reduce the value of tax-exempt income. But we believe that even at lower tax rates, municipal bonds still make sense when you compare them on a taxable-equivalent basis to what you can earn from other fixed-income asset classes. We compared the taxable-equivalent yield of the Bloomberg Barclays Municipal Bond Index (assuming a tax rate of 35%) with the Bloomberg Barclays Corporate Investment Grade Bond Index or the U.S. Treasury Index, and municipal bonds offer more yield than their taxable fixed-income counterparts.
Expect fewer municipal bonds will be issued, which can be a good thing for muni performance.
We anticipate a much smaller supply of municipal bonds in 2018, and that these favorable technical conditions (low supply and high demand) may help tax-exempt bonds perform well during the year. Tax reform may eliminate the ability of municipal issuers to lock in low interest rates by refinancing outstanding higher cost debt (referred to as pre-refunding). This has been a major portion of muni bond supply, so a change here would lower the supply of municipal bonds.
Avoid states and cities with pension and budget problems. Consider the rest.

The credit quality of the vast majority of municipal issuers remains stable, benefiting from underlying economic growth and still positive revenue trends. Nonetheless, a few high-profile state and local issuers continue to struggle with rising pension funding requirements and stagnant revenue growth. We include the states of New Jersey, Pennsylvania, Connecticut and Illinois, as well as some of their major cities (Hartford, Philadelphia and Chicago) in this group, and we anticipate that rating downgrades - potentially more than one notch - are likely in 2018. However, we believe you can take comfort in the overall stable fiscal health of most municipal issuers, and we encourage investors to work with professional asset managers to avoid potential credit pitfalls.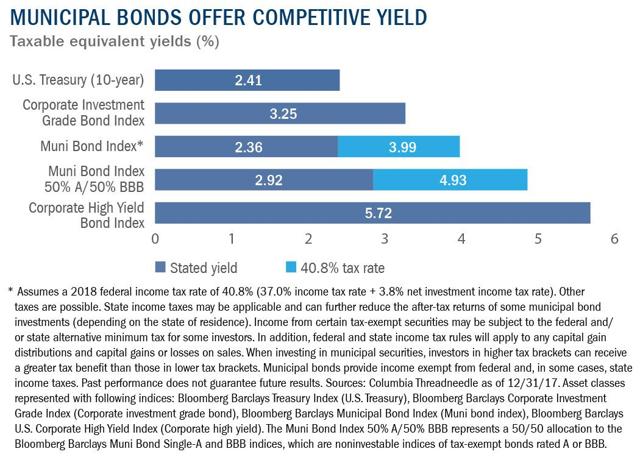 The Bloomberg Barclays U.S. Municipal Index covers the USD-denominated long-term tax-exempt bond market. The index has four main sectors: state and local general obligation bonds, revenue bonds, insured bonds and prerefunded bonds.
The Muni Bond Index 50% A / 50% BBB assumes a 50/50 allocation to Barclays Bloomberg Muni Bond Single-A and BBB indexes. The Single-A and BBB indexes are subsets of the broader Bloomberg Barclays Municipal Bond Index with the Single-A index consisting of bonds rated single-A and the BBB index consisting of bonds rated BBB.
The Bloomberg Barclays U.S. Treasury Index measures USD-denominated, fixed-rate, nominal debt issued by the U.S. Treasury.
The Bloomberg Barclays U.S. Corporate High Yield Bond Index measures the USD-denominated, high-yield, fixed-rate corporate bond market. Securities are classified as high yield if the middle rating of Moody's, Fitch and S&P is Ba1/BB+/BB+ or below.
The Bloomberg Barclays U.S. Investment-Grade Corporate Index includes dollar-denominated debt from U.S. and non-U.S. industrial, utility and financial institution issuers.
It is not possible to invest directly in an index.
© 2018 Columbia Management Investment Advisers, LLC. All rights reserved.
With respect to mutual funds and Tri-Continental Corporation, investors should consider the investment objectives, risks, charges and expenses of a fund carefully before investing. To learn more about this and other important information about each fund, download a free prospectus. The prospectus should be read carefully before investing.
Investors should consider the investment objectives, risks, charges, and expenses of Columbia Seligman Premium Technology Growth Fund carefully before investing. To obtain the Fund's most recent periodic reports and other regulatory filings, contact your financial advisor or download reports here. These reports and other filings can also be found on the Securities and Exchange Commission's EDGAR Database. You should read these reports and other filings carefully before investing.

The views expressed are as of the date given, may change as market or other conditions change and may differ from views expressed by other Columbia Management Investment Advisers, LLC (OTC:CMIA) associates or affiliates. Actual investments or investment decisions made by CMIA and its affiliates, whether for its own account or on behalf of clients, may not necessarily reflect the views expressed. This information is not intended to provide investment advice and does not take into consideration individual investor circumstances. Investment decisions should always be made based on an investor's specific financial needs, objectives, goals, time horizon and risk tolerance. Asset classes described may not be suitable for all investors. Past performance does not guarantee future results, and no forecast should be considered a guarantee either. Since economic and market conditions change frequently, there can be no assurance that the trends described here will continue or that any forecasts are accurate.

Columbia Funds and Columbia Acorn Funds are distributed by Columbia Management Investment Distributors, Inc., member FINRA. Columbia Funds are managed by Columbia Management Investment Advisers, LLC and Columbia Acorn Funds are managed by Columbia Wanger Asset Management, LLC, a subsidiary of Columbia Management Investment Advisers, LLC.

Columbia Threadneedle Investments is the global brand name of the Columbia and Threadneedle group of companies.

NOT FDIC INSURED · No Bank Guarantee · May Lose Value