The rally in crude oil futures prices, and the Exchange Traded Fund, USO, has been largely based on the draw-down in U.S. oil inventories, where oil data is the most transparent and timely, as well as OPEC exaggerations. To wit, Mohammad Sanusi Barkindo, OPEC Secretary General, recently claimed:
Commercial oil stocks in the OECD fell further in the month of November and the difference to the latest five-year average has been reduced by around 200 million barrels since the beginning of this year."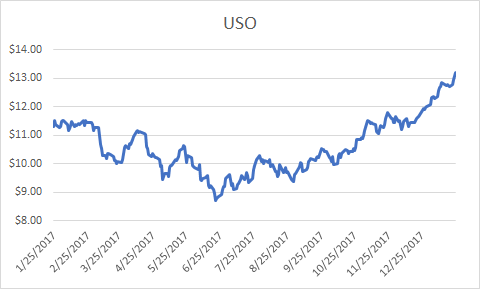 According to DOE data, the U.S. crude oil and petroleum product draw amounted to 106 million barrels during 2017. However, the total OECD stock draw was about 60 million. That means stocks in non-U.S., OECD countries actually rose by 46 million barrels.
MMB
U.S.
-106
Non-U.S.
46
Total OECD
-60
The evolution of the U.S. as a major oil exporter has complicated the picture. Prior to 2017, changes in U.S. storage levels were highly correlated to changes in domestic demand. But that is no longer the case.
My analysis of monthly data from the DOE in January, as well as weekly data throughout 2017, reveals that the large draws in oil storage in the U.S. amounted to, in part, a stock transfer to non-U.S., OECD countries. Furthermore, only a very small portion of the U.S. draw was due to higher petroleum product consumption in the U.S.

The 106 million stock draw falls into the 5 following categories:

MMB
Product Exports
36
Crude Exports
25
Crude Runs
17
Product Demand
4
Unaccounted for
25
Total
106
Higher petroleum product exports accounted for 36 million barrels of the drop. In 2017, they averaged about 4.781 million b/d, 689,000 b/d higher than during 2016. Product imports in 2017 were unchanged from 2016.
Higher U.S. crude oil exports accounted for about 25 million barrels of the U.S. stock draw. In 2017, they averaged about 963,000 b/d, 482,000 b/d higher than during 2016.
Crude oil imports in 2017 were equal to their 2016 level, notwithstanding the OPEC "cuts," which amounted to just 225,000 b/d in 2017.
Additional U.S. consumption of crude and products only accounted for 20 million barrels of the stock draw. Higher refinery runs, demand for crude, added 17 million barrels to the draw, whereas higher U.S. final demand for products only added 67,000 b/d (i.e., 4 million barrels).
The final 25 million barrels of the drop is unaccounted for in the weekly data, which is subject to revision by monthly survey data.
Conclusions
Propaganda by OPEC led the market to believe that their production cuts and robust product demand led to a massive global stock draw in 2017. That simply was not the case.
The U.S. exported about 46 million barrels of its glut to other countries. Only about 4 million barrels of the U.S. stock draw was due to higher petroleum product demand, based on currently-available data. Long-only owners of USO face serious downside risks.
To guide investors who are interested in profiting from outstanding opportunities in the energy sector, I provide a service on Seeking Alpha's Marketplace oriented toward individual investors, Boslego Risk Services. A  long/short Model portfolio is continuously updated, along with on-going analysis of the oil market.
I am now accepting new members to Boslego Risk Services and invite you to sign-up. There are monthly and annual pricing options as described here. You may also read reviews posted by members here.
Disclosure: I/we have no positions in any stocks mentioned, and no plans to initiate any positions within the next 72 hours. I wrote this article myself, and it expresses my own opinions. I am not receiving compensation for it (other than from Seeking Alpha). I have no business relationship with any company whose stock is mentioned in this article.