"Competition is for losers!" As legendary venture capitalist Peter Thiel brutally points out, many companies creating a lot of value (e.g., for customers) aren't really valuable themselves for their owners. The reason? Profits are being competed away (think about those airlines). In today's dog-eat-dog business world, protecting values against existing and potential competitions is the key to success in investment. Here comes the concept of "Economic Moat," which is widely adopted by investors including Warren Buffett, and institutes such as Morningstar (MORN).
In short, an economic moat represents the durable competitive advantage that a business possesses that makes it difficult for rivals to wear down its market share and profit. By keeping the competition away, companies with wide moats are able to consistently capture a great portion of their economic value, and hence, generate superior returns for their shareholders over the long haul.
"In business, I look for economic castles protected by unbreachable moats." - Warren Buffett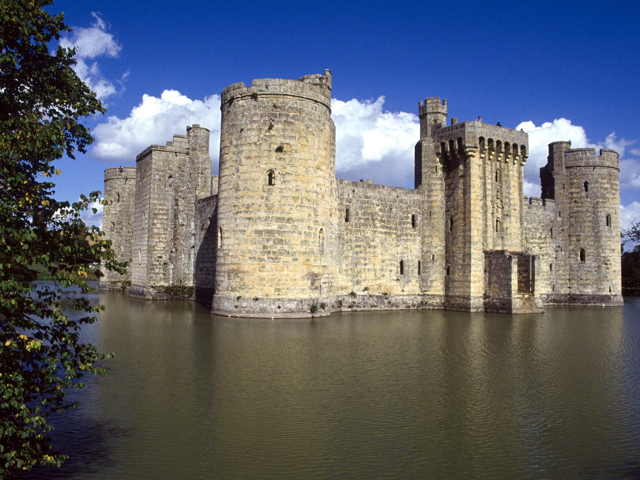 Source: bruskiturski.com.
In my opinion, any long-term buy-and-hold investors should only focus on stocks with wide-moat characteristics. I put the highest weight for moat factor in my stock quality ranking algorithm (you may find more details about the factor-based system here). And below are some of the most important factors for business moat evaluation.
Brand Power and Premium Pricing
Regarded by many as the ultimate currency craved by companies, a brand often creates great business value by being the huge influencer on customers' purchase decision. See's Candy, a subsidiary of Berkshire Hathaway (BRK.A) (BRK.B) is the perfect example here. As Warren Buffett once mentioned:
Every person in California has something in mind about See's Candies and overwhelmingly it was favorable. They had taken a box on Valentine's Day to some girl, and she had kissed him… See's Candies means getting kissed. If we can get that in the minds of people, we can raise prices.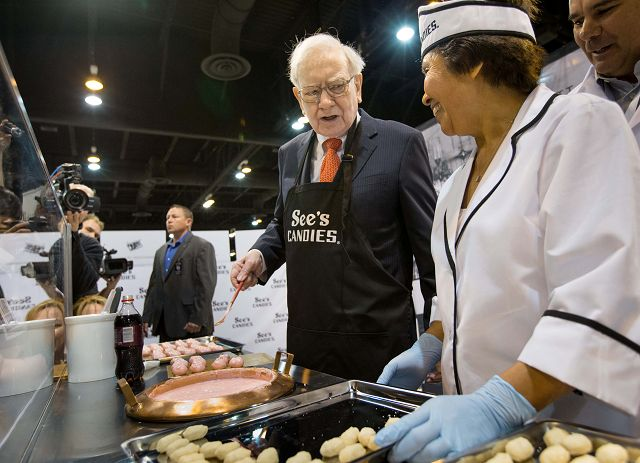 Source: omaha.com.
See's has consistently raised its prices after every Christmas at the pace far above the inflation rate. The product is price inelastic due to See's brand value. As a result, margins, ROIC, and net income all went up steadily, generating huge returns for its parent company year over year.
Another example could be Apple (AAPL), which recently heads the World's Most Valuable Brands, ranked by to Forbes. The average selling price of iPhone is $500 more than pricing for chief competitor Samsung, according to research from Canaccord Genuity, making Apple earn over 90% of the profits in the smartphone category and rack up a cash hoard on its balance sheet.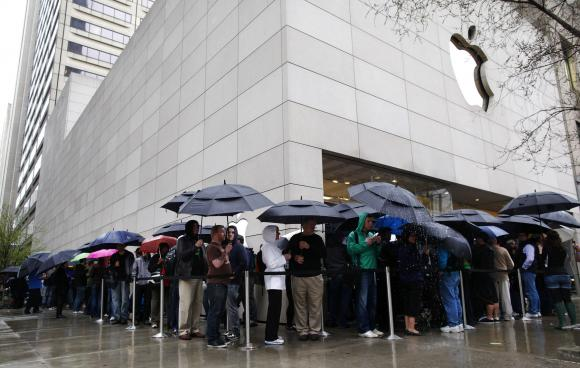 Source: ubc.ca.
Forbes and Interbrand both provide easy access to the ranking of highly valued global brands. Their valuation methodologies are somehow different but result in similar ranks.
In the short run, a company's brand power is almost impossible to replicate by its rivals; even better, it is often underrecognized financially on the company's balance sheet. For example, Apple owns its brand worth over $184 billion (per Interbrand) while recording only $2.3 billion as intangible assets on its balance sheet, leaving more than $180 billion "hidden" assets there to serve its shareholders.
To capture the value of brand power as both the economic moat and "hidden" assets on balance sheet, investors may want to take a look at Exponential Brand Value ETF (BVAL). This smart-beta fund tracks the equally-weighted BrandTransact 50 Index consisting of 50 stocks with the highest Brand-Value-to-Market-Cap ratio.
Network Effect and User Stickiness
The network effect is a phenomenon where an additional user of a good or service improves the value of that product to others. This has obviously empowered social network giant Facebook (FB) to not only acquire new users "virally" but also keep its existing users super active. The network effect builds a strong barrier to entry for other social network players, giving Facebook so-called "last-entry" advantage in the space. For the past 12 months, the company generated $36 billion in revenue and $15.7 billion free cash flow at FCF margin of 43% and ROIC of 24%; protected by the network effect and facing few challenges, the earning grew at CAGR of almost 60% for the past five years.
Number of Monthly Active Facebook Users, 2008-2017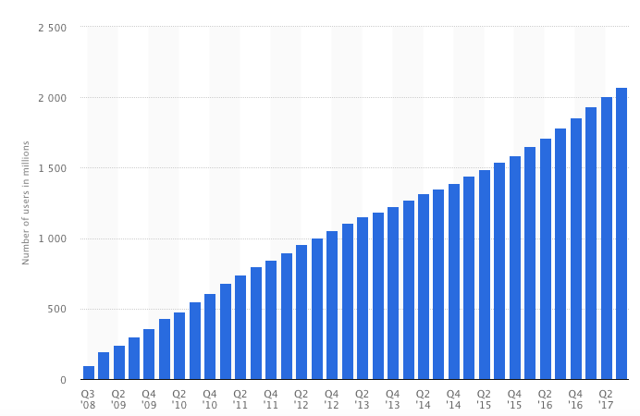 Source: Statista.
A comparison with industry peers indicates FB's superior ability to capturing value and stimulating business growth from its sticky user base even in the extremely competitive internet business world.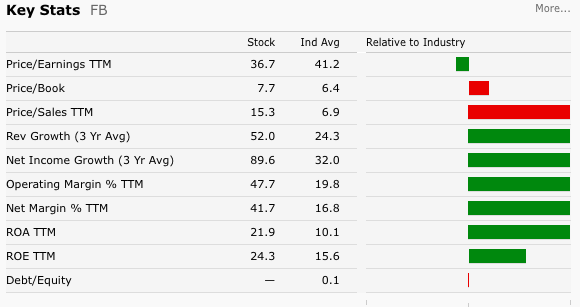 Source: Morningstar.
Similar to Facebook, Tencent's (OTCPK:TCEHY) WeChat, which is a mobile-first social network app, dominates the mobile internet market in China. As one venture capitalist puts it, WeChat is there "at every point of your daily contact with the world, from morning until night." Around 95% of total population in Tier-1 cities and over 70% in Tier-2 cities in China can't live without WeChat. The users are so "sticky," checking the app over 15 times on average per day and spending more than 300 hours in total per year on connecting with their friends, family, colleagues, and even business clients through text/group chats and instant voice/video calls (don't be surprised if you see almost nobody uses emails in China these days).
Number of Monthly Active WeChat Users, 2010-2017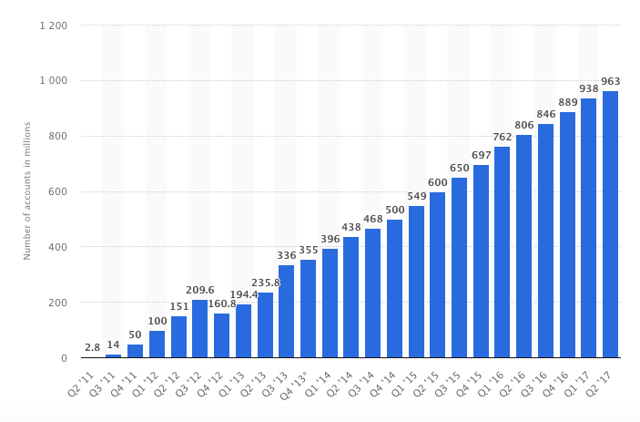 Source: Statista.
Meanwhile, Tencent is re-innovating the social network to the next level by building an ecosystem within WeChat through service/subscription accounts and Mini Apps to connect people with daily-life services, such as transportation, dining, shopping, personal finance.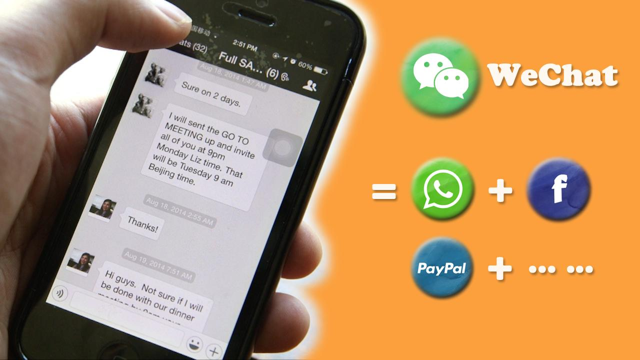 Source: WSJ.
Economies of Scales and Low-Cost Producer
As companies grow in size, they gain bargain power against suppliers and spread the same amount of fixed costs over a larger number of goods/services produced and sold. These so-called economies of scale allow companies to deliver their goods or services at a low cost and have a distinct moat because they can choose to undercut their rivals on price (especially during a recession) or make a higher profit by pricing at the same level as competitors.
Costco (COST), the largest membership warehouse club, makes most of its profit from membership fees, not margins on product sales. This smart business model enables the company to sell its products at amazingly low prices, providing a crucial source of competitive edge in the discount retail industry.
In addition, the more stores opened and/or the more products sold by the company, the bigger the scale, generating more cost savings as sales volume expands. As a result, Costco becomes better and more competitive as it grows in size over time.
With its wide moat, COST has recently been able to keep up above-average ROIC (24.1% TTM vs. 17.3% Ind. Avg.) and ROA (7.3% TTM vs. 6.1% Ind. Avg.); its growth has been almost unchallenged (3-year average earning growth of 9.2% vs. -2.9% Ind. Avg.), although facing the disruption from Amazon (AMZN).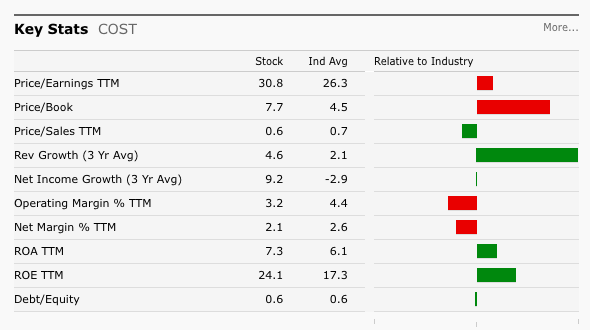 Source: Morningstar.
Warren Buffett's all-time favorite acquisition, GEICO, is another example. Most people in the States are no stranger to its commercial line "15 minutes could save you 15% on car insurance." Continuously refining its unique low-cost business model, the insurance giant has stolen market shares from competitors. Now GEICO's position as the second largest auto insurer achieves its economies of scale, as the source of its competitive advantage, and allows the company to outspend the competition in further establishing its brand.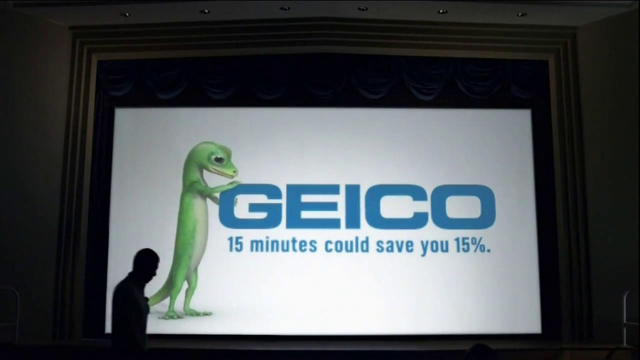 Source: ispot.tv.
In 1996, Warren Buffett mentioned in his letter to Berkshire Hathaway shareholders:
We expect new competitors to enter the direct-response market, and
some of our existing competitors are likely to expand geographically. Nonetheless, the economies of scale we enjoy should allow us to maintain or even widen the protective moat surrounding our economic castle. We do best on costs in geographical areas in which we enjoy high market penetration. As our policy count grows, concurrently delivering gains in penetration, we expect to drive costs materially lower.
Proprietary Technology and Its Protection
Companies owning protected proprietary technologies have the unique competitive advantage over rivals. Perhaps, pharmaceutical companies are the most salient examples. Let's take a look at Novo Nordisk (NVO).
According to Statista, around 326.5 million people aged 20-64 years had diabetes in 2017 and it is projected that this number will increase up to 438 million by 2045.
Number of diabetics worldwide in 2017 and 2045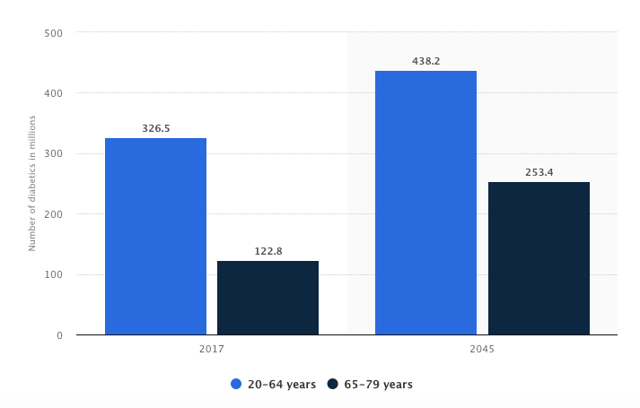 Source: Statista.
Being the industry leader to tackle diabetes globally, Novo Nordisk owns patents on multiple medicines, which control almost one-third of the total diabetes care market.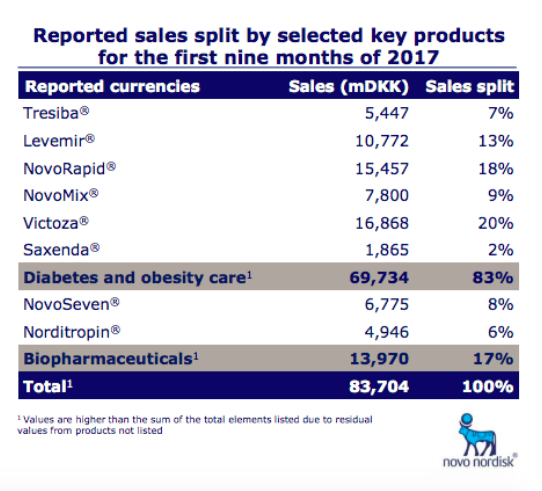 Source: Novo Nordisk Investor Presentation, November 2017
For instance, Victoza was the biggest top-line contributor (20% of total revenue with 15% growth rate) and Tresiba accounted for the largest share of growth (7% of total revenue with 118% growth rate) for the first nine months of 2017. Both drugs would enjoy another 5-10 years of protection; in the meantime, any new drug patent coming out of the pipeline would further strengthen NVO's moat in the anti-diabetes market.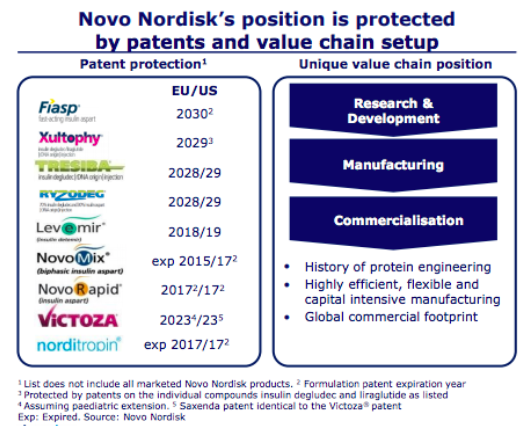 Source: Novo Nordisk Investor Presentation, November 2017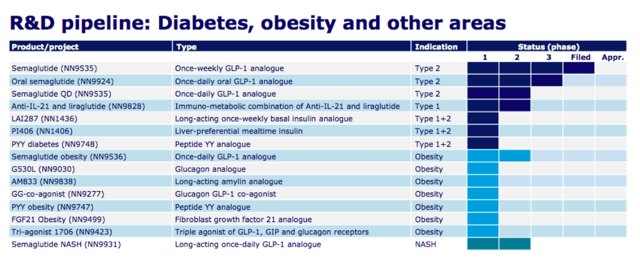 Source: Novo Nordisk Investor Presentation, November 2017
There is no surprise for us to see (the table below) the consistently high margins (gross margin at around 80%; operating margin always above 20%) as the patent protection keeps rivals away for Novo Nordisk.

Source: Morningstar.
It's worth noting that, like brand value, a patent is usually underrecognized on the balance sheet, representing sizable "hidden" assets to serve shareholders (e.g., NVO only recorded only $0.45 billion intangible assets its balance sheet at the end of 2016). Below you may find the "most innovative companies in the world," by the number of patent grants claimed in the U.S.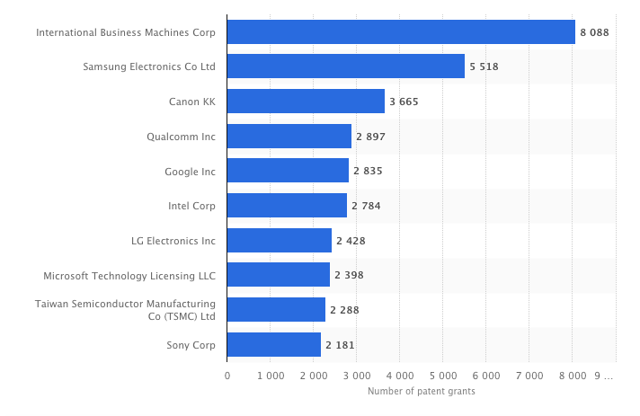 Source: Statista; Data as of 2016.
Summary
Long-term buy-and-hold investors should always look for wonderful businesses at a fair price, but keep in mind that competition, which may be a good thing to some parties (e.g., the customer), usually works against shareholders by eroding "wonderfulness" over the time. A truly high-quality stock should possess a wide moat, demonstrating one or preferably a combination of the characteristics discussed above. For example, Coca-Cola (KO) owns its brand worth over $70 billion (per Interbrand), enjoys protection (i.e., the secrecy) of its proprietary formula, and achieves economies of scale through the large-scale bottling network, which reduces the cost of production per unit.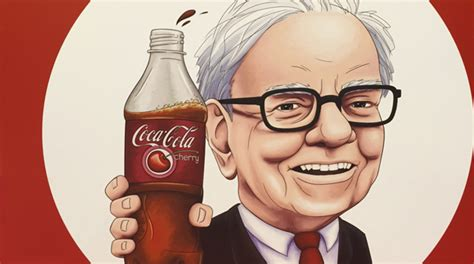 Source: blogfmc.fr
As a sanity test, investors should also examine the select wide-moat stocks quantitatively, favoring consistently high gross/net margins (indicating above-inflation pricing power, low-cost production, or strong branding) as well as consistently low CapEx ratios (indicating minimal investment required to stay competitive).
If you have any wide-moat stock ideas, feel free to comment below.
Disclosure: I am/we are long AAPL, BRK.B, NVO, FB, TCEHY. I wrote this article myself, and it expresses my own opinions. I am not receiving compensation for it (other than from Seeking Alpha). I have no business relationship with any company whose stock is mentioned in this article.
Editor's Note: This article discusses one or more securities that do not trade on a major U.S. exchange. Please be aware of the risks associated with these stocks.