On Monday, President Trump announced tariffs on imported solar panels. Here is a summary from EnergyStage.com:
"On January 22nd, 2018, the Trump Administration levied a 30% tariff on solar imports to the United States. The tariff covers both imported solar cells, a key input to manufacturing solar panels, and solar modules, otherwise known as solar panels. According to a fact sheet released by the U.S. Trade Representative, this tariff will last for four years and will fall by 5% annually, dropping to a 15% tariff in 2021."
Ostensibly, the tariffs are designed to "protect" the American solar industry. There is a reason in my mind that the tariffs are also designed to help protect the coal industry, at least through the next election, as solar is a key competitor to coal, along with wind, and after natural gas.
In the short term, there will be winners and losers from the newly imposed tariffs. Development of solar could slow slightly due to marginally higher prices, putting pressure on companies and employees who install. A small group of domestic solar panel and component manufacturers could be supported as they wait for broader adoption of solar.
One company in particular currently looks like a loser. However, its future remains bright as it could receive relief from the tariffs soon. In addition, its other patron nation just announced it would be ending coal power plants soon and will be adding more solar. I believe that this stock offers the most value, a low level of risk and tremendous long-term upside from current share prices for patient investors.
What President Trump's Solar Tariffs Do
Before I move on to analyzing the actual tariff document, I want to point out that Bloomberg and the Bloomberg New Energy Finance [BNEF] unit have done an excellent job of covering and summarizing what is going on with the solar tariffs:
Trump's Tariffs on Solar Mark Biggest Blow to Renewables Yet
Trump's Solar Tariffs: When the Levy Brakes
Trump's Solar Tariff Is Bad, But Not a Huge Deal
The Trump administration's solar tariffs, imposed by the U.S. Trade Representative, start at 30% on solar cells and modules. They then decrease by 5% per year and last for a total of four years.

The impact is raising the cost of certain solar installations in the U.S. These estimates are from Energysage. However, those of BNEF were essentially similar in the linked articles.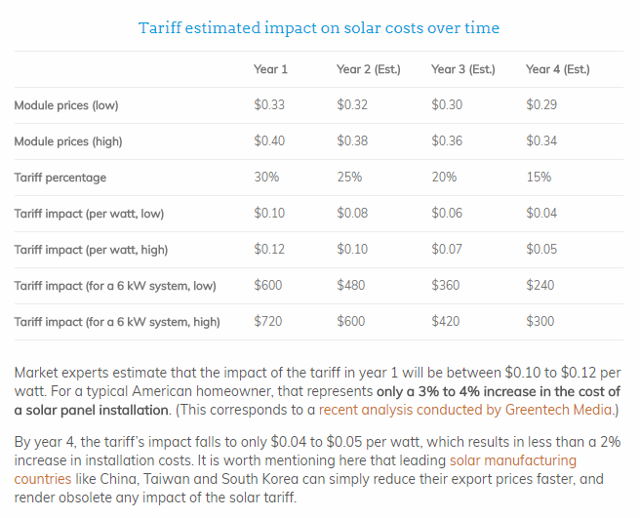 Because foreign manufacturers will likely counter the tariffs with lower prices, as noted in the chart above, there is not much real support for domestic solar manufacturers. However, as Bloomberg notes, the cost of solar is still coming down rapidly, and the costs to consumers are likely to be overcome rather quickly.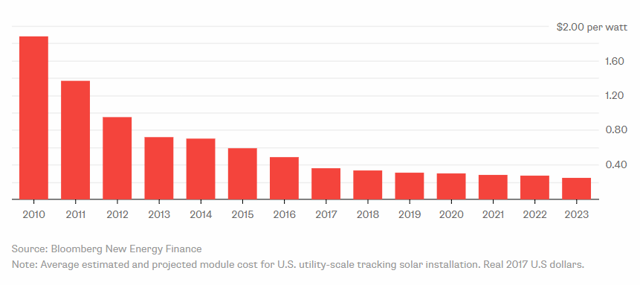 The impact of the tariffs will be subtle, in my opinion. What most are missing, it seems to me, is the support for a domestic supply chain to develop. By putting a small dent in foreign competition, at least temporarily, and paired with the solar development subsidies which are still in effect through 2020, the few remaining U.S. manufacturers should be given a chance to breathe.
In addition, as solar is expected to continue very rapid growth in the 2020s and 2030s, a domestic supply chain is being given a chance to develop with this small support.
Already, URE has announced this week a plan to merge three Taiwanese cell makers into Neo Solar Power and build a plant in the United States. The CEO made it quite clear why they were proceeding with a half-billion dollar investment:
"The plant project is to cope with the US government's imposition of 4-year safeguard tariffs on imported solar products. The three companies may jointly build the plant before URE is established at the end of second-quarter 2018."
There are several clear winners from the tariffs, and one in particular is a target of short sellers and market snipers on a continual basis.
Winners From President Trump's Solar Tariffs
The first company that most people bring up as benefitting is First Solar (FSLR). The company is a domestic producer of solar panels and a developer primarily of utility scale projects. And even though much of its production is overseas, it is exempt because of the type of technology it uses.
According to Bloomberg, the cost of utility scale projects is set to rise about 9% due to the tariffs - far more than the rises in commercial and residential. With foreign competition thwarted for the next few years and utilities ordering developments ahead of solar development tax breaks, First Solar is poised to exploit that space.
I first recommended First Solar years ago in MarketWatch and, more recently, recommended it to subscribers when it touched under $30 per share. The stock is now trading about $70 per share less than a year later. This rise is largely anticipatory of the impact of these tariffs, as you can see from the gap up this past autumn. Thus, while the tariffs are a small support for First Solar, the market has already put that into the share price, in my opinion. In other words, the market bought the rumor.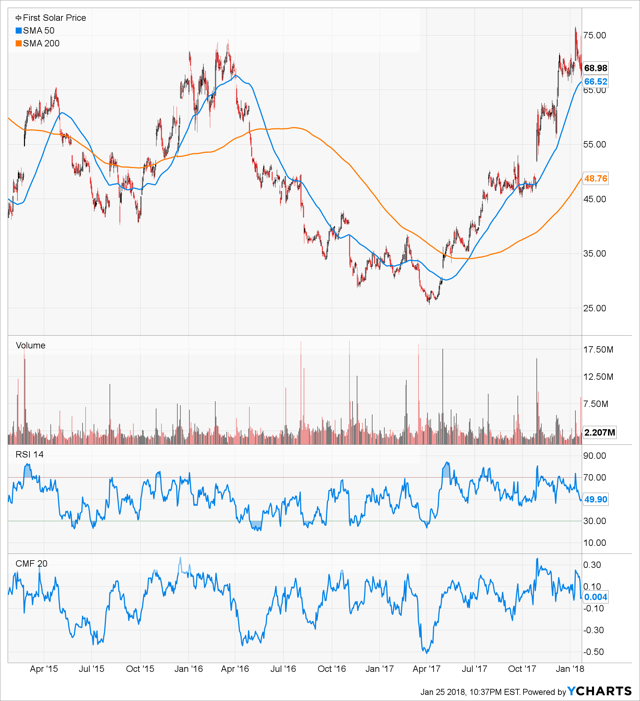 The move by FSLR has eliminated the value proposition on shares that existed just a year ago. While the company has a wonderful balance sheet and bright prospects for the short, intermediate, and long term, the pricing of the stock is only fair right now. It no longer offers the three-bagger-plus potential I seek over 5-7 year periods, and I therefore rate First Solar shares as a hold. Inside of tax-deferred accounts, some trading of the stock or use of options, such as covered calls, could be appropriate depending on your situation.
The next stock that appears to be a winner from the tariffs is Tesla (TSLA). As a domestic panel producer, the impact seems obvious. However, it is not what it appears on the surface.
As Montana Skeptic just pointed out, the increase in tariffs has the effect of bailing Tesla out of its obligations to the State of New York to the tune of over $40 million per year for a decade.
I am not Tesla hater and believe that critics like Skeptic miss some very important points about the company. The first is that the company has ample financing now that it is in bed China and flirting with India. The idea that Tesla is doomed to bankruptcy is silly to me. Dilution? For sure. A lower share price? I think so. Bankruptcy? Look at deepwater oil drillers instead for that.
The other reason Tesla survives and could thrive, and this is no small deal, is that a majority of people believe that climate change is manmade, like me, and want a company like Tesla to succeed. It's that simple. Tesla will sell a lot of cars and cross sell solar systems. The company is not going away anytime soon. I also rate Tesla's shares as a hold and point out the same caveats regarding tax-deferred accounts.
Could it be that President Trump knew the tariffs would help Tesla and wanted to help support Elon Musk, a man whom the president has called "a force of nature"? Who knows, but Tesla is investing in America, and the president likes that.
Losers From President Trump's Solar Tariffs
According to the Solar Energy Industries Association, there are more than 260,000 Americans employed in the solar industry, but only about 2,000 of them are in manufacturing solar products. There simply aren't many solar panel manufacturers to "protect" - although as I said, this could be a supply chain play that could yield more jobs later.
If solar adoption slows because of the tariffs, that will have a very negative impact on employment. According to the Bureau of Labor Statistics, solar installers were expected to be the fastest growing employment sector through 2026. That will now be thrown in limbo if solar installations fall due to higher costs for solar cells.
As noted by Bloomberg, some industry analysts, including models from IHS Markit, believe that the net impact of the Trump solar tariffs will be a net loss of over 20,000 jobs, or nearly 10% of all solar jobs in America. We have to remember though that everybody has to support their interests, and I have not seen very convincing evidence either way on jobs. Time will tell.
The real loser could be American manufacturers if the cost of energy increases. If that occurs, then one of the key advantages for industry to be in the U.S. is reduced, lowering the likelihood that other companies will move production ashore.
Ultimately, companies domiciled and producing solar panels outside of the U.S. could see a small dent in their solar cell and module sales. Several companies in the top holdings of the Guggenheim Solar ETF (TAN) fit that bill. That ETF holds 23 stocks, and many foreign - such as polysilicon producer Daqo New Energy (DQ), as well as JinkoSolar Holding (JKS) and JA Solar Holdings (JASO) - that could feel pressure as they produce cells and modules.
I would caution investors to stay away from the Guggenheim Solar ETF, which I have never felt is run particularly well and has a high fee of 70 basis points. I rate the Guggenheim solar ETF, Daqo New Energy, JinkoSolar and JA Solar all as sells on trade risks and it is hard to identify fundamentals in them.
A Loser Now That Will Win Later
SunPower (SPWR) is a loser now but could turn that around quickly. The company is a loser because it produces its solar panels in Mexico and Malaysia, and its type of panels is a target of the tariffs.
Said SunPower CEO Tom Werner said SunPower would "suffer collateral damage in a case that clearly was targeted at Chinese manufacturers... This remedy will impact SunPower more than any other solar cell manufacturer."
I have followed SunPower for years. I first became very interested in it when Total (TOT), the French oil major, made a significant investment in the company. At this point, Total is the majority owner of the SunPower and its financial backstop.
I discussed my general thesis on SunPower here: Use Uncertainty To Buy SunPower's Bright Upside. I also gave an interview to the widely distributed Financial Exchange Stock Talk here: Financial Exchange Stock Talk: Kirk Spano On SunPower
My bullish arguments might be deferred, but I suspect not for long. Two things play in favor of a quick return to the ascension of SunPower shares. The first is that the U.S. Trade Representative is taking applications for exclusions from the new solar tariffs:
"Within 30 days after the date of this proclamation, the USTR shall publish in the Federal Register procedures for requests for exclusion of a particular product from the safeguard measure established in this proclamation... If the USTR determines, after consultation with the Secretaries of Commerce and Energy, that a particular product should be excluded, the USTR is authorized, upon publishing a notice of such determination in the Federal Register, to modify the [Harmonized Tariff Schedule] provisions created by Annex I to this proclamation to exclude such particular product from the safeguard measure."
As discussed by GTM, SunPower seems to have a strong case for being granted an exclusion. SunPower's CEO Werner summarized the company's case like this:
"SunPower's IBC technology is unique in offering the industry's highest-efficiency and best long-term performance... Neither the petitioners in the Section 201 case nor their foreign competitors are capable of manufacturing a comparable product. Because it is a premium product, commanding a premium price, it cannot have contributed to the harm to domestic producers that the administration found in this case."
In short, the product is not the cheap, subsidized sort that flooded the market and helped lower solar panel prices by 80% the past several years:
In addition, SunPower has indicated a willingness to expand production in the United States. I think if President Trump were looking for a deal, he might have a talk with CEO Werner soon.
On top of what I believe is a strong likelihood that SunPower is granted an exclusion, its international business seems about to expand dramatically. This week, French President Macron advanced the timeline for eliminating France's coal-fired power plants by 2021. Germany is right behind.
While France only generates just less than 2% of its energy from coal, it is a energy generation that will need to be replaced. SunPower, majority-owned by French oil major Total - and some Total shares in turn are owned by the French government - seems likely to get some of the solar development, if I am not making a big leap in logic.
In addition, as mentioned in my previous article on SunPower, India is expanding its solar ambitions rapidly. SunPower India is a significant player in that market. Americans completely underestimate the likely rate of growth in India over the next decade and undervalue stocks from companies doing business there in my opinion, being biased towards slow growth U.S. large caps.
SunPower's India projects include development, transmission, and infrastructure. In a nation that still experiences blackouts, there is a lot of work to be had there. According to Werner, India is about to become the largest global solar market. Indian Prime Minister Modi has stated he wants 40% of the nation's power from solar by 2030, up from a few percent now.
SunPower has already been working with Mahindra EPC, owned by Indian conglomerate Mahindra Group, to advance its foothold in India. As the Indian market heats up, that is very likely to be good for SunPower.
Finally, a little rumor. The above-referenced URE plant to be built in the U.S. is supposedly going to cater to one large U.S. based power generation developer. SunPower is one of the leading companies in that space. In addition, it has a history with Taiwanese joint ventures, so the relationships are likely there. One of those relationships in the past was with Neo Solar Power, one of the partner companies in URE (bahm bahm bahm).
I am not sure which catalysts play in favor of SunPower, if any. However, I like the stacking of things that could go potentially right for the company on top of the fact that solar is one of the fastest growing industries on the planet. I rate SunPower shares a strong buy.
I am currently running a very rare 2-week Free Trial to Margin of Safety Investing. If you decide to subscribe, during the month of February, the rate will be discounted to $365 vs the regular rate of $499/year.
Here are the details: Rare "Free Trial" Period Opening To Margin Of Safety Investing - Kirk Spano
By taking the free-trial you can see how I made...
Disclosure: I am/we are long TSLA.
I wrote this article myself, and it expresses my own opinions. I am not receiving compensation for it (other than from Seeking Alpha). I have no business relationship with any company whose stock is mentioned in this article.
Additional disclosure: I own a Registered Investment Advisor - BluemoundAssetManagement.com - however, publish separately from that entity for self-directed investors. Any information, opinions, research or thoughts presented are not specific advice as I do not have full knowledge of your circumstances. All investors ought to take special care to consider risk, as all investments carry the potential for loss. Consulting an investment advisor might be in your best interest before proceeding on any trade or investment.