Real Estate Weekly Review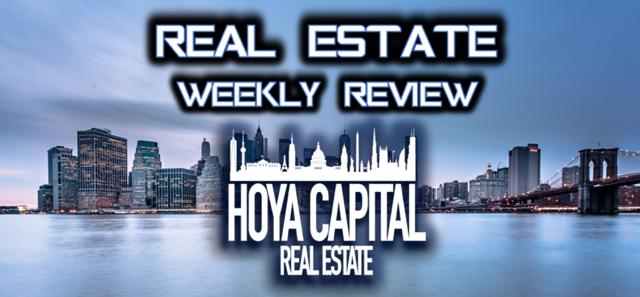 The REIT ETFs (NYSEARCA:VNQ and NYSEARCA:IYR) finished the week higher by 0.8%, erasing some of the poor performance during the first month of 2018. For the past several weeks, REITs have been smacked around by rising interest rates. The 10-year yield climbed 3 basis points, reaching the highest level in more than three years as investors expect upward pressure on economic growth, wages, and inflation due to the tax reform package. The S&P 500 (SPY) climbed to yet another record weekly high. Homebuilders (XHB) finished the week lower by 2.6% after weak home sales data in December. Mortgage REITs (REM) dipped 0.7% while international real estate (VNQI and RWX) climbed 2.2%.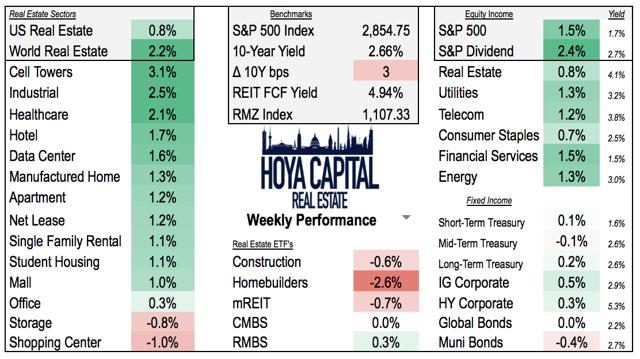 (Hoya Capital Real Estate, Performance as of 12pm Friday)
As we discussed last week, while uncorrelated over the long-term, REITs tend to become highly interest-rate-sensitive during periods of heightened interest rate volatility. Ultimately, inflation expectations (not Fed policy) drive movements in the 10-year yield. Interestingly, as we've pointed out, much of the inflation in recent years has come from rental housing. At the margins, however, energy prices tend to drive changes in inflation expectations. The price of oil will likely determine the path of inflation (and the 10-year yield) in 2018.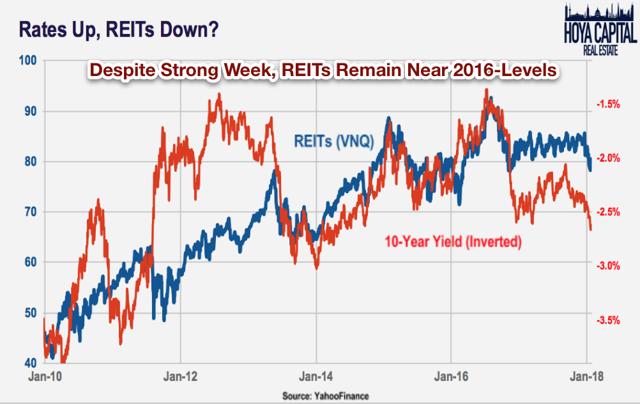 Within the Equity Income categories, we note the performance and current income yield of the Utilities, Telecom, Consumer Staples, Financials, and Energy. Within the Fixed Income categories, we look at Short, Medium, and Long Term Treasuries, as well as Investment Grade and High Yield Corporates, Municipal Bonds, and Global Bonds.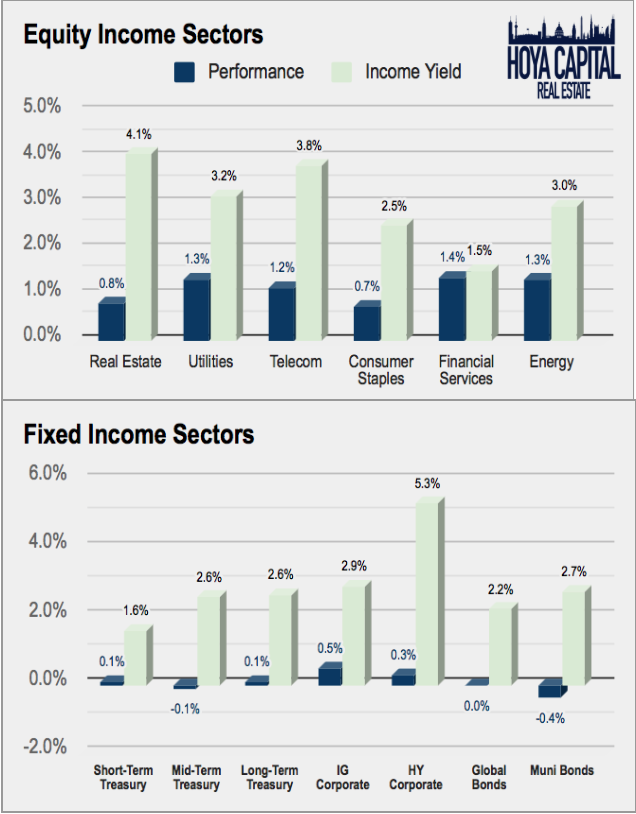 Through four weeks of 2018, REITs are now lower by more than 4%, significantly underperforming the US equity markets which have climbed nearly 7%. The 10-year yield has climbed 27 basis points since the start of the month.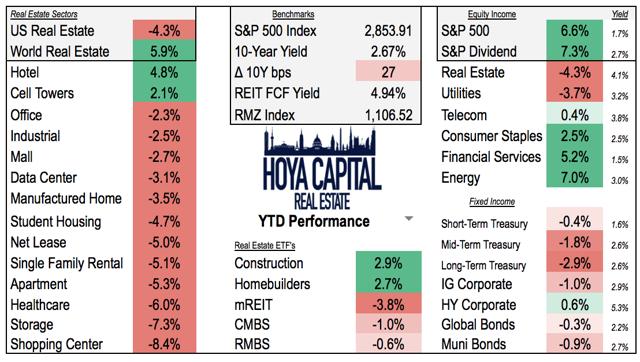 REITs ended 2017 with a total return of roughly 5%, lower than its 20-year average annual return of 12%. Going forward, absent continued cap-rate compression, it is reasonable to expect REITs to return an average of 6-8% per year with an annual standard deviation averaging 5-15%. This risk/return profile is roughly in line with large-cap US equities.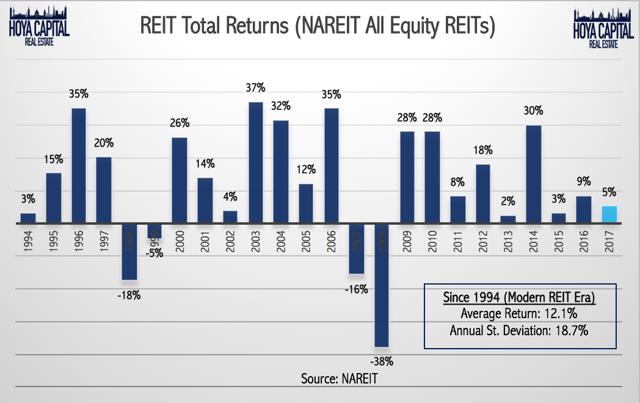 The tech and industrial sectors were the best performers of the week, followed by a pop in the beaten-down healthcare sector. The winners this week included RLJ Lodging (RLJ), Cyrus One (CONE), Digital Realty (DLR), Omega Healthcare (OHI), American Tower (AMT), SBA Communications (SBAC), and HCP (HCP).
Shopping center and storage REITs were the lone sectors in negative territory this week. The losers on this week included Kimco (KIM), Washington Prime (WPG), Brixmor (BRX), Preferred Apartments (APTS), Public Storage (PSA), Life Storage (LSI), and Vornado (VNO).

Real Estate Earnings Season Preview
Earnings season kicked off this week in the real estate sector. More than 100 REITs will report full-year 2017 earnings over the next five weeks and offer guidance for 2018. This week, we published our Fourth Quarter Real Estate Earnings Season Preview. Heading into the start of earnings season this week, REIT index had dipped 4% as investors have soured on income-oriented sectors amid expectations of rising interest rates and faster economic growth. REITs now appear cheap across most valuation metrics after the early 2018 sell-off.
This week, Prologis (PLD), Crown Castle (CCI), SL Green (SLG), and Brandywine (BDN) all reported results. All four REITs outperformed this index this week. Below we show the updated earnings calendar. We will update our REIT Rankings for each sector at the end of earnings season.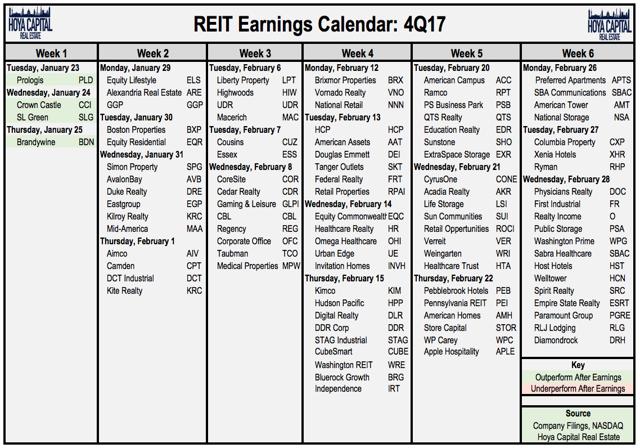 Real Estate Economic Data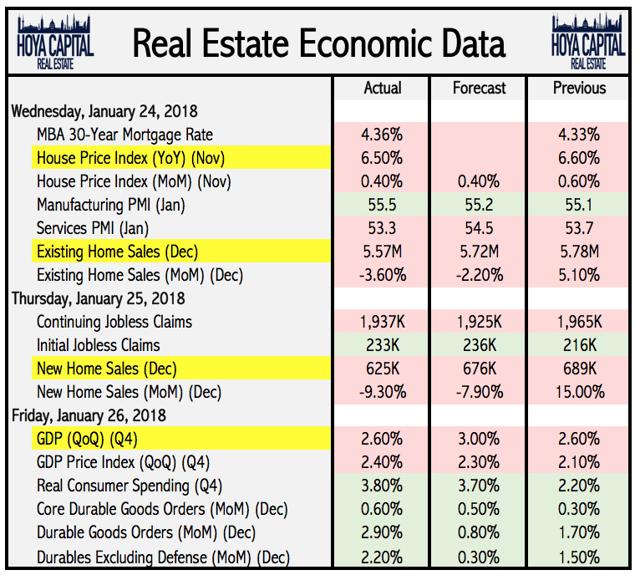 (Hoya Capital Real Estate, HousingWire)
US Economy Reaccelerates in 2017
The US economy reaccelerated in 2017, led by a resurgent consumer and an uptick in business investment. After a disappointing 2016 that saw economic momentum slow with GDP rising just 1.5%, the new administration's promise of deregulation and tax cuts helped to lift business and consumer optimism to post-recession-record levels, reigniting the US economy. Fourth quarter GDP came in slightly below expectations, but the underlying data was stronger than the headline figure, which was dragged down by a surge in demand for imported products. Final domestic demand, perhaps the best indicator of forward economic momentum, rose 4.6% from the prior quarter, the fastest rate of growth since 2014.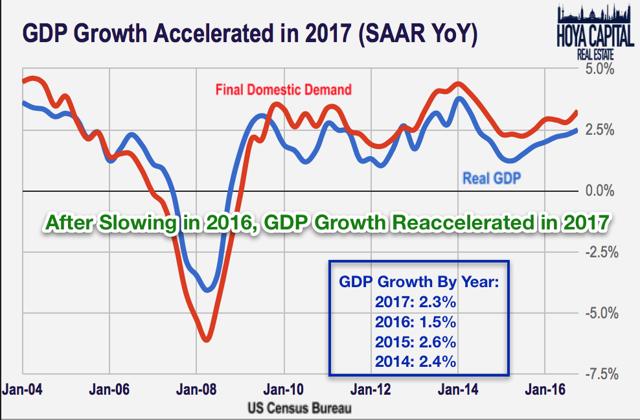 Economic growth in 2017 was even more impressive considering the negligible impact of real estate development. Growth in residential fixed investment and business investment in structures contributed just 0.2% to the total 2.6% growth in 2017. For context, these two categories boosted GDP by 1.3% at the peak in 2002 and dragged down GDP by 1.1% at the bottom in 2008. We continue to discuss the structural impediments to new supply growth and that this real estate cycle saw less overall new supply than the prior cycle.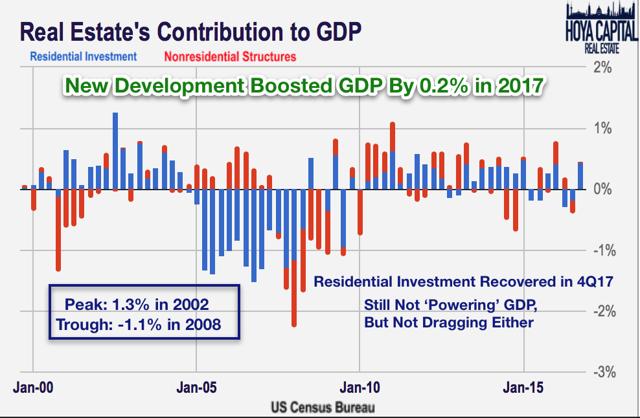 Looking at this data through another lens, we see that real estate's share of GDP remains well below the pre-recession period. The surge in residential investment fueled the housing bubble in the mid-2000s and was responsible for 6.6% of GDP in 2005. Residential fixed investment now makes up just 3.9% of GDP while business nonresidential investment in structures makes up 2.9% of GDP.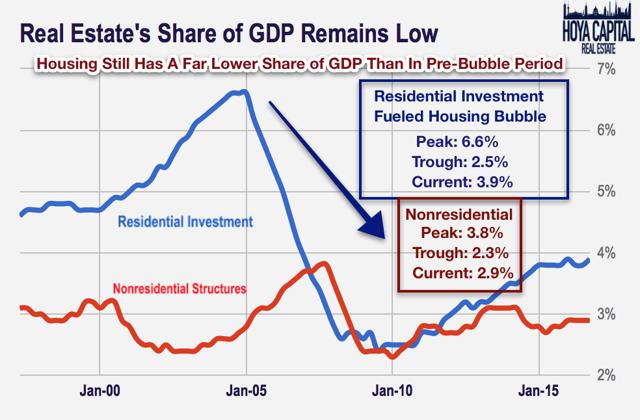 Weak December Housing Data Continues
December was a tough month for housing, and while the unseasonably cold weather certainly affected the data, the trend of slowing momentum in the housing recovery is consistent across most metrics. Rising construction costs, a shortage of skilled labor, and regulatory/zoning hurdles continue to be an impediment to supply growth. After a strong start to 2017, both new and existing home sales have slowed into year-end. For full-year 2017, new home sales rose 8.4% while existing home sales rose just 1.6%.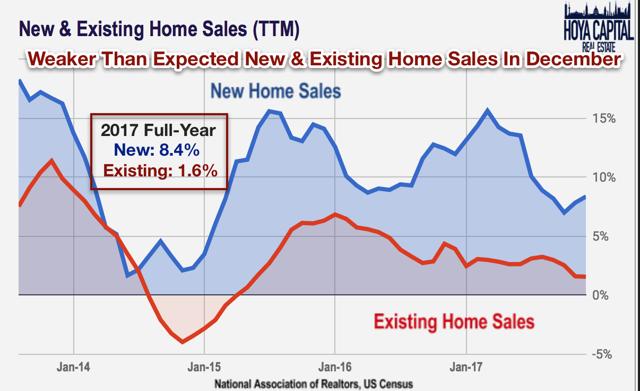 Existing homes were sold at a 5.6 million annualized rate in November. This rate, however, remains healthy by historical standards. Too many existing home sales (as we saw from 2003-2006) indicate that either mortgage standards have gotten overly loose or short-term housing flipping activity has increased. At around 7% per year, the turnover rate of existing homes is roughly in line with pre-2000 levels.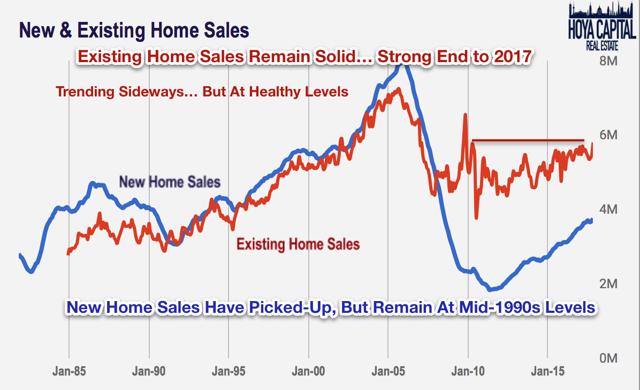 Existing home inventory remains near historically low levels, primarily a result of the tepid pace of new home construction in the aftermath of the recession. Other effects are at play, too, including the increased institutional presence in the single-family rental markets and the rising rate of homeownership among the older demographics. First-time homebuyers made up 32% total existing home sales, even with from 32% in December 2016. The rate of first-time homebuyers remains stubbornly below the pre-bubble level of 40-45% and the bubble-peak of 52%. We have yet to see the younger demographics enter the homeownership markets in any significant numbers.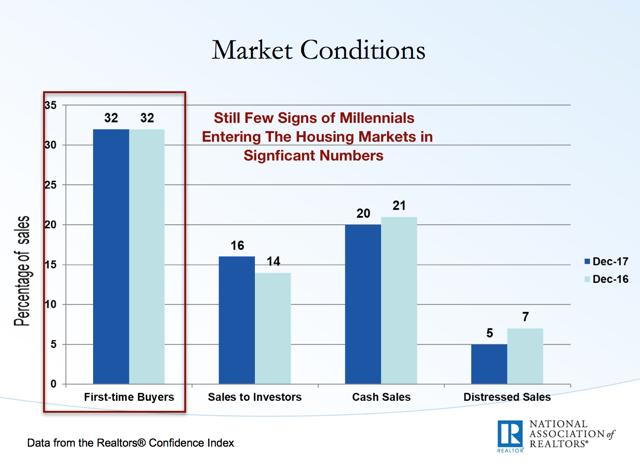 The homeownership rate among households less than 44 years old has fallen considerably more than the overall rate since the recession and has been moving sideways since bottoming in 2015. The largest climb in homeownership rate in the third quarter, interestingly, was among the 65+ demographic.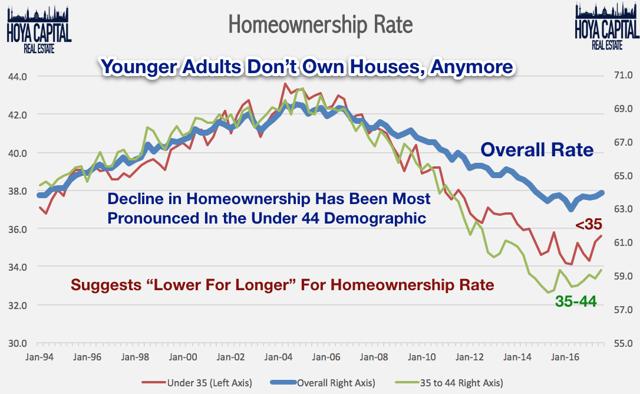 The major home price indexes continue to show a steady 5-7% YoY rate of home price appreciation. Home prices have risen at least 5% YoY in every month since late 2012. As we often point out, rent growth has risen far more moderately than home prices over the past five years. The economics of renting are more attractive than owning for the majority of potential first-time homebuyers based on these statistics.

Bottom Line: Good Start to Earnings Season
After a rough start to 2018 that saw the REIT index retreat to the lowest levels since early 2016, REITs recovered this week as earnings began on a positive note. All four REITs that reported earnings this week outperformed the index. Prologis, the largest industrial REIT, surged 4% this week after reporting record results. Earnings will continue for the next five weeks. Retail REITs will be in-focus after a record-smashing holiday season for retail sales. Overall, REIT valuations appear attractive given solid underlying fundamentals.
New and existing home sales both disappointed in December, no doubt pulled down by unseasonably cold weather. New home sales rose 8% in 2017 while existing sales rose 1%. The US economy reaccelerated in 2017, led by a resurgent consumer and an uptick in business investment. Real estate development's impact on growth is lower than in prior cycles.
Last week, we updated our international real estate report: Worried About Rising Rates: Go International. 2018 may be the year that long-term interest rates finally rise. Investors have soured on income-oriented sectors as global economic growth has picked up. US REITs have been hit this year by fears of rising rates. Investors interested in reducing their portfolio's interest rate risk should consider increasing their allocation to international real estate. International real estate vastly outperformed US real estate in 2017. International real estate can add balance, diversification, and growth to a well-balanced US-centric real estate portfolio. Compared with US REITs, international REITs are less sensitive to US interest rates while still paying a healthy dividend yield. They can be viewed as classic "Growth REITs". We conclude that investors should consider modest holdings in international REIT ETFs and we break down your investment options. We analyze the three popular ETFs and show how their strategies differ.
For further analysis on all fifteen real estate sectors and how they all stack up, be sure to check out all of our quarterly updates: Hotel, Cell Tower, Single Family Rental, Industrial, Healthcare, Apartment, Mall, Net Lease, Data Center, Shopping Center, Manufactured Housing, Student Housing, Office, and Storage sectors.
Please add your comments if you have additional insight or opinions. We encourage readers to follow our Seeking Alpha page (click "Follow" at the top) to continue to stay up to date on our REIT rankings, weekly recaps, and analysis on the real estate and income sectors.