Midstream stocks resumed their elevation this week, mostly keeping up with the torrid pace of the broad market. The S&P 500 gained another 2.2% this week (although without much help from KMI -1.3%). Oil and natural gas prices also shot higher, helped by falling inventories and a falling U.S. dollar. The MLP Index has gained 10% already this year, far outpacing the broader midstream universe and ahead of the S&P 500. Year-over-year, S&P 500 remains king, up 25% and accelerating in 2018.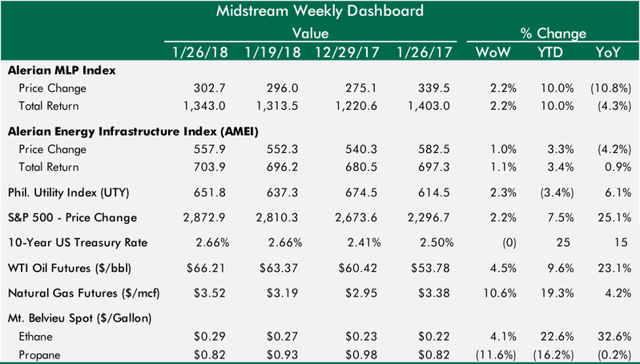 Large-cap MLPs EPD, MMP and MPLX report 4Q results this week. Between those three MLPs, most of the geographies and areas of the energy value chain are represented, so hopefully there will be readthroughs to other midstream operators to be gleaned.
Elephants in the Room
MLPs are doing great this year, but let's talk about the elephant in the room: the MLP sector should no longer be considered a standalone sector. Starting with KMP in 2014, but continuing through 2018 with APLP, midstream operators are moving away from the MLP structure. Smaller MLPs are being acquired or have not gained investor traction beyond small retail followings. MLPs have become a concentrated group within a larger midstream universe/sector, with a few large caps and a long tail of others.
Shown below is a chart that compares statistics on the MLP universe in 2014 with the universe of MLPs, U.S. Midstream and Canadian Midstream at year end. The number of companies with more than $2bn in market cap has dropped from 58 in 2014 to 35 today, and the total dollar value traded in MLPs has fallen by nearly 50%.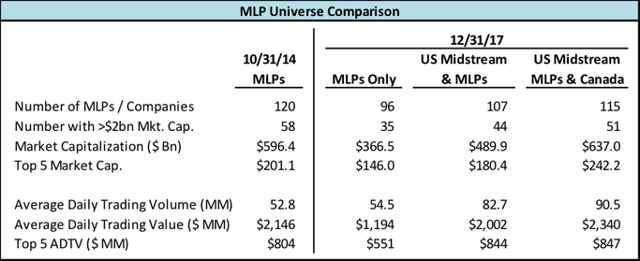 Implications of the slow (but steady) transition are huge for large asset managers with MLP strategies. Asset managers have had to evolve their investment universe to include the likes of KMI, OKE, TRGP, etc. and Canadian midstream stocks. Already this year, a large MLP manager changed one of its closed end funds from a corporation that mostly invested in MLPs to a Registered Investment Company (RIC) structure with a 25% max MLP allocation.
At CBRE Clarion, we continue to offer a standalone MLP strategy for institutions. But when speaking to an institutional client who is seeking to participate in the recovery and resumption of secular growth for midstream, we would recommend: (1) Our broader energy infrastructure strategy that includes Corporations, Canada and some midstream-oriented utilities, or (2) our global listed infrastructure strategy that can upweight midstream exposure when outlook is positive and downshift exposure when risks increase, mitigating the extreme volatility we've seen more recently in midstream.
To the extent large managers and institutions stay with an MLP-focused strategy, they will be forced into concentrated portfolios dominated by a few names (e.g. ETP/ETE, EPD) with the size and trading liquidity to support positions of size for managers with $5bn+. Because of the constraints of large AUM, managers will often own large positions in both ETE and ETP, in some cases at combined weights approaching 20%.
Last week's announcement that ETE would be bringing another MLP (USAC) into the family (even if just on a temporary basis) was a good reminder to review the big MLP families and how large they've grown relative to the rest of the sector. The chart below does that. It shows that of the $1.1bn in daily dollar value traded in the MLP sector, 53% ($638mm on average) is occurring within the five largest MLP families.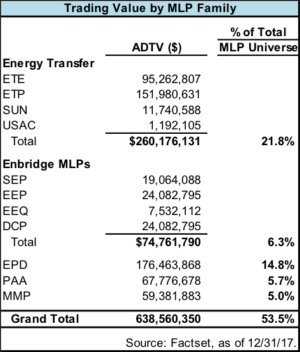 Compare that 53% to the top 5 S&P 500 constituents that make up 11.5% of total value of the S&P 500 traded daily.
Today's MLP sector has fewer companies with the float and liquidity large enough for a large MLP asset manager to buy. Universes need to expand or large managers face difficulty in justifying management fees that tend to be higher on average in the MLP space. This may not have much impact on individual retail investors, and it might even create opportunities for small cap MLPs that get increasingly ignored by large institutional managers seeking liquid names.
The compression of the MLP universe is unlikely to reverse: further corporate conversions and consolidations are probably more likely than an MLP IPO renaissance. The trend may be spurred along by tax reform and a dwindling pool of midstream growth projects that leads to M&A that backfills growth.
Implications for this blog: we have expanded coverage of what's happening each week to include the broader universe of midstream companies, a change we made early in 2017. This year, we've decided to include the Alerian Energy Infrastructure Index (AMEI) in our summary box at the top of each weekly post. AMEI isn't perfect, but it offers some sense of broader midstream performance and context (includes Canada, MLPs, U.S. corporations and general partners).
In my heart, I'll always be the MLP Guy, but if MLPs are evolving, we've got to evolve too. Like Rocky said, "I guess what I'm trying to say is that if I can change, and you can change, everybody can change!"
Winners & Losers
No news among any of the top or bottom 5 this week, other than distribution announcements for the likes of SXCP, CNXM, AMID. A few of last week's worst performers bounced back hardest this week.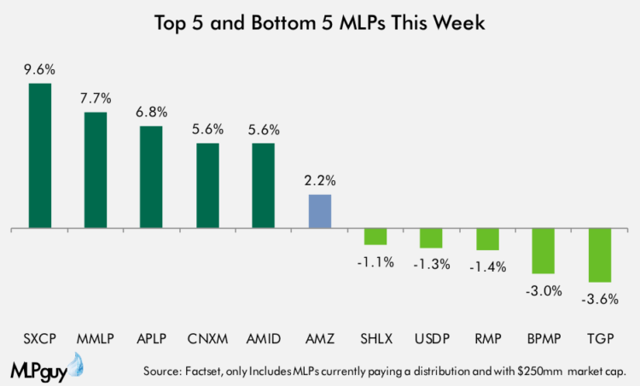 CNXM and APLP went from bottom 5 to top 5 this week. On the YTD leaderboard, only 4 MLPs have negative return so far this year.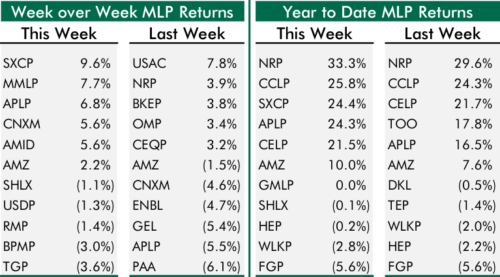 General Partners & Midstream Corporations
GPs and midstream corporations outperformed MLPs this week. LNG was among the biggest winners for a second straight week and closed the week at $60/share, a level not seen since August 2015. KMI was not among the outperformers despite analyst day hype.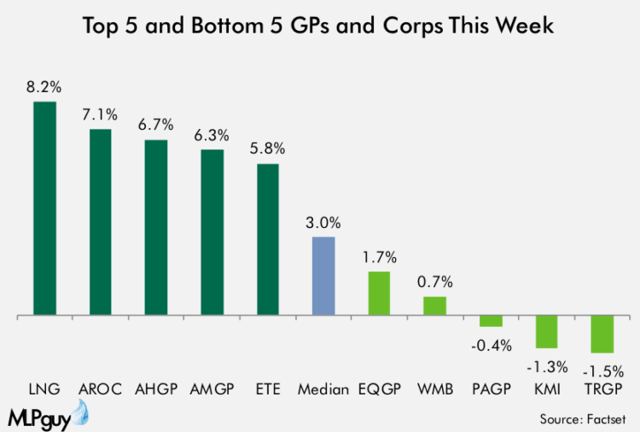 PAGP and WMB underperformed for a second straight week, and TRGP likewise missed this week's rally, despite no news. NSH extended its lead for the group so far this year, and AHGP joined the top 5, replacing ENLC.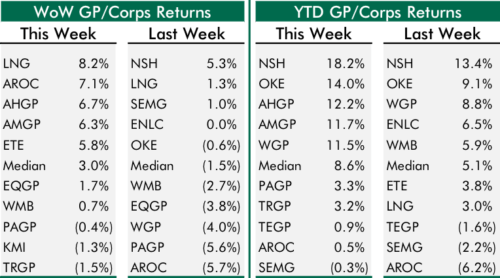 Canadian Midstream Corporations
Canadian midstream continues to dramatically underperform MLPs and U.S. midstream. The biggest two players were hit the hardest this week, down 3%+ each in USD terms, even with a weaker dollar this week. The smallest two players in the group were the only positive names in Canada. There seems to be big money moving from some of the bigger Canadian midstream stocks that tend to outperform in downturns, and we are not in a midstream downturn at the moment.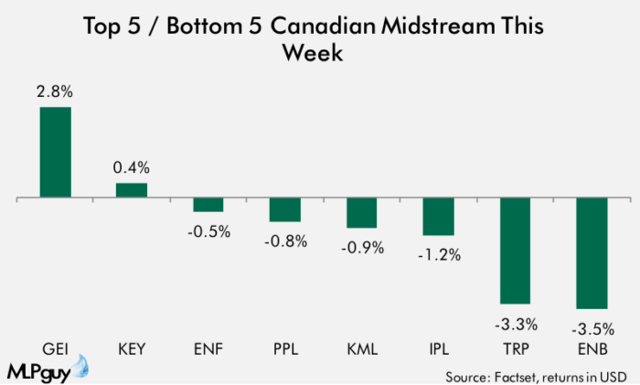 TransCanada (NYSE:TRP) took over the bottom spot on the YTD leaderboard in Canada. There are more YTD negative performing stocks in Canada (out of an 8 stock universe) than there are across the entire MLP universe.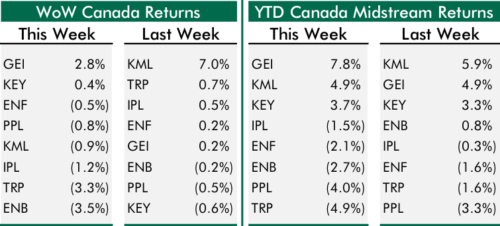 News of the (Midstream) World
Capital Markets
Growth Projects/M&A
Other
Distribution Announcements
I counted 33 distribution announcements this week. CQP was the biggest raise quarter over quarter, while AHGP was the biggest increase year over year, benefitting from rolling off of the cut from 2016. A few MLPs are still rolling off distribution cuts and show up as negative year over year, but the comparables will get easier as we go along and put the distribution cut era behind us (for the most part...).