The last report suggested that the ECB had set out its stall for 2018 in order to underwhelm those who are eager to see it normalize early. Evidently, this pessimism was not welcome to the Governing Council Hawks, who then tried to nudge an early discussion for the end of QE back onto the agenda. Dollar weakness, exacerbated by policy maker rhetoric, has now effectively tightened ECB monetary policy and challenged the timing of a discussion about the ending of QE. The ECB will not however be too unhappy about the strengthening Euro, because it supports its underlying strategy.
The year started with ECB Executive Board member Benoit Coeure's attempt at a long range handicapping exercise, to frame perceptions of monetary policy in 2018. His normalization odds are moderately evens or less; and lack much of the certainty that emanated from his commentary in late 2017. According to him:
I [Coeure] believe that there is a reasonable chance that the extension of our asset purchase program decided in October can be the last.
In an interview with Caixin before Christmas, he had characterized the Eurozone as being in expansion mode rather than recovery mode, and claimed that this view was also shared by his colleagues.
Coeure's odds were then shortened by Governing Council member Ewald Nowotny; who foresees an end to the QE program in 2018 if the economy continues its robust expansion, even in the absence of stronger inflation. These views were also prevalent in recently released minutes of the December 2017 Governing Council meeting. To recalibrate these shortening odds, the ECB bought the lowest number of corporate bonds ever at its December open market operation setting its purchases at the lowest level since it started buying this spread product.
The odds were further shortened, but not too much, by Bundesbank President Jens Weidmann; however his rhetoric is distinctly lacking in the Hawkish tones commonly associated with him. Weidmann would like to see a commitment to end QE this year. His justification is that the economy is robust while inflation is reaching a sustainable level. His comments on inflation still indicate that reaching the 2% target and maintaining it will be difficult. Weidmann therefore wishes to end QE before the target is reached.
Weidmann's view resonates with the opinion and guidance of Governing Council member Ardo Hansson. In his latest commentary, Hansson repeated his view that conditions will allow the ending of the current phase of QE in September; so that guidance should be adjusted now in order to reflect this.
The Bank of France may become the next major Eurozone central bank to join the normalization bandwagon, although the French economy is still yet to fire strongly on all cylinders. It has started the year by incrementally increasing its Q4/2017 forecast for growth.
The net result, of the silence of the Doves and the rhetoric of the Hawks, was a spike in Eurozone yields and the bringing forward of expectations for the rise in interest rates to occur before Mario Draghi leaves office. This spike in Eurozone yields has also been exacerbated, by the strengthening of the Euro, as central banks have reacted to the fall of the US Dollar from 2017 to date. The ECB now has to factor in the weakening US Dollar fundamentals, which undermine the Eurozone recovery, to its decisions going forward.
In terms of probabilities, the net result discounted by Mr Market is now a seventy per cent chance of a ten basis point rise in interest rates by the ECB by the end of 2018. Put into the perspective of the new low inflation environment that the Eurozone is in and the previous signals from Mario Draghi that rates won't go up until he leaves office, this new probability is radical. Perhaps more importantly it shows that in the new world of low inflation, interest rate increases are not expected to be large in absolute terms yet will have a meaningful impact in real terms.
This benign big picture view has been lost by the animal spirits of FX traders, who have pushed the Euro aggressively higher. A strong view of the Eurozone side of the FX pair has combined with a weakening view of the US Dollar. Suddenly Euro strength has started to do the tightening that Mario Draghi hoped to leave for his successor to deal with.
Such was the concern at this currency headwind that Jens Weidmann was then forced to verbally intervene to undo his previous Hawkish comments. "Regarding central bank rates in the euro zone, the imminent risk of a change is small for the moment," Weidmann swiftly U-turned and then expanded further that "the full normalization of monetary policy will be a long path." He then augmented his view by, specifically guiding in Latin on the forward curve and, saying that the current prediction by the curve of interest rate increases in 2019 looked appropriately "gross modo" to him.
In further verbal intervention to cap the Euro's rise, Governing Council member Vitor Constancio extemporised off piste, in a speech that was supposed to address the issue of the European Stability Mechanism (ESM). He noted that the case for expanding the ESM into the European Monetary Fund remained unproven at this point. Going on to address the Euro, he stated that monetary policy will still remain accommodative long after the ECB ends its balance sheet expansion process.
Following up on Constancio, Governing Council member Ewald Nowotny was more explicit and said that the level of Euro needed to be watched.
Governing Council member Francois Villeroy de Galhau bravely jumped in, alongside his colleagues to verbally intervene against Euro appreciation, by saying that monetary accommodation is still needed although it can be phased out over time later this year.
Unfortunately, backstroking ECB Hawks' words have no control over the American data commentary that also drive the Euro in relation to the US Dollar as they was about to find out at Davos. The Hawks may thus have to overcompensate with Dovish guidance in the future, if the American drivers continue to frustrate him.
The signs that a slightly more durable German coalition government may now take shape, after months of haggling, has also knocked on to the positive Euro sentiment; which may force even more backstroking from the Hawks.
Euro strength is tightening monetary policy for the ECB, even before it has started to officially normalize monetary policy.
When Secretary Mnuchin talked down the US Dollar even further at Davos, the strength of the headwind started by the ECB Hawks was compounded into a significant monetary policy tightening impact. In isolation his comments may be seen as mildly Dollar negative. Combined with the momentum of Dollar weakness since late 2017 and exacerbated by the ECB Hawks, his comments have amplified the weak Dollar halo effect and thus the Eurozone economic headwind.
Draghi and ECB Chief Economist Peter Praet, had until Davos successfully managed expectations to expect no interest rate increases until after his retirement. The Hawks and a rally in the Euro have effectively unwound all this good work, which Draghi had to attempt to rectify at the latest Governing Council meeting. Draghi has an alleged new threat, in the weaker US Dollar, which he will opine to good effect as he tries to rebuild Dovish expectations for ECB interest rate increases. His problem is that in talking down the Euro, he is also talking up Eurozone bond yields. In mitigating one headwind, he thus creates another. The net effect may ultimately be a wash. Crucially for Draghi however, the resultant outcome is to push back expectations for higher interest rates and the scaling back of QE.
Draghi probably can't wait to get together with incoming Fed Chairman Powell, to try and agree a strategy to kill the volatility in the FX market that is wagging the tail of bond market interest rates. As the January ECB Governing Council meeting loomed, remedial action was visible from sources closes to Draghi. Said sources began by leaking that it would be unlikely that the ECB will drop its pledge to end QE before inflation hits target.
Suitably chastened by Mr Market and Secretary Mnuchin, the ECB then left policy unchanged and reiterated its commitment to maintain QE through September 30 (at the earliest), and also its expectations that interest rates will still be low after QE ends. Just for good measure, the commitment to ease further if required to do so was maintained and broadcast loud and clear.
Speaking at his press conference, Mario Draghi directly criticised Secretary Mnuchin for jawboning the US Dollar lower and conceded that this will have an impact upon the decision to scale back QE. Unfortunately, Draghi had to admit that the ECB does not target exchange rates, which significantly undermined his attempts to stymie the Euro's strengthening. Perhaps he did not wish to weaken the Euro however. Perhaps his real interest is to slow its appreciation.
Governing Council member Francois Villeroy de Galhau then came to Draghi's aid, with further warnings about the headwind from a stronger Euro. Once again his currency intervention attempt was undermined by his talking up of the recovery in France and the growing power of Franco-German cooperation. The perception of an attempt to slow, rather than to reverse the Euro's rise, is starting to grow.
Watching the equivocal verbal intervention from the ECB, one may conclude that it is only intended to calm the violence of the appreciation in the Euro. Somehow the ECB likes the stronger Euro, despite its protestations to the contrary. Perhaps this is because a strong Euro is representative of a reduction of the bigger threat to Eurozone integrity from a fear of a split. A stronger Euro also mitigates the underlying threat from rising inflation. Furthermore, for those Doves in the ECB who would like to have low interest rates and substantial amounts of QE left in the system when QE officially ends, the stronger Euro is a headwind that will lead to the easier monetary policy stance that they desire. A strong Euro plays to the ECB's long game and advertised QE endgame. Just as the alleged economic headwind started blowing from the Euro, the ECB has prepared a shovel ready policy to deal with the next slowdown with auspicious alacrity.

(Source: Bloomberg)
Somewhere in the big picture from the ECB, which may get ignored in daily minutia of guidance and data releases, is undoubtedly the European Safe Bond initiative (ESB) which began in 2016. The latest update from the ESB team, led by Celtic Tiger tamer Philip Lane, is that they are almost ready to publish a list of what will be referred to and rated as "Safe Bonds". Given the experiences of his country during and after the Credit Crunch, he should know what an "Unsafe Bond" is; so what he has come up with for the obverse should be framed by his experience and indicate what he is trying to avoid. It would seem that securitized Moral Hazard is his solution; which is to be expected based on what was rolled out as the solution in his own country and across the Eurozone.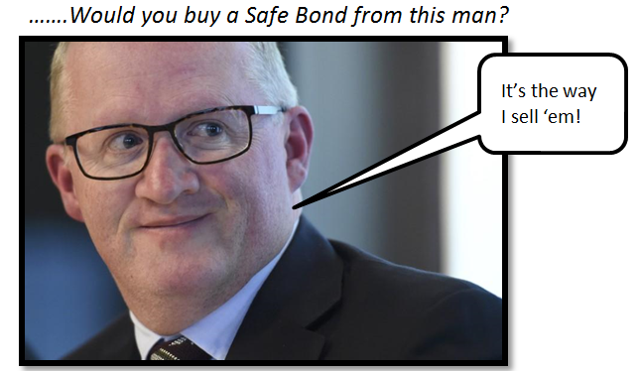 "Safe Bonds" are important for a number of reasons, amongst which are the following and none of which Mr Lane has made mention of. Indeed, all he has said is how they can prevent the next Eurozone crisis. A closer inspection shows that they are integral to the creation of said crisis.
The pooling of national bonds and then their securitization, should be viewed as an essential enabling step for deeper Eurozone fiscal integration i.e. Mr Lane's crisis saviour.
The creation of a new asset class with sub-categories will provide collateral for the further capital markets support for the over-indebtedness of nations. There will thus be even less incentive for fiscal reform, especially when the risks are pooled across several nations and then spread out over a wider investor base than the national banks who currently hold most of the risk.
The ECB will have a new asset class of bonds to buy; if and when it embarks on another QE program, or if it runs out of things to buy in its current one.
A legal means of circumventing the Capital Key limits on ECB bond buying and hence deficit monetization will exist in what are called the "Safe Bonds".
The ECB will also have plenty of scope to maintain an expanded balance sheet, by rolling off its current sovereign holdings into the new "Safe Bonds".
The Equity Tranche provides a new kind of subprime sovereign debt asset class, that can go the way of similar subprime asset classes, when the hunt for yield becomes another common or garden bubble. This sub-class even provides a readily available asset for Qualitative Easing if the ECB needs fig leaf to cover its excuse for doing this.
"Safe Bonds" are an oxymoron for Moral Hazard; so the ECB will be all over them! A stronger Euro will however support the bid for "Safe Bonds", since buyers will sense that a stronger currency reduces the probability of interest rate increases. Bond buyers will be blinded by the Euros strength and totally ignore the moral hazard that they are complicit in enabling.
The last report noted that, despite the economic strength and global normalization backdrop, the ECB was in fact hunkering down for an extended period of low interest rates that could then swiftly become another monetary policy expansion. "Safe Bonds" will be the great enabler of this scenario and thus significantly raise its probability. The ECB will no longer be handicapped by Capital Key limits on deficit monetization. Pandora's Box will be full of "Safe Bonds" and awaits the lid being lifted. This box will of course be presented as a panacea that supports the European Project and solves the sovereign debt crisis simultaneously.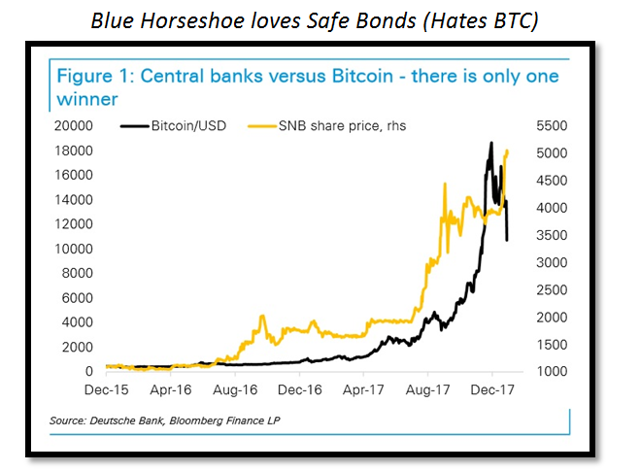 (Source: Business Insider)
There is currently a precedent being set for the Pandora's Box scenario. Observers are noting how shares in the hedge fund that is known as the Swiss National Bank are booming as it debases its currency with no apparent resulting weakening effect. The shares have outperformed the traditional store of value against debasement known as Gold and its alleged new challenger Bitcoin. The SNB is the nation's hedge fund and pays profits to the government. The ECB has been doing the same as the SNB for the Eurozone in general. The symmetry for it to return the profits of monetizing the national deficits, in the form of "Safe Bonds", to Eurozone taxpayers is more than just a metaphor. Seigniorage and moral hazard go hand in hand with the European Project in the new Pandora's Box.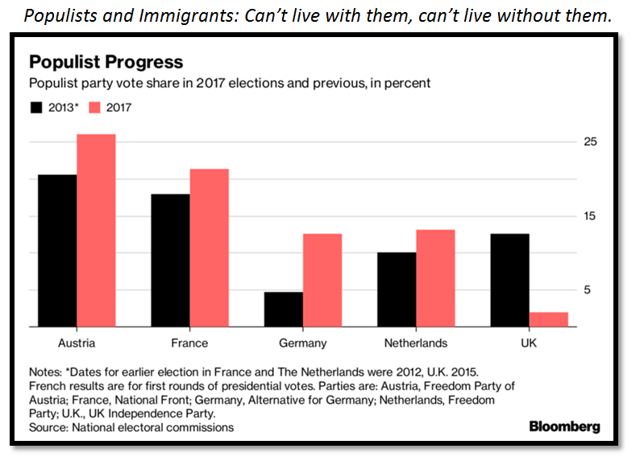 (Source: Bloomberg)
Having survived a Populist challenge, that threatened to break the Eurozone, 2018 sees a new phase and new priorities for policy makers. Populism wasn't defeated however, it was just culturally and politically assimilated in that curiously European consensus-building way into the mainstream. There is a Franco-German vision for the Eurozone's future, but this is more of an aspiration currently rather than a detailed road-map. Germany, the economic driver and political underwriter of the European Project, can no longer be taken for granted as a willing partner. President Macron has bravely stepped into this vacuum with a plan for economic reform and deeper integration.
German partnership in this plan is by no means certain at this point in time. The SPD has tentatively backed plans for coalition talks, but the Devil will remain in the detail of the conditions and division of responsibility in achieving a final coalition that has any durability. Observers are already saying that any coalition is doomed, as are the leaders of both parties.
Embattled German Chancellor Merkel framed early perceptions of Eurozone politics with her New Year address to the nation. This humble message expended what is left of her rapidly eroding political capital and perceived power. She asked for national solidarity to form a partnership with France to reform the Eurozone. This confirmed that she has neither a domestic mandate nor a global mandate; and that an unconvinced and introspective German population is going to question her every step of the way in 2018. The deal, that she has struck with the SPD to form a coalition, is still contested within her own party and also by her partners. The growing perception is that she is a lame duck. Speculation over her longevity will therefore rise over the course of the year. The German wall of political worry contrasts with an economic wall of confidence. She will therefore have to take more credit for the latter, in order to be allowed to take risks with the former.
IMF managing director Christine Lagarde openly called out Germany and its economic policy, in a move which highlights and then undermines Germany's credentials to play a leading role in European restructuring going forward. Lagarde's timing was impeccable, coming on the eve of a summit, at which President Macron was to host Chancellor Merkel with the aim of making some joint declaration on Franco-German plans for the Eurozone. Merkel still handicapped by her need to balance her weak coalition's mix of SPD pro-Europeans and anti-Europeans within her own ranks has been compromised. This compromise was evident in her weak commitments to a bold European initiative and strongly articulated suspicion of big European deal announcements without details in her pre-summit guidance.
Merkel remains mindful of her political fragility and thus wishes to burnish her tough details oriented pragmatic approach to European reform. She is therefore putting her own survival above the priority of Franco-German leadership. President Macron won't like this and will simply do his own thing, to bolster his prestige on the domestic, European and wider global stages. Germany risks being seen as a party-pooper, who is enjoying the host's hospitality without bringing anything to the table.
Lagarde's criticism noted Germany's "Black Zero" strategy to get through the aftermath of the Credit Crunch and a potential breakup of the Eurozone. Germany's strategy was specifically domestic rather than pan-European; and was predicated on balancing its budget to create a fiscal surplus. Said surplus was a buffer to be used domestically, in the event of Armageddon for the Eurozone. Germany had abandoned its neighbors, unless they agreed to become more German.
The German surplus has neither been used for domestic nor Eurozone consumption stimulus. Neither has it been used to stimulate Eurozone or domestic investment. It has accrued to back the nation's credit rating, at a time when counter-cyclical fiscal deficits have risen in all other developed countries. Germany has then further gamed the system by nature of a weak Euro supporting its accumulation of a greater trade surplus; and also greater fiscal surplus as capital has flown from weaker Eurozone nations to Germany. In the IMF's eyes, Germany has not shown global economic leadership. It has instead shown extreme national economic interest which has been mirrored in the rise of German populist political self-interest.
Jens Weidmann's response to Lagarde's criticism was masterful. His mastery was even more evident, because he had effectively dug himself into a trap with his earlier U-trun commitments to weaken the Euro. His rebuff of Lagarde therefore needed to be consistent with his weak Euro bias.
Defending German behavior, with his Bundesbank hat on, Weidmann stated the "futility" of boosting consumption, although he did concede that investment in productivity driving sectors must now occur. He opined that Germany's economic growth potential was lower than pre-Credit Crunch and that wage-pressures were just starting to be felt. By inference, boosting consumption would create overheating conditions. Consistent with the weak Euro argument however, lower potential growth implies lower interest rates and hence a lower Euro. To an objective observer, Weidmann's performance was brilliant even though totally subjective from a domestic German perspective. It may have fooled FX spot traders, but it will not fool Lagarde or other Eurozone policy makers for that matter.
Germany is ducking and diving, whilst supporting its industrial base by trying to preserve the weak single currency. The bottom line remains that Germany still wants Europeans to become more German. Emmanuel Macron clearly has other ideas, which stand in stark contrast to the IMF's highlighting of German leadership failure in Europe and globally.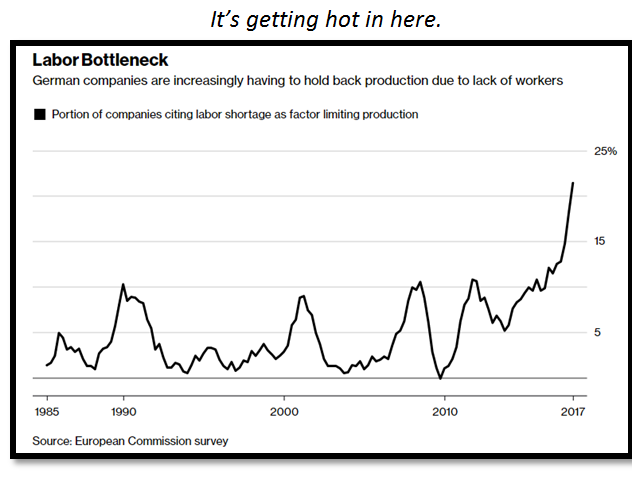 (Source: Bloomberg)
Within the German parliament, the Alternative for Deutschland (AfD) party as the putative significant opposition majority has bagged the chair position of the powerful Finance Committee. The AfD Chair Peter Boehringer is a Bavarian Gold Bug, who wishes to take Germany out of the Euro, expel Muslim immigrants and replace the nation's currency with one that is backed by Gold. Speaking at Davos, Angela Merkel referred to Populism as "poison". She still does not have a vaccine and the "poison" has spread to economic policy making. This should make for lively and interesting debate that makes Germany more of a wild card than trusted European partner going forward.
The perfect storm in the German inflation environment also plays to AfD's strengths. The economy is overheating and the unions are demanding 6% plus wage hikes. It is also in the unions' interest to see immigrants kept out of the labour pool, in order to support their wage demands by removing cheap competition. Globalism is the enemy as pecuniary German self-interest drives a more parochial view of the political and economic landscape.
The political headwinds have also picked up in magnitude from Spain. The two main Catalan-independence parties have backed former leader in exile Carlos Puidgemont, raising the probability that there will be renewed attempts to secede this year.
The Eurozone threat presented by the Catalans is not unique. What is most interesting about these Populist movements, is that despite their leveraging over dissatisfaction with the Eurozone policy makers, they are still not unanimously averse to the Euro. The Five Star movement has recently decided to replace its overt anti-Euro position, with a commitment to hold a referendum on the subject if it forms a national government. Silvio Berlusconi's party is also pro-Euro and claims that his Northern League ally may change its anti-Euro policy in due course. The Eurozone has thus moved beyond the risk of break-up towards the issue of a common policy on governance of individual national/regional members.
Far from leading to Eurozone fracture, Populism is leading to the kind of protracted negotiations and compromise which frustrate economic and political reforms at the Eurozone level. The Eurozone Project thus survives but at the cost of efficiency. This survival was recently invigorated by the Club Med meeting of European nations under the stewardship of President Macron. At this meeting a further commitment to achieve, but no details about how, further banking union were made by the leaders of the nations present. The Devil is in the detail, but the Eurozone has never been big on detail, so policy makers and leaders continue to wing it and press on with the big picture whilst letting the details like the NPL issue manage themselves.
French Finance Minister Bruno Le Maire stated that common ground has been found, in order to make proposals for Franco-German banking union in March. These proposals would then serve as a blueprint for banking union across the Eurozone going forward.
The Eurozone recovery , ironically initiated and then supported in large part by a weak single currency itself driven by fears of breakdown, is now gaining traction. The improvement, in sentiment and latterly the Euro, is now a source of concern because it increasingly blows an economic headwind through anticipation of higher interest rates and a stronger currency. The ECB is projecting mixed messages into this economic void in order to frame and then manage perceptions. This form of perception management is however reactive, reacting to the latest threat, rather than prescriptive of a desired outcome. This tactical reactive behavior is indicative of a central bank that does not wish the nascent economic recovery to get derailed through the blowback from both higher interest rates and a stronger currency. Belying this economic management is however an understanding that as things improve there must be a gradual acceptance that it means a stronger currency and higher interest rates over the medium to long term.
The war of attrition, between the Italian banking system and Eurozone policy makers has entered a new phase of brinkmanship on the subject of non-performing loans (NPL's). It was noted in previous reports that the French and Germans were leading the attack on Italy, in order to acquire its banking sector after the Italian banks had been forced to realize the value of their NPL's and either raise capital or opt for consolidation. Previously, the Italians had successfully defeated the ECB's attempts to drive a market pricing solution to the NPL issue, that would have enabled the Franco-German roll-up strategy. Evidently, over the Christmas period there has been no season of goodwill and the Italians have come out on the counter-offensive. Addressing the issue of a market based solution, the Bank of Italy has issued a report that attacks its French and German adversaries own structural weaknesses.
Applying the logic of the discipline enforced through a market based solution, the Bank of Italy has opined that the French and German banks are the repositories of seventy percent of the Eurozone's Level 2 and Level 3 financial assets. Said assets are illiquid and priced to model subjectively by the banks. The Italians hold that, should objective market based valuation be applied to these assets, they will be found to represent a level of systemic risk equal to or worse than the Italian NPL's. Thus far the French and Italians have yet to formally respond.
The net result, of this destructive war of attrition, is to expose the level of structural weakness inherent in the Eurozone banking sector in general. The mud-slinging on either side is destroying all of the protagonists involved. It is now clear that the strength of the economic recovery has not significantly reduced this systemic threat. Only new capital raising and/or consolidation will resolve this matter. The French and German acquirers will not however have things their own way just yet.
The reaction of French Finance Minister Bruno Le Maire, to Italian threats and mud-slinging, clearly showed where the political orthodoxy of Eurozone policy making is on the NPL issue. It also shows that it is Italian election time and Brussels is not exactly flavor of the month with the electorate. Doing a classic Eurozone political retreat, Le Maire U-turned and said that the accelerated proposals from France, Germany and the ECB must be replaced with the current snail's pace of progress. He then went even further to praise Italy for its progress so far. One is left with the impression of defiant Italian bankers fighting off rapacious acquisitive German and French banks who would like to get them on the cheap.
The initial signals out of the ECB towards Italy and the NPL issue are antagonistic. In her first meeting with Italian bankers this year, ESM head Danielle Nouy was characterized as "inflexible" by her audience. Having folded under political pressure and agreed to deal with the issue one bank at a time, the ECB is going to pedantically tough in each case. Based on the European Commission's view, of NPL data inputs from the ECB, this is going to be an arduous process.
The Commission reported that NPL levels fell one per cent on aggregate in 2017. Assuming that Eurozone GDP grew around three per cent in the same period, then even with compounding growth would have to be a factor of five times higher to reduce NPL's by five per cent. The Eurozone is just not growing strongly enough to significantly mitigate the NPL issue. Banks will therefore have to hike capital levels; and/or merge now, whilst the economy is relatively hot and low interest rates allow them to issue/exchange highly valued shares instead hard earned cash.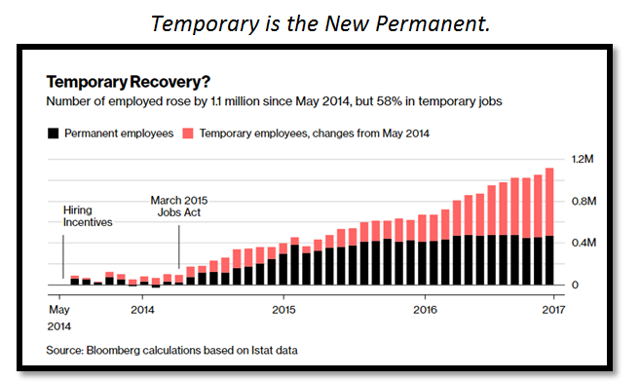 (Source: Bloomberg)
Macron and his like-minded Eurozone reformers, who wish to make labour more employable by restructuring the nature of its contractual relations with capital, would do well to examine the market based solution to this problem that has evolved in Italy. The Italian economic recovery has been driven by part-time labor, which has an increasing share of the jobs market. The ECB would also be advised to examine the disinflationary implications of this trend; although it seems certain that Mario Draghi understands it well. Labour does not have a strong hand, thus the potential for wage inflation and consumption remains muted. Structural reformers who try and make companies employ full time workers by raising their cost structures will struggle. Only subsidies and fiscal incentives will engage companies in increasing the full time component of employment; but with the exception of Germany there are no fiscal surpluses to finance such policies. It is also unlikely that Germany will allow its surplus to be raided and applied to fiscal incentives in other nations. In the meantime the support for the wider Eurozone economy from the ECB becomes more significant and hard to live without.
The Eurozone economy, like most of its developed nation peers, has come out of the Credit Crunch with a new disinflation status quo; in which the employment contract has been weakened which has had a knock-on effect through the Populists on the Social Contract between national governments and their governed populations. The harsh Ricardian fundamentals are deeply entrenched. In such an environment, the ECB will once again be heavily relied upon to provide the liquidity and low interest rates that make the harsh economic fundamentals palatable even though deeply resented. There is an inevitability creeping into perceptions of the real economy that the Populists and Reformers are failing to address with solutions, whilst they vociferously articulate its painful realities. As was the case with the Brexit experience in Britain, fear of the unknown causes a drift back to the known and despised status quo.
Disclosure: I/we have no positions in any stocks mentioned, and no plans to initiate any positions within the next 72 hours. I wrote this article myself, and it expresses my own opinions. I am not receiving compensation for it (other than from Seeking Alpha). I have no business relationship with any company whose stock is mentioned in this article.