Summary
Every stock will have its supporters and detractors, known as their bulls and bears. Is it true, though, that only one is right? If a stock moves up, does that mean the bulls were completely right and the bears were completely wrong? Should bulls listen to the bear thesis? Do bears cause stocks to drop? Are bears bad guys? While bulls may find it difficult to read articles on the bear thesis, in my opinion, understanding the bear thesis is an indispensable part of any long analysis. I also give a brief portfolio update.
Stop hating on the bear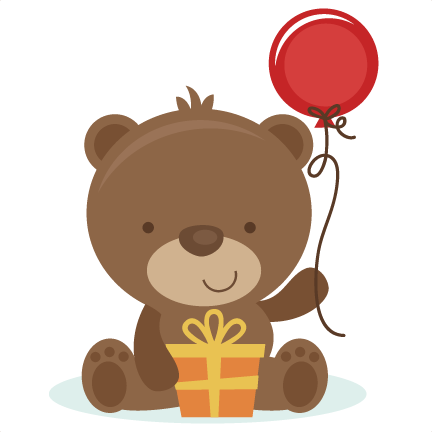 Bear articles won't drop your stock!
I recently released a bearish article on Uniti Group (NASDAQ:UNIT), in which I cautioned readers against purchasing the stock because I was concerned that its top tenant, Windstream (NASDAQ:WIN), from which it derives 70% of its revenues, is facing very real bankruptcy risk in addition to consistently declining revenues. Considering that Uniti Group is one of the most popular stocks on this site, I anticipated that this would draw some outrage from the readers. What I did not anticipate was that my disclosure of my short position would cause many readers to disregard my analysis as just trying to make the stock price drop.
Some comments from the article:
Too funny - no doubt you are short. Your thesis is strong for the uneducated.

Hey Julian, is this article by you for real? Long time to April 1. LOL!

This article is nothing but an attempt to conflate WIN's risk of bankruptcy onto UNIT for gain in his own portfolio. SMH.

Great article for someone who's going short!
Random note: SMH means "shaking my head." I learn something new everyday.
One thing is very clear: readers seem to believe that shorts and bears are somehow the villains trying to ruin their stock. I am here to argue that this cannot be further from the truth.
So first, a clarification on my article. I am indeed short Uniti, but through a tiny position in puts expiring in January 2020. The position is very small that it won't be included in this portfolio update, but Seeking Alpha's rules about disclosure means that I have to say that I am short, no matter how small the position. That said, by no means was my article advising readers to short the stock themselves (just to avoid shares).
I should also take this moment to point out another recurring sentiment in the comment stream, that somehow Uniti and Windstream's current stock price is only down because of the activities of Aurelius.
Readers seem to be forgetting that Windstream was suffering even before Aurelius. Aurelius first emerged September 26, 2017, but as we can see below, shares were already trading in that range way before this news: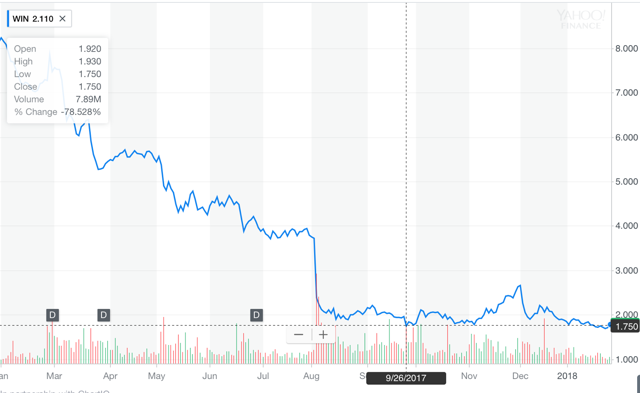 (Source: Yahoo Finance)
As such, I view Windstream's current distressed state to be a reality in spite of Aurelius, or more rather, the presence of Aurelius is merely salt on the wound to an already distressed situation. But enough on Uniti. Let's move on to discussing why reading more bearish articles is sure to be healthy for your portfolio.
Why do I write bearish articles?
For one, I need to point out that I do not write these articles in order to push the stock price lower. It would be physically impossible regardless - all these companies are well-established names with quite large market capitalizations, and anything I am writing about is already well known by the many analysts covering these names. And there are a lot of analysts covering Uniti and Windstream; see the firms below:
Uniti's 2017 Q3 Conference Call
Frank Louthan - Raymond James & Associates
David Barden - Bank of America Merrill Lynch
Gregory Williams - Cowen and Company
Simon Flannery - Morgan Stanley
Michael Rollins - Citigroup
Philip Cusick - JPMorgan Chase & Co.
Matthew Niknam - Deutsche Bank Aegean
Windstream's 2017 Q3 Conference Call
Frank Garreth Louthan - Raymond James & Associates, Inc.
Scott Goldman - Jefferies LLC
David Barden - Bank of America - Merrill Lynch
Gregory Williams - Cowen & Co. LLC
Matthew Niknam - Deutsche Bank Securities, Inc.
Michael I. Rollins - Citigroup Global Markets, Inc. (Broker)
It is this fact, ironically, that made me very motivated to write these articles in the first place. Despite the bear thesis being very well known to the Wall Street analyst community, I was confused why many bullish articles seemed to ignore or downplay the negatives as Wall Street "stupidity."
In my opinion, this is very misleading, because these same Wall Street analysts are professionals who are very, very good at their jobs. Contrarian thinking does mean that we should not overplay the pessimism, but investors must remember that simply buying beaten-down names does not make you a contrarian. Further, buying a high-yielding name without knowing the bear thesis or trying to understand why the stock price has dropped is like going into a minefield blind. Is that really investing? As we see below, embracing the bear thesis is critical, even if you are going long.
Understanding the bear thesis makes you a more informed investor
There are other benefits to understanding bear thesis too, especially if you are going long. For one, it gives you hints as to the potential buy or sell points in the future. This knowledge will help to either save money from losses or to earn more money due to increased positions. Here are some examples from my recent articles, along with a corollary for how to interpret the bear thesis to help manage your long position.
Uniti Group
Bear thesis: Windstream faces real risk of bankruptcy and its financials continue to deteriorate, leading to worries about its ability to pay its rent to Uniti.
Corollary: If Windstream manages to extend the maturity dates on its current debt, while also finding a real solution to its deteriorating financials, then Uniti will become a very strong buy. On the other hand, if the financials at Windstream continue to deteriorate, then investors in Uniti might want to consider lowering their position sizes.
Tanger Factory Outlets (NYSE:SKT)
Bear thesis: Despite consistently maintaining high occupancy rates, Tanger's outlet properties have somehow performed poorly compared to the average outlet property.
Corollary: If management manages to unload many of the company's underperforming properties, or the tenants start showing consistent increases to the sales per square foot, then this overhang disappears and what is left is a high-quality stock with high-quality management selling at a 5+% yield. On the other hand, if sales per square foot remains muted or continues showing declines, then investors need to be very careful, as any quarter where Tanger needs to issue rent concessions will hit the stock very hard.
Omega Healthcare (NYSE:OHI)
Bear thesis: The REIT has been acquiring properties with 1.4 EBITDAR "rent coverage," but on a portfolio basis, has seen rent coverage consistently decline to around 1.32. The previous quarters have seen Omega Healthcare giving rent concessions to its worst tenant. I am worried that a portfolio of such poor overall credit quality is just a disaster waiting to occur.
Corollary: If the macro environment suddenly changes to give tailwinds to the tenants' financials, then investors may start piling into this near 10% yield.
If rent coverage, however, continues to decline, and if Omega Healthcare continues to need to give rent concessions to other tenants, then investors should worry that the dividend will come into jeopardy.
CVS Healthcare (NYSE:CVS)
Bear thesis: Their retail stores face real headwinds due to losing out on price compared to neighboring competitors, while losing its "convenience" due to more competitive stores opening nearby.
Corollary: If CVS can find a way to either diversify away from its retail stores, or to make its retail stores more of a necessary (such as, perhaps, through the merger with Aetna (NYSE:AET)), then this headwind will be significantly lifted.
As we have just seen, acknowledgement of the bear theses for all of these stocks would be very useful to know when to "double down" on your positions, and also when it is time to bail. Without this knowledge, if the stock drops 15% after earnings, how would you know what to do? Should we really just keep buying blindly?
Update on my portfolio
Macerich (NYSE:MAC) recently rose on rumors of a takeover from the Ontario Teachers' Pension Plan. The stock subsequently went back down after it denied such rumors. While disappointing, I still view the presence of such interest to be a real positive for mall REITs.
My best-performing stock since my last portfolio update has been (ironically) Boeing (NYSE:BA), which is a holding I reluctantly purchased on the advice of my wife. Thank goodness I listened! What can I say... I wish had I bought more. My next best return was in the holding in the S&P 500, which returned 6% in just under a month.
What I have been buying (aside from dividend reinvestment)
I have been aggressively building a full position in National CineMedia (NASDAQ:NCMI). I purchased 370 shares at $6.54 a pop. I believe Wall Street is missing the long-term tailwinds to theater traffic provided by MoviePass.
STORE Capital (NYSE:STOR) is now my top position. I purchased 281 shares at $24.14 a share, and recently wrote an article wondering what I am missing.
In the mall REIT sector, I purchased 15 shares at $166.33 per share and 11 shares at $163.22 of Simon Property Group (NYSE:SPG). I also purchased 100 shares of GGP at $23.39.
In addition, I purchased 7 shares of Federal Realty Trust (NYSE:FRT) at $124.74 per share.
Dividends Received
I received and reinvested dividends from STORE Capital ($75.64), Federal Realty Trust ($48), GGP, Inc. (GGP) ($27.28), and Taubman Centers (NYSE:TCO) ($16.88).
My portfolio now looks like this (for illustration purposes only):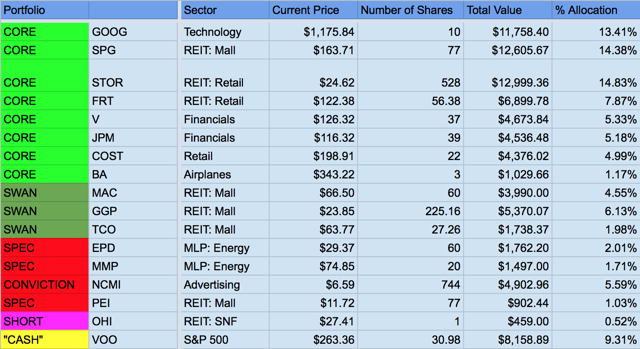 It is encouraging to see my VOO position shrink from 27.68% at portfolio inception to under 10% now (Note: I label it "cash" but it certainly is not a cash equivalent. It merely is my "Unallocated" funds as I want to be fully invested at all times, regardless of whether or not I have enough picks to make up a full portfolio). For this, of course, I have to thank the unusual REIT sell-off to begin this year. As this is my first portfolio update of 2018, I wish everyone a great year of investing!
Conclusion
In searching for stocks to add to my portfolio, it is inevitable that I come across stocks that I view to be just too risky. I release my analysis for these stocks in articles to warn readers of these risks, because having a complete picture is, in my opinion, necessary for any long position. Ignore the bear thesis at your own peril!
Author's note: If you liked this article, "Follow" me! Some people say the market is overvalued - I say they're looking in the wrong places.
Disclosure: I am/we are long GOOG, SPG, STOR, FRT, V, JPM, COST, BA, MAC, GGP, TCO, EPD, MMP, NCMI, PEI, VOO. I wrote this article myself, and it expresses my own opinions. I am not receiving compensation for it (other than from Seeking Alpha). I have no business relationship with any company whose stock is mentioned in this article.
Additional disclosure: I am short OHI and UNIT through puts.