If you're a long-term investor like myself, you probably invest via dollar cost average (DCA) into your portfolio monthly or quarterly. And if not, you've at least maybe heard of the strategy. In fact you might be a DCA investor and not even realize it. That's right - if you participate in your employer's 401(k) plan, you invest via DCA.
See, the term "dollar cost averaging" refers to the practice of investing a consistent dollar amount in the same investment(s) over a period of time. For instance, you might be interested in buying Ford's (NYSE:F) stock but don't want to take the risk of putting in your money all at once. You could instead invest a steady amount, say $100, every month. If the stock trades at $10 one month, you will buy 30 shares. If it later goes up to $12, you will end up with 25 shares that month. And if the price falls to $8 another month, you will accumulate 37.5 shares. You end up buying more shares when the price is low and less shares when the price is high.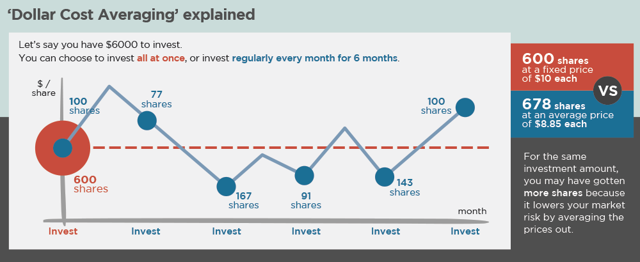 Pros of the DCA & How it relates to DSPPs/DRIPs
By investing a predetermined amount each period, you remove the emotional component from your investment decision-making. You'll continue in a preset plan of purchasing a specific dollar amount of your chosen investment irrespective of how wildly the price swings. This way, you will not bail out of your investment when the price goes down in a wild swing, but instead see it as an opportunity to acquire more shares at a lower cost.
Dollar cost averaging also reduces the probability of bad timing. Imagine if you invested all of your money in one trade right before a market crash, like 2007 for example. Your account would have taken a serious hit. Although, if you would have DCA into the market in 2007, you would have been able to buy at lower prices each time through the following year of 2008.
This method of investing applies to direct stock purchase plans (DSPPs) and dividend reinvestment plans (DRIPs) because in most cases when you enroll in a DSPP, you initiate a monthly investment amount to automatically be invested into that specific stock. And usually the plan sponsor will pull the amount to be invested from your checking or savings account on whichever day you choose, but invest it only on specific predetermined dates spelled out in the plan document. For administrative reasons, this simplifies the process for the custodian. They are able to place one or two large batch orders instead of investing each individual investor contribution every time one comes in.
The same investing style applies to DRIPs. The dividend is issued according to the board of directors, and reinvested on the date according to the specified DRIP program. This takes the emotion and market timing decision out of the "cards" so to speak for the investor.
Cons of DCA
Above I mentioned that DCA can help an investor avoid bad market timing. But on the flip side of the coin, it can also hold an investor back from good market timing. For example, an investor would be better off investing one lump sum into the market after a crash, rather than initiating DCA and buying predetermined amounts all the way up through the following bull market at incrementally higher prices.
Although, hindsight is 20/20, so unless you have a crystal ball and can time the market perfectly, DCA may be a better choice and, at the very least, a smoother ride.
Investment Fees
Most of us pay some sort of fee or commission whether it's an annual account fee, trading fee, or maybe an expense ratio inside of mutual fund or ETF. Below, I highlight how you can complement your existing account(s) and investments by going direct to the source and purchasing equities through available DSPPs without incurring fees and, in some cases, get a discount.
DSPPs are created when publicly traded companies make an arrangement with a third-party transfer agent and custodian such as Computershare or AST Financial to offer the company's shares direct to buyers without the use of public exchanges. Usually, the board of directors will offer a predetermined number of unissued shares (shares authorized for issue but have never been issued or traded) of common stock to be eligible for purchase through the newly created DSPP. And in most cases, companies will limit the amount of shares participants can purchase each month.
Although not all companies offer a DSPP, a lot of them out there do. In fact, many companies such as JNJ, MMM, and ABT offer such plans with no trading fees. I'll provide links at the end of the article of where you can find lists of DSPPs to review.
In addition to no fees, some companies such as UMH mentioned in "This Unsexy REIT Sector Is A Cash Cow" offer a 5% discount on shares purchased with reinvested dividends. So not only are you able to acquire shares with no fees, but you can also pick up shares on sale with the dividend reinvestment plan (DRIP). For more stocks that offer a DRIP discount, see "4 No-Fee DRIP Investments for 2018" published here on Seeking Alpha.
DSPPs are a great way to scale into a position with smaller amounts of money. For some investors, whether it's for diversification reasons or account size, it can be tough to buy $5,000 of ConocoPhillips (NYSE:COP) in one trade. At the same time, if you want to DCA into the position with smaller amounts of $500 per trade, for example, commissions can be a gut punch. In this case, the investor could simply enroll in the ConocoPhillips direct plan and pay no fees to invest as little as $25/month after purchasing one share.
Below are a few diversified sample portfolios an investor could scale into with very little capital outlay:
Portfolio 1:
Portfolio 2:
Portfolio 3:
We all love dividend aristocrats. I've compiled a list of these gems that offer no-fee DSPPs/DRIPs:
In Conclusion, I'd like to provide some resources where you can find more information on DSPPs & DRIPS:
The most current and accurate information on whether or not a company has a DSPP/DRIP is to visit the "Investor Relations" tab on the official company page. Here's an example: Aqua America lists information on its Investor Relations page and directs you to the transfer agent here.
Another method of searching for these plans is to visit:
Computershare and hover over the "individual" to select "buy stock direct" which will bring you to this search page.
Visit AST Financial and hover over the "Issuer and Investor Services" tab to select "transfer agent services" and scroll down to the lower left to find "company search" which will bring you to this page.
Another great resource for these plans is a website called Directinvesting that has many lists and categorized DSPPs and DRIPs for you to review.
While still in my earning years actively contributing to my retirement accounts and other investments, I also participate in several DSPPs/DRIP. Most notably, the Realty Income (NYSE:O) plan, which allows me to invest $100 per month into the stock with no fees after paying a measly $5 one-time account set-up fee. I've also set the dividend to be reinvested. I like this because obviously I admire the stock as a long-term hold and believe it will do well over the long run, but also don't exactly have thousands of dollars to solely allocate to the stock all at once. So I've decided to take the emotion, timing and hassle out of it by initiating a monthly investment into it via DSPP to avoid paying any trading commissions. For more information on Realty Income, view my recently published article here exclusively on Seeking Alpha "Realty Income: The Monthly Dividend Company"
If you have feedback for me, please use the comment section below. And if you're already a DSPP/DRIP participant, please comment below to share any resources or tips that may have not been mentioned in the article above. Finally, if you enjoy information on long-term investment ideas, look into "YUM China Holdings: A License To Print Money".
Disclosure: I am/we are long MMM, ABT, UMH, JNJ, COP, O, F. I wrote this article myself, and it expresses my own opinions. I am not receiving compensation for it (other than from Seeking Alpha). I have no business relationship with any company whose stock is mentioned in this article.