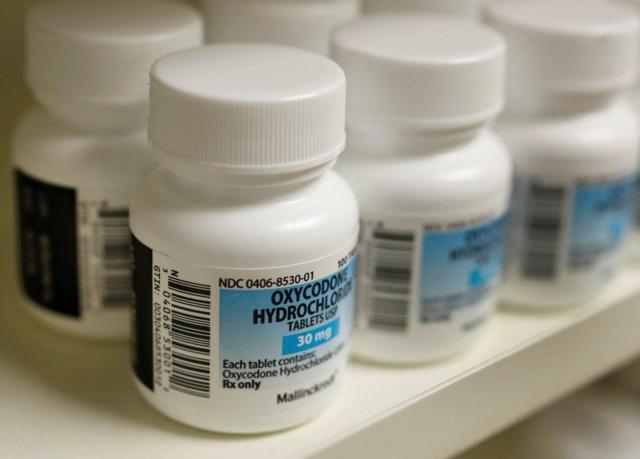 Source: Stock photo
In March 2017, Mallinckrodt (NYSE:MNK) announced it was exploring the sale of its generics business in a deal that could have fetched values as high as $2 billion:
Mallinckrodt Plc (MNK.N) is exploring a sale of its generic drug unit, in a deal that could fetch as much as $2 billion and help pivot the specialty pharmaceutical maker toward higher-margin branded drugs, according to people familiar with the matter.
In November 2017, market chatter suggested Intas Pharmaceuticals was closing in on a $1.5 billion acquisition of the generics unit. Current chatter suggests the deal could be trouble due to lower than expected bids. At the end of the day, the generics business still has not been sold despite having been on the market since Q1 2017. That could be a problem as Q4 earnings results roll around.
The Situation
Mallinckrodt's main drug Acthar showed cracks in Q3. Acthar represents about 39% of total revenue, so when its revenue declined 6% Y/Y investors soured on the stock.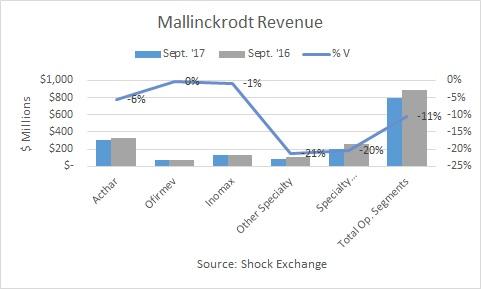 I expect Acthar sales to continue to decline as insurers could question its use beyond indications for infantile spasms and multiple sclerosis. The company's other major problem is its Specialty Generics segment; the segment is about 26% of total sales and fell off 20% Y/Y. Over 80% of the Specialty Generics segment is related to controlled substances and opioids like hydrochodone and oxycodone.
Last year, Mallinckrodt paid a $35 million settlement for failure to report suspicious orders of drugs such as oxycodone. Drug overdose has surpassed car accidents as the leading cause of accidental deaths. Some have linked the rise in drug overdoses to the proliferation of opioid prescriptions. President Trump has labeled the country's opioid addiction a "national crisis" and policymakers are looking to tamp down the rising number of opioid prescriptions. This partially explains the free fall in sales for Specialty Generics.
There could be more headwinds ahead as CVS (CVS) agreed to limit opioid prescriptions to seven days and limit the daily dose of pain pills based on their strength. Headwinds for opioid sales likely hurt the sales process for Specialty Generics. First of all, the decline in revenue and earnings sense Q1 2017 likely justifies a price cut. Secondly, determining when the free all will end is anybody's guess. Buyers may have to price in the worst-case scenario to justify acquiring a shrinking asset.
Why a Failed Sale Could Hurt Mallinckrodt
Specialty Generics is 11% of Mallinckrodt's Q3 2017 operating income (prior to corporate allocations). While its revenue fell 20% Y/Y, its operating income was off 37%. Mallinckrodt took a scalpel to SG&A and R&D costs in Q3; this allowed the company to maintain its EBITDA margins at 42% versus 44% in the year earlier period. Its Q3 EBITDA decline of 8% was less than its double-digit decline in revenue. Margins could get hurt if sales from both Acthar and Specialty Generics continue to fall.
This is important as Mallinckrodt's $5.8 billion debt load is around 4.3x run-rate EBITDA. The company recently acquired Sucampo Pharmaceuticals (SCMP), which treats chronic idiopathic constipation (CIC) in adults, irritable bowel syndrome with constipation (IBS-C) in adult women and opioid-induced constipation (OIC) in adults suffering from chronic non-cancer related pain. The $1.2 billion deal will help diversify Mallinckrodt's earnings stream but will likely increase debt by over $800M. The proforma debt/EBITDA could reach 4.8x-4.9x; Moody's just put Mallinckrodt's debt under review for a ratings downgrade.
If Q4 results show a double-digit decline in Mallinckrodt's EBITDA or causes its credit metrics to deteriorate materially, then it could force Moody's hand. A downgrade could increase Mallinckrodt's interest burden, while its EBITDA is in decline. This could cause more negative sentiment for MNK, which is off over 55% Y/Y.
Conclusion
Specialty Generics could cause a drag on Mallinckrodt's Q4 earnings and potentially cause its credit metrics to deteriorate. MNK remains a sell.