Introduction
With valuation multiples in the US continuing to expand, I've been spending more time lately looking for opportunities overseas. International stocks have always played a significant role in my portfolio - I've found that they tend to be less followed by institutional investors, thus creating more mispricings. However, the relative underperformance of foreign indices in recent years has made these international equities even more attractive in today's investment environment, as they tend to offer superior risk-reward proposition compared to their domestic counterparts.
I believe one particularly compelling opportunity available today is Mondo TV (BIT:MTV), an Italian company trading on the Milan Exchange that produces children's television content (primarily cartoons). I found Mondo while sifting through some long-term business plans put forward by Italian companies - management teams there often release five-year plans outlining the expected trajectory of their businesses. In the past, I've had success when I've been able to match a plan outlining an impressive growth runway with a supportive industry environment and a management team able to execute on it; indeed, my highly profitable investments in fellow Italian firms Be Think Solve Execute (BIT:BET), El.En (BIT:ELN), and Fiat Chrysler (FCAU) were all initiated in this manner. I believe Mondo fits those criteria today.
As a small-cap equity with high insider ownership (thus limiting liquidity, and in turn sell-side interest), Mondo is far off the radar of most investors. This is particularly true given its domicile in Italy, which has a fairly small institutional investment community relative to its size (less than 1x AUM/GDP; for comparison, the US and UK are closer to 3x). The company does not do itself any favors either - its website is inelegant, unwieldy, and contains several English mistakes, and management has not historically done much in the way of promotion via conferences or road shows.
Company Background
Mondo was founded in 1964 when Orlando Corradi (who is the current chairman and former CEO) saw that there was significant demand for the importation of Japanese cartoons to the European marketplace. The group then began producing its own cartoons, generally focusing on known entities and classic characters and storylines such as Robin Hood and The Jungle Book. Over the years, Mondo continued expanding its lineup, primarily with an eye toward the European market tastes, and eventually went public in the summer of 2000.
Since that listing over almost two decades ago, it's been a bumpy ride. The stock started falling almost immediately as the air came out of the tech bubble and valuation multiples contracted (MTV went public at about 90x LTM EBITDA and 50x LTM sales). The company then embarked on a business model shift that proved to be a misstep - deemphasizing its own content creation and focusing instead of the physical distribution of VHS tapes and DVDs. Not surprisingly, the secular decline and near extinction of these mediums of video transmission proved problematic to Mondo's business, and in the face of ever-increasing losses, the unit was eventually sold off in 2008.
For the next five years or so, Mondo returned to production and license sales, targeting local broadcasters as their customers (primarily in Italy and France). But by 2013, the business was struggling again, hampered by declining broadcaster budgets as recovery from the Great Recession proved stubbornly slow - recall that though the recession in the US ended in Q2 2009, a"double-dip" occurred in both France (Q4 2012 - Q1 2013) and Italy (Q3 2011 - Q3 2013). The company again decided to undertake a review of its strategy.
Following the evaluation, Mondo made three major changes. First, it increased its focus on international markets, primarily outside of Europe, in order to diversify its exposure among a greater number of nations and media companies. Second, it committed to significantly increasing its investment in original content, despite the short-term costs that such a step would entail. Finally, it prioritized the ability of its content to generate high-margin license and merchandise sales that would enhance overall profitability.
To date, the company has made excellent progress on each of these main initiatives - and, in my estimation, finally found the right strategy to generate significant value for shareholders. Let's look at its progress on each of the three goals:
Italy and the rest of Europe have gone from about 80% of revenues in 2014 to less than 20% last year: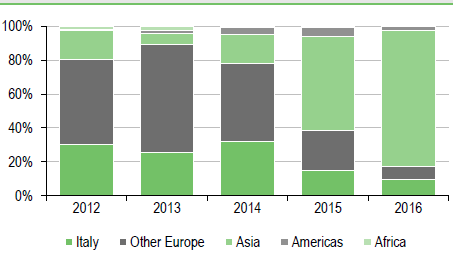 Meanwhile, the company has ramped up its investment in its own content, going from 5-6 M EUR in average annual spend to 4x that amount last year.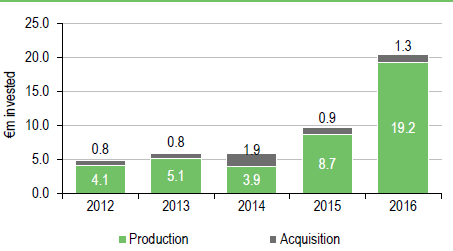 Lastly, licensing has gone from 4% of sales in 2015 to over 20% on an LTM basis. The increasing weight of this high-margin revenue has allowed EBITDA margins to expand from an average of 43% in the three years before the new strategy to 62% in the three years since.
To date, things are progressing exactly as hoped - from 2014 to an LTM run rate (based on Q3 2017 results), Mondo has grown sales at a 49% CAGR and EBITDA at 79%. This success has led to a stock price gain of over 1,100% since the beginning of 2014 (aka a 12-bagger), but, as I'll try to explain below, I believe there could be significantly more to come.
Key Investment Points
Long growth runway for direct-to-consumer television streaming - particularly for children's content. The success of the value proposition of companies like Netflix (NFLX) has led to explosive growth in the over-the-top (OTT) television industry. This is true on both the demand side (strong net subscriber growth) and the supply side (proliferation of new services). With ever-increasing competition for an ever-increasing reward, providers have been ramping up their spend on the differentiating factor between providers: content available for viewing. Unsurprisingly, much of this has been focused on original content, which can be marketed as a differentiating factor that separates a given service from the rest.
OTT services realize that more and better content increases subscriptions, which increases budgets to produce more content, which in turn further increases subscribers. The appeal of this virtuous cycle has created an arms race of sorts, with each provider (nearly all of which have deep pockets) working to initiate or strengthen their own lucrative flywheel by building out their libraries. As a result of this dynamic, aggregate content investment has grown significantly in recent years and is expected to continue doing so: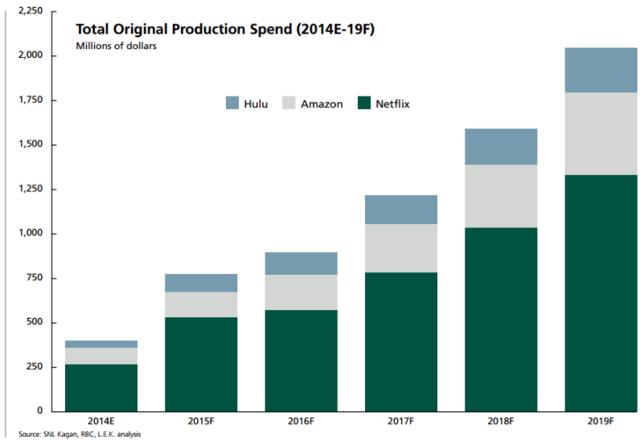 With the content spend race, children's content seems particularly well positioned. It tends to be less hit-driven (less network effects via social media, etc.), which means each viewing platform is able to offer a solid product if they're willing to make the investment, and it has the added appeal to platforms of indoctrinating potential future subscribers at an early age. As a result of all this, children's content is among the biggest priorities for streaming services, as Netflix's spend shows: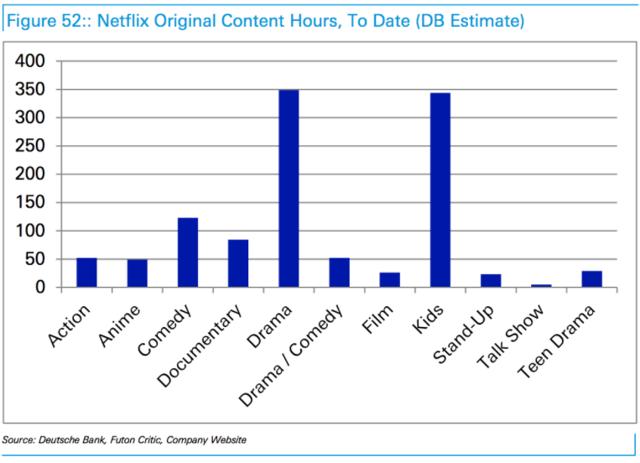 An economically-attractive niche within an economically-attractive industry. Content creation and ownership in general is a favorable area to be in as streaming services pour in resources to upgrade their libraries. But that said, I believe children's content (especially cartoons) is a particularly attractive niche thanks to several unique structural features. First, with no need for the special effects, props, or specific locational backdrops that are a key part of many live-action shows, the production progress is greatly streamlined. Mondo is thus able to focus its efforts on creating the storyboard for its shows (Author update, 2/7/18: link added), and then outsource all animation and editing to Asia-based studios, which significantly reduces the costs with no difference in quality. Furthermore, whereas extra costs often come with successful scripted shows (as the actors demand more compensation because of the success), cartoons obviously avoid this issue, allowing MTV to capture all the upside of its hits. Finally, because it's quite easy to find suitable voice-overs for cartoon characters, the company is able to seamlessly translate its shows into a wide range of languages, thus greatly increasing its TAM for a given production. As a result of this scalability, Mondo generates best-in-class 75% EBITDA margins and expects to be able to maintain them in the years ahead.
Excellent distribution partnerships that speak to the quality and desirability of the MTV offerings. In the past year alone, Mondo has signed deals to have its content available on Netflix, Amazon (NASDAQ:AMZN), Nickelodeon LatAm, and Discovery Channel Middle East, among quite a few others. The size, prominence, and geographical diversity of these partners is a strong sign of the global desirability of MTV content; the company will have opportunities both to expand its presence on these platforms as well as to use its current successes to help attract additional providers as well. Mondo is also moving into new forms of distribution - it recently signed a deal with Emirates, the world's top airline, to provide in-flight entertainment content on their planes as well.
Significant opportunity to increase monetization of owned content. While many content owners have reaped significant rewards from selling merchandise related to its shows, Mondo has done very little of this to date. However, the company has taken steps in the right direction by signing its first few small deals this year, and management estimates the total opportunity at over 20 M EUR a year by 2021 (at very high incremental margins). Given how well peers have managed to generate ancillary revenues from merchandise (for example, DHX Media earns over 40% of its sales this way, including over $1.3 B/year from Peanuts alone), I view this as relatively low-hanging fruit for MTV. (Author update, 2/7/18: link added)
Management
Current CEO Matteo Corradi is the son of founder Orlando Corradi, who used to be CEO himself and currently chairs the board of directors. Orlando remains the largest shareholder of the company at 38%. While this structure raises concerns about nepotism, I'm willing to evaluate someone on the basis of his performance rather than his family ties. To date, I believe Matteo has executed well and pulled all the right levers to drive value (most notably the business model change), and it's been reflected in the stock price - since taking over from his father in October 2012, MTV stock has been more than a 10-bagger. However, I do wish he would not mention a future market value target in the company's five-year plans, even if that could reasonably be extrapolated from its financial targets and current multiples.
Mondo's Five Year Plan
Upon its release of Q3 results last November, Mondo significantly increased its five-year targets out to 2022. The new targets are listed below: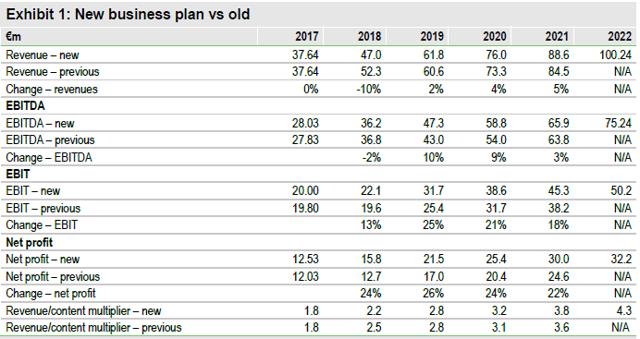 As one can see, net profit is expected to roughly triple from 2017 levels. If next year's targets are hit, this would imply that MTV is currently trading at less than 5x 2018 EBITDA. Of course, the "if" here needs to be strongly scrutinized for feasibility. Using industry data, typical content life cycles, and historical patterns, I've attempted to triangulate the likelihood of MTV reaching these ambitious aims.
The first angle to explore is whether MTV's planned investment in content is sufficient to drive the revenue growth contemplated in the plan, which can be examined using a revenue/content investment multiplier. This requires an understanding of the typical cash flow schedule of a given production. In the first year, there's a net outflow as all production costs are incurred. In year two, these are recouped as the series begins distribution (ideally in several different markets), with further inflows from licensing deals. It's not until year three that the overall project becomes solidly cash flow positive, as secondary market distribution deals, further licensing sales, and potential library inclusion payments roll in.
The implications of this life cycle structure are twofold. First, it explains why a one-year lag is usually included in the multiplier, as revenues usually take a year to show up after the investment is made. Second, it shows why the multiplier should increase over time - the value of a library accumulates as new shows and seasons are added, and the tail of licensing/merchandising revenue can persist many years after the completion of production. Accordingly, I believe Mondo's implied ramp from a 2.9x multiple in 2016 to a bit under 4.5x in 2020 is reasonable, particularly given the amount of low-hanging fruit they have in driving auxiliary revenues and in light of peer multiples - for example, an equivalent calculation for the children's division of Canadian peer Entertainment One has been between 11x and 17x in recent years.
Next, we can explore what MTV's growth implies relative to the expansion of the broader industry. According to Digital TV Research, global OTT revenues will nearly double over the next five years, from $46 B in 2017 to $83 B in 2022. Within that total, subscription video-on-demand (SVOD) will go from $17.2 B to $41.2 B. After backing out the portion of projected revenue growth from merchandise sales, this means management assumes market share expansion (relative to SVOD) of just two basis points - from 0.16% to 0.18%. Given the increasing importance of children's content, as well as the quality of MTV partnerships not yet reflected in its financials, I view this as certainly being within the realm of possibility.
Finally, it's worth examining how well Mondo has performed in the past against its plan targets. Content production can be tough to forecast with precision, as revenue recognition is tied to delivery dates, which are dependent on broadcaster schedules. Thus some deviation, both positive and negative, is to be expected in any given year, and it is not problematic so long as the long-term trends are directionally intact. As one can see, since embarking on its new strategy, the company has been fairly accurate in forecasting its performance, which deviations generally less than 5%. Just as importantly, the company has been conservative - nearly all revisions over the last few years have been to the upside.

Valuation
Although the above growth projections are great, they matter little without the context of valuation. Perhaps the main reason I like the opportunity with Mondo is that the stock can work well even if the company falls short of its projections. For example, let's assume the company fails to expand its market share and remains at 0.16%. This would equate to about an 8.3% haircut to its annual sales forecasts and about a 10% hit to EBITDA (i.e. larger than any previous forecasting variance) if EBITDA margins remain as expected. Even with these below-projection results, the valuation gap between MTV and peers is simply too large. This holds whether you compare the company to children's programming producers...

Source: author calculations based on company data
…or to Italian media companies (which are far less profitable and slower-growing).

Source: author calculations based on company data
Before diving into my model, I should mention that to fund its ramp in content investment, Mondo issued some convertible bonds and warrants in 2016. While the bond conversions are mostly complete, there remain a significant amount of warrants outstanding. While certainly not ideal, I believe the size and strike of the securities keeps them from being a deal-breaker. The lowest strike on the warrants is 6.50 EUR (6% above current share price), and the majority are struck at 8.00 EUR (over 30% above current price), with a few more at 10.00 EUR. In total, these could produce up to 10% dilution, albeit offset by a cash inflow from the purchases. I view this as acceptable, given the potential upside here, particularly since the company will have no need to return to the capital markets going forward. I assume all warrants are exercised as their strikes move into the money for my share count and net debt calculations.
That said, even at these discounted, fully-diluted totals, the upside is still significant. Applying multiples broadly in line with the company's historical average (and generally below peers) - which I view as conservative given the company's accelerating growth and expanding margins - would yield a price target of about 17.75 EUR in 2020, equal to a 38% IRR. Even higher IRRs are feasible in the intervening years, as the model shows.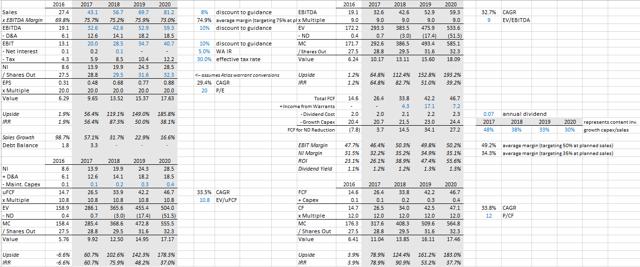 Should the company manage to hit its goals, and assuming the improved performance leads the market to award the company slightly higher (but in line with programming peer) multiples, the 2020 price target goes to 23.50 EUR for a 51% IRR.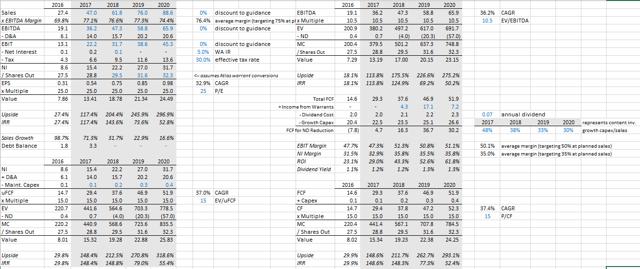 Play around with the growth and margin assumptions as you wish, but I think overall the range of potential outcomes is skewed in a decidedly positive fashion for investors today.
Why Does the Opportunity Exist?
I can think of several reasons why the opportunity in Mondo exists today:
Small market capitalization and limited free float. The company's market value is less than 200 M EUR. Of that, over a third is owned by insiders. As a result of this limited free float and the company's location (much institutional capital is concentrated on US and UK opportunities), Mondo is outside of the opportunity set for many investors.
Very small following from both sell-side and retail investors. Related to the above point, the relative lack of liquidity, and thus trading volumes, means that there's very little sell-side coverage - only two small firms, neither of which has much of a presence outside of Italy.
Suboptimal English-language filings and communications. As mentioned earlier, Mondo's website and press releases contain multiple minor English mistakes, and all releases are first given in Italian - the English version is relegated to latter pages of the document. This gives me the sense that the company is unconcerned about appealing to US-based investors, which may help explain why it's remained so under the radar.
Past strategic missteps. The company's disastrous foray into VHS/DVF and relatively poor results prior to the CEO change in 2012 may discourage long-time followers of the company from wanting to get involved again.
Areas of Concern and Their Mitigants
This investment is not without risks. Here are the main ones I've identified, as well as why I believe they're acceptable in the context of the potential reward.
Failure to reach ambitious goals could create investor disappointment and lead to selling pressure. The high bar the company has set for itself will require strong execution; if that doesn't occur, management credibility will be damaged. However, I believe the current price offers a strong margin of safety - even if MTV misses its goals by 20%, the stock would still be trading at 5x NTM EBITDA. Additionally, the company has a track record of meeting targets - since 2014, all deviations to plan have been less than 10%, and all revisions have been upward.
Relatively large insider sale last December. Chairman Orlando Corradi sold a chunk of his stake (about 6% of total MTV shares) last month. While the majority was placed to institutional funds under the auspices of expanding the float size, some may still be taken aback by the size of the deal. But with his remaining 38% stake, Corradi retains significant skin in the game, and as he approaches 80 years old, it seems reasonable that he may want to diversify his assets a bit. Additionally, he committed to not selling any additional shares for at least six months, which leads me to believe his sales are being done according to a prearranged plan and not with a view of expressing his opinion on the attractiveness of the stock near current levels.
Lack of value creation since IPO. Some may object to the lack of shareholder value created since the IPO in 2000. While a fair criticism, one must view companies in a prospective light; after all, the value of a firm is derived from its future cash flows, not past ones. After a few attempts, I believe that MTV is finally pursuing the correct strategy, and its shareholder returns since the start of Matteo's tenure have been impressive. However, those who are less bullish on the future of streaming media and the demand for quality original content offerings may want to pass on this one.
Conclusion
I believe Mondo TV offers a very attractive risk-reward and a strong margin of safety at current prices. Though the company has already demonstrated significant traction on its business model shift, I believe its investment case remains in the relatively early innings. Through a combination of industry tailwinds and self-help initiatives, Mondo is poised to grow at a rapid pace for the foreseeable future. Even with conservative multiple assumptions, I believe a price of around 18 EUR by 2020 is attainable, with further upside to 24 EUR possible if results come in as hoped. In either case, shareholders should manage to generate a highly compelling IRR as investors begin to catch wind of the story and opportunity here.
For exclusive ideas and access to more portfolio holdings, consider subscribing to my service, "Beating the Market with SoF".
Disclosure: I am/we are long MONDO TV.
I wrote this article myself, and it expresses my own opinions. I am not receiving compensation for it (other than from Seeking Alpha). I have no business relationship with any company whose stock is mentioned in this article.