It was a dark and stormy night ... Well, perhaps not, but that is, assuredly, the way it felt to holders of certain series of Royal Bank of Scotland (RBS) preference shares when they were notified that their share dividends would be suspended.
The list (at the time called "may pays") consisted of the following issues:
6.40% Non-cumulative preference shares Series M
6.35% Non-cumulative preference shares Series N
6.25% Non-cumulative preference shares Series P
6.75% Non-cumulative preference shares Series Q
6.125% Non-cumulative preference shares Series R
6.60% Non-cumulative preference shares Series S
7.25% Non-cumulative preference shares Series T
Recall that RBS was in dire straits and required a massive bailout by the government. The bailout came with strings attached, and one of them was that certain series of preferred (preference) stock would stop paying their dividend for a period of two years. Specifically (emphasis mine, document here):
On 26 November 2009, RBSG also entered into a State Aid Commitment Deed with HM Treasury containing commitments and undertakings given by RBSG to HM Treasury that are designed to ensure that HM Treasury is able to comply with the commitments to be given by it to the European Commission for the purposes of obtaining State aid approval.

As part of these commitments, RBSG has agreed (subject to approval by the EU College of Commissioners) that, unless otherwise agreed, neither RBSG nor any of its direct or indirect subsidiaries (excluding any companies in the future RBS Holdings N.V. group) will pay investors any dividends or coupons on existing hybrid capital instruments (including preference shares, B shares and upper and lower tier-2 instruments) from a date starting not later than 30 April 2010 and for a period of two years thereafter (the "Deferral Period") or exercise any call rights in relation to the same between 24 November 2009 and the end of the Deferral Period, unless there is a legal obligation to do so.
I wrote about the situation on SA some two years ago and here we are, two years later looking for the dividend to be restored.
The following is the current prices on the suspended shares: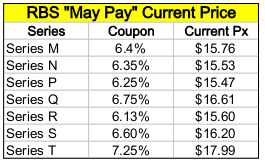 Using the series M as an example, the market price has increased over the last few months (Yahoo):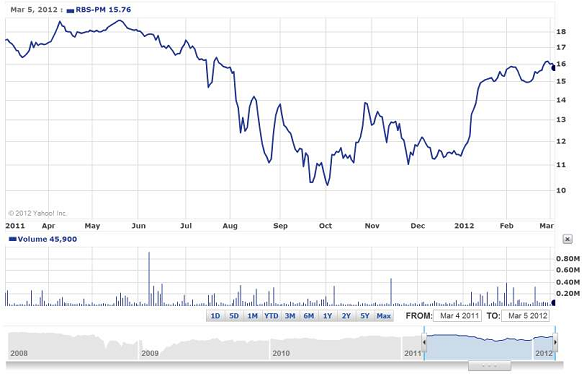 Is the market expecting the dividend to be "turned on?" Absolutely.
In support of this thesis, we saw another bank that had suspended the dividends due to FSA mandates - Lloyds Banking Group Plc (LYG) - pay their Tier 2 and make a payment on one of their previously suspended Tier 1s (the 7.834%s).
Lets look at where the currently paying shares trade:

With the exception of the RBS-L preferreds, the market yields on the RBS and NatWest preferreds are approximately 8.25%. The implied rate on the suspended shares is approximately 10%. If we assume that the suspended issues re-start their dividends, but sell at a discount to yield 9% we get the following:

What the above table shows is that the average gain to get to a 9% yield (higher than existing issues) is approximately 12%, and still well below par.
Payment dates for the securities are 3/31, 6/30, 9/30 and 12/31. If the company is able to begin paying in April, I would assume the next payment date would be the June 30th payment for the second quarter. Recall that these securities are not cumulative and will not, therefore, pay for the two years suspended.
Conclusion: The market is expecting RBS' currently suspended preferreds to begin paying the dividend again. As a result, it is possible to buy shares and end up owning high yield preferred shares with a built in gain.
I do have to stress that no announcement has been made at this time regarding the resumption of dividends on the suspended preference shares. The conclusion has been arrived at utilizing a "mosaic theory" approach looking at current pays, distributable profits, market pricing and peer actions.
Disclosure: I am long RBS.
Additional disclosure: Long RBS-L, RBS-H, NW-C. I also intend to initiate a position in one of the above mentioned "may-pays" in the next few days.