I continually find the investing world to be fascinating for a number of reasons. First off, you begin to see the world differently. You begin to notice trends and realize the underpinnings beneath them. Everything that happens in the world, affects business in some way. Secondly, I have gained an appetite for the nostalgia that comes from putting your money to work, and receiving something back in return (whether it be interest, dividends, or capital appreciation). Third, investing carries so much depth to it - that one could declare a goal, and devise an astounding number of ways to achieve it. Investors today have so many options that it is important now, arguably more than ever, to have a vision when building your portfolio.
As a "youngish" investor (in my late 20's), I have realized that having a "method to the madness" is ultra-important in order to give myself a strong chance to succeed. Therefore, I will walk through my own thought process, and illustrate how I have decided to construct my portfolio. While I don't doubt that I could argue for a hundred different configurations of stocks, my hope is that the process itself can help you do a similar exercise. By the time you work through this, you may have a better understanding of the relationship between your goals and means of achieving them.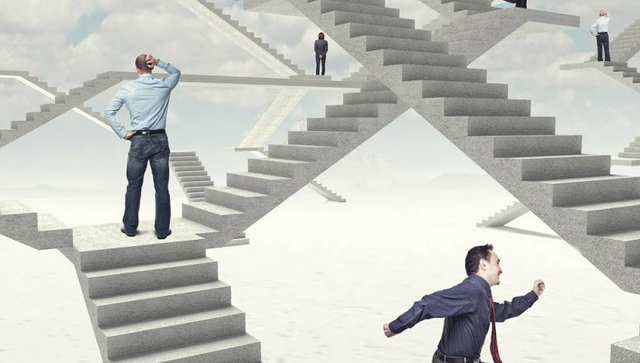 Source: Common Edge
The first step, is to know where you want to go....
Have a goal! There is no such thing as a wrong answer for this part of the exercise. Perhaps you are retired, and want to preserve your nest egg while earning some income. Maybe you are in your late 40's, and are trying to "catch up" on retirement. Your goal can have a number tied to it, but it doesn't need to. $1 million dollars? $10 million dollars? Again, there is no wrong figure as long as you can live the type of lifestyle that suits you in your golden years.
Personally, I fall into the crowd that does not have a specific number tied to my objectives. Being in my late 20s, I simply want to generate wealth that I can draw from later in life. I don't know what life expectancy will be like in 50-60 years, or what medical breakthroughs will happen between now and then. My goal is to build enough wealth that I can draw off of it in the form of dividends, and to have the freedom to live my life in a stress free, and enjoyable manner. When my golden years are set to expire, I would like to have the ability to pass my principle down to my children - effectively changing my "family tree."
Whatever you establish as your goal, use it as the ultimate "check" for the following steps in your process. How effectively does *insert action here* help me move closer to where my investment goals are?
Time to build your plan
OK, great. Justin wants to make as much money as he can between now and retirement. How does he do that? This question is a bit loaded. Depending on what you read in the news, or see on television, if I didn't know any better I would dump every penny I have into cryptocurrency and penny stocks because I want to build a lot of wealth quickly! The method you choose to work towards your goals requires a lot of thought and care. Just because some people got "lucky" off of a tremendous risk, doesn't mean it is a viable, long term strategy. I believe that to most effectively build wealth, you need to collect and hold assets that consistently increase in value over time. At the same time, you need to keep the amount of risk you take on to a moderate amount. That is why I have found an old diagram from my childhood useful when putting together my investment strategy.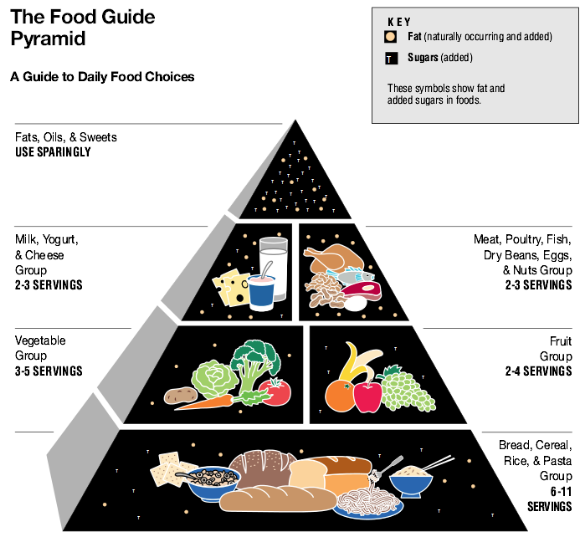 Source: USDA
The food pyramid is a bit of an antique these days, replaced with the "MyPlate" in 2011. However, I find this to be a useful comparison to investing. Essentially the way the food pyramid works, is you build the foundation of your diet with healthy carbohydrates because your body burns them for fuel. They make up the largest portion of your diet. Next tiers higher are fruits and vegetables, followed by proteins and dairy. The idea is that the higher up you go, the less vital to the body the tiers are - and therefore you should eat them less frequently. At the very top are fats, oils, and sweets. These represent your junk food, and should be eaten sparingly (this part of the pyramid is not to scale with the others). I find that this mindset translates nicely to investing. I will rebuild this pyramid with stocks instead of food to illustrate how I arrived at my investing strategy.
Bread, cereal, rice, and pasta (our core stocks)
As the base our our portfolio, these stocks will represent the largest share of dollars. Similar to carbohydrates to the body, these stocks will be the main "engine" of our portfolio. Because of this, we want to achieve a balance between performance and safety. To make sure I strike the right balance here, I have a few stipulations that each core stock must meet:
1. The company must have raised its dividend for at least 25 consecutive years.
Dividends are cash expenditures to shareholders, so when a company is able to consistently increase that figure every year, it really speaks volumes about the quality of the business model. It implies that earnings are consistently growing on an annual basis (so the share price is likely moving higher), and the dividend can be reinvested to better compound returns. It is also important to keep an eye on cash flows to make sure a company isn't borrowing money to fund the dividend. That is unsustainable over the long term.
2. The company must have a global presence.
To help diversify, I believe that it is important to have global economic exposure in your investments. That doesn't have to mean owning foreign stocks. A common trait of many of the largest, or most dominant US based companies is that they do business on a global scale. That might mean international sales, or simply operations that span the globe. This diversity is another way to help mitigate risk in your investments.
3. The company's business must revolve around serving a key societal need, and have the inside track to do so.
I find this as another expression for having a "moat." Foundation companies must be dominant players in an industry that isn't going anywhere. These businesses are usually not the flashiest, but will continually, and steadily grow over time. As the global population expands (about 1% per year), these companies will benefit simply from excelling at the same thing they have been doing for years. That is how you end up with stable earnings and dividend growth.
An example of a bread/grain stock would be Johnson & Johnson (NYSE: JNJ). Johnson & Johnson is intimately involved throughout the healthcare industry from consumer products, to medical devices, to pharmaceutical drugs. The industry is never going away, and will continually grow from numerous drivers including population growth, emerging market maturation, and advances in healthcare technology. We can see that Johnson & Johnson checks all of the boxes in what we look for in a core stock.
Johnson & Johnson has raised its dividend for 55 consecutive years, and averaged a CAGR of 7.4% over the past 10 years. This means that the dividend is outpacing inflation, truly increasing my buying power on an annual basis. Earnings have grown at a per annum rate of 4.75% over the past 10 years. Johnson & Johnson is also a global presence with 47% of sales coming from outside the United States, and operations throughout the world.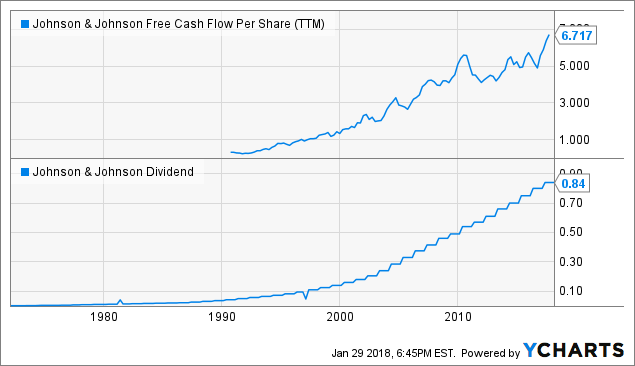 Johnson & Johnson will not be a gangbuster moving forward, it is too mature a company to do so. However, what Johnson & Johnson will do is provide growth at a rate higher than inflation that comes as almost clockwork. Over the past two decades, holding JNJ shares while DRIPing the dividends would have earned annual returns of more than 12%. In other words, a $10K investment then would be worth more than $135K today. Stocks like Johnson & Johnson are where any investor should start when formulating a portfolio strategy.
Fruits and vegetables (our blue-chip accessory stocks)
These stocks are also crucial to the portfolio, but are a notch below "buy and hold forever." These stocks are blue chip companies in their own right. Similar to the body, your portfolio doesn't need fruits and vegetable stocks to function, but they are crucial for your portfolio to run properly and grow.
I don't assign as strict a criteria for the rest of the pyramid levels, as I do for core stocks. I do prefer that a company has paid and increased its dividend for at least five years. I also like to see earnings growth of at least 7-8% over a five year period. I want these stocks to contain some upside. The bread and grain "core" stocks provide stable, slow moving momentum. I want my fruit and vegetable stocks to be a little more aggressive.
An example of a fruit and vegetable stock would be Nike Inc. (NYSE: NKE). Nike is the leading manufacturer of sports apparel in the world. Its brand, portfolio of endorsed athletes, and deep pockets for advertising create a moat that shield it from lesser competitors such as Under Armour Inc. (NYSE: UAA) posing a serious threat to its position in the market.
Nike operates in an industry that is more discretionary for consumers than a staple such as healthcare, but the company is still a cash cow.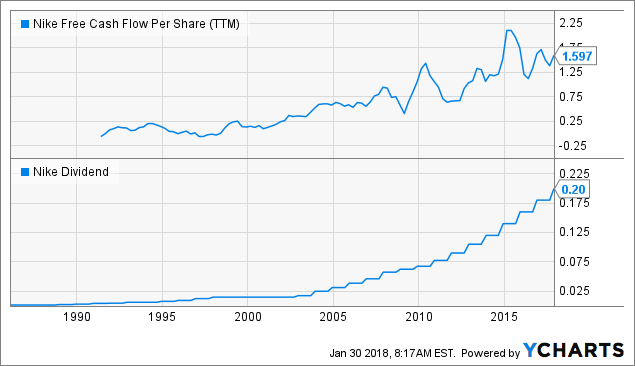 Not yet a dividend champion, Nike has raised its dividend for 16 consecutive years and counting. The company has displayed more growth than what was seen from our core stock in Johnson & Johnson. The dividend has grown at a CAGR of 13.9% over the past decade, while earnings have grown at a CAGR of 13.11% over that same period. The dividend has a lot of room to run, as its annual payout of $0.80 per share take up only 47% of free cash flows.
An important point here, is that after the "core stocks" layer of the pyramid, the choices open up for investors. I say that because regardless of your investing goals, I think one would benefit from building a portfolio with companies such as Johnson & Johnson, and Exxon Mobil Corporation (NYSE: XOM) as core building blocks.
As you begin to fill in your portfolio with what I call "blue chip accessory stocks," you can go for growth if that sings to your goals. If you are a retiree for example, maybe a yield play such as AT&T (NYSE: T) is your preferred choice. Still a fine choice. Again, different plans for different investors. This exercise is to illustrate my personal process.
Meat and dairy (our "wild card" stocks)
Notice how bread, grains, fruits, and vegetables being the lower two portions of the pyramid take up the most volume? This is because they are the most important. You could get by with very little of the rest, as long as you have adequate amounts of the first couple of groups. The same goes with investing. By fleshing out your core stocks, and filling in the gaps with blue chip grade accessory stocks, you will do quite well for yourself were you to simply stop there.
When looking at the next, and last notable layer of the pyramid, we arrive at what I call "wild card" stocks, or our meat and dairy stocks. These stocks carry a lot of flexibility, and are not long term holds. These holdings are more along the lines of "trades."
Perhaps you bought shares of Time Warner Inc. (NYSE: TWX) on speculation of the acquisition from AT&T. Maybe you bought shares of a company that had an off quarter, and got walloped on the earnings announcement and expect a rebound. It could be a stock that you have identified as a deep value and expect it to appreciate in the coming months.
All of these investments are different, but are similar to the point that they are more "trades" than investments. Some investors will avoid these types of deals altogether, some investors see themselves more as traders, than a buy and hold type of investor.
It doesn't matter which side of the fence you fall on, but the point is that before you go out and look for this type of activity - you should have your foundation in place. That means core positions, and accessory blue chips. Running out and trying to trade the market from "day one" is how investors get into trouble.
Fats and added sugars (speculative action)
The very top of the pyramid contains your fats, oils, and added sugars. This stuff is typically bad for you and should be eaten sparingly. In your portfolio, this is represented by the purely speculative plays. Perhaps it is a penny stock, maybe you are interested in the latest cryptocurrency. Perhaps you think marijuana is the next big thing, and you want to grab up stocks to take advantage of that.
While people occasionally "hit" on these types of investments, the risk is so high that it is impossible for these types of investments to be a legitimate long term investment strategy. Yet, people will always have interest in the "quick payoff" type of trades, so they will always be around.
Before pulling the trigger on something like this, you should give yourself a simple litmus test. Ask yourself: "Am I OK with this investment going to $0, and losing this money?" In other words, I wouldn't touch this type of stuff until I was literally looking to burn some money. In my case, I am a long ways away from that point, so I won't be touching these types of trades anytime soon.
Recap
So to recap and summarize my vision of a portfolio that will excel in building large amounts of wealth over the long term:
First, build your portfolio foundation with a blend of the best companies on earth. Those that have raised dividends for 25 consecutive years or more, and continue to show consistent growth. These are your core stocks, or "legacy" holdings. You will add to these with the intention to never sell them, barring an unforeseen reason for doing so.
Second, flesh out your portfolio with various blue chip stocks. There is room for flexibility here (yield vs growth) depending on your goals, but you want to make sure that you continue to buy quality.
Third, after you have a solid foundation and some investing momentum, you may look at doing some shorter term type investments/trades. Always make sure you do your research, and don't let a trade become an investment - stay disciplined!
Fourth, after you have reached a point of satisfaction with what you have accumulated thus far, you can look at some speculative type investments. It is important to emphasize that this should be money you have already "assumed lost," and that it does not amount to a meaningful portion of your investments.
Some additional tips
When buying your breads, grains, fruits, and vegetable stocks, don't get "too cute" with valuations. The growth of these companies is so consistent, that time in these stocks is ultimately what matters most. That isn't to say that valuation doesn't matter! In a bull market like today, a lot of quality companies are drastically over valued. My point is that you should be satisfied with buying these stocks at fair value. You don't need a bargain in order to come out ahead over the long term.
Because of the quality of these two tiers, those I buy, I intend to hold for extremely long periods of time. I basically buy with the intention not to sell unless the dynamics of the company itself change in a way that alters my outlook for that company.
I currently DRIP my holdings. That means I automatically reinvest my dividends back into the paying company, and acquire fractional shares. This is a debated topic, as many like to pool dividends together, and reinvest manually. Just my preference.
You don't need to get too involved with the last two tiers of the pyramid. You will do great over the long term simply by stocking up your core and accessory blue chip stocks. The thing is, people like to "do things" and have a hard time sitting on their hands. By working on the bottom two pyramid tiers first, you are setting yourself up for success before you give yourself a chance to "get in your own way," or do too much.
Conclusion
The "food pyramid" portfolio build is a viable way to build wealth over the long term. The specifics may vary, but building wealth is a common denominator for most investors.
My hope is that this exercise will help you to gauge how aligned your portfolio is with your actual investment goals. By defining your goal, and following through with an appropriate plan - you will maximize your success as an investor.
I am still a work in progress, as I continue to build my bottom two tiers out. I hope that you will leave feedback and opinions in the comments section. Different investors have different goals, and utilize different strategies to achieve them. Exchanging of ideas is one of the most effective learning tools.
Disclosure: I am/we are long JNJ, XOM, NKE.
I wrote this article myself, and it expresses my own opinions. I am not receiving compensation for it (other than from Seeking Alpha). I have no business relationship with any company whose stock is mentioned in this article.