It may seem odd that I'm talking about this issue after a benign 1.76% decline in the S&P 500 over the last two days. Over the past year we have become accustomed to small declines followed by higher highs, as the dip buyers continue to dominate trading.
So it stands to reason that even a small decline would get the attention of investors, especially those who are nervous bulls. The last time the market experienced a decline of this magnitude was on August 21, 2017, when it was down 2.12%.
In the grand scheme, this is a nothing burger. But based on the traffic in my inbox, and text messages from clients, I thought it might be helpful to weigh in.
According to the financial media, this two-day slide is the result of the uptick in Treasury bond yields. Well, that may or may not be accurate, but it will do until the real story gets here.
I have been telling clients and subscribers to chill. But I also have an obligation to listen to their concerns and offer alternatives for them to consider. A client who is worried is never wrong, because worry is an emotion and who am I to say their emotions are wrong?
Instead, I lay out options for how they could deal with their anxiety. I try to keep it rational and objective. In 90% of cases, reason prevails and mistakes are avoided.
If a client insists that it's time to take action, I have a duty to accommodate them. Accordingly, I put together two lists of stocks. One is for dip buyers, and the other is for rally sellers. The former comprises stocks that have been stellar performers over the last year, and the latter comprises stocks that have been struggling.
The Dip Buyer's List
Performance over various time frames
Fundamental data and technical rating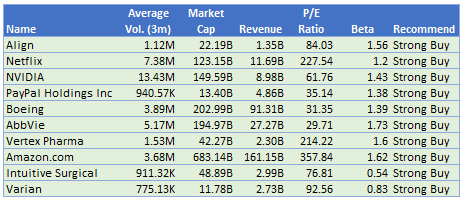 The Rally Seller's List
Performance over various time frames

Fundamental data and technical rating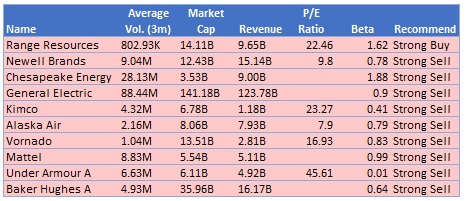 (Note that Range Resources is an outlier. It has the worst average performance, but is rated a Strong Buy on a technical basis.)
This is a skirmish between dip buyers and rally sellers. Nobody knows which camp will prevail. There are certainly more of the former than the latter, but that could change on a dime if conditions were to change dramatically.
How you choose to play this (or not play this) is up to you. I personally choose to do nothing, until and unless the decline gets to 5%. In all likelihood, we will probably make another new high before we get to minus 5%. But that's not a certainty.
Consider any moves you make in the next few days carefully. Try to keep a close watch on your emotions, because they often give poor investment advice.
Disclosure: I am/we are long AMZN NFLX UA GE NVDA. I wrote this article myself, and it expresses my own opinions. I am not receiving compensation for it (other than from Seeking Alpha). I have no business relationship with any company whose stock is mentioned in this article.