Background
This portfolio is a variation of a dividend growth portfolio that I managed for 3 years while working for an RIA and represents growth holdings in my personal portfolio. The DGTR portfolio is designed for investors who seek total return and are comfortable with a lower yield than an income investor may require. Dividend growth stocks are used based on the research showing this class of equities outperforms the S&P 500 over the long term. Information on the portfolio's rationale and screening process can be found in the original article. This model portfolio started on January 1, 2017 with $200,000 as its initial principal and was worth $270,767 as of December 31. Returns, trades and dividends are tracked using CNBC.com's portfolio tool.
The Year in Review
The DGTR portfolio had a strong first year as earnings growth and expectations for (and eventual passage of) tax reform propelled the market higher. With the exception of Disney (DIS), all of the DGTR positions had 20%+ total returns in 2017, contributing to its 13.6 percentage point excess return over the S&P 500 TR index. Top contributors included: Boeing (BA), Visa (V), Texas Instruments (TXN), UnitedHealth (UNH), Home Depot (HD)and Flir Systems (FLIR). All had strong earnings and the first four averaged ~20% dividend growth in 2017. HD and FLIR should announce dividend increases in Q1; they grew their dividends by 30% and 25% respectively last year.
Thesis Review
In addition to owning high quality, dividend-growth companies, the DGTR portfolio focuses on some key trends that I expect to support future growth. Here's a quick recap and review of these themes.
Dividend Growth is less expensive than Dividend Yield
Since the 2009 financial crisis and the low interest rate environment that followed, investors (particularly income investors) have been turning to dividend stocks as bond alternatives, driving up the valuations of traditional slower-growth dividend stocks. As seen in the graph below, this has shifted valuation in favor of lower-yield, higher-growth "dividend growers". Despite the market run-up in 2017, dividend growers still trade at a discount to higher-yield stocks and are well below their 22% historic premium. With tailwinds from tax reform and global economic growth, growth stocks should have support in 2018 assuming the expected earnings boost appears.

Source: Santa Barbara Asset Management, 2018.
Rising Interest Rate Environment
Going into 2017, the Fed was expected to hike interest rates and it did with the FOMC raising its benchmark rate by 75 basis points. Shorter-term Treasury yield increased accordingly with the 1-yr yield rising from 0.85% to 1.76%, but longer-term yields declined slightly in part due to global rates being lower than US rates. The portfolio is positioned for rising rates and therefore minimizes exposure to bond-like sectors including utilities, staples and telecoms, while emphasizing companies that benefit from economic growth and rising rates, like consumer discretionary and financial companies. DGTR holds Allstate (ALL), UNH, JPMorgan Chase (JPM), Principal Financial Group (PFG)and V in the financial sector. The two REIT holdings, American Tower (AMT) and CoreSite (COR), have above-average growth given their Internet technology focus.
Technology
The portfolio is positioned for growth in cloud and automation services and applications. There has been increased demand for data centers, wireless infrastructure, self-driving-car-related technologies, integrated chips, sensors and consulting services. The portfolio's positions in AMT, COR, TXN, FLIR and Accenture (ACN) all performed very well in 2017. Though their valuations are higher now, the trend appears intact. Many DGTR companies, such as FedEx (FDX) and UNH's Optum unit, also make effective use of analytics to drive their business strategy and performance.
Population Trends
Aging Population: In the US, the senior population is expected to grow by around 18% over the next 5 years (Esri). This population requires more medical services than younger adults, creating opportunities in industries such as pharmaceuticals, insurance and medical devices. The portfolio includes Amgen (AMGN), AbbVie (ABBV), Stryker (SYK)

and UNH.

Millennials at home: Numerous reports state that about one-third of Millennials are living with their parents. At some point, I expect they will start to move out into their own homes. Rising home prices may slow them down, but this has led to an increase in housing starts. The portfolio holds HD for exposure to increased homebuilding and remodeling.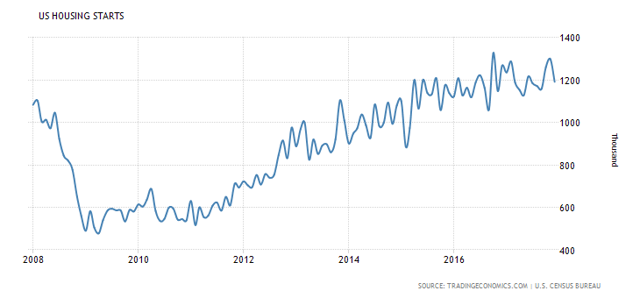 Rising Middle Class: Globally the middle class is growing rapidly, particularly in Asia, at a rate of 5 new members per second. While the portfolio focuses on mostly US companies, many have global exposure and benefit from the increased consumer demand and spending. Consumer discretionary picks include: DIS, Hasbro (HAS)and Nike (NKE)

and BA should benefit from increased air travel demand.
Portfolio
The DGTR portfolio returned 35.4% in 2017 compared to 21.8% for the S&P Total Return Index. Not a bad start for the portfolio! It added $1,300 in dividends paid in Q4, which was a little lower than expected due to the timing of a couple stock sales. The year-end yield was 2.0%.
Compared to Q4 2016, year-over-year dividend growth based on dividends received was 11.7%. Dividends were not collected from Walgreens (WBA) or Extra Space Storage (EXR) because they were sold before their quarterly ex-dividend dates. This was partially offset by dividends from a new position in ABBV. On a full-year basis compared to dividends that would have been paid to the original portfolio purchases in 2016, the DGTR portfolio had dividend growth of 18.1%, in-line with its earnings growth. The portfolio composition as of year-end is below.
Ticker

Company

Yield (%)

Shares

Price

Current Value

BA

Boeing Co

2.32%

64

$294.91

$18,874.24

COR

CoreSite Realty Corp

3.44%

126

$113.90

$14,351.40

ABBV

AbbVie

2.94%

118

$96.71

$11,411.78

V

Visa Inc

0.68%

128

$114.02

$14,594.56

AMT

American Tower Corp

1.96%

95

$142.67

$13,553.65

AMGN

Amgen Inc

3.04%

68

$173.90

$11,825.20

HAS

Hasbro Inc

2.51%

129

$90.89

$11,724.81

TXN

Texas Instruments Inc

2.37%

137

$104.44

$14,308.28

FLIR

FLIR Systems Inc

1.29%

315

$46.62

$14,685.30

UNH

UnitedHealth Group Inc

1.36%

62

$220.46

$13,668.52

DWDP

DowDuPont Inc

2.13%

175

$71.22

$12,463.50

HD

Home Depot Inc

1.88%

74

$189.53

$14,025.22

SYK

Stryker Corp

1.21%

83

$154.84

$12,851.72

ACN

Accenture PLC

1.74%

85

$153.09

$13,012.65

Marathon Petroleum Corp

2.42%

199

$65.98

$13,130.02

PFG

Principal Financial Group Inc

2.78%

173

$70.56

$12,206.88

JPM

JPMorgan Chase

2.09%

168

$106.94

$17,965.92

FDX

FedEx

0.80%

51

$249.54

$12,726.54

NKE

Nike Inc

1.28%

197

$62.55

$12,322.35

DIS

Walt Disney Co

1.56%

96

$107.51

$10,320.96

Cash

0.00%

743.04

$1.00

$743.04

Total Portfolio

1.98%

$270,767

Source: CNBC.com portfolio tracker, as of 12/31/17
Portfolio Changes
There were a couple changes to the portfolio in Q4 2017, which I documented in my blog. Here is a quick summary:
On 10/10/17, I sold shares of WBA and purchased shares of ABBV. This trade was documented in my Q3 review. Through 12/31/17, both stocks were up about 7%. Through 1/26/18, ABBV was up 30%

vs. 22.4% for WBA. I continue to favor ABBV's growth profile based on the population demographic trends and the margins in the pharmaceutical industry.

On 11/15/17, I sold shares of Fidelity National Financial (FNF) and its Black Knight (BKI)

split-off and used the proceeds to acquire JPM. I had purchased FNF (title insurer) in part because it owned BKI (financial tech services). I expected to make a change after the split-off. BKI didn't pay a dividend and FNF standalone had a low projected growth rate. This was a good time to switch to JPM and the trade has been net positive. Through 12/31/17, the portfolio's JPM shares were up 10.1% while the FNF/BKI combination was down 7.3%.

On 11/15/17, I swapped shares of Extra Space Storage (EXR) for FDX. EXR remains overdue for a dividend increase and its growth rate was relatively low compared to other portfolio holdings. FDX benefits from growth in Internet retail, which aligns with the DGTR macro

themes and has a low PEG ratio and high DGR. Through 12/31/17, FDX's value increased 15.1% compared to 0.9% for EXR, another positive trade.
On 1/5/18, I sold the portfolio's shares of DWDP and used the proceeds to purchase Allstate (ALL). I may be early on this swap, but time will tell. So far, DWDP is up 2.1% vs. 0.1% for ALL. With the pending split of DWDP into multiple companies, I didn't want to deal with the accounting of it in the model and I had no intention of keeping all the pieces, so a change was inevitable. There may have been more value to extract from the split, but I'm content with DWDP's contributions to the portfolio (about 26%). Also, the current forward dividend is lower than what I earned from my pre-merger Dow Chemical (NYSE:DOW) shares. I know the dividend policy may change post-split and that I technically received an extra dividend in 2017, but it still seemed like a cut.
I've been interested in adding another financial for a while and insurers should benefit from the rise in interest rates. ALL trades at a PE of 14, below the market multiple and has projected earnings growth of 20%. Dividend growth has trailed earnings growth at around 10%, but there is room for increases given ALL's low 20% payout ratio. The company also continues to buy back shares. In addition to auto and home insurance, ALL acquired SquareTrade in late 2016, providing diversification into other areas of insurance and creating more opportunity for cross-selling products.
Portfolio Statistics
On an equally-weighted basis, the average increase in DGTR's non-GAAP EPS excluding two outliers was 12.7%, well above the 10.9% average earnings growth for the S&P 500 as reported by FactSet. I excluded MPC because its 205% increase skewed the calculation and BA had an adjustment last year that negatively impacted its percentage. FFO growth was substituted for EPS growth for the REIT positions. 87% of the DGTR portfolio's companies beat analyst Q3 EPS expectations. This compares to 74% for S&P 500 companies based on FactSet's tracker.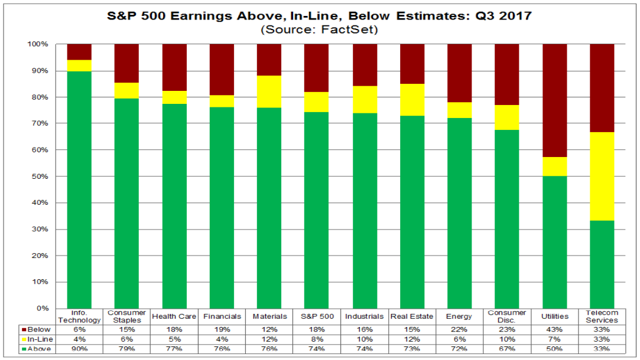 The current portfolio, including the ALL trade and excluding REITs for earnings-based statistics, has a favorable profile. The payout ratio is relatively low and the PEG ratio is near 2. This is on the higher end of what I prefer for valuation, but lower than utilities, staples, etc. Earnings forecasts are in the double digits and historical DGRs are near or above 20%. While the valuation is on the high side, strong earnings growth supports it and the positive impacts of tax reform haven't made their way into all of the corporate earnings estimates yet. However, the January market run-up may be a bit ahead of itself.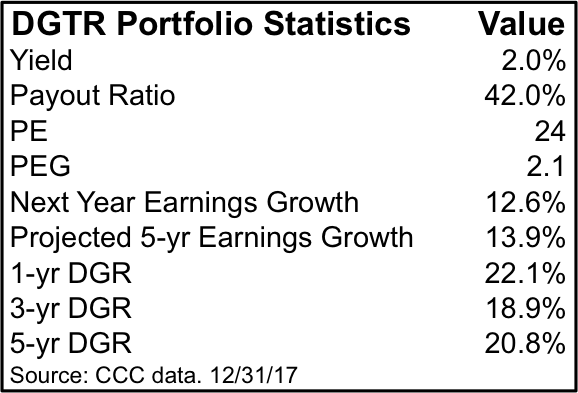 Closing Thoughts
2017 was a banner inaugural year for the DGTR portfolio and 2018 has also started off well with the portfolio up 9.1% vs. 7.6% for the SP500 TR through 1/26/18. Four companies have reported earnings so far with average year-over-year growth of 21%. Several have raised 2018 full-year earnings estimates in large part to the reduced corporate tax rate. As mentioned previously, the macro trends appear to be holding, so I believe the DGTR portfolio is well positioned for 2018 compared to the S&P 500.
Global economic growth forecasts continue to increase, which should support higher market prices. The US tax cuts should "boost investment in the world's largest economy and help its main trading partners" according to the IMF. The IMF forecasts global growth of 3.9% for 2018 and 2019, a 0.2 percentage point increase from its October 2017 figures. However, the IMF noted that US growth could weaken after 2022 when temporary spending measures expire. In the short-term though, the tax cuts are a positive.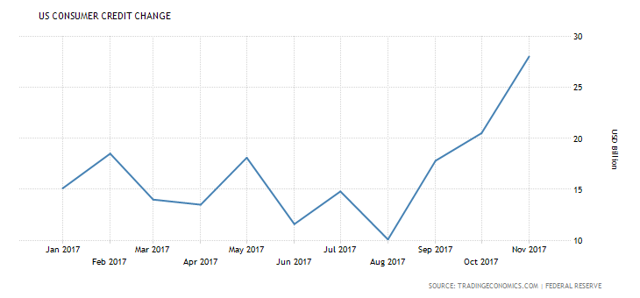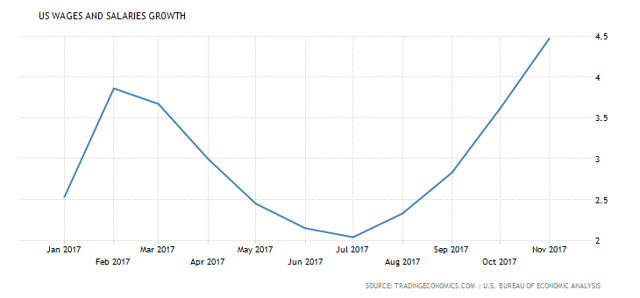 Initial Q4 earnings reports show a solid rise in revenue growth with 81% beating their revenue estimates according to FactSet. With corporations expected to invest some of their repatriated earnings and consumer spending and credit on the rise, as well as wage growth, 2018 may see increasing revenue growth.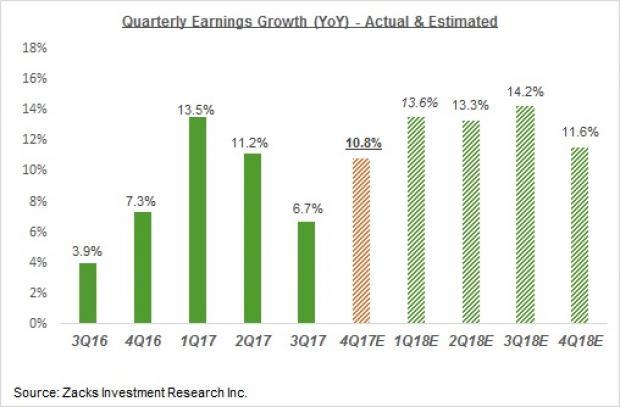 Analysts estimate Q4 earnings growth at 10.8% for the S&P 500. Contrary to the "normal trend", estimates for Q4 have actually been revised upward over the course of the last several months. Passage of the tax reform law certainly had much to do with this. It is a refreshing change from the normal downward revision pattern. Hopefully it persists, though recent history suggests it will decline. SA contributor The Heisenberg posted a reality-check valuation article that includes a graph showing the pattern of reduced S&P consensus EPS estimates in each of the last 7 years. Forward earnings growth estimates are around 13% for the next 3 quarters, inline with the 1-year estimate for the DGTR portfolio, though not all DGTR companies have announced 2018 revisions yet. ABBV increased its 2018 EPS estimate by about $1 (14%) last week for an annual growth estimate of 32%. I expect to see more of these announcements from the portfolio's other holdings.
The Fed signaled that it intends to raise interest rates three times in 2018, though there is some difference of opinion among the FOMC members and with new leadership, we will need to keep an eye on future meeting commentary. Some members forecast four rate hikes and others just two, so three is the median. As rates approach 3%, I expect to see more contraction in PE multiples for slower-growth bond-like stocks, such as staples and utilities. This is why the DGTR portfolio has no positions in these sectors. While income investors may not care about the price change, it will likely cause drag for total return investors.
No additional changes to the portfolio are planned at this time. Two stocks of interest are Celanese (CE) and Air Lease (AL). They are in the on-deck circle should an opportunity arise. Best wishes to all for a successful year with your investments!
Disclosure: I am/we are long NKE, DIS, HD, HAS, MPC, PFG, SYK, UNH, FLIR, BA, V, ACN, TXN, AMT, COR, JPM, ABBV, AMGN, FDX, ALL, DWDP, CE AND AL. I wrote this article myself, and it expresses my own opinions. I am not receiving compensation for it (other than from Seeking Alpha). I have no business relationship with any company whose stock is mentioned in this article.