For some, preferreds have been a portfolio staple. Others have minimal or zero exposure. For this second group, the time has come to take a closer look at the asset class.
With the S&P 500 off to a roaring 2018 start in the midst of a long bull run, many investors are likely left with an overweight position in equities or are hesitant to commit new funds. Bonds, the other classic portfolio building block, offer low yields barely compensating for expected inflation if at all. Not only that, the Federal Reserve is conducting ongoing monetary tightening and can be expected to further hike interest rates. This leaves preferred shares as a potential new portfolio piece.
Brief Introduction to Preferred Shares
In a corporation's capital structure, preferred shares sit above common shares but below debt in seniority. They are more sensitive to the company's prospects than bonds (more equity-like than bonds, although bond spreads will also react) and more sensitive to interest rates than equities (more bond-like than stocks). They don't get a vote like common shares, but preferred dividends have priority over common dividends. What draws investors to preferreds is typically higher dividend yields and less risk than common shares. The trade-off is that common shares have unlimited return potential because they represent the residual "equity" above and beyond payments to the rest of the capital structure. PiperJaffray has a more detailed overview for those interested.
Why Now?
Preferreds should have some appeal if you agree:
1. Equity valuations are extended and the potential for multiple contraction is greater than the potential for expansion
and
2. Bond yields are low and do not fairly compensate investors for reasonable expected future interest rate increases and inflation
Some respected asset allocators predict meagre or negative future equity returns, and below starting yield fixed income returns.
Research Affiliates in their Asset Allocation Interactive forecast 0.2% real returns per year for the next 10 years for U.S. large caps and 0.5% real for U.S. aggregate bonds for the same period.
GMO sees an even more dismal outcome, with negative real returns for both U.S. stocks and bonds over the next 7 years.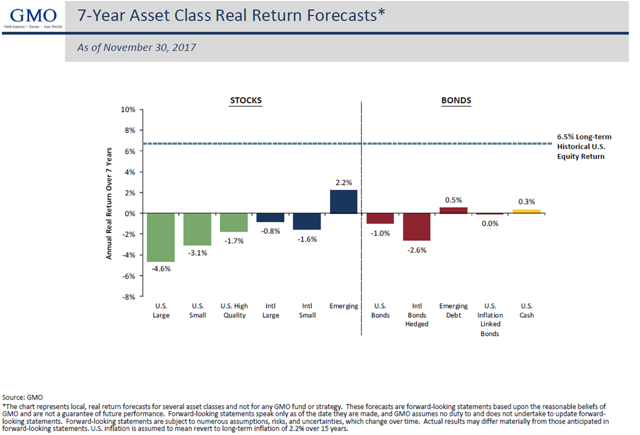 Meanwhile, preferred shares offer an attractive current yield of ~5.7%.
To be clear, this asset class has its limitations too. Preferred shares do not get to enjoy the priority of bonds, nor the return potential of common stock. It would be difficult to envision an environment where the capital gains on preferreds are significant, and much easier to image one with capital losses. This is especially so if interest rates and/or inflation are meaningfully higher in the future. So while the current yield of 5.7% is a decent starting point as an estimate of forward looking returns, they are more likely to be lower than higher.
Still, the preferred share starting nominal yield leaves lots of room for positive real returns, so the real worry is loss of capital due to rising interest rates filtering their way to the preferred market. If the overnight rate is heading towards 2.5%-3.0% by the end of next year like the most recent Fed dot plot suggests, maybe the market will decide 5.7% is not enough for the added risk of preferred shares.
We can compare preferreds to other asset classes to look for insights on how they may perform.
The following ETFs will be used as asset class proxies:
| | | |
| --- | --- | --- |
| Asset | ETF Proxy | ETF Ticker |
| U.S. Preferred Stock | iShares U.S. Preferred Stock ETF | |
| U.S. Aggregate Bond | iShares Core U.S. Aggregate Bond ETF | |
| U.S. Long Term Bond | iShares 20+ Year Treasury Bond ETF | |
| High Yield Bonds | iShares iBoxx $ High Yield Corporate Bond ETF | |
| U.S. Large Cap Stocks | SPDR S&P 500 ETF | |
Correlation is appealing over the past 5 and 10 years:
| | | | | | |
| --- | --- | --- | --- | --- | --- |
| 5 Year Correlation | PFF | AGG | TLT | HYG | SPY |
| PFF | | 0.61 | 0.50 | 0.50 | 0.40 |
| AGG | 0.61 | | 0.91 | 0.38 | -0.04 |
| TLT | 0.50 | 0.91 | | 0.15 | -0.23 |
| HYG | 0.50 | 0.38 | 0.15 | | 0.64 |
| SPY | 0.40 | -0.04 | -0.23 | 0.64 | |
Source: PortfolioVisualizer.com, monthly returns 1/1/2013-12/31/2017
| | | | | | |
| --- | --- | --- | --- | --- | --- |
| 10 Year Correlation | PFF | AGG | TLT | HYG | SPY |
| PFF | | 0.34 | -0.01 | 0.65 | 0.56 |
| AGG | 0.34 | | 0.77 | 0.40 | 0.06 |
| TLT | -0.01 | 0.77 | | -0.09 | -0.31 |
| HYG | 0.65 | 0.40 | -0.09 | | 0.73 |
| SPY | 0.56 | 0.06 | -0.31 | 0.73 | |
Source: PortfolioVisualizer.com, monthly returns 1/1/2008-12/31/2017
High yield bonds warrant further investigation for two reasons. First, someone looking for an asset outside of core stocks and bonds may consider both high yield bonds and preferred shares as alternatives. Second, the pair has one of the higher correlations. Intuitively, they are similar in that they are sensitive to both credit/equity risk and interest rates.
However, high yield bond spreads are historically low: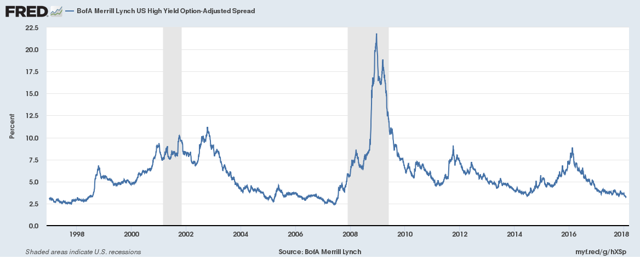 They also offer a lower yield than preferred shares. (Note that the 5.7% yield mentioned earlier is based on the last 12 months payouts divided by the price, whereas the following figure is divided by the NAV. Since PFF is trading at a bit of a discount, this measure is slightly lower.)
| | | |
| --- | --- | --- |
| ETF Name | ETF Ticker | 12-Month Yield |
| iShares U.S. Preferred Stock ETF | PFF | 5.58% |
| iShares iBoxx $ High Yield Corporate Bond ETF | HYG | 5.14% |
Source: Morningstar.com
Just like risk-free bonds are offering little compensation for locking in low interest rates, high yield bonds are offering relatively little spread for taking on below investment grade risk.
Lessons from the past
To see the attractive yield on preferreds and naively assume forward looking returns will hover around this figure is to ignore the past. The preferred stock market is heavily concentrated in financials, where they play a bigger role in the capital structure than other sectors. In 2008, PFF returned roughly -24%. The pain wasn't over yet, and PFF continued to decline in 2009 before hitting a drawdown of over 54% (monthly returns), even more than the S&P 500! If you believe financials will lead the next market correction or are otherwise overweight the sector, you may not want to touch these things. If you believe efforts made since that period have strengthened financial companies and the experience is unlikely to repeat, it may be fair to assign a strong likelihood to preferreds delivering a forward return similar to the current yield.
One final concern is the performance of preferreds in a rising rate period. They can be expected to react adversely to some degree. Comparing the performance of PFF and TLT will give a sense of how preferreds fare when long bonds are selling off. Focusing again on drawdowns, we can see that PFF (Portfolio 1) has tended to react in the same direction as TLT (Portfolio 2), but with lower magnitude. The following chart also illustrates the previous point about the selloff during the Great Financial Crisis.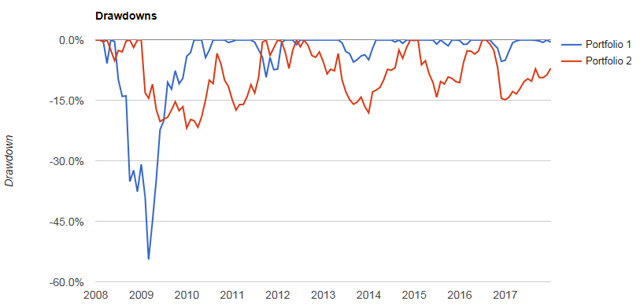 Source: PortfolioVisualizer.com, monthly returns 1/1/2008-12/31/2017 (Portfolio 1: PFF, Portfolio 2: TLT)
Portfolio Implementation
Based on the current market environment, preferreds may very well offer a strong risk-reward profile going forward. A measured way to add them to a portfolio would be to scale in with new funds or to direct incoming dividend and interest payments to the new allocation. If a portfolio's equity allocation has run up well above target, funding the preferred share position from some of this excess equity weight makes sense.
Which Preferred Stock ETF is best?
Out of all preferred stock ETFs on the market, narrowing the field to broad based U.S. preferred stock funds yields a handful. Several are likely to do the trick, but the iShares U.S. Preferred Stock ETF (PFF) stands out. Not only is it the largest at over $17 billion (and should be most liquid to trade), but it also has the broadest coverage, with around 300 holdings.
The underlying S&P U.S. Preferred Stock Index invests in "floating, variable, and fixed-rate preferreds, cumulative and non-cumulative preferreds, preferred stocks with a callable or conversion feature, and trust preferreds" (S&P Dow Jones Indices fact sheet retrieved from spindices.com). The ETF is heavily concentrated in financials at nearly three quarters of the portfolio, and banks over a third, par for the course for a broad market preferred stock fund.
According to the 2017 Prospectus (dated August 1, 2017 and retrieved from iShares.com, the fund "uses a representative sampling indexing strategy to manage the Fund." and that it "may or may not hold all of the securities in an applicable underlying index". This may be why the ETF has upwards of 300 securities while the index lists 280 constituents, although it would seem more likely that it would be the other way around.
It would be nice if the management fee of 0.46% (as of December 31, 2017 according to iShares.com) were lower, but it is in line with most other ETFs that invest in the asset class.
Special mention is warranted for one other ETF, a newer entrant less than 5 months removed from inception. This is the Global X U.S. Preferred ETF (PFFD). The fund charges only 0.23% for a management fee but with assets just over $30 million and only 220 holdings, it lacks the liquidity and broader scope of PFF.
Conclusion
As these thoughts were coming together PFF made a new 52 week low, enticing me to initiate a small position at $37.64. The price has fallen further since, and this will likely be a destination for new funds as I reassess this thesis over the next weeks and months.
Disclaimer: This article is not meant to be taken as investment advice. Please conduct due diligence on any ETF investment you are considering, including but not limited to a review of the prospectus, underlying benchmark methodology (if applicable), portfolio characteristics, holdings, performance since inception, role in your existing portfolio, and outlook for future performance.
Disclosure: I am/we are long PFF. I wrote this article myself, and it expresses my own opinions. I am not receiving compensation for it (other than from Seeking Alpha). I have no business relationship with any company whose stock is mentioned in this article.