Welcome to the 10 million edition of Oil Markets Daily!
EIA 914 is out today with US oil production up 384k b/d month-over-month to 10.038 million b/d!
Last month when the October EIA 914 report came out, we said that:
What does that mean for US oil production in November and December?

In our weekly oil storage reports, we blamed the adjustment on other factors, like the EIA overstating refinery throughput. But with this EIA 914 report, the adjustment is predominantly centered on US oil production being understated in the EIA weekly storage reports.

Taking the weekly U.S. oil production average and adding on the average adjustment, this is what we get:

Source: EIA

For November, US oil production is potentially on pace to reach 10.134 million b/d if one were to take the weekly and add the adjustment. In December, we will be at 10.055 million b/d with data up until last week.
Adjusting the weekly oil production for adjustments, the 10.134 million b/d was just ~100k b/d higher than the EIA 914 of 10.038 million b/d.
This is now how the weekly US oil production tracks the monthly: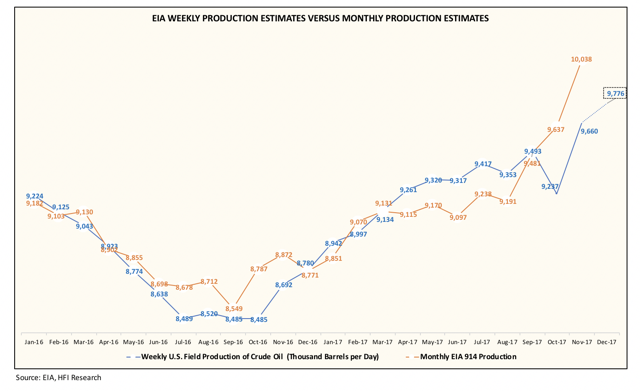 For those of you now wondering what December US oil production looks like, we are showing US oil production to be ~10.055 million b/d.
Where did the growth come from?
Gulf of Mexico - +209k b/d, this growth mostly came from the post-hurricane recovery in October.
Texas - +114k b/d.
Colorado - +13k b/d.
North Dakota - +14k b/d.
Texas + New Mexico (Permian + Eagle Ford)
In this EIA 914 report, we saw Texas report +114k b/d m-o-m, while New Mexico reported flat m-o-m production. As you can see in the chart below, the Texas + New Mexico production corresponding with the well completions have shown a remarkable rise from July to November 2017. This has also corresponded with very strong oil production growth in Texas + New Mexico.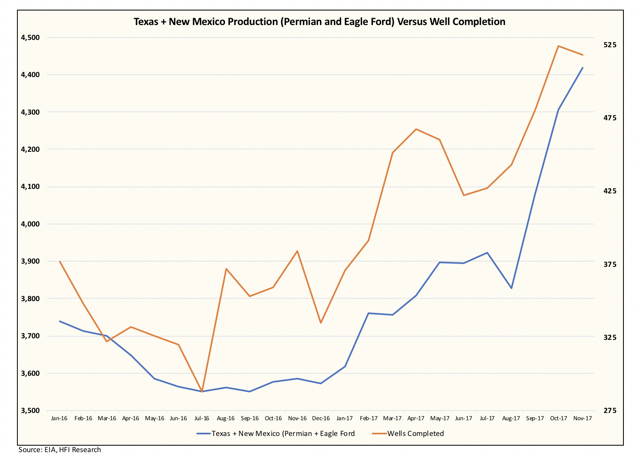 But if we broke down the basins, we are only seeing well completions rise in Permian vs. Eagle Ford: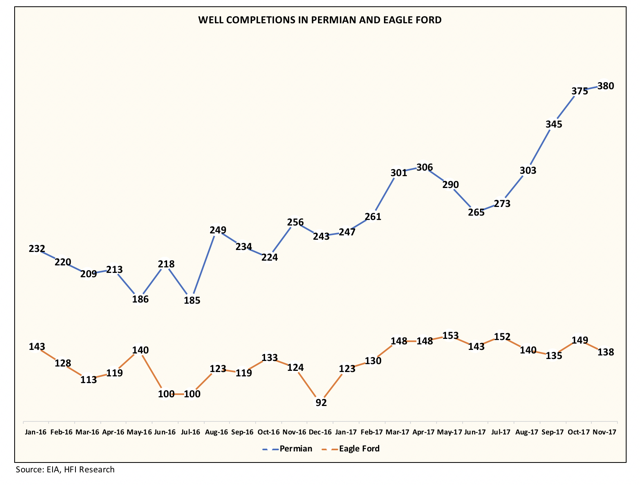 In our view, Eagle Ford will continue to struggle and excess well completion capacity will keep flowing into the Permian at the expense of Eagle Ford.
What does this data mean for January US Oil Production?
After this EIA 914 report, it confirms our suspicion that the monthly US oil production follows closely to the weekly US oil production + adjustment.
For December, we calculate 10.055 million b/d.
For January, we calculate 10.071 million b/d.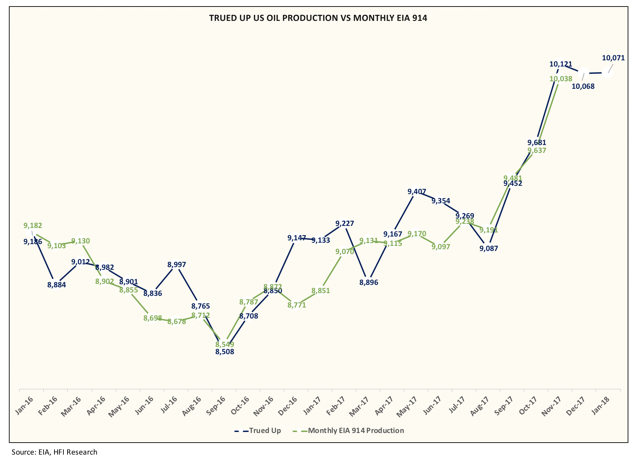 If you look at the chart above, we calculated the average weekly US oil production dating back to Jan. 2016 and added the average adjustment for that month and overlapped it with EIA 914 results.
The numbers can fluctuate quite a bit, but the recent results show that the adjustment in the weekly EIA oil storage reports is stemming from an underestimation of US oil production.
Implications for energy investors
What does a 10 million b/d US oil production have to do with investors?
First, if US oil production continues its strong growth, which is our base case right now (exiting 2018 at 11.25 million b/d), then servicing names will continue to benefit.
One of the biggest reasons why this will be the case is that US shale production parabolically declines. In order to grow production meaningfully each year, US shale producers need to replace an ever larger existing base decline. The implications of this for oilfield service companies are that as activity level rise, the cost associated with higher drilling activity will also rise. We continue to see oilfield service companies benefit from higher US oil production.
Second, MLPs (AMZA, AMLP) in the US will show stronger fundamentals, higher earnings, and translate into higher dividend payouts as US oil production grows.
Lastly, even as US shale production grows strongly in 2018, the global oil markets will remain at a deficit as we currently have total liquids growth out of the US at ~1.4 million b/d y-o-y, and even in this scenario, global oil markets are expected to remain in deficit all the way to 2020. (See table of global oil market balance here.)
Based on this analysis, we continue to believe that oil prices will keep trending higher throughout 2018. We are forecasting $70/bbl WTI average and see no reason why this will change in light of the recently reported US oil production figures. Remember again that we are forecasting US oil production to exit 2018 at 11.25 million b/d.
Conclusion
Using the weekly US oil production figure and adding the average adjustment, we noted last month that November US oil production figure was going to be above 10 million b/d. With this EIA 914 report, we are showing US oil production to come in at 10.055 million b/d for December and 10.071 million b/d for January.
Implications for energy investors are that oilfield servicing names and MLPs will be the direct beneficiaries of higher US oil production. In addition, even as US shale oil production grows strongly, our supply/demand forecast shows global oil storage to remain in deficit to 2020, and as a result, the world will need the strong growth in US shale to continue. We do not see strong US shale growth as a bear factor and believe that oil prices will continue to trend higher throughout 2018 with our forecast for $70/bbl WTI average.
HFI Research Premium
For those of you who have found our articles insightful, interesting and different, we think you should sign up for HFI Research. Our incentive is aligned with our readers as we put our money where our mouth is, and our contrarian analytical framework was what set us apart when we made the $65/bbl Brent call in June 2017 and $60/bbl WTI call for the end of 2017. For more information about our service, please click here. We look forward to seeing you join the HFI Research community.
Disclosure: I am/we are long OIH, XES. I wrote this article myself, and it expresses my own opinions. I am not receiving compensation for it (other than from Seeking Alpha). I have no business relationship with any company whose stock is mentioned in this article.