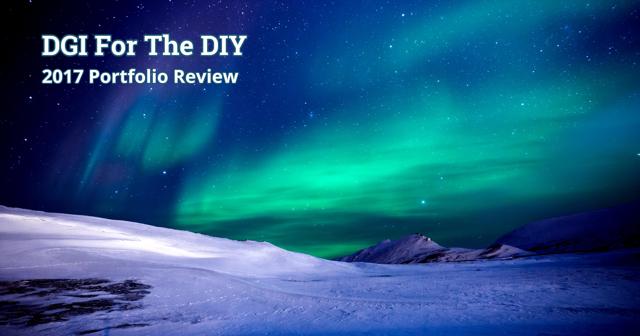 Happy (belated) New Year!
I didn't think it would be possible for time to go any faster than it did in 2017, but January is quickly proving me wrong. My apologies for the delayed update on the portfolio.
For those who may be new readers of this project, my name is Eric Landis, and I am a 39-year old engineer, married, with three young kids.
This DGI For The DIY portfolio is a real-life IRA that constitutes a significant portion of my retirement savings. I began writing about the portfolio and my journey into dividend growth investing in early 2013, and have been providing quarterly updates here on Seeking Alpha ever since.
My hope is that by sharing my story and lessons learned, I can encourage others to take their retirement futures into their own hands, and show that it's possible to build a portfolio with just a few hundred dollars a month in contributions.
Portfolio Guidelines
The purpose of this portfolio is to fund a portion of my future retirement. Being 39 years old, I have another 25+ years to go until I reach that milestone.
As my approach has evolved, I've established guidelines that help meet my goal of building a portfolio that produces a consistent and reliably increasing stream of dividend income.
Buy companies that consistently show positive growth in earnings and translate those earnings into increasing dividend payouts to shareholders.
Focus on companies that are investment grade, with S&P credit ratings of BBB or higher.
Maintain a diversified portfolio spread across multiple industries.
Reinvest all dividends back into the companies that pay them.
Consider for sale any company that cuts or freezes its dividend.
I've also established a goal of 10% annual income growth for the portfolio. This income growth will come from organic dividend growth and reinvestment of dividends, as there are no longer any cash contributions being made into this account.
As the table below shows, if I can maintain 10% annual income growth with the portfolio, it will produce over $26,000 in dividend income when I am 66 years old.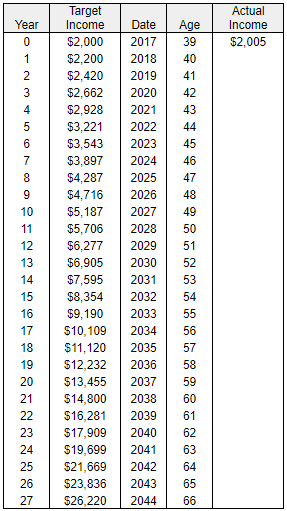 This future income will be one piece of my retirement puzzle to go along with a ROTH IRA, my new 401k plan at work, social security, and my wife's pension.
This table will be included in future updates, and will be used as a scorecard to see if I am keeping up with the goals of the portfolio.
Market Overview
Before we get to the portfolio, let's take a look at how the markets performed over the last twelve months. 2017 was a tremendous year for the stock market, as all major indices showed strong gains.
NASDAQ led the way with a 28% gain, while the Dow Jones increased by 25% and the S&P by 19%.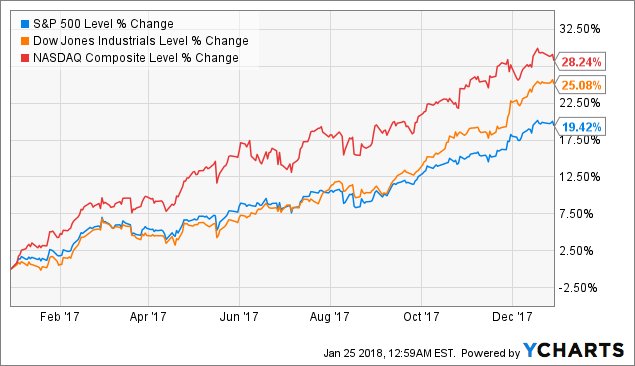 My portfolio also did well, increasing in overall value by 21.5%. However, this was aided by cash contributions made into the portfolio. Backing those out leaves a gain of 15.7%.
I did lag the markets a bit on a return basis during the year, but am still happy with how the portfolio performed, as it more than doubled my target of 10% income growth, as I will get into a bit later.
Here is a chart showing the progress of the portfolio since its inception in 2013: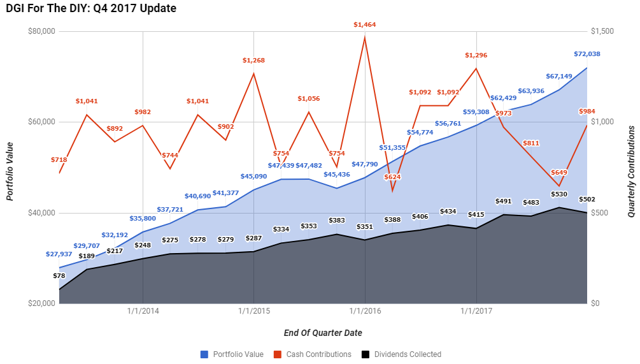 As I've mentioned in the past, the small engineering company I've worked at the last 15 years was recently acquired by a larger firm. As a result, cash contributions into this Simple IRA have ended, and payroll deductions will now be directed into a new 401k account.
So going forward, the red "Cash Contributions" line will zero out, and the only new funds coming into the account will be from the dividends paid by the stocks held.
The "Dividends Collected" line is a bit bumpy due to variances in payments form quarter to quarter, but the trend of steadily rising income is clearly there.
Here are the monthly numbers going back to the 2013, along with the annual percentage change in income.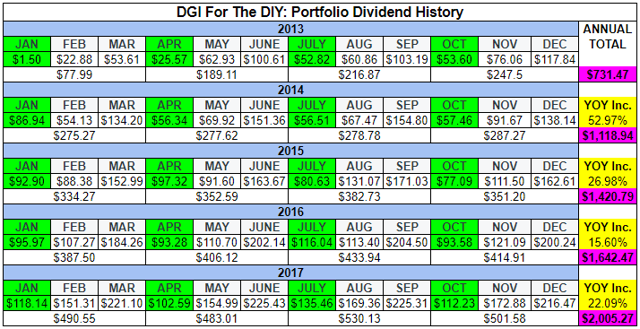 Dividend income increased by 22.09% in 2017, which was even better than the 15.60% growth seen in 2016. I also reached a new milestone, with over $2,000 collected for the year.
I expect this growth rate to slow down going forward, as there will no longer be cash contributions available to add shares to the portfolio.
However, I am off to a great start in 2018, as dividend reinvestment and announced dividend increases are already projecting over $2,100 in dividends for the year.
Here are the dividend increase announcements that were made during Q4 of 2017:
| | | | | | | | | | |
| --- | --- | --- | --- | --- | --- | --- | --- | --- | --- |
| Announce Date | Company | Ticker | Previous Payout Rate | New Payout Rate | Sequential Increase | Year Ago Payout Rate | YoY Increase | Dividend Yield | |
| 10/11/2017 | Thor Industries, Inc. | (THO) | $0.3300 | $0.3700 | 12.12% | $0.3300 | 12.12% | 1.06% | LINK |
| 10/12/2017 | Omega Healthcare Investors Inc | (OHI) | $0.6400 | $0.6500 | 1.56% | $0.610 | 6.56% | 9.49% | LINK |
| 10/13/2017 | Dominion Energy Inc | (D) | $0.7550 | $0.7700 | 1.99% | $0.700 | 10.00% | 4.08% | LINK |
| 10/18/2017 | Visa Inc | (V) | $0.1650 | $0.1950 | 18.18% | $0.165 | 18.18% | 0.62% | LINK |
| 10/27/2017 | AbbVie Inc | (ABBV) | $0.6400 | $0.7100 | 10.94% | $0.640 | 10.94% | 2.31% | LINK |
| 11/2/2017 | Starbucks Corporation | (SBUX) | $0.2500 | $0.3000 | 20.00% | $0.250 | 20.00% | 2.07% | LINK |
| 11/2/2017 | Stag Industrial Inc | (STAG) | $0.1175 | $0.1183 | 0.71% | $0.117 | 1.43% | 5.53% | LINK |
| 11/9/2017 | AmerisourceBergen Corp. | (ABC) | $0.3650 | $0.3800 | 4.11% | $0.365 | 4.11% | 1.44% | LINK |
| 11/16/2017 | MDU Resources Group Inc | (MDU) | $0.1925 | $0.1975 | 2.60% | $0.193 | 2.60% | 2.99% | LINK |
| 11/16/2017 | Union Pacific Corporation | (UNP) | $0.6050 | $0.6650 | 9.92% | $0.605 | 9.92% | 1.98% | LINK |
| 11/16/2017 | Nike Inc | (NKE) | $0.1800 | $0.2000 | 11.11% | $0.180 | 11.11% | 1.18% | LINK |
| 11/20/2017 | Becton Dickinson and Co | (BDX) | $0.7300 | $0.7500 | 2.74% | $0.730 | 2.74% | 1.22% | LINK |
| 12/7/2017 | WEC Energy Group Inc | (WEC) | $0.5200 | $0.5525 | 6.25% | $0.520 | 6.25% | 3.45% | LINK |
| 12/12/2017 | Amgen, Inc. | (AMGN) | $1.1500 | $1.3200 | 14.78% | $1.150 | 14.78% | 2.69% | LINK |
| 12/12/2017 | Realty Income Corp | (O) | $0.212000 | $0.2125 | 0.24% | $0.2025 | 4.94% | 4.70% | LINK |
| 12/15/2017 | Abbott Laboratories | (ABT) | $0.2650 | $0.2800 | 5.66% | $0.265 | 5.66% | 1.77% | LINK |
| 12/15/2017 | Dominion Energy Inc | (D) | $0.7700 | $0.8350 | 8.44% | $0.755 | 10.60% | 4.42% | LINK |
| 12/15/2017 | AT&T Inc. | (T) | $0.4900 | $0.5000 | 2.04% | $0.490 | 2.04% | 5.29% | LINK |
| | | | | Averages: | 7.41% | | 8.55% | 3.13% | |
It was a good quarter, with an average increase of 7.41% sequentially and 8.55% year over year. With an average yield of 3.13% being reinvested, the combined income growth will pass my 10% target.
The average was brought down by a handful of companies, specifically STAG Industrial with a 1.43% increase, AmerisourceBergen at 4.11%, MDU Resources at 2.60%, Becton Dickinson at 2.74%, and AT&T at 2.04%.
STAG's lower increase was due to management's goal of bringing the payout ratio down towards an 80% target, while Becton Dickinson is keeping dividend growth low to divert more cash flows to paying off debt following the acquisition of C.R. Bard (BCR). I see both of these as temporary in nature, and expect dividend growth to pick up again next year.
AmerisourceBergen has seen earnings growth slow, so dividend growth has slowed as well. This too is likely a temporary situation, as analysts are expecting high single-digit growth going forward.
The increases for MDU and AT&T are in line with what they've had in recent years, and I'm not expecting much change in their growth rates. I'm okay with 2% growth from AT&T since it is also offering a 5.3% yield. However, with MDU the yield is under 3%, making it less attractive to hold with low single-digit growth.
Portfolio Transactions
As 2017 came to a close, I made some trades that involved two of those lesser performers, MDU and AmerisourceBergen, as well as another in General Electric (GE), which slashed its dividend by 50%.
Those three stocks were sold and supplemented with cash on hand to purchase five new companies for the portfolio. These were stocks that I've had on my watch list for years: American Water Works Company (AWK), Johnson & Johnson (JNJ), 3M Company (MMM), Mastercard Inc. (MA), and NextEra Energy (NEE).
Here is the information on the three sales:

AmerisourceBergen and MDU were both sold for considerable gains, while General Electric was sold at a loss. The "current price" was the price at the close of January 26th. So after a month, GE and MDU are both a bit lower, while AmerisourceBergen is 15% higher.
Here are the five replacement companies:

With the exception of American Water Works, the five purchases have all seen positive gains to date. Mastercard has been the best performer, with gains of over 11%.
3M has also done well following a beat and raise with earnings along with a 16% dividend boost. Considering this was my replacement for GE, I was quite happy with the immediate positive results.
NextEra Energy also raised forward guidance with earnings, and will be announcing a new dividend rate soon. I'm hopeful that the higher base earnings will lead to an ever bigger increase than the 12% guidance that was given by management.
If you are interested in reading further about the trades and my thinking behind them, I wrote an article "Shuffling My Dividend Growth Deck" with more information.
Current Portfolio
With those trades now complete, and the spreadsheet updated, here is how the portfolio stood as of the end of 2017.
The portfolio is performing well, bolstered by some big gains in 2017 from Thor Industries (THO) and AbbVie. A recovery in oil and gas stocks benefited Chevron, Exxon Mobil, and EOG Resources, which also helped fuel a rebound in the industrial stocks like Norfolk Southern, Union Pacific, and Cummins.
However, rising interest rates have caused weakness in REITs, utilities, and consumer staple stocks. With these three sectors representing ~35% of the portfolio, it had an impact on my returns for the year.
Here is the complete portfolio breakdown by sector:

I'm happy with the portfolio at this point, as it is fairly evenly spread across the major sectors. Being underweight financials and heavier on REITs and utilities hurt my capital gains a bit last year, but I have no intention of making changes at this time, as they are the heavy hitters for income in the portfolio.
With crude prices now solidly above $60, I'm optimistic about the energy sector announcing some meaningful dividend increases in 2018.
Kinder Morgan (KMI) has already announced its intention to raise the dividend by 60% next quarter, which would boost the forward yield to 4.4%. If Chevron, Occidental, and Exxon Mobil can return to high single-digit raises again, it would be a nice push in dividend income for the portfolio.
Conclusion
There will no longer be cash contributions to this portfolio, but I'm optimistic that the goals set for it can still be met. With January yet to close, projections show that the portfolio is already halfway to its goal of 10% income growth for the year.
Recently announced double-digit increases from Norfolk Southern and 3M, along with the impending increase from Kinder Morgan will also be a nice push towards hitting that target.
I hope this update finds you well, and I wish you all happy investing in 2018!
If you enjoyed this article and would like to read more of my future work, I kindly ask you to click the "follow" button next to my name at the top of the page to receive updates when new articles are published.
Disclosure: I am/we are long aapl, abbv, abt, amgn, amp, awk, bdx, cbrl, chd, cldt, cmi, cvs, cvx, d, dlr, eog, flo, gild, gis, ibm, jnj, kmi, ko, lmt, low, ma, mcd, mmm, mo, msft, nee, nke, nsc, o, ohi, oxy, pii, pm, qcom, rost, sbux, skt, stag, t, tgt, tho, unp, v, wba, wec, wfc, wso, xel, xom. I wrote this article myself, and it expresses my own opinions. I am not receiving compensation for it (other than from Seeking Alpha). I have no business relationship with any company whose stock is mentioned in this article.
Additional disclosure: I am an engineer by trade and am not a professional investment adviser or financial analyst. This article is not an endorsement for the stocks mentioned. Please perform your own due diligence before you decide to trade any securities or other products.