For 95% of the time, the bond market can't seem to get any attention from traders. But during that remaining 5%, everyone is concerned with movements in the fixed-income world. That's been the situation over the past 6 months as the number of articles and blog posts discussing the contracting yield spread has increased, almost exponentially. But while I expect the bond market to sell off, the upper bounds of their decline are already baked into the economic cake for three reasons.
First, the natural rate of interest is very low. Yes, there is a "natural rate of interest," which is the rate that neither encourages excessive risk-taking nor discourages lending. Basically, it's the "just right" level of rates. According to research conducted by the San Francisco Federal Reserve, the current level of r* is very low: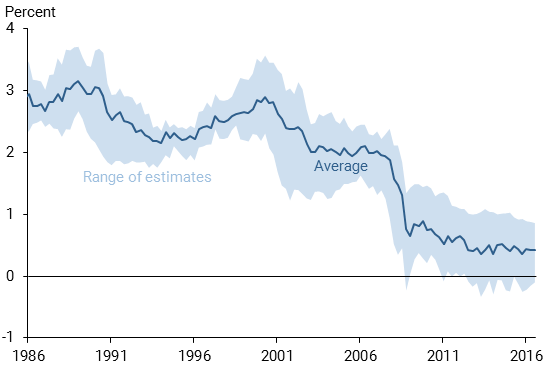 Unfortunately, r* is not observable; it's a theoretical construct (San Fransisco Fed President Williams was a leading researcher on this issue). But there are several pieces of economic data that confirm the low level of rates, starting with inflation Here is a graph that shows the core PCE price index, core CPI, and the Dallas Fed's trimmed mean CPI: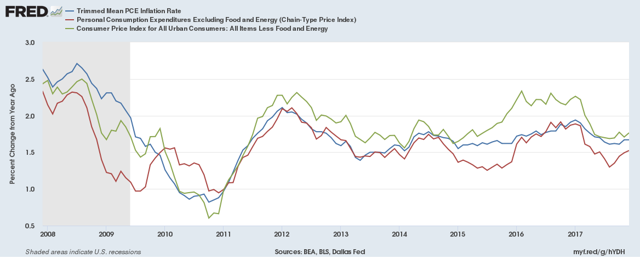 All are below the Fed's 2% target. Only one measure - core CPI - has spent any time above 2% in the last 5 years. We're seeing similar situations across the globe: the EU and Japan are both experiencing weak price pressures. In other words, prices are clearly contained.
Secondly, inflation expectations as measured by the difference between various treasury bonds and their corresponding TIPS yields are very low: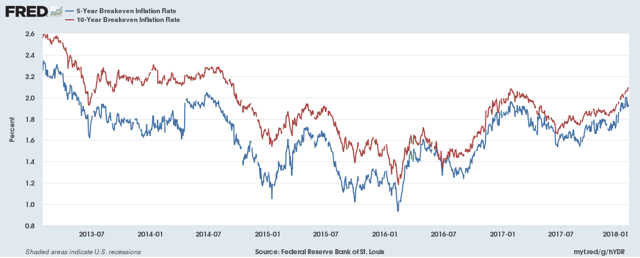 While 5 and 10-year inflation expectations have recently risen, both are very much contained.
Finally, there is no meaningful wage pressure, either: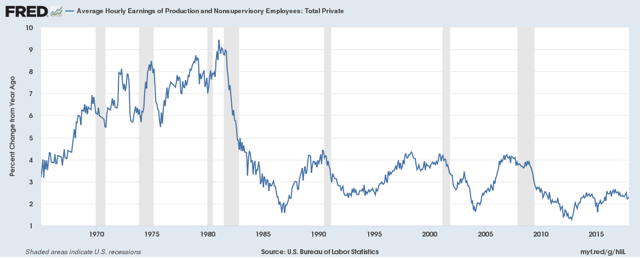 The Y/Y increase in wages is very low and has confounded the Fed (and other central banks) for the duration of this expansion.
All this means that there is an upper limit to how far treasury yields will rise. We don't know what that is, and won't until the sell-off ends. But macroeconomic variables are already containing the sell-off.
Disclosure: I/we have no positions in any stocks mentioned, and no plans to initiate any positions within the next 72 hours.
I wrote this article myself, and it expresses my own opinions. I am not receiving compensation for it (other than from Seeking Alpha). I have no business relationship with any company whose stock is mentioned in this article.