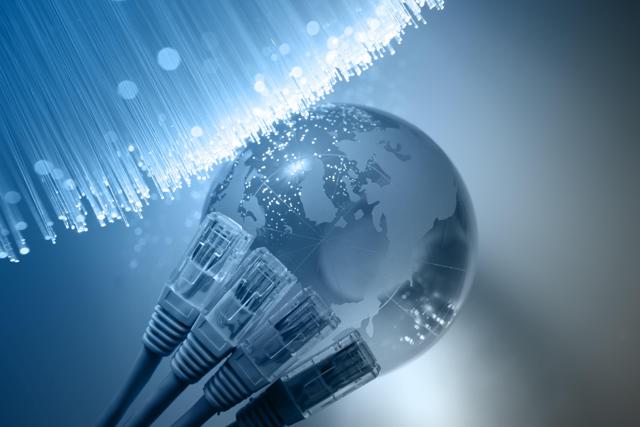 In the last couple of months, I have written quite a bit about the telecom space and some of the headwinds companies were facing, such as compression in the data services segment. Telecoms are facing tightening profits with traditional network data services and have been expanding into other market segments to accentuate their core income. I profiled four companies:
I also commented in these articles about the two giants, AT&T (NYSE:T) and Verizon (NYSE:VZ). My focus is mainly on the wireline space providers and tangentially wireless services as they relate to wireline. I will touch on early happenings in 2018 and how they affect the sector.
Telecom Consolidation Activity
2017 saw considerable consolidation in the telecom space, with CenturyLink and Level 3 joining forces; Windstream buying Broadview Networks and EarthLink; Frontier finalizing the acquisition of Verizon assets in Florida, Texas, and California; Zayo Group (NYSE:ZAYO) acquiring Electric Lightwave; Verizon purchasing XO Communications, Straight Path Communications, and WOW's fiber assets in Chicago; GTT Communications (NYSE:GTT) acquiring Giglinx, Perseus, Global Capacity, and Transbeam; Crown Castle International (NYSE:CCI) agreeing to acquire Lightower and Wilcon; Uniti Group (NASDAQ:UNIT) getting Hunt Telecom and Southern Light Fiber; and several others.
Wow, that's a lot of M&A activity for one year! The top 13 fiber miles buyers for 2017 can be found in this article.
The action is continuing in early 2018. Windstream is acquiring MassComm, a New York-based CLEC in an all-cash deal. The company expects to move some of MassComm customers to Windstream facilities and to expand SD-WAN and other managed services.
The combination of MassComm's innovative services and customer base with Windstream's larger CLEC operations and fiber network will enable the combined company to increase its competitiveness by expanding its portfolio of services, generating efficiencies that benefit customers, and serving more customers over its own facilities where it can," Windstream said in the FCC filing.
GTT announced the acquisition of Custom Connect in Amsterdam, which provides high-speed network services for multinationals and financial services firms. Zayo is acquiring Optic Zoo, which operations metro fiber in Vancouver and surrounding parts of Western Canada. In addition, Zayo is purchasing Neutral Path for $31.5 million to add Midwest fiber routes. Conterra signed a deal to acquire Network USA in Louisiana.
A recent poll by Telecom Ramblings shows that M&A activity is expected to continue in 2018 and provides guesses as to which companies are most likely to be active.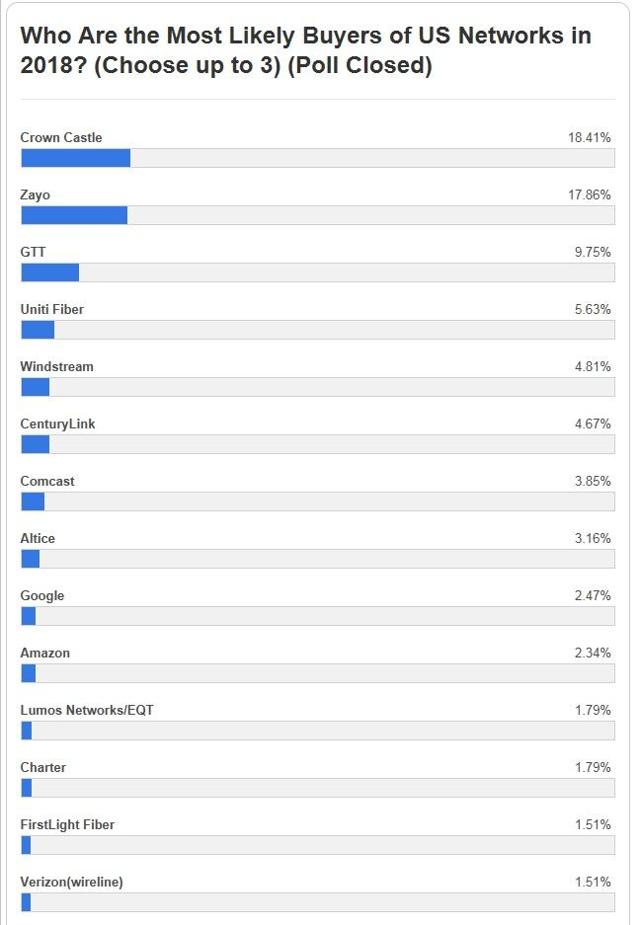 Source: Telecom Ramblings
Network Expansion Agreements
CenturyLink has announced an expansion of metro fiber in New York City. Zayo is expanding footprint in Minneapolis. Cogeco Communications (OTCPK:CGEAF) is acquiring a piece of Fiberlight's infrastructure on the east coast of Florida. Sprint (NYSE:S) and Cox Communications have signed a multi-year agreement for Sprint to use Cox's broadband infrastructure for its backhaul networks supporting the wireless product.
These agreements are a great way for companies to expand reach to customers without making large CAPEX investments, and can often speed up entry into new markets much faster than organic network investment can.
Network Product Cannibalization Fears Ease

SDWAN is a virtualized technology that provides faster switching and quicker expansion of bandwidth for companies and is replacing existing MPLS technology. MPLS is ideal for point-to-point connections between established data centers and campuses, but the increasingly mobile workforce and pace of Internet expansion has challenged the point to point network model.
However, there are cases in which MPLS has benefits over SDWAN, such as for business-critical real-time applications and for redundant failover connections on important services. Further, SDWAN connections are being implemented over existing MPLS infrastructure in some cases due to the reliability, so MPLS will not go away completely.
Previous thoughts on network virtualization technologies such as SDWAN replacing legacy point-to-point services such as MPLS and VPLS may be overblown and may provide some support to the theory that telecoms investments in MPLS infrastructure, and the higher-margin rates on that product line, will continue to provide steady returns in 2018.
Security Portfolio Additions
CenturyLink is leveraging its new network spread with a security product called Adaptive Network Security Mobility. CenturyLink has been wanting to expand in the security service space, in which Verizon is already a major player, and this is a very natural progression for the company.
The product uses appliances installed across CTL's network to provide VPN and encryption services for companies that have increasingly dispersed workforces. Considering globalization's affects on the traditional company campus footprint, the product should be well-received by the market. Further, these network-level security products are fantastic at addressing broad issues with data security to address fears companies have with the destruction of the typical network boundary, no longer constrained in the cloud era to limited regional datacenter locations.
Verizon purchased Niddel, a private company specializing in machine learning approach to active security threat hunting. This adds to Verizon's existing portfolio of enterprise-level security service offerings, which has been a solid producer for the company in recent years.
Verizon has made valuable contributions to the security knowledge industry with its annual Data Breach Investigations Report. Security services are both a value-add to its existing data services customers and are also blooming into a separate portfolio of higher-margin services Verizon can offer to companies that may not be traditional network customers.
Fleet Management
Verizon purchased Hughes Telematics a few years ago and has been selling fleet management services to the market. In addition, the company has been integrating the technology into its own business in order to control costs for installs and repairs which require rolling a truck.
Verizon recently announced the purchase of Movildata Internacional in Spain, Europe's second-largest market, which provides similar fleet management technology. This expands Verizon's market for fleet management services, as well as giving the company multiple technologies to enhance its service portfolio.
No doubt the company will blend its fleet management technology acquisitions across different global regions in a bid to differentiate from other competitors and add value in the space.
Regulatory Easing and Investment in Rural Telecom
The FCC has announced new investment in the Connect America Fund, known as CAF, by proposing a $2 billion auction in July. The auction will allow use of alternative technologies by telecoms in expanding the broadband footprint into rural parts of America.
"As both the Order and the Public Notice make clear, we allow a range of providers and technologies - from fiber to fixed wireless and satellite - to compete, recognizing that there is no one-size-fits-all solution to getting broadband to unserved communities," Carr said.
At the same time, the FCC is lowering broadband standards from previous policy put in place in 2015. Before, broadband was categorized as 25Mbps/3Mbps connection speeds, but the designation has been lowered to 10Mbps/1Mbps.
What both moves will do is boost the amount of service available to underserved areas, while lowering the transmission rates, saving the telecoms a lot of money in the build process, while likely speeding up broadband adoption in these areas. However, the downside is that end users will likely have lower speeds overall, even if more of them will have access to the new services through the build-outs.
The approach has pros and cons to the previous standard, and I expect some consumers will be frustrated by the changes. However, the fact is that more users will likely have access to the Internet in areas where fast speeds beyond that of a dial-up modem don't currently exist, even if the users will not be able to take as much advantage of high-bandwidth services such as video streaming. In the opinion of one industry commentator:
Simultaneously implementing the 10/1 standard for wireless and allowing wireless or fixed service to qualify as broadband will reduce the number of Americans who officially lack access to affordable service and or/acceptable performance without actually doing anything to improve the problem.
The biggest question in my mind is whether the telecoms will opt to install more wireless technology to reach users in these areas and lower their costs of network fiber build-out. I think this is a very likely outcome and will boost the bottom lines of wireless providers, albeit on lower-tier products.
I don't think these lower-tier products will significantly increase profit margins for this particular segment of the business, but will more likely increase flow through volume and overall revenues, while generating additional some free cash flow. Given the high debt service levels from previous expansion efforts, the increased cash flow will be a welcome offset.
International Security Concerns
Lastly, a lawmaker has introduced legislation to ban Chinese companies Huawei and ZTE equipment purchases by US government agencies for national security concerns.
Chinese commercial technology is a vehicle for the Chinese government to spy on United States federal agencies, posing a severe national security threat," said Congressman Conaway. "Allowing Huawei, ZTE, and other related entities access to U.S. government communications would be inviting Chinese surveillance into all aspects of our lives. This legislation falls directly in line with President Trump's policy of putting American national security interests first, a policy I'm proud to support.
The concern about Chinese hacking seems valid considering their role in the takedown of former Canadian telecom giant Nortel. Nortel's former security advisor, Brian Shields, has warned against working with Huawei. The Wall Street Journal provides some coverage on the incident, and I also remember that MSNBC had produced a video segment several years ago that provided some detail on the event.
The legislation, if passed, would seemingly boost the share of the equipment market by US telecom companies at the expense of China, which may provide ample reason for a trade war between the two countries.
Disclosure: I/we have no positions in any stocks mentioned, and no plans to initiate any positions within the next 72 hours. I wrote this article myself, and it expresses my own opinions. I am not receiving compensation for it (other than from Seeking Alpha). I have no business relationship with any company whose stock is mentioned in this article.
Editor's Note: This article discusses one or more securities that do not trade on a major U.S. exchange. Please be aware of the risks associated with these stocks.