(We've recently updated our oil thesis for 2018 in two parts (Part 1 and Part 2), and invite readers to review these articles, which provides some context for our views in 2018).
Continuing our weekly series, Open Insights, we'll take a look at the EIA's Weekly Petroleum Status Report ("WPSR") for the week of January 26, 2018.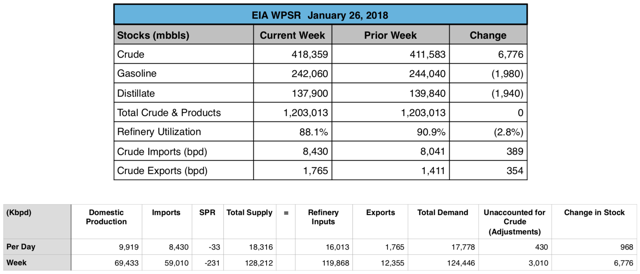 EIA reported a crude build of 6.78M barrels, as a combination of increased imports and refinery slowdown impacted this week's numbers. Crude exports increased to 1.77M barrels per day, almost a quarter million bpd higher than the prior week. This was largely offset by a close to 390K bpd jump in imports, which means January ended with an average of slightly over 8M bpd of imports, slightly higher than the averages of the past few years.
Refinery utilization continues to decrease and registered 88.1% this week, we anticipate refinery utilization to continue their decline for the next two week, troughing at somewhere between 85-86%. Every 1% decline represents about a 1.3M barrel per week reduction in demand, so with 2-3% left to go, expect anywhere between 2.5M to 4M barrels of demand to fall off. Not the end of the world as this is fully anticipated.
WTI and LLS/Brent spreads have also continued to compress, but at slightly over $4/barrel remains wide enough that US exports will continue to stay elevated.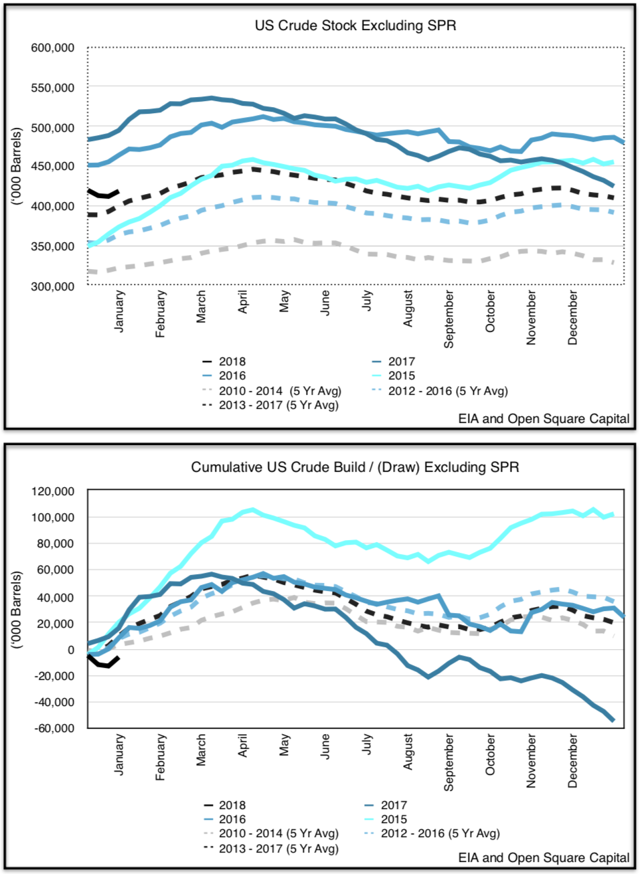 Gasoline inventories decreased by 1.98M barrels for the week, which was unusual as the 5-year averages (take your pick 2010-2014 or 2013-2017) all show a 1-2M barrel build. Distillates also fell by 1.94M barrels for the week, but this was largely in line with historical averages.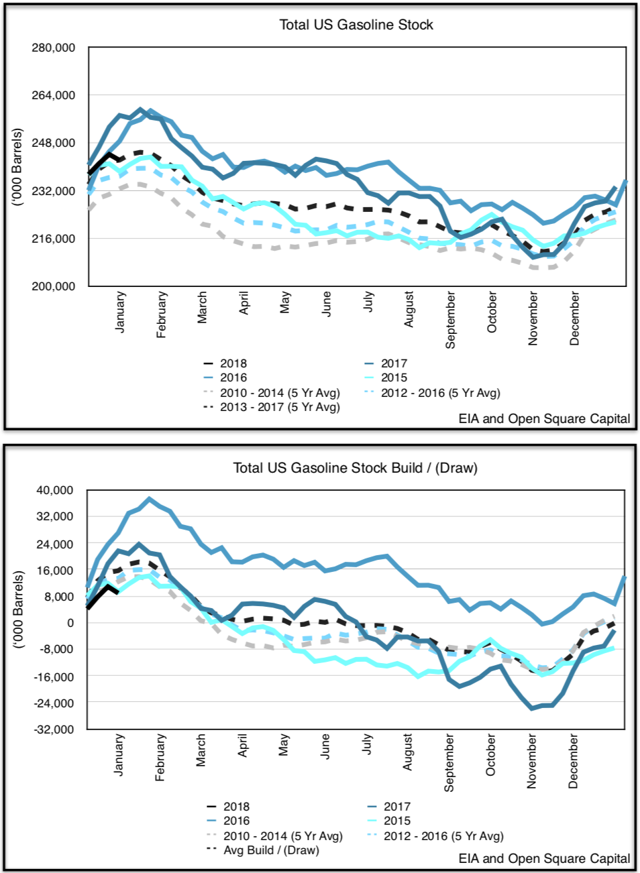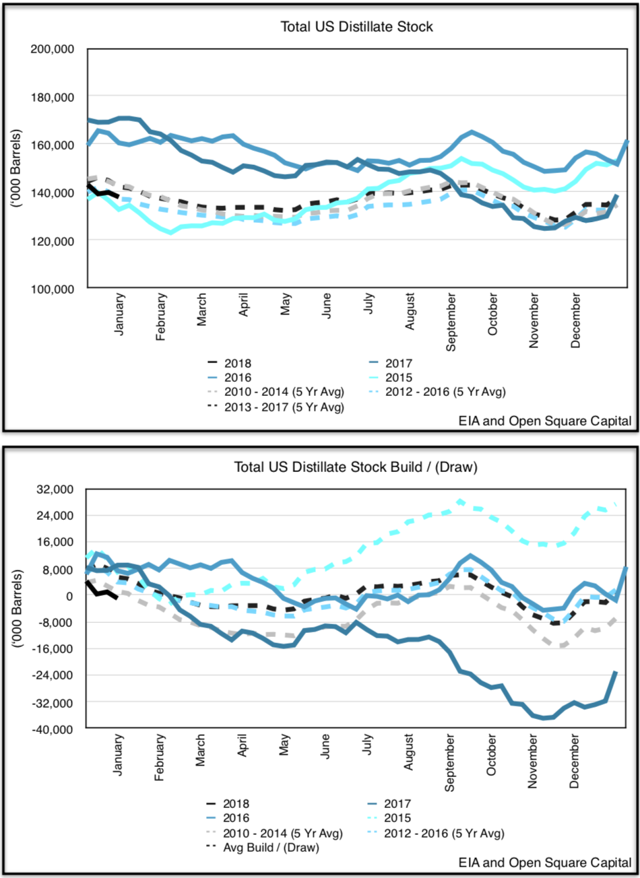 Overall total crude and products increased by 2M barrels for the week, about 800K barrels higher than the 5 year averages (2013-2017). Here's our updated chart for total US crude and products.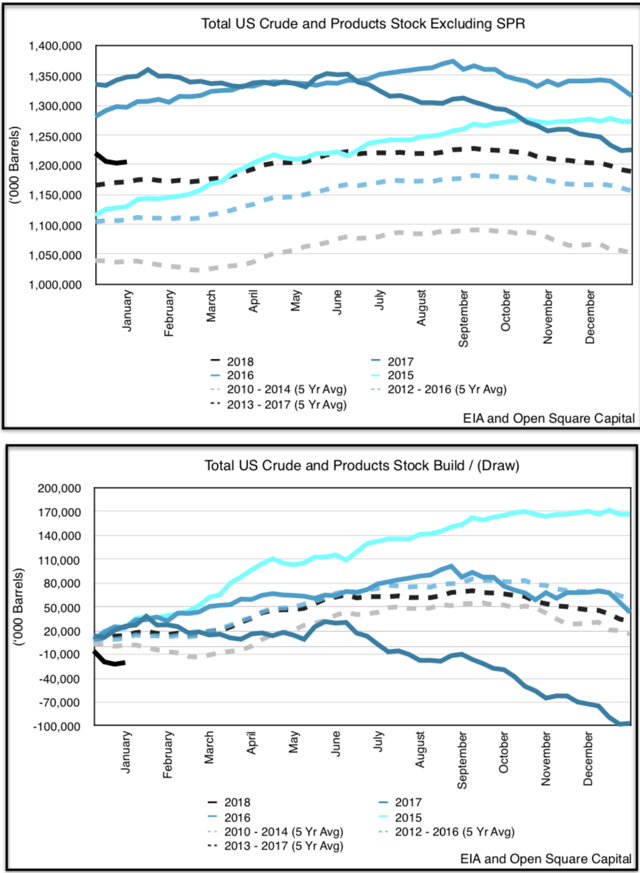 As always, we'll leave you with some food for thought.
This report was largely in line with our expectations. It wasn't too bearish nor bullish. During this time, crude inventories typically build around 5-6M barrels and petroleum products by a few million barrels. Sure enough, they did. What's important to note is that with January largely in the books, on a total crude and products perspective, inventories have declined by about 20M barrels compared to a "normal" 5-year build of 1.5M barrels (2010-2014) or 14M barrel build (2013-2017). As we head into February, we have every expectation that crude inventories will build as refinery demand softens, but petroleum products should in turn decline (less production means more product draws) to offset the former. So as crude numbers flip to builds, keep in mind this is all seasonal.
As always, we welcome your comments. If you would like to read more of our articles, please be sure to hit the "Follow" button above.
Disclosure: I/we have no positions in any stocks mentioned, and no plans to initiate any positions within the next 72 hours. I wrote this article myself, and it expresses my own opinions. I am not receiving compensation for it (other than from Seeking Alpha). I have no business relationship with any company whose stock is mentioned in this article.