The Dividend Champions spreadsheet and PDF have been updated through 1/31/18 and are available here. Note that all references to Champions mean companies that have paid higher dividends for at least 25 straight years; Contenders have streaks of 10-24 years; and Challengers have streaks of 5-9 years. "CCC" refers to the universe of Champions, Contenders, and Challengers.
Another Strong Start to the Year
After 2018 began with two very quiet weeks, dividend-increase announcements came "fast and furious" heading into February, which typically kicks off the busiest time of year for such activity. Not only were the expected increases forthcoming, but we also enjoyed "early" increases from companies that had raised their payouts just 3-6 months ago, and many of the hikes were larger than usual. Three new Champions (see below) were promoted from Contender status and several new Challengers were added that hadn't even been on the Near-Challenger listing. (They previously had been "flying under the radar" due to their small size and lack of press coverage.) The new Challengers were led by banks and MLPs (Master Limited Partnerships), which also dominated the newly-added Near-Challengers.
Best of all, the pre-Groundhog Day flurry appears ready to pick up steam over the next two months, when dozens of additional companies traditionally raise their dividends. Many companies are showing a willingness to pass along expected tax savings in the form of larger-than-usual dividend increases, so we should see an uptick in the most recent percentage increases, if not the average yield (which also depends on stock prices). Of course, the underlying reason for the busiest time of year (for dividend increases) stems from the coming wave of earnings announcements and the desire of corporations to make shareholders happy heading into their Annual Meetings. This year, they should be happier than ever!
Color-Coding Reset
You may recall from last month a lot of Green and Red in the Note columns that was added to emphasize the transition from one year to the next. Since 2018 is now the current year, the Green notations have disappeared, while the Red notations, such as "2017=Year 8," remain. Those represent the early list of potential 2018 Dividend Freezes and they will be augmented by any company that becomes "overdue" with a Pay Date in the first quarter, since those companies will also have the potential to pay the same amounts in all four quarters of back-to-back years (2017 and 2018). All those overdue companies will change the Number of Years to Red (in column D) to indicate their status as potential 2018 Freezes. All the "&" notations in the Note column have been removed, since they indicated multiple increases in 2017, which is no longer the current year.
After the CCC universe edged up to 822 in December, it expanded to 844 companies in January, which featured 23 new Challengers, 1 deletion, and 5 promotions (3 of which became Champions). The Near Challengers listing picked up 19 "NEW" notations (in Appendix B on the Notes tab), but the number of Near-Challengers grew from 101 to 102, still well below the record of 281 companies in September 2014. After December's action saw the average price of CCC stocks dip by 77¢, that figure grew by $1.61 in January, while the average "age" of the dividend streaks fell from 13.9 to 13.7 years, thanks to all the new Challengers. Meanwhile, the average yield edged up from 2.52% to 2.55% and the average of the Most Recent Increases jumped from 8.25% to 8.55%.
As always, please use the CCC only as a starting point for more in-depth research. Feel free to leave any suggestions in the Comment area below.
Quick Summary
The Summary tab includes a table comparing the composite numbers from the latest update to those from the previous month and the end of the previous year. Below that is a summary of the latest month's activity in terms of companies added, deleted, or promoted. That is reflected below: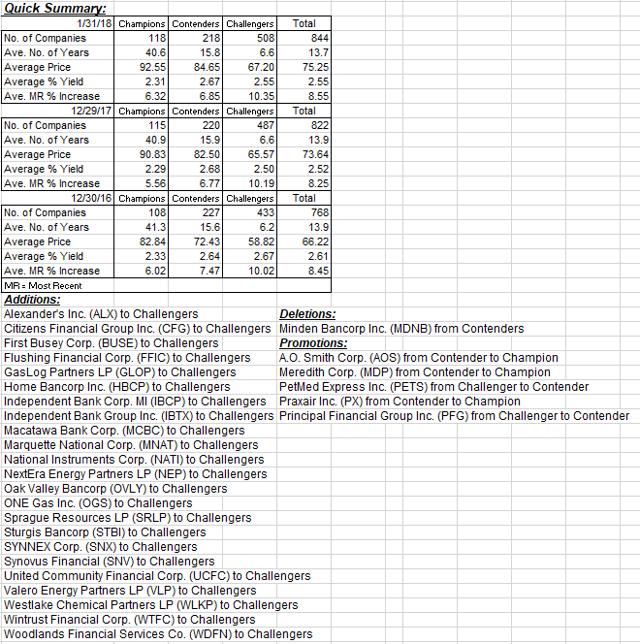 (Table from author; may include underlying data from FinViz.com)
Every Picture Tells a Story
As a bonus, I'm inserting one of Chuck Carnevale's F.A.S.T. Graphs below, highlighting one of the companies listed above. (When the price line is in the green area, it generally suggests possible undervaluation.)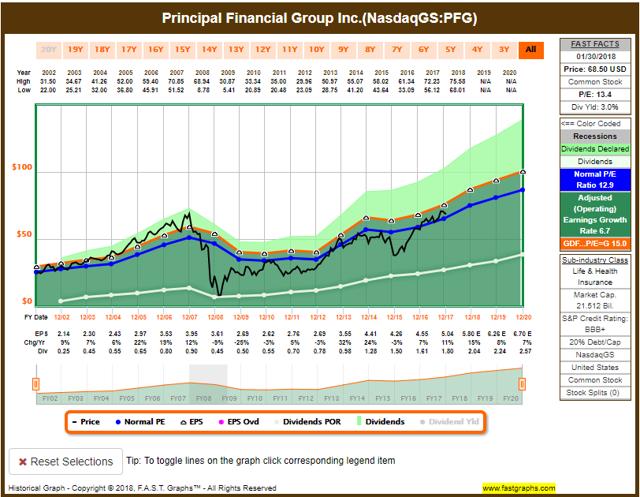 Disclaimer: Just because a chart looks "interesting" does not make it a Recommendation!
Disclosure: I/we have no positions in any stocks mentioned, and no plans to initiate any positions within the next 72 hours. I wrote this article myself, and it expresses my own opinions. I am not receiving compensation for it (other than from Seeking Alpha). I have no business relationship with any company whose stock is mentioned in this article.