NOTE: We delayed reporting our usual quarterly report until today's Fed meeting to see if rates would hike or if the Fed had a substantially different view than ours.
________________________________
The last quarter of 2017 GDP came in at 2.6 percent on the first estimate, below the consensus 3 percent. For all of 2017, GDP printed at 2.3 percent, up 900 bps from 2016 and the highest annual increase in GDP since 2015, which printed at 2.9 percent.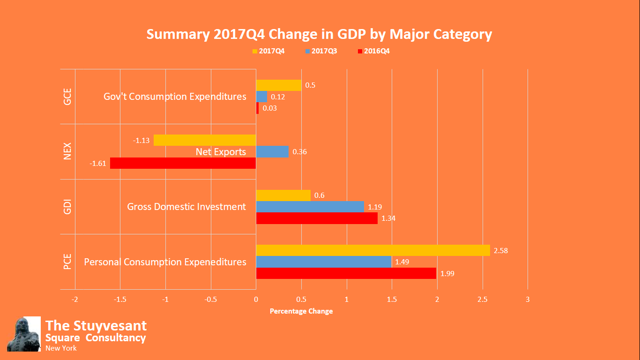 Figure 1

A deeper dive into the figures, though, shows that the 2.6 percent GDP figure was very likely affected by the increase in auto replacement sales, most likely arising from the twin hurricanes in the third quarter. That number - a quarterly increase of 0.40 percent - was the highest since at least 2014.

Similar hurricane replacement sales may have occurred in the non-durable goods category of shoes and clothing, which also jumped 0.26 percent.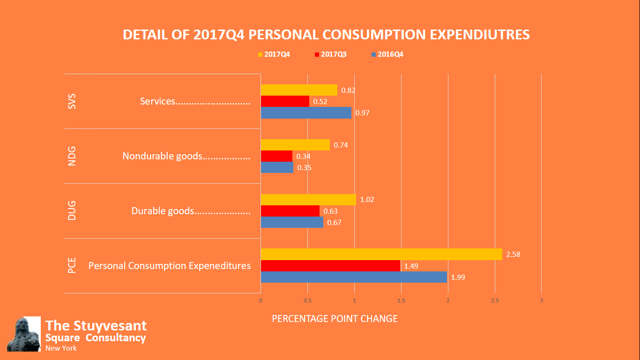 Figure 2

Autos, clothing and shoe sale gains - a total of 0.66 percent - turbocharged 2017Q4 Personal Consumption Expenditures, or PCE, the big driver of GDP, to its highest level in three years. But those gains in autos, clothing, and footwear in the PCE category may well be just GDP "gains" in the sense of the broken windows fallacy; that is, mere replacements of property destroyed in the twin hurricanes.

Beyond PCE, as illustrated in Figure 1 above, though, except for Government Consumption Expenditures or GCE, the other elements of 2017Q4 were relatively weak.

In Gross Domestic Investment, or GDI, inventories were burned off and there was a significantly higher growth in non-computer information processing equipment as well as other equipment. But the category was down substantially from the same quarter last year. We attribute the reduction to companies holding off on investment until they could benefit from the Trump Tax Act.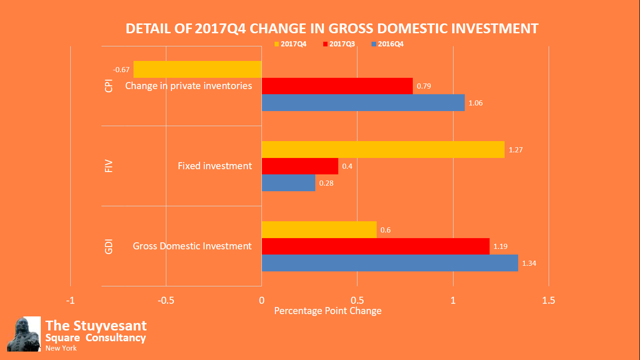 Figure 3
In Net Exports or NEX, there was a substantial gain in exports, the highest since 2014Q2. But this element of GDP is almost always volatile, taking account of big contract sales, like Boeing (NYSE:BA), Caterpillar (NYSE:CAT), and a few other big capital goods suppliers with sales that vary widely from quarter to quarter. It is also the sector most subject to huge revisions.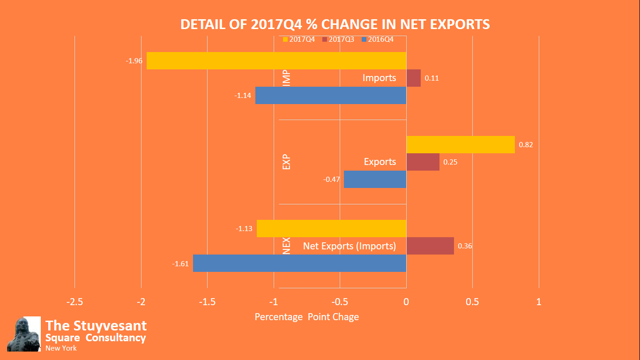 Figure 4
The last element of GDP, Government Consumption Expenditures, or GCE, boosted GDP by another 500 bps, attributable to defense and state and local expenditures. The federal element of GCE was the highest since at least 2014.
Analysis
This Was a Weak Quarter
Stepping back from the "headline" 2.6 percent, and factoring in "guesstimates" as to replacement auto, clothing and shoe sales would be had the twin hurricanes of 2017Q3 not occurred, and doing a similar exercise to normalize Federal GCE, one realizes that GDP for 2017 is more like 1.8 percent, plus or minus 10 bps.

That's hardly the sign of truly "robust" growth and not even close to the touted 3 percent consensus. In itself, Q on Q growth of "around 1.8" is not enough to build the kind of self-sustaining, robust, growth that will signal a strong recovery. (For comparison, we had GDP growth of 4.6 percent and 5.2 percent in 2014Q2 and 2014Q3, respectively.)
The Short-Term View
We're seeing improvements in the economy that make us less circumspect about the first quarter as it comes closer into view. Our view in our 2017Q3 GDP report was more skeptical.

We're more positive because, first, the IBD/TIPP index January surveys all showed mid-to-high (and even double-digit) gains, indicating strong levels of consumer confidence. Second, orders for durables goods came in at 2.9% in December, 700 bps stronger than when we reported them in 2017Q3.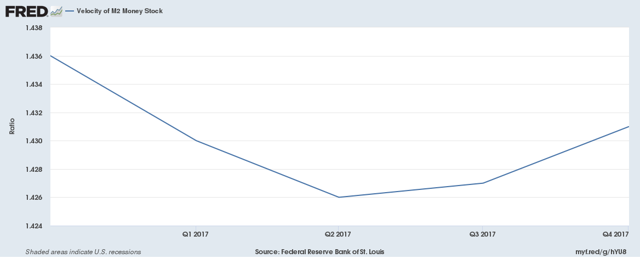 Figure 5
Most significantly, though, is that 2017Q4 showed a significant acceleration in money velocity off record lows. While it's difficult to assess whether the M-2 velocity is attributable to increased economic activity or the Fed's tightening of M-2, as velocity is a factor of both, we're inclined toward the former, in view of other strong indices of growth.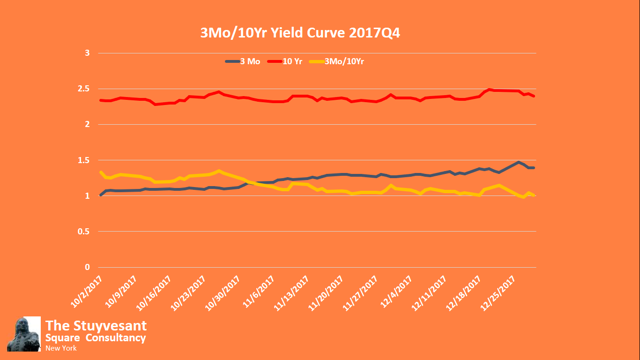 Figure 6

We're also happy to see the 3Mo/10Yr yield curve strengthening since the end of 2017, although it seems to have come as a consequence of what we believe was a shot across the bow of the Trump Administration by China. As you can see from Figure 6, the 2017Q4 yield curve flirted with just a 100 bps spread (it actually shrunk to just 98bps before Christmas.) But in the new year, we're seeing the curve move up above the 120bps, which is our threshold for concern.

The unexpected willingness of a number of large companies with a deep, broad-based, local presence, like Walmart (WMT) to share part of their tax reductions with workers by raising wages makes us more optimistic that we will see wider wage increases beyond the two coasts and major urban centers.

Medium Term
Again, we are more optimistic about the medium term than we were at 2017Q3. The tax cut passed in December will increase take-home pay so as to decrease debt service as a percentage of disposable income. That additional take-home pay will allow for additional debt service or, preferably, debt reduction.

Long Term
Our long-term view of the economy beyond 2020 remains unchanged.

We think present day innovations like blockchain may change the manner in which resources change ownership, but there's nothing in blockchain tech that enhances productivity. Indeed, to the contrary, as transferring assets through blockchain creates enormous stresses on state and local governments to administer such transfers to lay and collect taxes, administer licenses, etc. Figuring all that out will cost already hard-pressed state and local governments billions to readjust their operations.

Similarly, we see Artificial Intelligence, or AI, as "over-hyped." While it will certainly increase productivity in some more routine service industries, we're not sure it will have a wide application. Were it to fail in some high profile instances, the failure will set back wider application of the technology, even beyond always present technological resistance.
Author's note: Our commentaries most often tend to be event-driven. They are mostly written from a public policy, economic, or political/geopolitical perspective. Some are written from a management consulting perspective for companies that we believe to be under-performing and include strategies that we would recommend were the companies our clients. Others discuss new management strategies we believe will fail. This approach lends special value to contrarian investors to uncover potential opportunities in companies that are otherwise in downturn. (Opinions with respect to such companies here, however, assume the company will not change).
If you like our perspective, please consider following us by clicking the "Follow" link above.
Disclosure: I/we have no positions in any stocks mentioned, and no plans to initiate any positions within the next 72 hours.
I wrote this article myself, and it expresses my own opinions. I am not receiving compensation for it (other than from Seeking Alpha). I have no business relationship with any company whose stock is mentioned in this article.
Additional disclosure: Disclaimer: The views expressed, including the outcome of future events, are the opinions of the firm and its management and do not represent, and should not be considered to be, investment advice. You should not use this article for that purpose. This article includes forward looking statements as to future events that may or may not develop as the writer opines. Before making any investment decision you should consult your own investment, business, legal, tax, and financial advisers.