The year has started extremely strong for stocks, so that even after the correction at the end of January, the S&P 500 ended up 5.7% YTD by the start of February. Index funds for junk bonds (JNK) and municipal bonds (MUB) did not fare as well, being flat and down 1.2% respectively: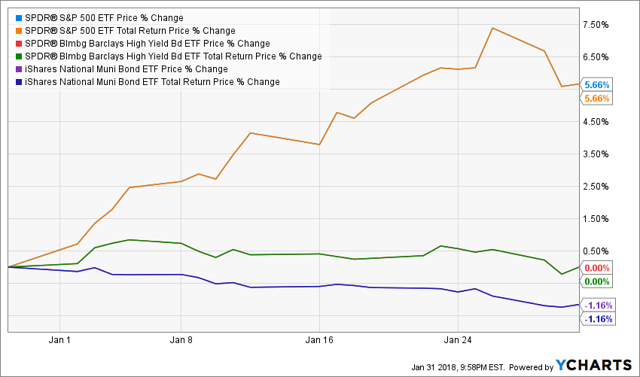 Weakness in high yield assets has hit closed-end funds ((CEFs)) negatively in two ways. The first is that CEFs have seen their NAVs decline on average in January because of a skew towards municipal bonds and corporate bonds in funds' investment objectives. Secondly, and much more importantly, the underperformance of high yield relative to equities has caused discounts to widen in CEFs after closing significantly in 2017, creating more buying opportunities throughout the fund group.
Returns by Asset Class
January saw all but CEF Insider's Foreign Sub-Index fall, thanks in part to the dollar's unexpected continued weakness.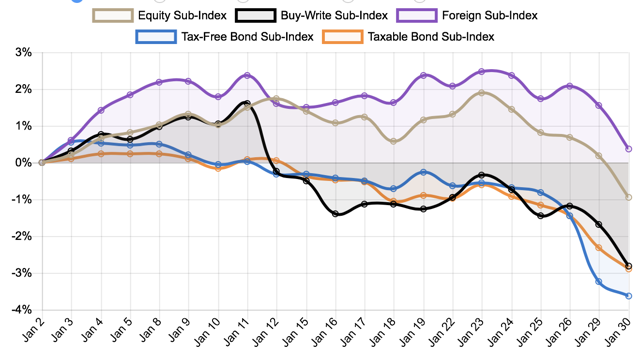 Source: CEF Insider
The 3.6% decline in tax-free bond funds has helped drive discounts for municipal bond funds down to 6.2% on average. Only international funds have a higher discount: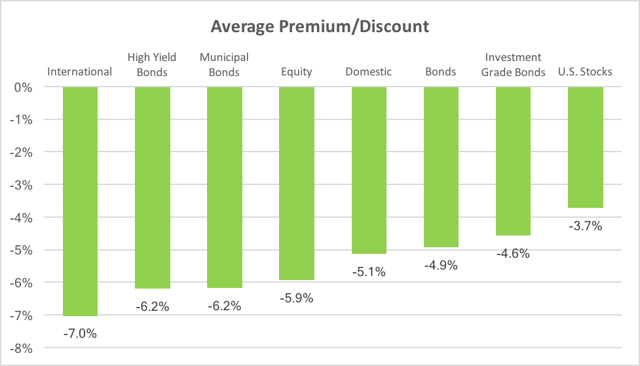 Source: CEF Insider
The average discount for all CEFs is currently 5.4%, from 4.7% at the start of January.
Biggest Discounts
The most discounted funds are mostly an even mix of domestic stock and municipal bond funds, although, international and high yield bond funds as a whole have a higher discount than domestic stock funds which, again as a whole, have the lowest discounts in the CEF universe.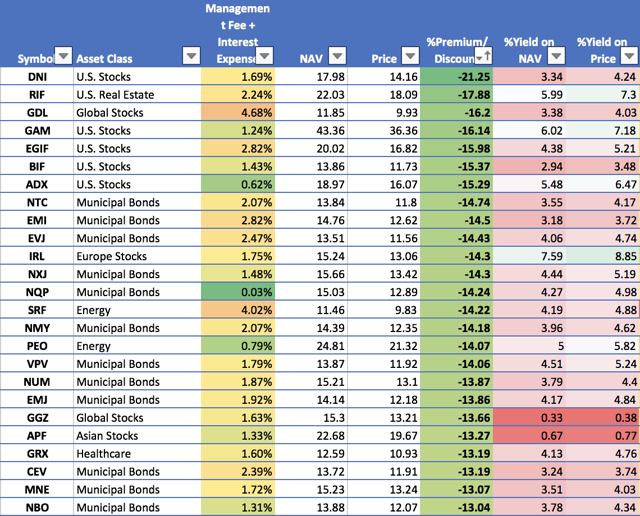 Source: CEF Insider
This distinction is interesting because it proves quite clearly why investors price CEFs: dividends. The average yield on the most heavily discounted CEFs is 4.7%, far below the 6.5% average for all CEFs.
Biggest Premiums
The most premium-priced funds are largely from Pimco, although some such as Eagle Point Credit Company (ECC) are well known on Seeking Alpha for its popularity and frequent coverage - as well, presumably, because of its high yield.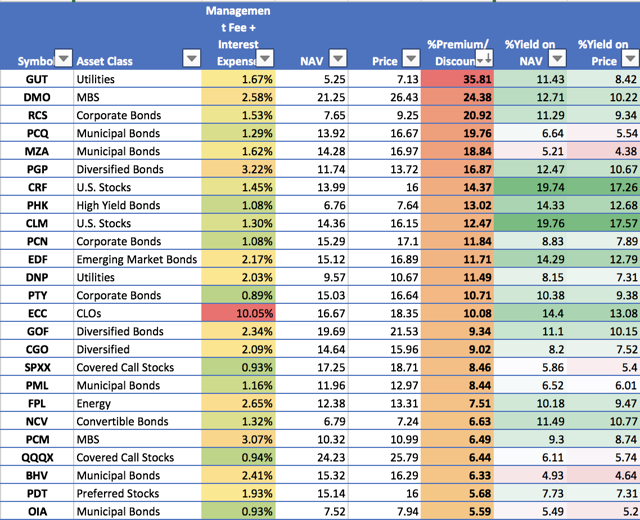 Source: CEF Insider
The average yield for these premium priced funds is 9.1%, far beyond the average yield of the most discounted funds and the average yield of all CEFs, again indicating that demand for yield is a predominant driver in pricing CEFs.
Best 1mo Returns
The best returns in January came mostly from international funds and almost entirely from equity funds, with almost half of the best funds of January having a foreign mandate of one form or another: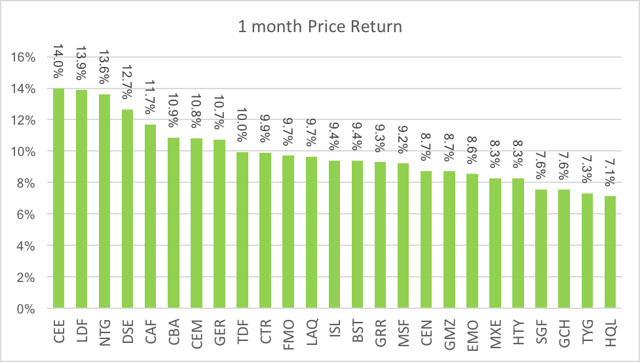 While the surprising weaker dollar is the obvious driver here, it's important to note that these performances happened in spite of this asset class's bigger discount among CEFs and their relatively smaller yields among CEFs. With a few exceptions, MaxLinear, Inc. (MXL) being the most notable, most of these funds saw strong NAV gains and price return gains at the same time, although correlations varied.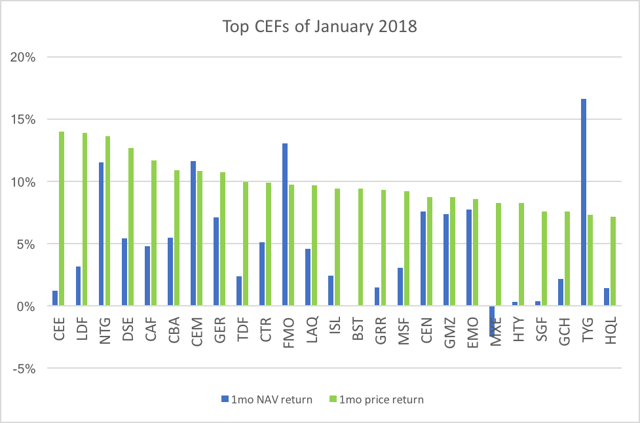 Worst 1mo Returns
The worst returns of January were quite bad, with Pimco California Municipal Income Fund II (PCK) the worst offended at a 17.9% decline on a market price basis. However, PCK's NAV return is 2.1%, indicating that its fundamental performance is better than what the market price would indicate.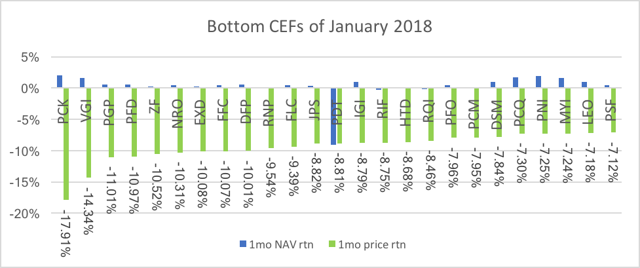 Only three of these CEFs had negative NAV returns: John Hancock Premium Dividend Fund (PDT), RMR Real Estate Income Fund (RIF), and Cohen&Steers Quality Income Realty Fund (RQI), with PDT being the worst offender.
Disclosure: I/we have no positions in any stocks mentioned, and no plans to initiate any positions within the next 72 hours. I wrote this article myself, and it expresses my own opinions. I am not receiving compensation for it. I have no business relationship with any company whose stock is mentioned in this article.
Additional disclosure: We are long a number of closed-end funds alluded to in this article but not mentioned explicitly by name.