Interest rates, interest rates, interest rates! The 2-year note at 2.14% has not helped the rate-sensitive names, except for banks.
Malls and office buildings also face technological challenges. More and more people are working remotely or from home. The web has decreased the need for face-to-face inter-office communication. If you have a company full of self-starters, they can work on the cloud, and businesses of the future might not need to be based out of harrowing skyscrapers filled with paper pushers.
Malls are in a bad spot because of Amazon (NASDAQ:AMZN) and web-based shopping. It's not bombastic to say that big box stores and mom-and-pop retailing are not enjoying the economic growth of e-commerce. I'm not here to say that technology is a bad thing, just that owners of REITs should know what they are holding.
Now, I am actually neutral short term, but long-term bullish on real estate - just not REITs necessarily, because they are interest rate-sensitive and benefit from falling bond yields. The 10-year bond is under pressure, as are longer-dated maturities (NYSEARCA:TLT), though much less so than short-dated maturities), and when rates rise, expect dividend plays bond proxies and REITs to decline.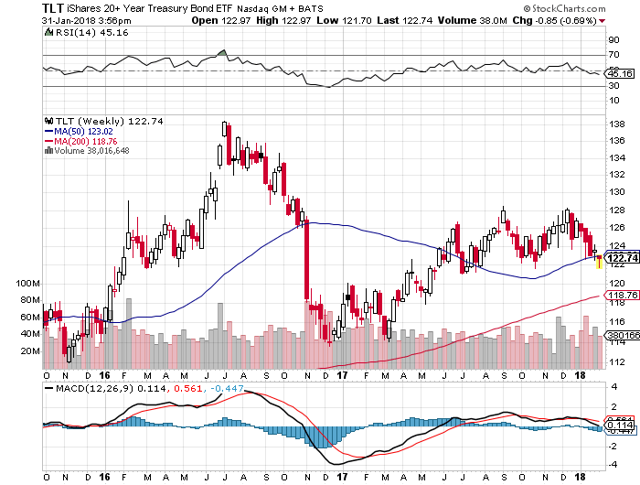 The 10-year is fairly stable compared to the 2-year note, which is viewed as more important to liquidity and credit risk. The flattening of the yield curve (when 2-year note yields rise and price falls and when 10-year yields fall or stay the same) suggests that economic headwinds exist.
Being short the 2-year was a great trade last year: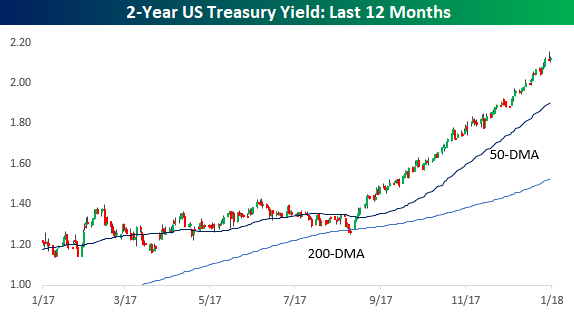 In our view, the flattening yield curve is an indication (along with the frothy momentum) that now is a good time to own gold (GLD) and to play defense rather than speculating aggressively in the share market.
As you can see, the rallying yields on 2-year notes translated directly into tanking REITs: Below is a chart of the venerable Vangaurd REIT Index ETF (NYSEARCA:VNQ):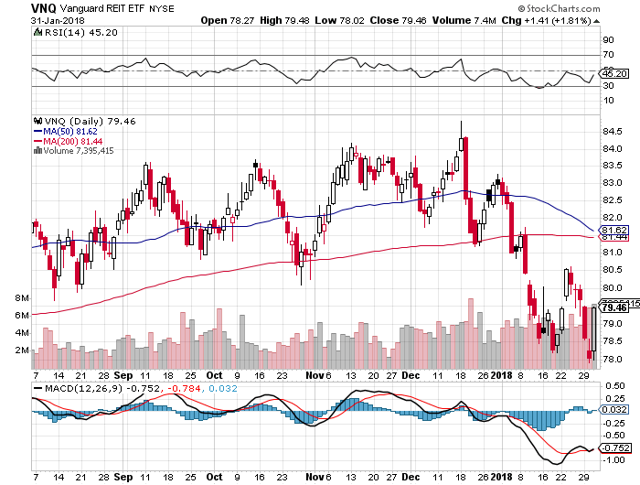 All in all, avoid putting new money to work here until the 2-year yield (currently at 2.14%) heads below 2% or the dividend yield becomes too interesting to ignore, say at 5-6%. Otherwise, the argument for owning bond proxies like REITs just isn't very strong when rates are rising, even with a rapidly declining dollar. Owning raw land or developing real estate yourself seems like a better investment decision if you can make it happen.
On the fundamentals front, things look a lot better. Simon Property Group (NYSE:SPG) has lost some of its once-robust market cap recently, however.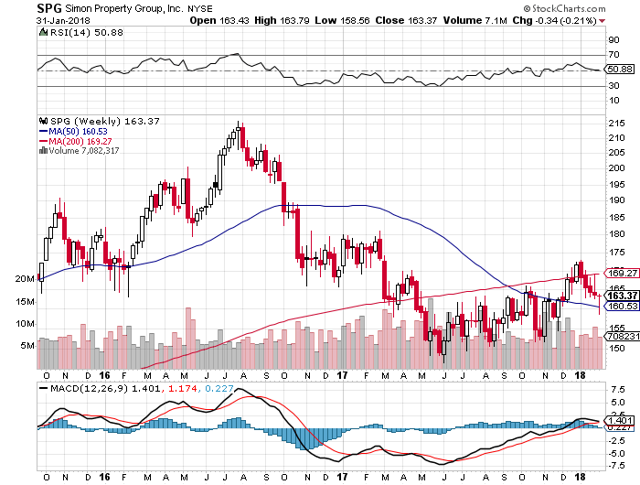 The company is actually trading for just around 15 times FFO, or funds from operations (basically like EPS, but for REITs; it takes depreciation into account). The forward dividend yield of 4.55% is also a pretty decent deal compared to the stock market. As far as the long term is concerned, it's hard not to be bullish on the company's (higher-end) prospects:
David Simon

Okay, good morning. We had strong results to wrap up a very good year. Our FFO for 2017 was $11.21 per share which includes a $0.36 charge for the early redemption of our senior notes. On a comparable basis full year FFO per share was $11.57, an increase of 6.4% year-over-year, which without question will be at the high end of our peer group.

To put our FFO per share in perspective, the $11.21 is more than $4 billion in total funds from operation which is the highest amount we've ever reported and the highest in the industry. Through active portfolio management, disciplined investments, relentless focus on leasing and property management operations, our annual FFO has increased almost $1 billion since we completed the spinoff of Washington Prime Group less than four years ago, yes $1 billion.

We have achieved a compound annual FFO rate of 8% over the last three years and more than 12% over the last seven years. Our growth rate has outpaced the growth rate of all equity reached by more than 400 basis points over the last seven years and has been more than double the rate of earnings-per-share growth for the S&P 500 over the same time period.
In the short run, you have some technical analysis issues to digest. There are also issues with rising treasury yields and disruptive technology. Simon makes up a good chunk of most of the REIT ETFs mainly because of its sheer size. As you can see on the chart above, the stock is below the 200-day moving average, which is normally a bearish development. We panned the stock when it was trading at $210 a few years back, but today it's hard to argue that it's not relatively cheap.
The macro backdrop for REITs in general is what worries me. We have witnessed many office space booms and busts, from the savings and loan crisis in the '90s to the housing implosion in 2007. REITs are leveraged vehicles that tend to do really well, until they flop. Let's not even talk about what happened to malls 10 years ago, back when Dillard's (NYSE:DDS) was a penny stock.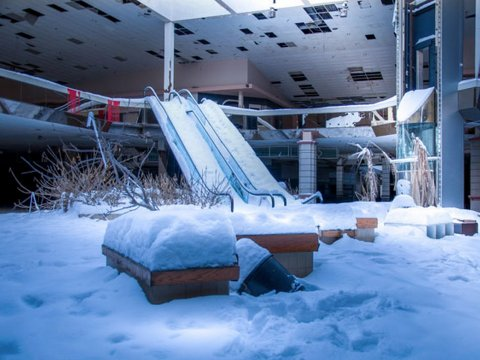 Still, according to Green Street's Commercial Property Index, commercial RE has only doubled since bottoming out in June 2009. The space has certainly underperformed equities over that period of time.
While I am optimistic, the demographic and technological changes associated with an internet-based economy make valuing office and mall properties more of an art than a science. With Amazon knocking at the door, one wonders if the growth in online shopping might eventually crush the mall and big box store business model - Sears Holdings (SHLD) comes to mind: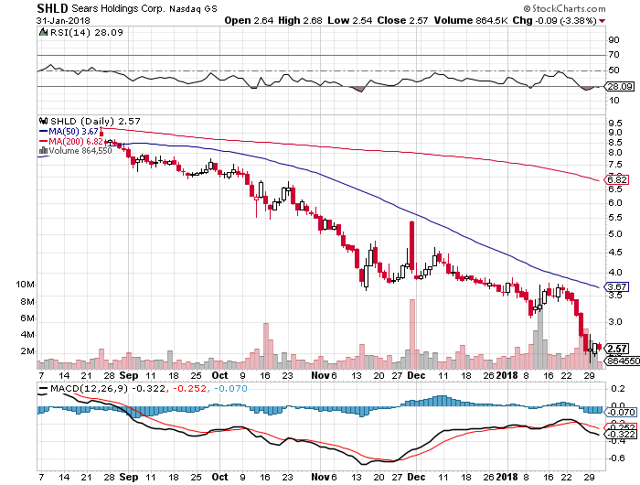 Eddie Lampert's guts and determination are undeniable, but when you compete against Jeff Bezos, Bezos usually wins. Is the REIT sector competing against the technological revolution and Amazon? You be the judge.
Finally, a couple of weeks ago, Morgan Stanley came out with a note on REITs that is worth considering:
"Too far and too fast," say Richard Hill and team of the shellacking in the REITs this year. As measured by the iShares U.S. REIT ETF (NYSEARCA:IYR), the sector fell more than 4% in 2018's first two weeks vs. a 4% gain for the S&P 500.

The story is a familiar one: An already-cruising economy is to get a further boost from tax cuts - that and a soaring stock market (ex-REITs, of course) assures a steady stream of Fed rate hikes. Who needs income favorites in that scenario?

Hill, however, notes commercial MBS prices have been on the rise even as Treasury yields climb. A mean reversion in REIT stock prices could be at hand.
It might not be a bad idea to actually take the other side of the trade a bit here. The 2-year note at 2.15% looks like a very safe, secure deal compared to a REIT paying 4% or less in dividends. Yes, our country is running twin deficits, but at least we can print our way out of a default. REITs are ok for a 1-5% allocation, in our view, especially if they drop another 10-15%. However, there is no question that REITs trade like stocks and would be held captive by the tape in an overall bear market, unlike the 2-year note.
Disclosure: I am/we are long GLD.
I wrote this article myself, and it expresses my own opinions. I am not receiving compensation for it (other than from Seeking Alpha). I have no business relationship with any company whose stock is mentioned in this article.