By Jill Mislinski
The January US Manufacturing Purchasing Managers' Index conducted by Markit came in at 55.5, up from the 55.1 final December figure. Today's headline number was at the Investing.com forecast of 55.0. Markit's Manufacturing PMI is a diffusion index: a reading above 50 indicates expansion in the sector, while below 50 indicates contraction.
Here is an excerpt from Chris Williamson, Chief Business Economist at IHS Markit, in their latest press release:
"US manufacturing started 2018 in fine fettle, with the PMI up to its highest for over two-and-a-half years. Output growth accelerated in response to fuller order books, the latter buoyed by the twin drivers of robust domestic demand and rising exports."

"The acceleration of manufacturing growth and upward price trends are grist to the mill for Fed hawks, adding to the likelihood of interest rates rising in March." [Press Release]
Here is a snapshot of the series since mid-2012.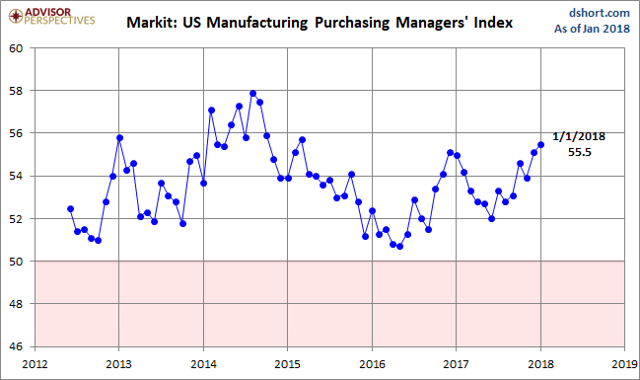 Here is an overlay with the equivalent PMI survey conducted by the Institute for Supply Management (see our full article on this series here).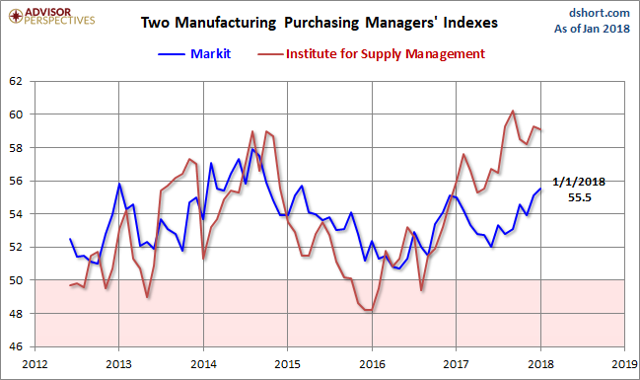 The next chart uses a three-month moving average of the two rather volatile series to facilitate our understanding of the current trend.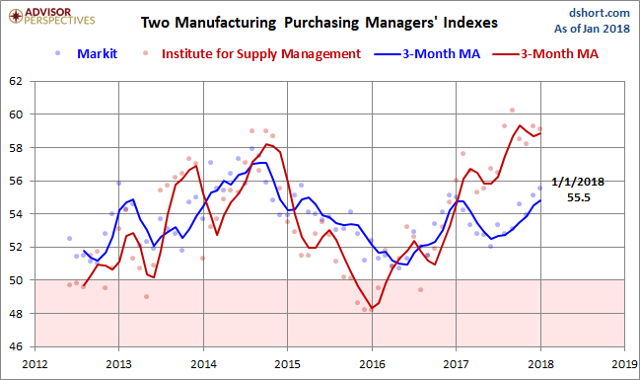 The two moving-average series diverged again in 2017. The Markit series has trended upward toward its interim high early in the second half of 2014 after a decline in 2017.