By Bin Yu
MSCI will include onshore "A shares" in its MSCI China Index this year. So what kind of market is it?
In accordance with its sizable economy, China also has the world's second-largest equity market by value. More than 4,000 publicly traded companies are listed across various markets, with a total market capitalization of $12 trillion. We believe that 2018 will be an important year for this big market, when the leading index provider MSCI is set to include onshore "A shares" in its MSCI China Index for the first time, as a natural outcome of their becoming available to global investors through the Hong Kong "Stock Connect" schemes. In this paper, we provide an outline of China's equity market for non-Chinese investors, assessing its fundamental foundations and its direction of travel, as well as certain demands it makes on those who would invest there.
Executive Summary
There are over 4,000 publicly traded Chinese companies with a total market capitalization of more than $12 trillion.
Most familiar to global investors are the 600 or so Hong Kong-listed H shares and approximately 100 U.S.-listed ADRs, as around 150 of the largest of these offshore stocks go into the benchmark MSCI China Index.
But where the offshore market is better-known and more accessible, the onshore market is bigger, deeper and faster-growing: the most dynamic emerging Chinese companies in the consumer, healthcare and industrial sectors are almost always listed as A shares.
Until November 2014, access for foreign investors was limited to the quotas defined by the Qualified Foreign Institutional Investor scheme (QFII). The establishment of the Shanghai-Hong Kong Stock Connect investment channel and, from 2018, the inclusion of more than 200 large-cap A shares in indices maintained by MSCI, is set to change this.
China's Onshore A-Share Market Is Larger and More Diverse than the Offshore China Equities Market…

Source: Wind.
… and from 2018, Its Biggest Stocks Will Be Included in the Benchmark MSCI China Index
Market Capitalization ($trillions)

Source: MSCI.
China is already the world's second-biggest economy, but we believe it still has considerable catch-up growth potential, with implications for investment opportunities.
GDP per capita remains relatively low but is growing fast, while rapidly improving education levels are creating not only more informed and sophisticated consumers, but centers for research and development in an increasingly knowledge-based economy that has already established innovative technology and healthcare companies that compete with the global giants in their sectors.
Recent policy announcements signal a shift of attention to the quality of growth rather than the pace of growth.
While the risks associated with leverage in the banking and shadow banking system and an aging population are real, they are both manageable and high on the agenda of China's authorities and business leaders.
The increasing openness of China's onshore equities market presents global investors, in partnership with a knowledgeable local portfolio manager, with the opportunity to participate in this ongoing growth story.
China's economy became the world's second-largest in 2011 and is on track to overtake the U.S. as the world's largest within the next couple of years. It is therefore no surprise to find that it is also home to the world's second-largest equity market.
There are over 4,000 publicly traded companies with a total market capitalization of more than $12 trillion, listed onshore as RMB-denominated "A shares" on the Shanghai and Shenzhen Stocks Exchanges, or offshore as "H shares" on the Hong Kong Stock Exchange or American Depositary Receipts (ADRs) in the U.S.
Figure 1. The Anatomy of the China Equities Market
Source: Wind.
The Anatomy of the Market
Most familiar to global investors are the 600 or so H shares and approximately 100 ADRs, as around 150 of the largest of these are the stocks that go into the benchmark MSCI China Index. They also make up some 20% of the MSCI Emerging Market Index.
Those markets are historically accessible only to U.S. dollar investors based outside China, and for all practical purposes, they are also the only China equities accessible to non-Chinese investors. Not surprisingly, Chinese companies that list on overseas exchanges have catered to global investors' preferences. As a result, H shares are dominated by the largest state-owned companies (SOEs) such as banks, energy and telecom companies. ADRs are mostly big internet and media companies such as Alibaba and Baidu.
But where the offshore market is better known and more accessible, the onshore market is bigger, deeper and faster-growing. It boasts more than 3,300 companies, $9 trillion of market capitalization, and $60 billion of average daily liquidity. That liquidity, and the typically more generous valuations, make onshore the preferred listing venue for most Chinese companies. The most dynamic emerging Chinese companies in the consumer, healthcare and industrial sectors are almost always listed as A shares, and there were more than 400 IPOs in 2017.
Figure 2. The A-Share Market Is More Diverse than the Tech-dominated H-Share Market

Source: Wind. The chart shows free-float market capitalization.
Based upon China's GDP and the size of its stock market, investors remain notably underexposed. Moreover, this is true of both offshore and onshore investors.
Offshore investors have generally been underweight in emerging markets equities since the 2010 eurozone crisis. Flows have recovered only recently and have yet to return to pre-crisis levels. Within that general emerging markets underweight, portfolio managers are still further underweight in China due to their concerns about its diminishing growth potential and the quality of its assets.
The onshore market has historically been dominated by retail investors who tend to trade rather than invest-and even these participants represent only a small fraction of overall household assets. As individual Chinese accumulate more wealth, we anticipate that they are likely to allocate to the domestic equity market, and also that they are more likely to do so through institutional intermediaries. China's insurance companies and pension funds have grown steadily in recent years but remain much smaller than those in other markets.
A Market Rapidly Opening to Foreign Investors
The A-share market is changing in other ways, too. Until November 2014, access for foreign investors was limited to the quotas defined by the Qualified Foreign Institutional Investors and Renminbi Qualified Foreign Institutional Investors schemes (QFII/RQFII). The establishment of the Shanghai-Hong Kong Stock Connect investment channel in 2014 began to change that by allowing investors with Hong Kong Stock Exchange accounts to buy mid and large-cap A shares. A similar version of Shenzhen-Hong Kong Connect followed in 2016.
This has made most China A shares more freely accessible to global investors: currently, 80% of A shares market capitalization is accessible through this channel, with a generous overall quota and cap on daily trading volume.
Another big step forward is due in 2018, when MSCI will follow through on its announcement, made in June 2017, that it will include an initial batch of more than 200 large-cap A shares to its indices through 2018. MSCI has not indexed A shares in the past because global investors had extremely limited access to them until the Hong Kong Stock Connect schemes were initiated.
The decision is expected to initially bring approximately 2.5% of A shares' free-float market capitalization into MSCI indices, growing to 5% by the end of 2018. China International Capital Corporation (CICC) estimated that this will bring $15 billion of inflows into China's onshore market. In our view, MSCI will likely increase index weights further over the next few years. We expect that the onshore market's weight will eventually be just as big as that of the offshore market in the MSCI China Index, and represent as much as 20% of the overall MSCI Emerging Market Index.
While we expect this move to have only a small initial price impact on the market, we believe that its long-term implications may be considerable.
First, the change in index weights will compel benchmarked global institutional investors to increase their allocation to Chinese equities. Over time, we believe they are likely to consider China equities as a separate asset class - much as they do Japan equities today.
Second, we feel this development opens up access to the most relevant sectors in the China growth story: consumer sectors, industrials and healthcare.
Last but not least, we believe the decision will bring a different kind of investor base to A shares, accelerating the institutionalization of the market. New investors with longer-term views and a more fundamental analytical framework could become major shareholders of certain Chinese companies. Over time, we believe that changing investor base could influence company behavior and investor psychology to make the overall market more attractive. The potential impact was perhaps presaged this year, as foreign investors became significant shareholders in some blue-chip companies and, we feel, drove substantial outperformance in their shares.
China's Long-Term Fundamentals
After four decades of unprecedented growth, China is already the world's second-largest economy. But we believe it clearly has the potential to grow still further - and possibly a lot further.
Despite its overall size and the first-rate infrastructure in Tier-One cities that wows many visitors, the vast backwaters of Lower-Tier cities have considerable growth potential. Many, such as Wuhan and Chengdu, are vibrant, and look and feel just like Beijing and Shenzhen 10 years ago. As the next generation of major Chinese cities tries to close the gap with the Tier-One and Tier-Two centers, we believe they will provide a strong growth base for the next 10 years.
China's per capita GDP of about $8,000 is on a par with mid-level emerging economies such as Malaysia and Mexico and far below that of industrialized countries and regions in Eastern Europe (such as Greece at $18,000) and East Asia (such as South Korea at $28,000). Given China's current capabilities and resources, we expect per capita GDP to move to a level between Eastern Europe's and East Asia's over time.
Figure 3. China's Potential Catch-up Growth Remains Considerable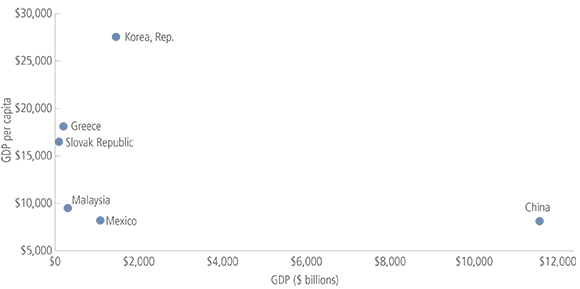 Source: IMF.
But China is about so much more than headline GDP-growth numbers. Through that growth, it has also accumulated world-class infrastructure, know-how and a highly educated workforce, all of which establishes the foundation for the future expansion and upgrading of the economy.
There are challenges, of course, and every country is subject to economic cycles. But we firmly believe China remains far from its full potential and will continue to reinvent itself as its economy develops.
Where are the Opportunities?
Let's start with the people. Almost 40% of China's 18-year-olds went to college in 2016. That ratio was 2% in 1986. There are now over 120 million college graduates in China, up from about 15 million at the beginning of the century.
Figure 4. An Increasingly Educated Economy
Education and infrastructure are keeping pace with GDP growth.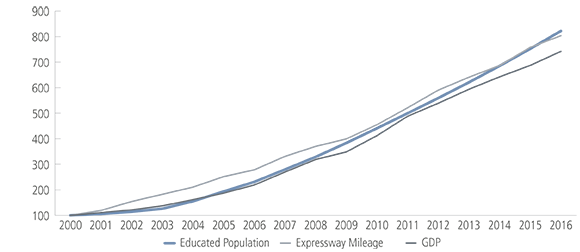 Based on current education data, China's R&D workforce is set to double by 2025 and triple by 2035.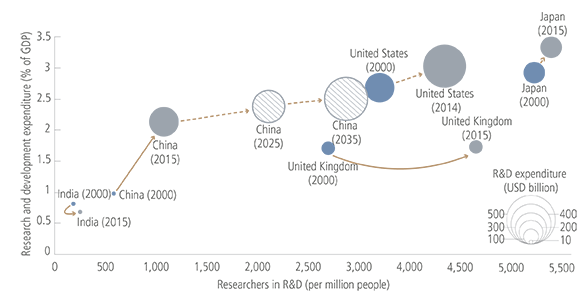 Source: Wind. 2000=100 (top), World Bank (bottom).
Better education and better skills have implications for the choices people make: more sophisticated people become more sophisticated consumers. They demand a higher quality of life, and so it makes sense for investors to focus on the things that matter to them: environmental services and consumer brands, and new services such as healthcare, travel, entertainment and media that enrich their lives. The investment bank CLSA estimates that Chinese consumers made 120 million trips abroad and spent $260 billion outside China in 2016.
Second, a smarter population means better employees and additional business opportunities for Chinese companies. As millions of fresh graduates join the workforce every year, from graphic artists to engineers, they enable Chinese companies to build up strong research and development capabilities. In a knowledge-based economy, the network effect is strong and experience matters, and so a growing and more experienced workforce will generate more original ideas and realize them ever more efficiently.
In industries ranging from healthcare to artificial intelligence, technology companies like Tencent (OTCPK:TCEHY) and Huawei, and pharmaceutical firms such as Hengrui and BeiGene, are creating products and running sophisticated processes that were unimaginable just a few years ago. Tencent started as a humble developer of an internet chat system, and shrewd management and clever products have brought it shoulder-to-shoulder with global giants like Facebook (NASDAQ:FB) and Google (NASDAQ:GOOG) (NASDAQ:GOOGL). In the vast office parks of Shenzhen, Shanghai and Beijing, hundreds more companies are trying to make the same leap in areas ranging from electric vehicles to biopharmaceuticals.
Third, as China moves into the next decade with new leadership, we are looking at a new political cycle where the emphasis will be on the quality and efficiency of growth, rather than the rate of growth at any cost. With this shift in mentality, we think there could be attractive potential investment opportunities in the restructuring of state-owned enterprises (SOEs).
SOEs tend to be conservative, size-driven and often burdened with social responsibilities. At the same time, many own good assets, strong competitive positions and robust financial profiles, and they can certainly be made a lot more dynamic with a change of ownership and better allocation of capital. Indeed, while they are not the first place to look for the next Tencent, the fact is that some of the best China success stories have been SOEs run with a private enterprise mentality. Anhui Conch Cement and Kweichou Moutai Liquor started out as small SOEs in the middle of nowhere, but both came to dominate their respective industries, with the help of entrepreneurial leaders and operational freedom. We hope to find similar examples as more companies are offered these opportunities.
Where are the Risks?
In this new political era, we believe that cyclical industries that rely heavily on capital-intensive investment and leverage will likely take a back seat. Leverage in the financial industries and the banking system is deemed too high, and as the government focuses on managing systemic risks they do not appear to be attractive sectors despite their low valuations. Banks' balance-sheet growth will be limited, for example, as the line for product creativity and regulatory arbitrage gets redrawn through more regulations.
Figure 5. Deleveraging Has Proceeded Rapidly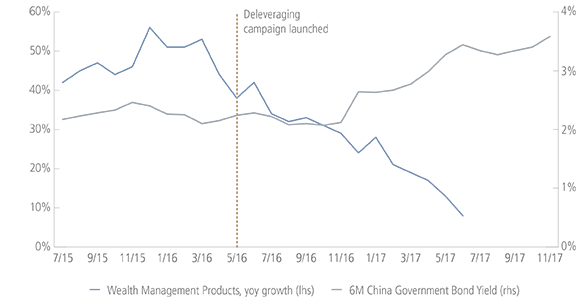 Source: Wind.
On the social and demographic side, China, like many societies, is getting older quickly. That shift turns a large population from a tailwind into a headwind for lots of businesses. For example, lower-value manufacturers are clearly struggling with a growing labor shortage - this is why China has become the largest market for industrial robots in the world, by a wide margin. On the demand side of the economy, while there are too many apartments in places where the population is not growing, there are still not enough retirement facilities or clinics for chronic health problems.
Investing in China: Be Local, Active and Focused on Change
China is a big country, but it also has distinct market segments, cultures, geographies and people in different stages of development. Most importantly, it is constantly evolving. What you see working well for investors today is not necessarily what will work well tomorrow.
These nuances and the reality of rapid change can lay traps for investors who are not on-the-ground in China, familiar with its local markets, culture, business practices and governmental agencies, and living through its changes. Fluency in Chinese is becoming more and more important even for investors in Hong Kong-listed companies because the domestic market is so big, Chinese companies are increasingly focusing at home, and conducting investor communications and expert calls in Chinese.
Passive indexing could be a highly inefficient way to address this market. The MSCI China Index, like many emerging market country indices, is dominated by a few companies and sectors. Behemoths like Tencent (17%) and Alibaba (NYSE:BABA) (15%) mean that technology accounts for more than 40% of MSCI China today. While investors have benefited from the 100%-plus moves in those stocks during 2017, such performance cannot be counted on to persist, and concentration in a single theme can mean missing out on opportunities in other sectors. At the peak of last cycle in 2007, telecoms and banks were the dominant and most profitable components of the Index: passive investors suffered from the opportunity cost in holding these companies after they entered a long cycle of decline in relevance and performance, and the new technology innovators took over.
We believe that long-term, bottom-up fundamental investing is well-suited to navigating China's equity market. Company fundamentals should become more important drivers of performance as the market opens up and becomes more institutional. In the meantime, its famous volatility and somewhat hyperactive domestic retail investors often generate good opportunities for more patient investors who maintain their discipline to build their positions in the high-quality companies that will define China's tomorrow.
This material is provided for informational purposes only and nothing herein constitutes investment, legal, accounting or tax advice, or a recommendation to buy, sell or hold a security. Information is obtained from sources deemed reliable, but there is no representation or warranty as to its accuracy, completeness or reliability. All information is current as of the date of this material and is subject to change without notice. Any views or opinions expressed may not reflect those of the firm as a whole. Neuberger Berman products and services may not be available in all jurisdictions or to all client types.
This material is general in nature and is not directed to any category of investors and should not be regarded as individualized, a recommendation, investment advice or a suggestion to engage in or refrain from any investment-related course of action. Neuberger Berman is not providing this material in a fiduciary capacity and has a financial interest in the sale of its products and services. Investment decisions and the appropriateness of this material should be made based on an investor's individual objectives and circumstances and in consultation with his or her advisors. This material may not be used for any investment decision in respect of any U.S. private sector retirement account unless the recipient is a fiduciary that is a U.S. registered investment adviser, a U.S. registered broker-dealer, a bank regulated by the United States or any State, an insurance company licensed by more than one State to manage the assets of employee benefit plans subject to ERISA (and together with plans subject to Section 4975 of the Internal Revenue Code, "Plans"), or, if subject to Title I of ERISA, a fiduciary with at least $50 million of client assets under management and control, and in all cases financially sophisticated, capable of evaluating investment risks independently, both in general and with regard to particular transactions and investment strategies. This means that "retail" retirement investors are expected to engage the services of an advisor in evaluating this material for any investment decision. If your understanding is different, we ask that you inform us immediately.
Third-party media content may not be redistributed without the publisher's consent.
This material may include estimates, outlooks, projections and other "forward-looking statements." Due to a variety of factors, actual events may differ significantly from those presented. Diversification does not guarantee profit or protect against loss in declining markets. Investing entails risks, including possible loss of principal. Investments in hedge funds and private equity are speculative and involve a higher degree of risk than more traditional investments. Investments in hedge funds and private equity are intended for sophisticated investors only. Indexes are unmanaged and are not available for direct investment. Past performance is no guarantee of future results.
The MSCI Emerging Markets Index captures large- and mid-cap equities across 24 Emerging Markets (EM) countries. With 837 constituents as at November 30, 2017, the index covers approximately 85% of the free float-adjusted market capitalization in each country. EM countries include: Brazil, Chile, China, Colombia, Czech Republic, Egypt, Greece, Hungary, India, Indonesia, Korea, Malaysia, Mexico, Pakistan, Peru, Philippines, Poland, Russia, Qatar, South Africa, Taiwan, Thailand, Turkey and United Arab Emirates.
The MSCI China Index captures large and mid-cap equities across China H shares, B shares, Red chips, P chips and foreign listings (e.g. ADRs). With 149 constituents as at November 30, 2017, the index covers about 85% of this China equity universe.
China is considered an emerging market. Emerging markets are more likely than more developed markets to experience periods of extreme volatility. It impossible to predict with certainty how rebalancing the MSCI China Index to include China A shares will ultimately impact the performance of securities reflected on the Index or the China equity market as a whole. Moreover, investors in emerging markets often face heightened risks (some of which could be significant) and special considerations not typically associated with investing in other more established economies or securities markets. Such risks may include, but are not limited to: (a) greater social, economic and political uncertainty including war; (b) higher dependence on exports and the corresponding importance of international trade; (c) greater risk of inflation; (d) increased likelihood of governmental involvement in and control over the economies; (e) governmental decisions to cease support of economic reform programs or to impose centrally planned economies; and (f) certain considerations regarding the maintenance of foreign investors' invested securities and cash with brokers and securities depositories outside their country of domicile. Separately, bid and offer spreads of the price of securities may be significant and accordingly, such investors may incur significant trading costs.
This material is being issued on a limited basis through various global subsidiaries and affiliates of Neuberger Berman Group LLC. Please visit www.nb.com/disclosure-global-communications for the specific entities and jurisdictional limitations and restrictions.
The "Neuberger Berman" name and logo are registered service marks of Neuberger Berman Group LLC.
© 2009-2018 Neuberger Berman Group LLC. | All rights reserved