By Ted Vogel, Portfolio Specialist, Municipal Fixed Income
"The income tax created more criminals than any other single act of government." - Barry Goldwater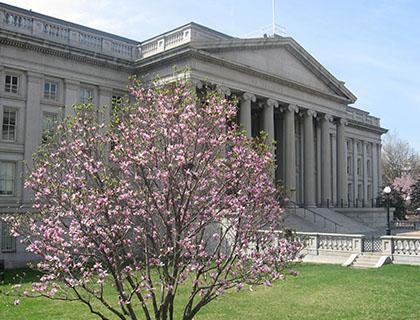 Short to intermediate U.S. Treasury interest rates increased in the fourth quarter as market attention was focused on generally better-than-expected economic data releases and uncertainty surrounding the Trump administration's tax reform proposal. The rate movement was most pronounced in the front end of the yield curve, with the two-year U.S. Treasury note yield increasing from 1.49% to 1.92%, the five-year from 1.94% to 2.21% and the 10-year from 2.34% to 2.41%. The 30-year yield, however, declined to 2.74% from 2.87%, resulting in a flattening of the yield curve overall.
With regard to monetary policy, the Federal Open Market Committee (FOMC) voted to raise its benchmark interest rate to a range of 1.25-1.50% and to continue the process of balance sheet normalization which began in October. In a statement, the FOMC said its decision was largely based on the faster-than-expected growth in recent months and strong job creation. While policymakers also noted that inflation remains below their 2% target rate, they anticipate that a tightening labor market will eventually create the demand necessary to raise prices. Market attention now turns to 2018, when the FOMC's projections suggest three possible rate hikes for the year, with the market pricing a slightly better than 50% probability of the first increase in March.
Economic data in the U.S. continued to strengthen through December. The November employment report was mixed, with the change in non-farm payrolls exceeding expectations at +228,000 versus the anticipated +195,000, unemployment remaining unchanged at 4.1% and average hourly earnings growth of +0.2% falling short of +0.3% consensus. November headline inflation (Consumer Price Index, or CPI) was in line with expectations at +2.2% year over year, while core CPI came in at +1.7% year over year versus consensus of +1.8%. November retail sales surprised to the upside with a +0.8% month reading compared to +0.3% consensus, representing the third consecutive month above expectations.
The broad municipal bond market posted a +0.75% total return in the fourth quarter and a +5.45% return for the year, according to Bloomberg Barclays Municipal Index data. Returns were mixed across the yield curve, with negative performance on shorter maturities and positive returns on longer bonds. Price action was influenced by a large increase in new issue supply and the general upward movement in interest rates. With regard to sectors, revenue bonds outperformed both general obligation and pre-refunded bonds. As had been the case for most of the year, lower-rated bonds outperformed those with higher ratings.
Municipal bond issuance set a single-month record in December as issuers raced to complete deals before the Tax Cuts and Jobs Act of 2017 became law. It was thought that issuance of certain refunding and private activity bonds might be curtailed if included in the final version of the bill. New issue volume increased to $62.5 billion in 1,168 transactions from $20.8 billion in 780 deals in December 2016, representing an increase of over 200%. For the fourth quarter, supply was up 33.4%. For all of 2017, volume was approximately 3.4% lower than in 2016. The calendar was led by issuers from California, New York, Texas, Illinois and Pennsylvania.
Post-Election Issuance Bonanza
2017 Municipal Bond Issuance vs. Last 5 Years

(Source: Bloomberg)
Outlook: Rates and Technicals Trump Taxes
Given the pickup in economic growth in the latter part of 2017 and stable levels of inflation, we see no reason to doubt the FOMC's stated intention of several more interest rate hikes in 2018. That said, unexpected implications from recent tax code changes, potential volatility caused by the withdrawal of monetary policy accommodation by the FOMC and perhaps other central banks, and ongoing political rancor in Washington, D.C., might cause us to adjust our expectations.
Specific to the municipal market, technicals continue to look promising for 2018, in our opinion. Reduced new issue supply, courtesy of recent tax reform legislation, should help maintain a firm bid for municipal product. At this time, we believe that the modest reduction in top marginal tax brackets should have little impact on demand from most muni investors. We continue to track the progress on infrastructure spending proposals, but believe that several months may pass before any legislation impacting the muni market becomes a reality. We continue to favor a research-based, bottom-up investment approach as an effective way to find attractive buying opportunities for investors.
Lone Star Recovery Begins
Hurricane Harvey made landfall near Rockport, Texas, on August 25, 2017, as a Category 4 hurricane, causing record amounts of rainfall and damage across a large swath of Texas - from the border region of South Texas to Austin, to its eastern border with Louisiana. After an unfortunate loss of life, economic recovery has begun and will continue for many years. Damage estimates range from $75 billion (Moody's Analytics) to nearly $200 billion (CBER, Ball State University).
Still, while the estimates are large in absolute dollars, context is important. For example, the Greater Houston area1 had a GDP of $478.6 billion in 2016, ranking sixth among the nation's metropolitan areas even after previous declines in natural resources and minerals. Importantly, its unemployment rate (non-seasonally adjusted) dropped from 4.9% in the month prior to the storm to 4.1% as of October 2017, suggesting continued strengthening of its labor market. Already showing self-reliance in recovery efforts, the Texas economy will receive considerable help from outside sources: insurance proceeds, state aid and federal grants through the Federal Emergency Management Agency (FEMA).
- Ernest Gyasi, Senior Research Analyst, Municipal Fixed Income
1 Source: FRED Economic Data. Refers to the Houston-Woodlands-Sugar Land Metropolitan Statistical Area (MSA).
This material is presented solely for informational purposes and nothing herein constitutes investment, legal, accounting or tax advice, or a recommendation to buy, sell or hold a security. No recommendation or advice is being given as to whether any investment or strategy is suitable for a particular investor. It should not be assumed that any investments in securities, companies, sectors or markets identified and described were, or will be, profitable. Information is obtained from sources deemed reliable, but there is no representation or warranty as to its accuracy, completeness or reliability. All information is current as of the date of this material and is subject to change without notice. Any views or opinions expressed may not reflect those of the firm as a whole. Publications and websites referenced herein are intended solely for your information and should not be construed as an endorsement by Neuberger Berman. Neuberger Berman is not responsible for the content of these publications or websites.
Certain products and services may not be available in all jurisdictions or to all client types. Indexes are unmanaged and are not available for direct investment. Investing entails risks, including possible loss of principal. Past performance is no guarantee of future results.
A bond's value may fluctuate based on interest rates, market conditions, credit quality and other factors. You may have a gain or a loss if you sell your bonds prior to maturity. Of course, bonds are subject to the credit risk of the issuer. If sold prior to maturity, municipal securities are subject to gain/losses based on the level of interest rates, market conditions and the credit quality of the issuer. Income may be subject to the alternative minimum tax (AMT) and/or state and local taxes, based on the investor's state of residence. High-yield bonds, also known as "junk bonds," are considered speculative and carry a greater risk of default than investment-grade bonds. Their market value tends to be more volatile than investment-grade bonds and may fluctuate based on interest rates, market conditions, credit quality, political events, currency devaluation and other factors. High-yield bonds are not suitable for all investors and the risks of these bonds should be weighed against the potential rewards. Neither Neuberger Berman nor its employees provide tax or legal advice. You should contact a tax advisor regarding the suitability of tax-exempt investments in your portfolio.
This material is general in nature and is not directed to any category of investors and should not be regarded as individualized, a recommendation, investment advice or a suggestion to engage in or refrain from any investment-related course of action. Neuberger Berman is not providing this material in a fiduciary capacity and has a financial interest in the sale of its products and services. Investment decisions and the appropriateness of this material should be made based on an investor's individual objectives and circumstances and in consul­tation with his or her advisors. This material may not be used for any investment decision in respect of any U.S. private sector retirement account unless the recipient is a fiduciary that is a U.S. registered investment adviser, a U.S. registered broker-dealer, a bank regulated by the United States or any State, an insurance company licensed by more than one State to manage the assets of employee benefit plans subject to ERISA (and together with plans subject to Section 4975 of the Internal Revenue Code, "Plans"), or, if subject to Title I of ERISA, a fiduciary with at least $50 million of client assets under management and control, and in all cases financially sophisticated, capable of evaluating investment risks independently, both in general and with regard to particular transactions and investment strategies. This means that "retail" retirement investors are expected to engage the services of an advisor in evaluating this material for any investment decision. If your understanding is different, we ask that you inform us immediately.
Neuberger Berman Investment Advisers LLC is a registered investment adviser. The "Neuberger Berman" name and logo are registered service marks of Neuberger Berman Group LLC.
© 2009-2018 Neuberger Berman Group LLC. All rights reserved.