(We've updated our oil thesis for 2018 in two parts (Part 1 and Part 2), and invite readers to review the articles, which provides some context as to our views for 2018.)
A few months back we wrote two articles. The first was "Listen Carefully Oil Bulls: Wall Street's About To Change Its Tune," and the second was "Oil Prices Today Are Complete Nonsense, Get Ready For Wall's Street's Springboard."
Both of these articles addressed what we saw were the impending upgrades by investment banks to oil price decks and oil stocks as inventories began to tighten. In the past two weeks, we've seen JPMorgan, Morgan Stanley and Goldman Sachs raise their oil price forecast for 2018 to $70, $75 and $82.50/barrel, respectively. We think we can probably say at this point... welcome to the party, you're late!
In short, why not though? Why wouldn't these banks and their research teams raise their price forecasts, and in turn, the price targets of commodity producers that depend on oil prices for their livelihoods. Making a $75-80/barrel call for Brent isn't a stretch when Brent prices are already at $70/barrel.
Inventories are falling faster, harder and more intensely than many have predicted, and storage levels are essentially balanced today on many metrics (5-year average, days of coverage, etc.). This is what US inventories currently look like, measured against the 5-year rolling average.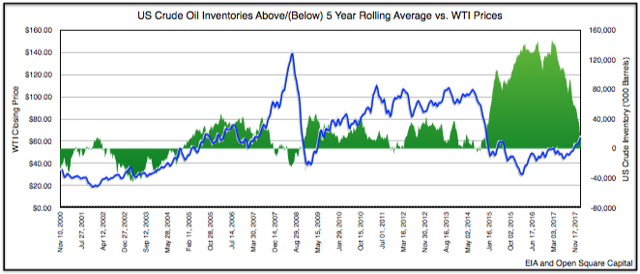 There really is nothing left of the surplus. What looks to be residual US inventories are a mirage, as these barrels are largely requisite infrastructure fills that can't be commercialized (i.e., a base level of oil that needs to stay in refineries and pipes to allow them to function properly).
What do we expect in the next few months? Well, largely the same... a continuing supply shortage. Some will contend that we should see oil inventories increase because of seasonal builds. We, however, see it differently. An undersupplied market has carried over from last year to 2018, and this shortage will act as a headwind for any inventory build. While refinery maintenance means crude oil demand will soften, oil products will draw as less crude is processed into refined products. The continuing shortage, coupled with growing demand, will likely tip seasonal builds into counter-seasonal draws. At best, inventories should stay fairly balanced in Q1, but thereafter, oil inventories will resume their decline and the supply shortage quickly morphs into an inventory shortage.
As we then dip into our "winter stores," oil prices will swing from trading largely on fundamentals to trading predominantly on psychology, and psychology amidst scarcity means prices will inflect far more quickly than even Wall Street's updated price targets.
Thus, these upgrades are a lagging indicator. Wall Street isn't telling you where prices are going, it's actually telling you what prices will surpass. As inventories are squeezed harder, and as barrels become more difficult to source, users will inevitably bid prices higher. Just as the oil crash took prices from $100/barrel to an unimaginable $26/barrel, the rise will mirror that - and just as quickly. These estimates are a rationally and precisely calculated target, but the oil market is about to enter a phase where it's anything but. For oil bulls, Wall Street has just fired the starter pistol... let the games begin.
As always, we welcome your comments. If you would like to read more of our articles, please be sure to hit the "Follow" button above.
Relevance: USO, OIL, XLE, UCO, VDE, ERX, OIH, SCO, XOP, BNO, DBO, ERY, DIG, DTO, USL, DUG, BGR, IYE, IEO, FENY, DNO, PXE, FIF, OLO, PXJ, RYE, SZO, NDP, GUSH, DRIP, DDG, FXN, OLEM, CRAK
Disclosure: I/we have no positions in any stocks mentioned, and no plans to initiate any positions within the next 72 hours.
I wrote this article myself, and it expresses my own opinions. I am not receiving compensation for it (other than from Seeking Alpha). I have no business relationship with any company whose stock is mentioned in this article.