By Matthew Carr, Emerging Trends Strategist, The Oxford Club
Investing legend Jim Rogers famously said, "Bottoms in the investment world don't end with four-year lows... They end with 10- or 15-year lows." That's something I've always taken to heart. So when I see an asset or sector at decade lows (or more), I get excited.
Now it seems like a lifetime ago, but in January 2016, I was telling investors that two bullish signals were screaming, "Buy!" On the surface, the signals were bearish...
First, the price of U.S. crude dropped to its lowest level in more than a decade, ultimately tumbling to $26 per barrel. Second, as the broader markets started off 2016 with a historic pummeling, bullish sentiment on the AAII Investor Sentiment Survey fell to its lowest level in more than a decade.
At the time, less than 18% of investors were bullish on stocks. That level was lower than it was during the 2008 financial collapse. But in 2016, those lows were contrarian signals. Combined with the outlook ahead, they sang to me, "Buy, buy, buy!"
Since then, the price of crude has shot up more than 122%. And the Dow Jones Industrial Average has gained 69%. Think about it... The blue chip index has added more than 10,000 points in the past two years.
That's more than it gained in its first four decades of existence! And the momentum doesn't seem to be letting up... The rate at which the Dow crosses new milestones is only picking up speed. Most recently, it took a mere seven days to skyrocket from 25,000 to more than 26,000.
At the start of the year, according to the AAII Investor Sentiment Survey, the percentage of investors feeling bullish was 60% - that's rare territory for optimism. We started off 2018 with new records and the greatest level of bullishness in more than eight years.
So... is it too good to be true? Are these indicators also contrarian - hinting that we should sell - or is our bullishness justified?
Perhaps History Has the Answer...
Let's travel back to 1999 to help answer that question. Toward the end of the dot-com bubble, AAII investor sentiment was above 50% much of the time, and we even saw a record peak in bullishness in January 2000.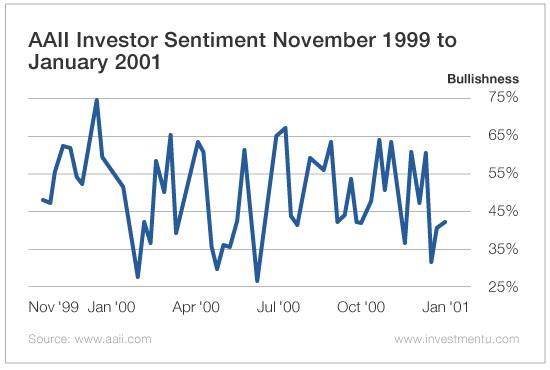 Seriously, 75% of investors were bullish on the market's outlook. That was a red flag if there ever was one!
The Nasdaq went on to hit a record in March 2000. But over the next 30 months, the dot-com bubble burst. The Nasdaq suffered a crippling, wealth-obliterating 49% decline until October 2002.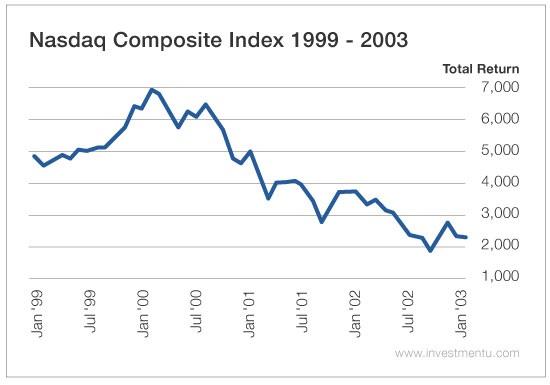 Yet during that time (which included the 9/11 attacks) through 2004, optimism percolated even higher.
Or Maybe History Doesn't Have it Right...
Let's compare that with our current situation...
During the week of December 21, 2017, bullish sentiment on the AAII Survey moved above 50%. That was the first time it had gone above 50% in almost three years.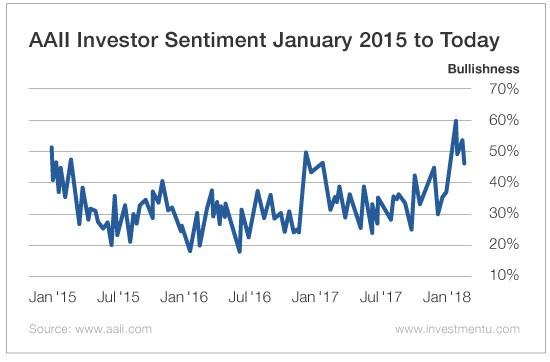 Even through last year's enormous gains, the majority of investors were bearish or neutral. And yet, since March 2009, the Dow has surged more than 300%.
That's why this is the "most hated bull market in history." It's understandable why some are waiting for the other shoe to drop.
I'll be honest... Over the past few years, bullish sentiment on the AAII Survey peaked in November and January. But comparing recent optimism with the madness that preceded the dot-com implosion (and the financial collapse) is shortsighted.
The difference is we're enjoying a fantastic earnings season. Eighty percent of S&P 500 companies have beaten estimates... and more than a quarter have already reported.
The number-beating estimates is above average. It's good to be cautious and to prepare for the worst. But you can't keep sitting on the sidelines - hurting your financial future - because you're expecting the party to end at any moment.
Disclosure: We expressly forbid our writers from having a financial interest in their own securities recommendations to readers. All of our employees and agents must wait 24 hours after online publication or 72 hours after the mailing of printed-only publication prior to following an initial recommendation. Any investments recommended by Investment U should be made only after consulting with your investment advisor and only after reviewing the prospectus or financial statements of the company.