KEMET Corporation (NYSE:KEM) just announced a solid earnings beat, which was heavily driven by a stronger holiday season than anticipated:
Q3 EPS of $0.52 beats by $0.18 (+53% surprise)
Revenue of $306.4M (+63.0% Y/Y) beats by $10.72M (+4% surprise)
We saw shares trade up over 10% in the pre-market on the headline.
However, we then learned about some capacity and production issues that KEMET is running into across its business. The company has reached maximum capacity and is hitting supply shortages, which cannot keep up with growing demand. The company saw its book-to-bill ratio rise to 1.2 during the quarter, which resulted in increased lead times and growing backlogs.
"We could have shipped more if we had the capacity to do-so. The December quarter ended much stronger than we had predicted as customers continued to request product after the Christmas holiday. Sales compared to one year ago on a pro forma basis were up 16.4% in a market that continues to be vibrant" - CEO Per Loof
According to the company, this is fairly similar across the "friendly competitors" whom it's spoken to. The major risk factor here is that its customers become wary regarding timely delivery of their orders and components. Management ensured us that it is working closely with its distribution partners to hedge against the supply shortage and will make deliveries on schedule.
"We believe we have a digital platform in place that will help us manage the growth in the market and we are employing additional capital as quickly as possible to provide needed additional capacity beginning later this summer which will generate further revenue in the back half of our next fiscal year." - CEO Per Loof
In addition to distribution management, KEMET is investing an additional $20M in CapEx over its initially planned amount, bringing total fiscal-year capital expenditures into the $50-60M range. This will result in an additional 10% capacity estimated to provide an additional +$100M run-rate, coming online incrementally over the next 6-12 months.
Fundamentals & Investor Action
I see this as a SHORT-TERM bottleneck causing a depressed share price - a classic example of a great value-based buy. This is a temporary headwind with an end in sight as KEMET is working to improve capacity and manage backlog. Underlying revenue growth is strong and the management has the right ideas to capitalize on it.
While trying to stay concise, we can see that the revenues continue to grow at a steady rate whilst gross margins have increased to 30.3% from 28.3% last quarter and 25.4% year-over-year.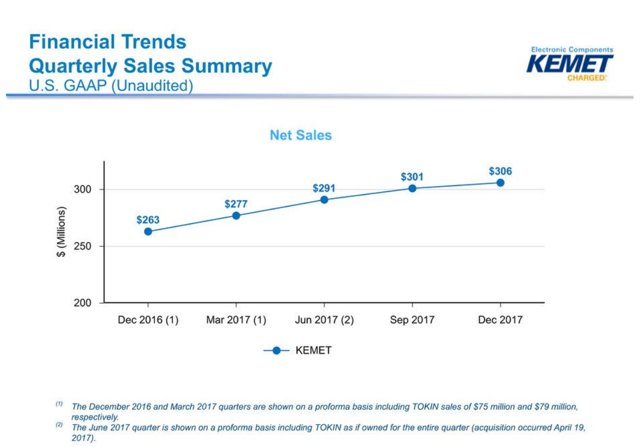 Source: KEMET 8-K
We can see similar margin improvement flowing through operating expenses and towards the bottom line.
Source: KEMET 8-K
Additionally, the company continues to pay off its debt while improving cash holdings/liquidity ratios while staying active in the M&A scene.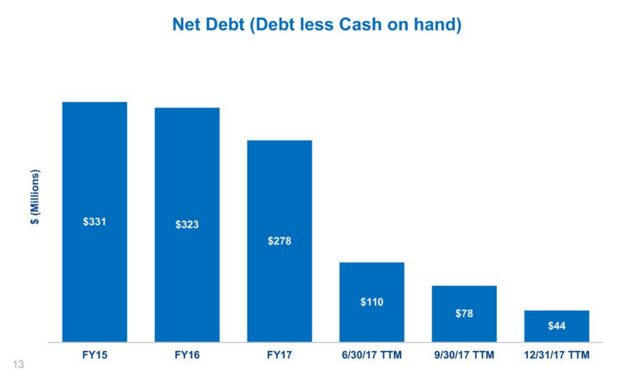 Source: KEMET 8-K
Conclusion
Besides the capacity shortfalls, KEMET is looking great and has a solid outlook for the rest of the calendar year. As the company brings on additional capacity, it will fill out increased demand and ramp up supply across its products. This additional CapEx will really start paying off as KEMET kicks off its fiscal 2019 (starting April 1, 2018).
As I stated in my last article, "Kemet: A Well-Run Company On Sale", I continue to be impressed with operational effectiveness and execution of its growth strategy. I'm currently working on putting together a revenue and operations model to build out a DCF analysis. This will give me (and readers) a sense of a good price target. I certainly think we will see KEM trading back in the $25-27 range if not breaking $30. Stay tuned for updates.
Disclosure: I am/we are long KEM. I wrote this article myself, and it expresses my own opinions. I am not receiving compensation for it (other than from Seeking Alpha). I have no business relationship with any company whose stock is mentioned in this article.