Investors are once again becoming nervous. An extended decline in bond prices and corresponding rise in yields has helped fuel their growing concerns about the stock market's prospects. The latest plunge of the Bitcoin price also has added some fuel to some investors' speculation that stocks are setting up for a major decline of their own. But as we'll discuss in this commentary, the bears are more likely than not to be disappointed in their expectations of a serious stock market decline happening anytime soon. We'll also see that history favors a strong spring/summer performance for the stock market in spite of rising rates.
One of the most common criticisms leveled against this bull market among skeptics is its longevity. The bears point out that the stock market has advanced since March 2009 – a record that has rarely been rivaled by historical standards. Yet when we take a closer look at the market's progression since then we can see several instances where the major indices have spent months at a time – even years – consolidating their gains.
In the year 2011, for instance, the S&P 500 (SPX) essentially finished flat after fluctuating in a rather wide trading range. The second half of 2014 wasn't much different for small-cap stocks as reflected by the progression of the Russell 2000 Small Cap Index (RUT), not to mention the NYSE Composite Index (NYA). See the RUT chart below for reference. The progression of the small caps is important to monitor since the average retail investor tends to be more committed to smaller-cap stocks than to big-cap shares.
Source: www.BigCharts.com
More recently, the years 2015 and 2016 could be characterized as a stealth bear market. The major large-cap indices essentially went nowhere in 2015-2016 while the Russell Small Cap Index (RUT, below) experienced a 25% decline. That's a bear market by even the most liberal definition of the term. This bull market, in other words, hasn't advanced in a linear fashion but has experienced long stretches of time moving sideways-to-lower. These cyclical periods of consolidation and internal "correcting" have prevented the long-term bull market from becoming overstretched. This in turn has made it less vulnerable to bear raids and has kept it healthy even as we speak in early 2018.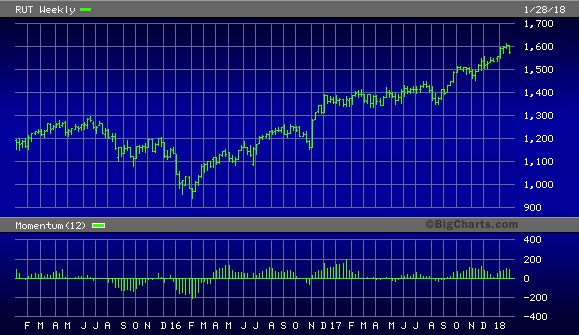 Source: www.BigCharts.com
Another growing concern among investors is that increasing interest rates could stifle the stock market's upside potential if not reverse it entirely. There's no denying that sustained periods or rising Treasury yields have often proved a hindrance to higher stock prices. There is, however, an exception to that rule. According to LPL Financial, there have been 11 periods of rising interest rates (at least a 1% rise in the 10-year Treasury note) since 1996, each lasting an average of six months. During those times, the S&P 500 rose an average of 5.44%, thus proving that in the early stages of rising interest rates stocks and yields often rise simultaneously.
LPL also made this timely observation in a December 2016 research report: Historically it has only been when the 10-year Treasury bond yield has exceeded 5% that equities have come under sustained selling pressure. "When the 10-year yield has been above 5,% as it was throughout the 1970s and 1980s," writes LPL, "stocks tended to move in the opposite direction of bond yields (so when rates rose, stocks fell, i.e., negative correlation). Conversely, over much of the past two decades, the yield on the 10-year Treasury has been below 5%, and stocks and bond yields have exhibited positive correlation (stocks have tended to rise as bond yields have risen)."
This historical relationship suggests that with the 10-year yield currently at 2.78% and well below the 5% mark, rising bond yields need not upend the stock market's rising trend. Based on this observation, Treasury yields certainly have plenty of room to increase before they become troublesome for equities. The long-term graph of the CBOE 10-Year Treasury Yield Index (TNX) reflects this observation.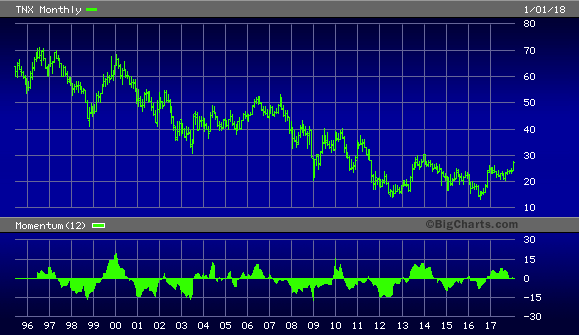 Source: www.BigCharts.com
The evidence strongly suggests that the years 2015 to 2016 served the purpose of clearing out the excesses generated by the long-term bull market which began in 2009. In other words, the market got a much-needed period of rest and consolidation and is therefore in a strong position to reach greater heights (without overstretching) as we head further into 2018.
Retail investors were quite pessimistic in the years leading up to late 2016 in the overall scheme of things. From the start of 2015 until the 2016 U.S. presidential election, more than $200 billion was pulled out of U.S. equity funds and ETFs - a bit more than that was funneled into bond funds and ETFs. That two-year stretch of risk aversion, however, has ended as investors have gradually embraced greater risk tolerance since the election. Indeed, U.S. equity funds have seen increasing inflows since late 2016, as the following graph illustrates. This shows the amount of money flowing into domestic equity funds with data courtesy of the Investment Company Institute.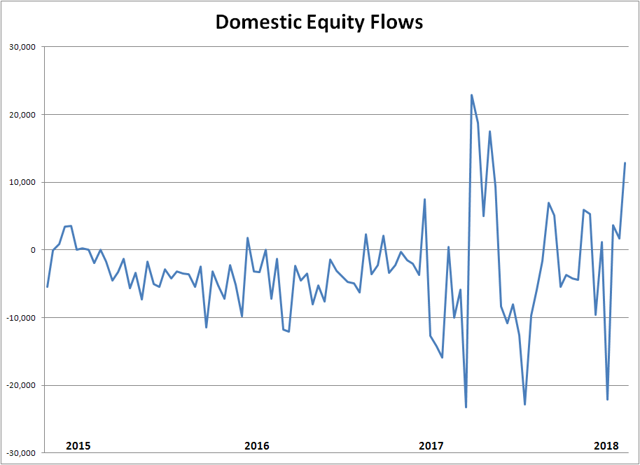 Chart created by Clif Droke
Flows into domestic equity funds still haven't achieved the previous peak, and investors have shown a readiness to turn bearish at the first sign of trouble on the financial market horizon, a sign that the "wall of worry" necessary to keep the bull alive is still intact. The implication here is that there's still plenty of room to grow before investors become overly committed to the bullish case for stocks.
Internally there's still evidence of some turbulence in the NYSE new 52-week highs and lows. As discussed in my previous commentary, we need to see the number of stocks making new 52-week lows fall below 40 for a few days in order to confirm that the stock market's recent internal selling pressure has diminished. Moreover, we need to see the ratio of the new highs-to-new lows increase to at least 3:1 in favor of the highs for several consecutive days. This could confirm the return of a normal, healthy condition for the broad equity market. As of Feb. 1, the new highs-new lows ratio remains negative – a sign that sellers have an advantage in the immediate term.
The stock market's intermediate-term (3-6 month) trend, by contrast, remains firmly in the bulls' favor. Shown below is a graph of the 24-week rate of change of the new 52-week highs-lows on the NYSE. This is one of the strongest technical indications that the market's major trend remains up. This indicator is based on the assumption that the incremental demand for equities reflected here reveals the market's path of least resistance.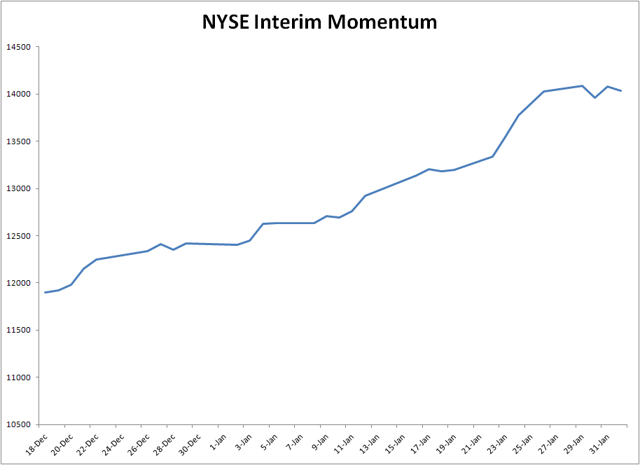 Chart created by Clif Droke
As mentioned previously, in order for the bears to seriously threaten the bull market leg which began in November 2016 we would have to see a negative new high-new low differential over several weeks. This would cause the cumulative highs-lows indicator shown above to actually start declining and thus break the major upward trend. As of this writing, there have been only three days of a negative hi-lo differential. Thus the bears have a lot of work to do if they are to ultimately prevail in regaining control of the market's intermediate-term trend.
The upside fireworks that I anticipate for this spring and summer are still yet to come. The potential for an exciting "blow-off" type rally to get underway in the next several months is definitely there. It's just a matter of getting the NYSE internal momentum indicators back in sync and cooling off some of the excessive immediate-term bullish sentiment of late. The early weeks of each decade's eighth year often serve as just such a "clearing-out" month, as was true in 1978, 1988, and 1998.
Once the market's near-term internal momentum condition has improved the market should be ready for the traditional year-eight spring/summer rally – a rally which could yet eclipse any that we've seen since the bull market began some nine years ago. Investors should remain committed to the long side of the equity market and avoid the temptation to bail out at the first sign of immediate-term weakness. As with previous years, patience will be amply rewarded by the still-vigorous bull. It will take a lot more than rising rates to crash this party.
Disclosure: I am/we are long ROBO. I wrote this article myself, and it expresses my own opinions. I am not receiving compensation for it (other than from Seeking Alpha). I have no business relationship with any company whose stock is mentioned in this article.